Quick Details of Modern Wholesale Bathroom Vanity Cabinet



Place of Origin: China (Mainland)
Style: Modern
Type: Vanity Combo
Installation Type: Wall Mounted
Carcase Material: MDF,Plywood,Solid Wood
Door Material: MDF,Plywood,Solid Wood
Door Panel Surface Treatment: Lacquer
Include Basin: Yes Include
Countertop: Yes Countertop
Material: Ceramic,Tempered Glass
Include Mirror: Yes
Mirror Type: Bath Mirror
Include Faucet: Yes
Bathroom cabinet main material: PVC
Bathroom cabinet basin: ceramic basin
Hardware: soft close
Faucet& pop-up drain: negotiable
Painting: lacquer
Mirror: Silver Mirror
Include Mirror,basin: Yes
Quality Control: ISO9000
Payment: TT,LC
Packaging & Delivery of Modern Wholesale Bathroom Vanity Cabinet
Packaging Detail:
Bubble films are used to wrap the products. Four angles are fixed with foam. We use cartons to ensure safety during transportation. Breakage rate is lower than 1%.
Delivery Detail:
20-30days
Specifications of Modern Wholesale Bathroom Vanity Cabinet
1)The material is healthy and environmental.
2)color and size of modern wholesale bathroom vanity cabinet can be changed.
3)CE
Specification of Modern Wholesale Bathroom Vanity Cabinet
1.Timbers: We use natural, environmentally-friendly and healthy timbers as raw materials, elaborately choosing two-sided A level imported oak with a thickness of 16mm. Technicians of Hanjie Sanitary Wares are good at researching characters of woodiness, using materials scientifically and making precise and reasonable structural collocation in consideration of the texture, age and oil content of them. (At present, they are one of the most important materials of cabinets.We will by no means sell second-best at best quality prices).
They are waterproof and crack-resistant. With super-strong hardness, they can prevent corrosion and deformation.
2.Paints: We use environmentally-friendly and healthy paints for the 12 paint processes including 4 bottoms and 2 sides. The open painted surface is even,and the closed painted surface is soft and smooth. Our paints can keep natural wood color and texture. In addition, they can enhance water-resistance of materials to ensure full water tightness. (They are nontoxic, radiation-free and pollution-free.They fully reach international standards.)

3.Ceramics: Vitrified under high temperature, assorted ceramics basins are non-absorbent, scratch-resistant and wear-resistant, heat-resistant and thick in color,smooth, easy to clean and dirt proof, with fine glaze and no deformation.

4.Hardware: Choosing "Gute Hardware" brand, we use damping hydraulic hinges to effectively reduce noise of closing. Having ultra smooth tracks and an intensive pulley, it is durable and silent. All of its joints are nickel-plated, beautiful and durable.

5.Packaging: Bubble films are used to wrap the products. Four angles are fixed with foam. We use cartons to ensure safety during transportation. Breakage rate is lower than 1%.
Pictures of Modern Wholesale Bathroom Vanity Cabinet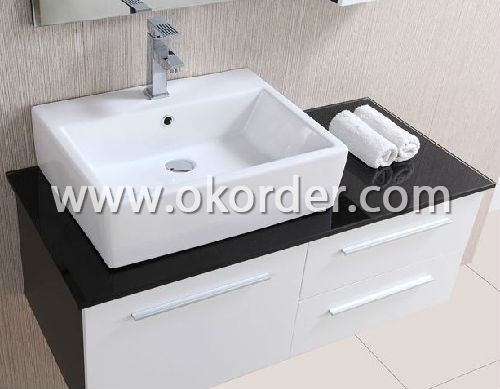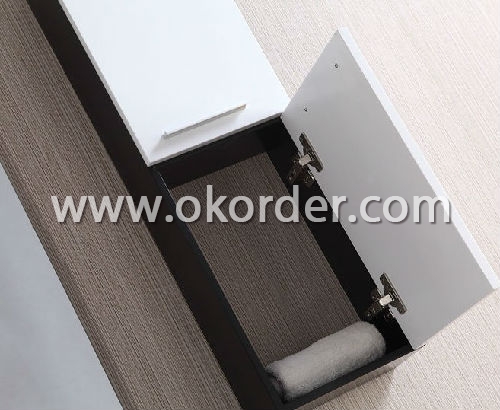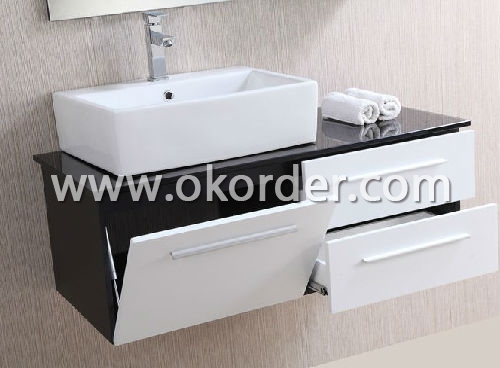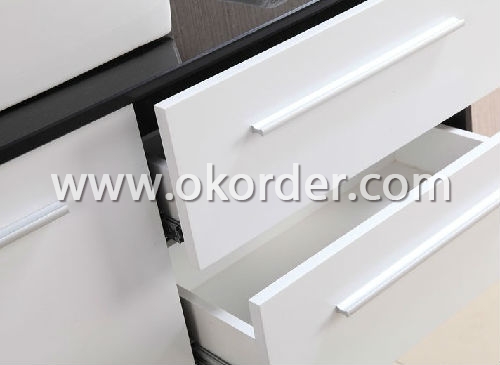 Q:The chair is a dark brown lazy-boy chair with vinyl covering. It has gotten really hard and brittle, making it crack to show the stuffing stuff underneath. I was wondering how much, at the cheapest, it would cost to recover it.

upload to the very undeniable actuality that there'll be no stud settlement, you've a breeder recommending you do not ought to attempt your canines? What if she is a provider? What if her canines is a provider besides, or a destiny stud is? not truly will you be generating a share of distributors, yet effected canines besides. i'd stay far away If she is a provider, then a million/2 the clutter is also distributors. i'm not declaring that it is incorrect to reproduce a provider to a clean, yet at the same time as a canines leaves your palms there is not any thanks to make certain that are distributors except you try all of them, and all of us recognize that there are distinctive individuals that purchase doggies and ignore concerning the spay/neuter clause in the settlement. i recognize you're in simple terms starting up out, so why not start up with the perfect acceptance accessible?
Q:So my boy almost 1 year loves to scratch my chair. I don't really care because I don't like the chair, however I do not want to encourage this behavior because I will eventually get a nice sofa and chair. He usually stands up and scratches the corners so I have put the sticky paws tape in the corners, then he started laying down and scratching the bottom, so I put sticky paws tape on the bottom. He has now moved to the middle of the sides and back. I'm not taping anymore of the chair as that no longer bothers him. hes scratches through now.I've tried different smelling sprays- bitter apple, hartz brand and some all natural thing.He has scratchers and posts all over. he has ones that vertical, horizontal, diagonal-made of carpet, sisal and cardboard. he has one that is coved even (like a house) he sleeps in it. the largest is next to the chair he scratches and I kid you not, he steps on this scratcher to get to the chair.

It sounds like he wants attention. My little lady (approx 4 years), will scratch the chair and stare at me at the same time. If I continue to ignore her, she uses my leg as a scratching post (as long as I am wearing jeans, but it still hurts!!). She has 3 scratching posts. One she uses, but the other two she ignores. The main problem started when my mother brought 3 feathers on a bit of string tied to a bamboo garden cane. If I don't swing it around the room relentlessly, the furniture and my leg gets it! When I get tired/bored and she scratches, I either grab hold of her paws, remove them (from whatever she is scratching) and say NO!, or grab her by the scruff (she usually flattens to the floor) and say NO. It works for a few minutes. Sticky paws worked the same way as it did for you! It also looks horrible too.
Q:I can not for the life of me figure out what this chair is called the only thing i can seem to find ANYTHING about it is on google images!!!!

It's an armless occasional chair.
Q:ok so i was really pissed this morning at my parents and i was like throwing things around, slamming doors, etc.. and when i got up from sitting at a kitchen chair i kind of slammed it on the ground too hard and one of the legs broke off.. (i know i have anger issues) and now im freaking out. it wont stand up straight on its own but i think i might have an idea.. My mom made these covers for the chairs and they go all the way down to the ground so they would hide the broken leg. In our spare room theres another chair just like it and im thinking of just switching the chairs since no one even really sits in the spare room chair, and its in the corner so i could just prop it up on the wall so it wont fall over. Is this a good idea? I will probably tell my mom later, but right now is not a good time. Any other suggestions on what i should do???? Please no mean answers, i know this sounds bad.. Please and thank you!!

She likely will figure out pretty quickly you switched chairs and that will only add to the heat. Especially if the chairs are not the same make. Your best bet is to say you got up and accidently knocked the chair over and it broke. Being up front is going to suck but its the best way. Pull the bait and switch with the chairs and it will come back on you in a MUCH bigger way....
Q:I am redecorating my room. I really want a polka dot chair but I want a cheap one. If anyone can find a really cheap one online or for sale like on eBay or Criegslist that would be great!!!! here is the website of what i am looking for but MUCH cheaper.

Search local garage sales for a chair you like then buy a polka dot cover or some polka dot material and re-cover the chair, it will be cheaper and one of a kind.
Q:I recently bought a pyramat arx video game chair at a shop that sells used items. It only came with the power cord. I can't find anything online about the chair but I am trying to set it up to an Xbox 360. Can anyone help tell me everything I need to get it to work?

RE: Help setting up pyramat video game chair? I recently bought a pyramat arx video game chair at a shop that sells used items. It only came with the power cord. I can't find anything online about the chair but I am trying to set it up to an Xbox 360. Can anyone help tell me everything I need to get it to work?
Q:i have 5 captin chairs like theses heard they have some value on them so some1 plz help me out on any info u got

what do you want to know. I'm in Charlotte and I recently relocated so I know you probably have many questions. If you want email me and I'll answer whatever I can for you
Q:Mr.Edstrom had a budget of $1500 to spend on a table and 6 chairs. The total price was $249 under her budget amount. The table cost 3 times as much as a chair. What was the price of the table?

First off, you will have to know how much she spent. so she had 1500, and the total price was 249 under her budget (1500-249). This equals $1,251 Now you have to make it equal $1,251 The table was 3 times as much as the chair, so let c be the cost of thechair and 3c be the cost of the table table. (because the table was 3 times more expensive) You now have something that looks like this c + 3c = 1251 Combine like terms 4c = 1251 Divide 4c/4 = 1251/4 this gives you 312.75 = c, this is the cost of the chair now that you have the cost of the chair, you can know how much the table costs, because in relation to the chair, the table cost three times more. so... 312.75 x 3 = 938.25 The table cost 938.25
Q:where do you get the blue chair i have the normal chair but where do you get the BLUE chair

finish all the new leaf city quests then talk to the mayor.
Q:how can i make a chair out of cardboard paper without using any tape, glue stuff like dat? only slitsit has 2 have a curved shape

Yes you can. Ever do the cut out thing with a folded piece of paper? If you were e to cut out a bunch of identically shaped chair profile shapes and then stack them next to each other they would distribute the weight load evenly. Below is a cool You tube link to the one I have seen, but there are many more designs on you tube available.
Moon,a well-known enterprise specializing in the production and sales of high quality metal furniture, is a direct supplier for DOREL & POWELL, one of the Top 500 furniture company in China. Since the establishment of our company, we have been devoted to setting up a good CIS and completely implementing ISO9001 quality management system.
1. Manufacturer Overview

Location
Hebei, China
Year Established
1988
Annual Output Value
Above US$ 50 Million
Main Markets
15.00% Mid East
6.00% Northern Europe
20.00% North America
2.00% Eastern Asia
5.00% Africa
20.00% Eastern Europe
8.00% Southeast Asia
3.00% Oceania
10.00% Western Europe
2.00% Southern Europe

Mainly overseas markets
Company Certifications
ISO 9001:2000
2. Manufacturer Certificates

a) Certification Name
Range
Reference
Validity Period
3. Manufacturer Capability

a)Trade Capacity
Nearest Port
Qingdao
Export Percentage
80%
No.of Employees in Trade Department
6 People
Language Spoken:
English; Chinese
b)Factory Information
Factory Size:
Above 60000 square meters
No. of Production Lines
Above 8
Contract Manufacturing
OEM Service Offered; Design Service Offered
Product Price Range
Average
Hot Searches
Related keywords