High Strength FRP/GRP Pipe for Water Transportation (DN<0.3m)
Loading Port:

China main port
Payment Terms:

TT or LC
Min Order Qty:

1000 kg
Supply Capability:

10000 kg/month
Inquire Now
Customer Service
OKorder Service Pledge
Quality Product
Order Online Tracking
Timely Delivery
OKorder Financial Service
Credit Rating
Credit Services
Credit Purchasing
---
Add to My Favorites
---
Description:
In the FRP .with high tensile strength, the fiberglass plays the role of reinforcement whiles the wear-resistance and pressure –resistance synthetic resin is used for bonding the fiber as the basic materials. Putting together, they commonly play the role of being in finished form and load carrier.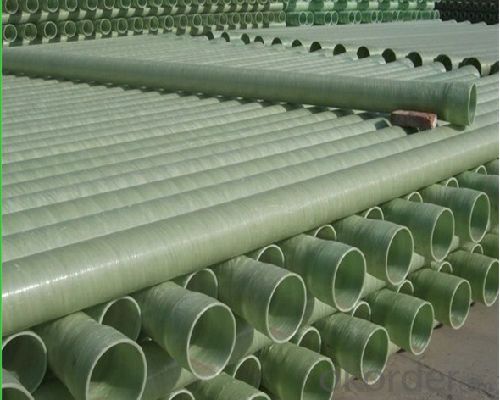 Characteristics:
1. Good physical mechanics performance
2. Being resistant to chemical erosion and longer service life
3. Excellent hydraulic characteristics
4. Lower installation and keeping cost
5. Flexible design and shorter reform term
6. No medium pollution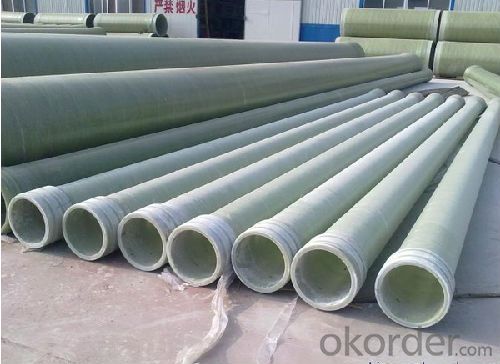 FRP pipe classification by application field
1. Chemical medium transportation pipe
2.Various producing process pipe (chemical process, paper making process, polluted water treatment process, sea water purifying process, food and drink producing process, and medicine producing process)
3. Pressure pipe for small hydroelectric power station on the ground and cycling pipe for power plant
4. Polluted water collecting and transporting pipe
5. Drink water transporting main line and tubing pipe
6. Oil field water injecting pipe and oil transporting pipe
7. Heat transporting pipe and sea water transporting pipe
8. Agricultural irrigation pipe
9. FRP set (ventilation, air-conditioner, chimney, cleaner) and piping
10. Gas drainage pipe for mine
FRP pipe classification by pressure in working state
1. Medium and low pressure pipe 0.6MPa2.5 MPa
2. High pressure pipe5.5MPa24 MPa
3. Mobile gravity pipe (which can be used when the pressure is under 0.6MPa)
4. Vacuum tube, external pressure pipe or siphon.
FAQ:
1..Is your company a factory or trade company?
A:We have our own factory , we are on this business more than 10 years.
2.Who will pay for the express cost ?
A: We can support you free samples ,but express cost will be paid by you .
3.How long is the delivery time?
A:within 10-15 days after receiving deposit.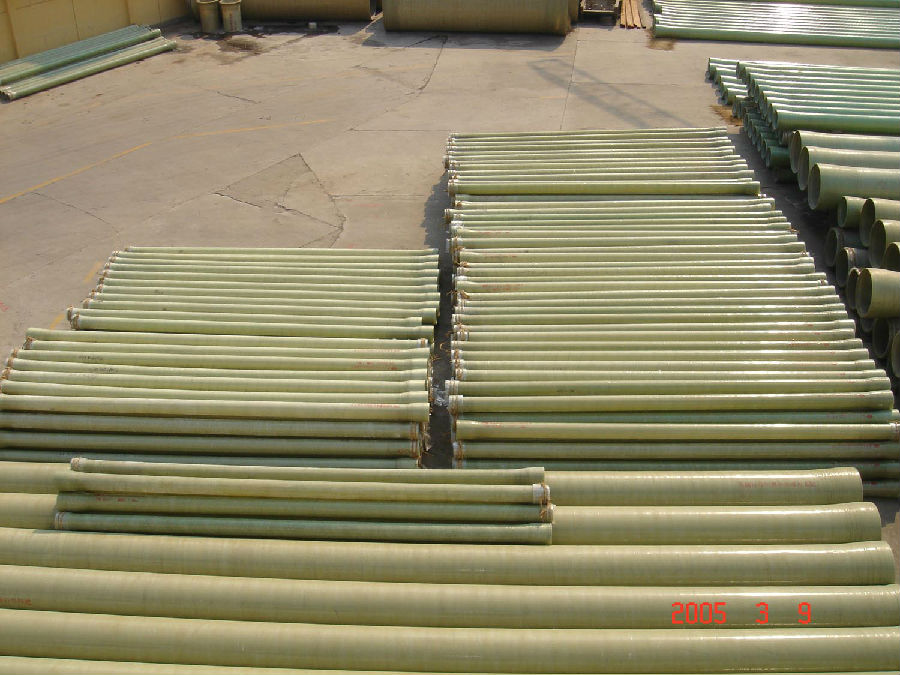 Q:What is the structure and function of glass fiber reinforced plastic lining?

The role of FRP lining, corrosion protection, generally attached to the carbon steel container wall, can avoid the use of stainless steel, saving costs. FRP can resist acid and alkali corrosion, PH2-12 or so no problem, but not high temperature, the temperature is higher than 80 degrees, more dangerous, will dissolve.
Q:What kind of diamond saw blade for cut glass steel pipe?

Diamond saw blade is a kind of cutting tool. It is widely used in the processing of concrete, refractory, stone, ceramics and other hard and brittle materials. The diamond saw blade is mainly composed of two parts: matrix and cutter head. The matrix is the main supporting part of the bond of the cutter head, the cutter head is the cutting part during use, the cutter head can be in use and constantly consumed, and the matrix is not, the cutter head is able to cut the role because it contains diamond, diamond as the hard material of it friction cutting object is processed in the knife head. The diamond particles are wrapped in metal inside the cutter head.
Q:Are FRP pipes still developing?

Although high-end composites have all sorts of benefits, glass tubes can replace traditional plumbing materials, at least far away.
Q:What is the stiffness of FRP pipe?

Ring stiffness refers to a technical index of FRP pipes subjected to external pressure.
Q:How to prevent the glass fiber reinforced plastic pipe from being damaged by aging or over pressure, causing the liquid to splash and hurt people

If you are afraid of the glass tube will be such a question, the weak links or parts of the local reinforcement, the conditions can, can re pipe liner, to compression, anti ageing effect
Q:Raw material and mix ratio of inorganic glass fibre reinforced plastic wind pipe

The general ratio is 1 to 0.001
Q:What are the differences between inorganic FRP pipes and plexiglass pipes, what are the advantages and disadvantages?

The inorganic glass fibre reinforced plastic wind pipe is made of unsaturated resin, and the organic is made of vinyl resin, which is strong and bears strong corrosion resistance
Q:Glass tube has different diameters with different prices. Who can elaborate?

The standard for FRP pipe execution is GB21238-2007
Q:What kind of material are the flanges and valves on the GRP pipe?

Construction: glass fiber reinforced plastic can be threaded joints, easy to install, better quality, PVC generally glue adhesive, due to temperature problems, quality is difficult to ensure;
Q:What are the disadvantages of glass fiber reinforced sand pipe?

Glass reinforced plastic sand pipe is mainly to increase the rigidity of the pipe, the relative wall thickness of pure glass steel tube, low compressive strength, shock resistance decreased.
1. Manufacturer Overview

Location
Year Established
Annual Output Value
Main Markets
Company Certifications
2. Manufacturer Certificates

a) Certification Name
Range
Reference
Validity Period
3. Manufacturer Capability

a)Trade Capacity
Nearest Port
Export Percentage
No.of Employees in Trade Department
Language Spoken:
b)Factory Information
Factory Size:
No. of Production Lines
Contract Manufacturing
Product Price Range