FIBER GLASS REINFORCED PLASTICS PIPE DN2000
Loading Port:

China Main Port
Payment Terms:

TT or LC
Min Order Qty:

1000 m²
Supply Capability:

10000Meter Per Day m²/month
Inquire Now
Customer Service
OKorder Service Pledge
Quality Product
Order Online Tracking
Timely Delivery
OKorder Financial Service
Credit Rating
Credit Services
Credit Purchasing
---
Add to My Favorites
---
Description of FRP Pipes
In the FRP .with high tensile strength, the fiberglass plays the role of reinforcement whiles the wear-resistance and pressure –resistance synthetic resin is used for bonding the fiber as the basic materials. Putting together, they commonly play the role of being in finished form and load carrier.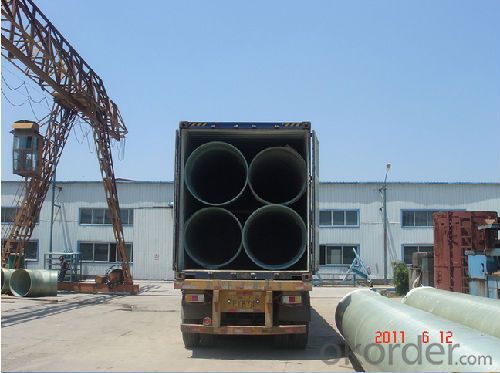 Specifications:
1) fiberglass reinforced plastic pipe
2) Diameter: 25mm 28mm 32mm 35mm 38mm 1'' 1.108'' 1.25'' 1.38'' 1.50''
Main Features
Fire-retardant.
UV resistance
Customization
Safety
Economy Characteristic
Applications:
beam,armrest,fence,and handrail, and it could be used in different industries like:Oil&Gas;Pulp&paper, Sewage water treatment;Power plant;Mining/refining;construction engineering;weaving and dyeing;pharmaceuticals;Food processing;Marine.
Packaging:
plastic film ,Cartons; pallets; customized packaging are welcomed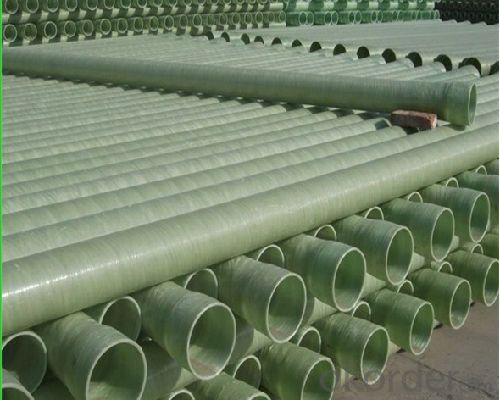 FAQ
1.What is the delivery time ?
We can promise you a short lead time ( 10-15days )
2.Are you a factory?
We have factory and can offer you direct price,and we have 10 yeas experiences
Q:What's the difference between glass fiber reinforced plastic pipe and glass fiber reinforced sand pipe? What kind of material is good?

There are two main functions of glass fiber reinforced plastic sand adding, one is to improve the rigidity, the other is to reduce the cost. These two aspects just agree with the municipal, the dosage is large, the pressure is low, and the underground and maintenance are few.
Q:The difference between GRP cable duct and PVC cable pipe

Glass fiber reinforced plastic cable pipe is a kind of pipe made of resin as matrix, with continuous glass fiber and fabric as reinforcing material, and controlled by computer, winding process or pultrusion process.
Q:What's the process of continuous winding glass fiber reinforced plastic sand pipe?

On line inspection: the pipe being cut and grinded is delivered to the water pressure test machine through the conveyor. After the test is qualified, the pipe joint which has been tested by hydraulic pressure is sent to the pipe joint installation machine for joint installation.
Q:How many times can the temperature withstand of FRP winding pipes? What are the factors?!

FRP coil pipe:(1) corrosion resistance: chemically inert material, excellent corrosion resistance, and can choose different corrosion resistant pipes according to the transmission medium.(2) strong mechanical strength: good water pressure resistance, good resistance to external pressure and impact strength, and piping and fittings can be designed according to the required pressure.(3) temperature adaptability: the use of temperature range: greater than -70 degrees Celsius, less than 250 degrees Celsius, under the freezing medium, the pipe is not split. (4) the resistance of the fluid is small: the pipe wall is smooth, the roughness coefficient is 0.0084, and the pipe diameter can be reduced under the same flow rate.(5) light weight, long life: light quality, convenient transportation, low construction cost, no maintenance, and the service life of more than 50 years.(6) maintain the water quality: non-toxic, conveying drinking water, can maintain long-term water quality sanitation.
Q:Winding method of glass fibre reinforced plastic pipeline anticorrosive glass fiber cloth

When the length and width of glass fiber mesh are not enough, the method of lap joint must be adopted to improve the tangential bearing capacity of the joint, so as to effectively overcome the radial tensile stress, bending force and bending shear stress. The lap length of the glass fiber cloth at the joint is generally 50 to 100mm, and the joint of each glass fiber cloth should be at a certain distance from the adjacent joint. The longitudinal and transverse joints between adjacent layers shall be greater than 300mm, and the distance from the same seam shall not be less than 500mm.5) paste made of circular duct, glass cloth along the radial 45 degree angle to the direction of cut cloth; conical paste products, according to the fan-shaped cloth.
Q:The difference between FRP process tubes and GRP tubes

Process tubes are mostly pure glass steel, not sand, and sand pipe, of course, is added sand.
Q:What are FRP pipes used for making? What raw materials?

Reinforced plastic made of glass fiber or its products as reinforcing material. Entitled "glass fiber reinforced plastics" or "glass fiber reinforced plastics". Because of the different kinds of resins used, they are called polyester glass fiber reinforced plastics, epoxy glass fiber reinforced plastics and phenolic resin glass fiber reinforced plastics. Glass has a hard and brittle, has a good transparency and high temperature resistance, corrosion resistance and other properties; at the same time, steel is very hard and not brittle, but also has high temperature resistance characteristics.
Q:What are the main points for the installation of FRP ducts?

All you can think of public places, shopping malls, residential buildings, enterprises, institutions, etc., and so on, as long as the money, that can be installed
Q:Do I need CCC certification for ventilated GRP?

Usually fiberglass, air conditioning, ventilation pipes will have insulation requirements, the general need not heat preservation.
Q:How can I make up the broken glass fiber?

If the glass fiber reinforced plastic pipe is broken, how do you fix it and repair it better?. It's better to replace it. I wonder how much pressure you use for fiberglass pipes. The proposal is to replace the pipeline.
1. Manufacturer Overview

Location
Year Established
Annual Output Value
Main Markets
Company Certifications
2. Manufacturer Certificates

a) Certification Name
Range
Reference
Validity Period
3. Manufacturer Capability

a)Trade Capacity
Nearest Port
Export Percentage
No.of Employees in Trade Department
Language Spoken:
b)Factory Information
Factory Size:
No. of Production Lines
Contract Manufacturing
Product Price Range