FIBER GLASS REINFORCED PLASTICS PIPE DN300
Loading Port:

China Main Port
Payment Terms:

TT or LC
Min Order Qty:

100 m
Supply Capability:

10000Meter Per Day m/month
Inquire Now
Customer Service
OKorder Service Pledge
Quality Product
Order Online Tracking
Timely Delivery
OKorder Financial Service
Credit Rating
Credit Services
Credit Purchasing
---
Add to My Favorites
---
Description of FRP Pipes
Pipes are manufactured using the discontinuous dual helix filament winding process on computer controlled machines. By adjusting the relative speed of mandrel rotation and glass distribution head movement, helical reinforced layers can be wound with different angles. The angle with the axis of the pipe can vary between 45deg; And 88deg; . The inside diameter of the finished pipe is defined by the mandrel outside diameter and the designed wall thickness is achieved by repeated winding passes.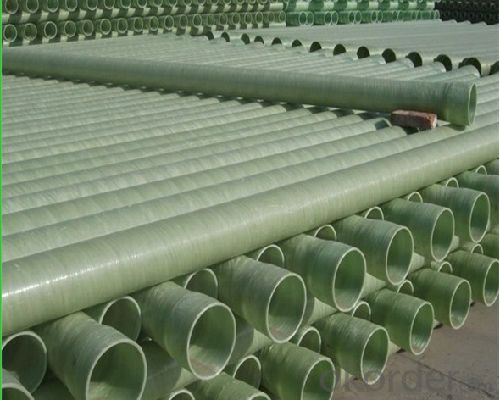 Specifications:
Diameter:DN25~DN4000
Pressure:0.25Mpa~2.5Mpa
Temperature:-45°C~120°C
Length of single pipe: DN<250 ,L=6m ;DN≥12m ;the length can also be made according to the requirement of the user.
Main Features
Corrosion-Resistance
Fire-retardant.
Light weight and high strength
UV resistance
Customization
Safety
Insulation
Economy Characteristic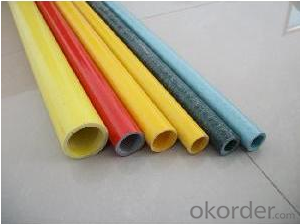 Applications:
beam,armrest,fence,and handrail, and it could be used in different industries like:Oil&Gas;Pulp&paper, Sewage water treatment;Power plant;Mining/refining;construction engineering;weaving and dyeing;pharmaceuticals;Food processing;Marine.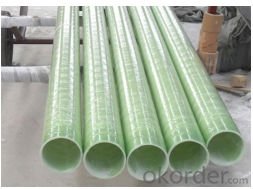 Packaging:
plastic film ,Cartons; pallets; customized packaging are welcomed
FAQ
1..Is your company a factory or trade company?
A:We have our own factory , we are on this business more than 10 years.
2.Who will pay for the express cost ?
A: We can support you free samples ,but express cost will be paid by you .
3.How long is the delivery time?
A:within 10-15 days after receiving deposit.
Q:Is the installation of FRP pipes required qualification?

However, some industries may have corresponding requirements, and some owners may also require it. For example, apply fiberglass pipes to shipyards
Q:The role of glass fiber reinforced plastic cooling towers

Thermal power plants usually have cooling towers. Water heating, high pressure gas generated by promoting the steam turbine power generation, and the remaining gas cooling.
Q:What is the heat preservation of the plumbing pipe now? I'd like to use fiberglass Seek help from a master

I think that you can use magnesium aluminum silicate pipe because this product is suitable for oil pipeline and pipe insulation insulation general insulation are using the products and for foam asbestos products no pollution of construction
Q:Where are the advantages of FRP pipes? Long life?

Heat resistant and frost resistantAt the temperature of -30 DEG C, it still has good toughness and high strength. It can be used for a long time in the range of -50, -80 degrees Celsius, and the resin with special formula can work at the temperature above 110 DEG C.
Q:How to repair and repair the broken hole of GRE glass fiber reinforced plastic pipe?

The service will be restored in 24 hours, and I hope this will help you! Can private letter to contact is not clear!
Q:What are the materials used in smoke exhaust pipes?

Different uses of flue gas pipes are also made of different materials. Refer to
Q:What are FRP pipes used for making? What raw materials?

Reinforced plastic made of glass fiber or its products as reinforcing material. Entitled "glass fiber reinforced plastics" or "glass fiber reinforced plastics". Because of the different kinds of resins used, they are called polyester glass fiber reinforced plastics, epoxy glass fiber reinforced plastics and phenolic resin glass fiber reinforced plastics. Glass has a hard and brittle, has a good transparency and high temperature resistance, corrosion resistance and other properties; at the same time, steel is very hard and not brittle, but also has high temperature resistance characteristics.
Q:What are the functions of glass fiber reinforced plastics?

Glass fiber reinforced plastic (FRP) is a kind of composite material which has been developing rapidly for more than fifty years. 70% of glass fiber output is used to make fiberglass. Glass steel is much harder and much lighter than steel.
Q:There is a gap between the new glass fiber reinforced plastic pipe and its through wall. How can the plug be prevented from leaking through the cracks around the pipe?

Large glass fiber reinforced plastics plants such as the United States and Asia, with FRP through the cabin, can be used to solve your problem, the gap is filled with special blowing agent. In this way, the continuity of FRP material can be guaranteed.
Q:FRP pipe price

Glass fiber reinforced plastic pipeline is a kind of light, high strength and corrosion resistant nonmetal pipe. It is a resin based glass fiber weight layer wound on the mandrel rotating on according to process requirements, and distance evenly between the fibers as Kamiishi Eisa in the sand layer. The pipe wall structure reasonable and advanced, can give full play to the role of material, to meet the premise of use strength, improve the rigidity, ensure the stability and reliability of the product. Gfrpmp for its excellent chemical corrosion resistance, high strength and light weight, no scaling, strong shock resistance, and ordinary steel compared with long service life, low cost, quick installation, safe and reliable, accepted by the majority of users.
1. Manufacturer Overview

Location
Year Established
Annual Output Value
Main Markets
Company Certifications
2. Manufacturer Certificates

a) Certification Name
Range
Reference
Validity Period
3. Manufacturer Capability

a)Trade Capacity
Nearest Port
Export Percentage
No.of Employees in Trade Department
Language Spoken:
b)Factory Information
Factory Size:
No. of Production Lines
Contract Manufacturing
Product Price Range