FIBER GLASS REINFORCED PLASTICS PIPE DN600
Loading Port:

China Main Port
Payment Terms:

TT or LC
Min Order Qty:

100 m
Supply Capability:

10000Meter Per Day m/month
Inquire Now
Customer Service
OKorder Service Pledge
Quality Product
Order Online Tracking
Timely Delivery
OKorder Financial Service
Credit Rating
Credit Services
Credit Purchasing
---
Add to My Favorites
---
Description of FRP Pipes
In the FRP .with high tensile strength, the fiberglass plays the role of reinforcement whiles the wear-resistance and pressure –resistance synthetic resin is used for bonding the fiber as the basic materials. Putting together, they commonly play the role of being in finished form and load carrier.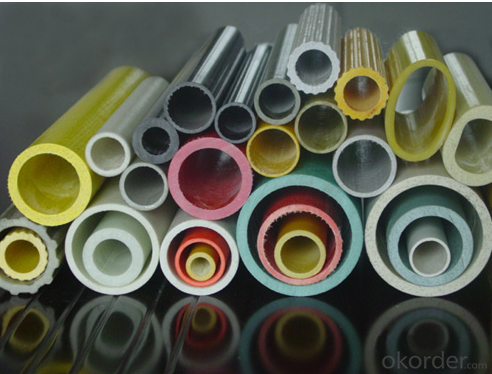 Specifications:
1) fiberglass reinforced plastic pipe
2) Diameter: 25mm 28mm 32mm 35mm 38mm 1'' 1.108'' 1.25'' 1.38'' 1.50''
3) Color: red, black, white, yellow, blue, green, gray
4) Fiberglass tool handles may be produced cut-to-length or in stock-length quantities determined by the customer
5)Lightweight, High Impact Resistant, Low Conductivity, Corrosion Resistant, Durable/Weather Resistant Surface, Aesthetic Appeal
Main Features
— Light weight, high strength, and convenient transportation and installation.
— Excellent corrosion resistant, it can be used under the condition of seawater environment for long time.
— Good low temperature resistant, it can be used under the condition of -45°C-120°C for long time.
— Smooth inner surface, its roughness coefficient is 0.0084, good conveying, and no fouling, no secondary pollution, decrease the cost of the running & maintenance.
— Fire retardant, it meets IMOA.753(18) Level-3 fire resistance class.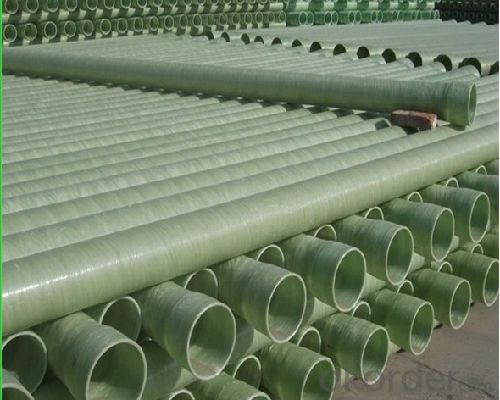 Applications:
beam,armrest,fence,and handrail, and it could be used in different industries like:Oil&Gas;Pulp&paper, Sewage water treatment;Power plant;Mining/refining;construction engineering;weaving and dyeing;pharmaceuticals;Food processing;Marine.
Packaging:
plastic film ,Cartons; pallets; customized packagings are welcomed
FAQ
1..Does your company is a factory or trade company?
A:We have our own factory we are on this business more than 10 years.
2.Who pay for the express cost ?
A: We can support you free samples ,but express cost will be paid by you .
3.How long is the delivery time?
A:within 10-15 days after receiving deposit.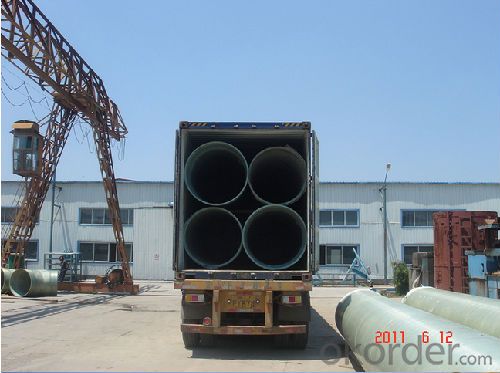 Q:Can FRP pipes be used in heating pipes?

FRP pipes are generally not used in heating pipes, because the use temperature of FRP pipes is limited, as detailed below:1. universal unsaturated polyester FRP can only be used for less than or equal to 60 degrees (HG/T20696-1999)2. bisphenol A unsaturated polyester FRP can only be used for less than or equal to 100 degrees HG/T20696-1999)3. vinyl unsaturated polyester glass fiber can only be used for less than or equal to 120 degrees HG/T20696-1999)4. epoxy FRP can be used for less than or equal to 90 degrees HG/T20696-1999)5. glass fiber reinforced plastic sand holding pipes can only be used for less than or equal to 50 degrees (GB/T21238-2007)
Q:What's the difference between glass fiber reinforced plastic pipe and glass fiber reinforced sand pipe?

If the thickness of the pipe can meet the requirements of pressure, but can not meet the stiffness requirement, will choose to increase the thickness of sand to meet the stiffness (of course can not directly increase the sand thickness to meet the requirement of stiffness, but the cost is too high).
Q:How can I replace the valve on the water supply pipe?

According to the position of the branch pipe, the position of the opening is reasonably determined, and the position of the socket of the glass steel pipe is avoided as far as possible, and a better position is selected in the middle of the pipe body;
Q:How to prevent the glass fiber reinforced plastic pipe from being damaged by aging or over pressure, causing the liquid to splash and hurt people

Can be in the pipeline within the glass fiber reinforced plastic, you can meet your requirements.
Q:What are the differences between FRP pipes and sand pipes in their uses?

Glass fiber reinforced plastic sand pipe is mainly used for conveying medium and low pressure water, raw water and sewage.
Q:How to open a DN300 port on the DN600 GRP pipe and install the DN300 gate?!

Glass fiber reinforced plastic words, such as what you said, for ordinary construction workers, a little difficult, after all, opening and bonding can not do under high pressure or long-term use of water leakage.
Q:What are the functions of glass fiber reinforced plastics?

Glass fiber reinforced plastic (FRP) is a kind of composite material which has been developing rapidly for more than fifty years. 70% of glass fiber output is used to make fiberglass. Glass steel is much harder and much lighter than steel.
Q:There is a gap between the new glass fiber reinforced plastic pipe and its through wall. How can the plug be prevented from leaking through the cracks around the pipe?

Large glass fiber reinforced plastics plants such as the United States and Asia, with FRP through the cabin, can be used to solve your problem, the gap is filled with special blowing agent. In this way, the continuity of FRP material can be guaranteed.
Q:Do I need CCC certification for ventilated GRP?

Of course, there is also used for air conditioning duct glass fiber reinforced plastic pipe, the thickness needs at least 25MM, lined with EPS insulation foam.
Q:What kind of material does glass steel ship honeycomb board use?

Analysis of glass steel tube and glass steel tube cellular communication used in communication network construction, is currently used PVC bellows and PVC honeycomb tube, pipe and pipe crossing is the use of plastic pipe or galvanized steel pipe.
1. Manufacturer Overview

Location
Year Established
Annual Output Value
Main Markets
Company Certifications
2. Manufacturer Certificates

a) Certification Name
Range
Reference
Validity Period
3. Manufacturer Capability

a)Trade Capacity
Nearest Port
Export Percentage
No.of Employees in Trade Department
Language Spoken:
b)Factory Information
Factory Size:
No. of Production Lines
Contract Manufacturing
Product Price Range