Fiberglass chopped strand mat high quality
Loading Port:

Shanghai
Payment Terms:

TT OR LC
Min Order Qty:

1 m.t.
Supply Capability:

100 m.t./month
OKorder Service Pledge
Quality Product
Order Online Tracking
Timely Delivery
OKorder Financial Service
Credit Rating
Credit Services
Credit Purchasing
---
Add to My Favorites
---
Product Description
.The Style including the EMC100,EMC200,EMC600.EMCL600.EMCL450,CMC300.CMC450....
2.General width 1040mm/1270mm
3.chopped strand mat is made of randomly dispersed with power or emulsion bonded.
4.Applicable for hand lay -up ,continuous lamination process,compatible with UP VE
5.Suitable for transparent panels,ship ,bodies,automobile parts and interior decorations....
Style :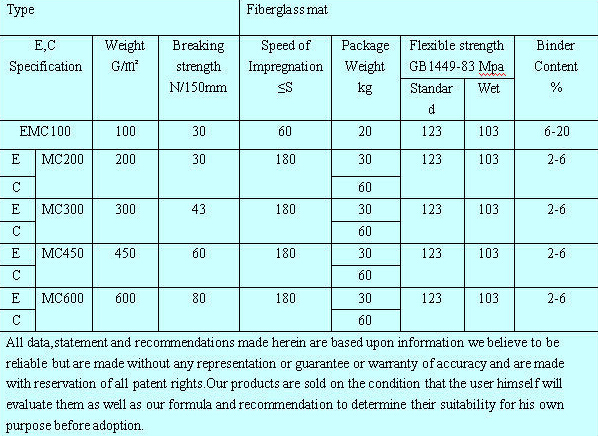 Packing :
each roll is packed by polyester bag .
2.Every roll in a cardbord box or thhr plastic woven bag
3.30kg with a rollof woven roving
4.Bordbox size : 22*24*114cm
5.The details as per customes requriments
Q:nan

Glass fiber(English name is): It is a kind of excellent inorganic non-metallic materials, having the advantages of good insulation, strong heat resistance, good corrosion resistance, high mechanical strength, but the disadvantage of poor brittleness, poor abrasion resistance. It is founding by high tempersture with the materials of glass ball and waste glass, and wire drawing, winding and weaving process for production, the filament diameter ranges from several microns to twenty micron, the equivalent of a hair 1\20-1\5, and each bundle of fibers by hundreds or even thousands of root filaments. Usually it is treated as a reinforcing material of complex materials, electrical insulating materials and insulation materials, circuit board, etc. and widely used in various fields of the national economy. Roving roving is composed of parallel raw silk or parallel filament bundling. Roving glass can be divided according to the composition. Alkali free glass twistless roving and middle alkali glass twistless roving. The glass fiber diameter from 12~23μm is used in the production of glass roving. Roving the number from 150 to 9600 (Tex). The twistless roving can be directly used in some composite materials, with the charact of high glass fiber content.
Q:Is glass fiber reinforced plastics industry a polluting industry?

Glass fiber short cut product function1, a glass fiber chopped into various types of plastic, resin, auto parts, BMC, SMC, friction material, gypsum board, glass steel, composite materials, electrical appliances and other products or in construction, can significantly improve the strength, crack resistance, wear resistance etc..2, glass fiber chopped added to prevent crack occurrence and expansion of the role of cement and concrete, promote the concrete impermeability and thawing performance and improve the frost resistance of concrete is improved, impact toughness, and promote to improve the durability of concrete.3. The strength and service life of glass fiber yarn can be obviously increased by adding water tank, roofing floor, swimming pool, septic tank, sewage treatment pond and other construction materials.
Q:nan

Drawing, drying, winding, fabric etc.
Q:nan

The former one is called carbon - carbon composite material which is made from carbon fiber.
Q:nan

Statin (similar to unidirectional cloth). It is different from the ordinary fabric, but also can be used in the production of glass fiber reinforced, three-dimensional woven fabrics and other forms of three-dimensional fabric. In certain applications will also further roving short cut, as well as for corrosion resistant occasions, which is generally used in glass mat. The shape of a solid fabric is massive. Alkali free glass fiber tape is commonly used in the manufacture of high strength, rectangular, unidirectional fabrics. Single warp fabric is a kind of coarse and fine warp weft four by breaking satin or long satin fabric, wet mechanical strength shall meet the requirements, greatly improves the shear strength of composites and resistance damage tolerance, and then use the barbed needle acupuncture. It is a continuous glass strand by throwing silk device randomly thrown in continuous mesh belt, such as winding, mould. The dumbbell shaped fabric, flat selvedge and weft density; the fabric made of laminated material to avoid the pollution of the process . The fiber in the continuous glass fiber felt is continuous. The most typical braid is a layer of warp and weft overlap together. Glass cloth is mainly used for producing all kinds of electric insulation laminate.
Q:nan

Carbon fiber raw materials can be made into fibers and can recovery the carbon. The final products have good mechanical properties.
Q:Where can I cut short glass fiber?

Let's talk about the concept, also called glass fiber short cut, or glass fiber segment, usually using a special soaking agent of the original silk, through wet short cut online.
Q:nan

Basically it does not increase the component section, and the increase of the self weight of structures can be ignored, which can ensure it can work with the original reinforced concrete members together and get good reinforcing effect. It is widely used in building structure reinforcement. 2 convenient construction: It boasts less occupied site, no need of large machines, no construction, no fire, no fixed site facilities, high construction efficiency. 3 high durability: It does not rust, and is very suitable for using in high acid, alkali, salt and corrosion environment. Also it has the ferte of high anti fatigue strength, wear resistance, anti-aging, etc.. The characteristics of carbon fiber composite material is a lightweight and high-strength, but processing is difficult. There are great differences among the carbon fiber production which adapt difernent technology, so as to the differences between different trade marks. But it certainly is in terms of strength, toughness and corrosion resistance are higher than the Aluminum Alloy steel and carbon fiber products. Once the damage is hard to repair, such as a piece of carbon fiber composite plate cracking, it must be replaced by a whole plate, but it can not be repaired by welding and other ordinary methods.
Q:nan

High-intensity Geonet, Geotextile, Uniaxial Plastic Geogrid, Steel-plastic composite Geogrid, Composite geomembrane, and two double to the grid line, Maree Modoo axial loom, Fiberglass geogrid, Polyester geogrid, Geonet, two one-way grille production line, Dornier loom.
Q:nan

It is used for high quality asbestos tiles and glass fiber reinforced cement.
1. Manufacturer Overview

Location
Year Established
Annual Output Value
Main Markets
Company Certifications
2. Manufacturer Certificates

a) Certification Name
Range
Reference
Validity Period
3. Manufacturer Capability

a)Trade Capacity
Nearest Port
Export Percentage
No.of Employees in Trade Department
Language Spoken:
b)Factory Information
Factory Size:
No. of Production Lines
Contract Manufacturing
Product Price Range