Features:
1. High light Transmisstion
2. Anti- Broken
3. Anti - Sunshine
4. UV protection
5. Easy Clean
6. Easy Installation
7. Long life Time (Up to 10 years under standard circumstance)
Specifications: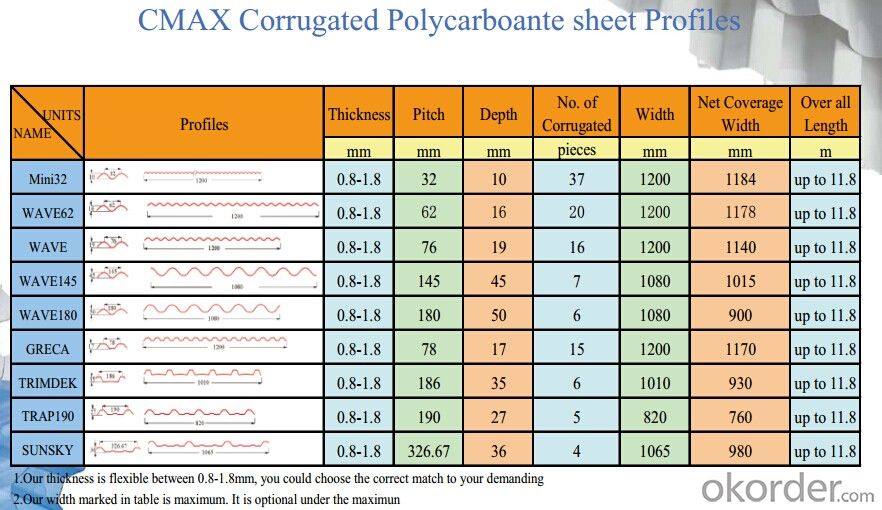 Q:

Yes, plastic sheets can be used for stage props. They are lightweight, versatile, and can be easily shaped and painted to create various stage elements such as scenery, backdrops, or set pieces. Additionally, plastic sheets are often more cost-effective compared to other materials commonly used in stage prop construction.
Q:Like the clear plastic used in packaging, and on kids toys and stuff.

Try hardware stores, home depot, lowe's, that sort of store. Most likely in the paint department. Are you going to use oil with these sheets..... just asking.... LOL
Q:What is at plastic sheet?

A sheet of metal formed by forging or rolling or casting.
Q:Where can i buy big sheets of Coroplast?

I okorder / ... HTH, Diane B.
Q:A retail store would be preferred.

Sheets of clear plastic can be purchased in hardware stores, or at plastics stores (look in your yellow pages under Plastics, or go to a Tap Plastics if you have one in your area), or you can even use one from a frame you might have sitting around. To cut it, if necessary, you'll need a special cheap cutter... or if you go to a plastics store, they'll cut it any way you want usually charging by the cut (and you can get more thicknesses, etc.). Diane B.
Q:

Yes, plastic sheets are generally resistant to staining from food.
Q:

Yes, plastic sheets can be used for boat windows.
Q:There is extreme wetness near the base of the walls 1 perticurally to the south and west and one to the north and west sides. I have had the attic ventilation balanced and it has gotten a little better. I also forgot that there is tyvek on the exterior and the cedar siding is curving toward the outside. I had the worst of it (siding) replaced this summer. The heat registers have just been replaced because they were rotted. I am replacing a sliding door for the same reason. I am also trying to replace some windows that may be leaking air. Thank you

HERE IN SE, TX WE HAVE HUMIDITY ALL THE TIME AND WE DO NOT PUT PLASTIC UNDER THE SHEETROCK THE ORDER FROM INSIDE TO OUTSIDE IS PAINT SHEETROCK WALL STUDS WITH INSULATION BETWEEN THEM OSB(OUTSIDE SHEATHING BOARD) TYVEK SIDING PAINT OR STAIN THATS IT. USING THE PLASTIC U HAVE CREATED THAT VAPOR NOT A VAPOR BARRIER. THE TYVEK DOES THAT JOB THE HOUSE IS SWEATING BECAUSE OF THE DIFFERENCE IN THE TEMP INSIDE TO OUTSIDE. THE FUTURE HEALTH ISSUES ARE MOLD AND DECAYING SHEETROCK
Q:clear plastic

It depends on which quality that you prefer. As everybody knows made in china is the cheapest lenticular sheets. But quality is fair. If you would like to buy real quality lenticular lens , You must choose DP Lenticular.If you google this company, you will find them.
Q:

Yes, plastic sheets are generally safe for food contact as long as they are made from food-grade materials that are free from harmful chemicals and toxins.
1. Manufacturer Overview

Location
Year Established
Annual Output Value
Main Markets
Company Certifications
2. Manufacturer Certificates

a) Certification Name
Range
Reference
Validity Period
3. Manufacturer Capability

a)Trade Capacity
Nearest Port
Export Percentage
No.of Employees in Trade Department
Language Spoken:
b)Factory Information
Factory Size:
No. of Production Lines
Contract Manufacturing
Product Price Range
Hot Searches
Related keywords