Aluminum Plain Sheets Manufactured in China
Loading Port:

Shanghai
Payment Terms:

TT or LC
Min Order Qty:

5 m.t.
Supply Capability:

9000 m.t./month
Inquire Now
Customer Service
OKorder Service Pledge
Quality Product
Order Online Tracking
Timely Delivery
OKorder Financial Service
Credit Rating
Credit Services
Credit Purchasing
---
Add to My Favorites
---
| | |
| --- | --- |
| Packaging Details: | Wooden Pallet, Wooden Case, As Customzed, etc. |
| Delivery Detail: | 15 to 25 days |
Product Description
Aluminum sheet specifications:
1) Alloy : 1050 1060 1070 1100 2024 3003 3004 3105 3A21 5005 5052 5083 5754 5182 5454 5456 6061 6063 7075 8011 etc
2) Temper: O/H12/H14/H1/H18/H32/H34/H36/H38//H111/H112/H116/H321/T6/T651/T3/T351 etc
3) Thickness: 0.1mm to 300mm
4) Width:20mm to 3300mm
5)Length: ≤ 12000mm
6) Protective film can be added
7) Production Line: DC and CC production line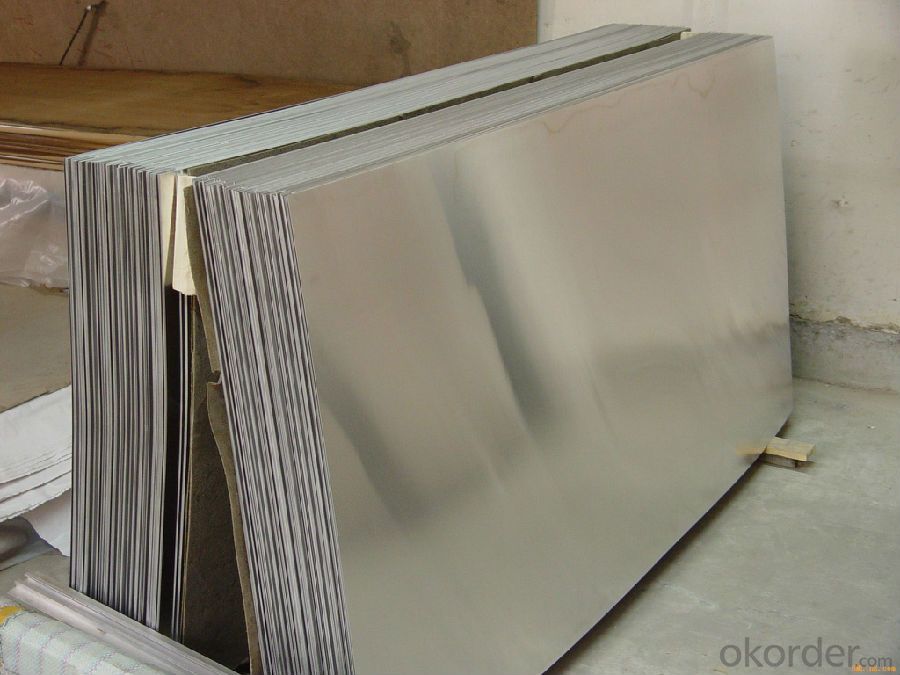 Application
Appplication:construction, decoration, transportation, cookware, machinery, moulding, airplane, PP cap etc
Our Services
1) Reply within 12 hours
2) Free samples provided
3) On-site production following-up
4) Loading inspection with container fixing
5)Third party inspection at your request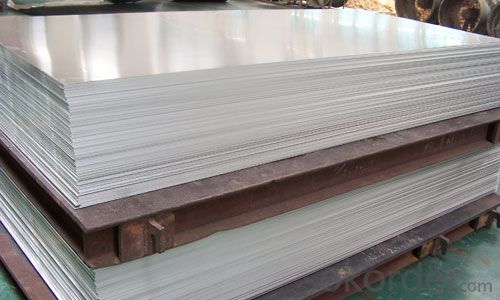 Q:What the glue of L solidified aluminum and fast acrylic plate, solid glue?

Aluminum and acrylic adhesive, if you want to achieve high strength without any effect, can be bonded with KD-5603 trace glue, but this should be with the help of UV curing light curing, if there is no UV curing light, the sun is strong weather, stick in the sun after 30 minutes can be the bonding effect of glass panel; the specific effects can refer to the general glass coffee table with four Aluminum Alloy column, don't see any traces of adhesive;If you only need sticky sticks and low marks, you can choose N-906AB glue or KD-855 quick drying metal glue
Q:what will happen when aluminum sheet is put into copper chloride solution?

the chemical equation of the reaction, 2Al+3CuCl2=2AlCl3+3Cu, the phenomena when aluminum sheet is put into copper chloride solution: there is red solid generating on the surface of aluminum sheet.
Q:Is the value of specific heat capacity of aluminium higher or lower than the standard value? Why?

Aluminum Specific Heat Capacity
Q:3003H24 alloy aluminum plate refers to what kind of aluminum plate?

3003H241, the first to 3 words led by the expression is: manganese as the main alloying elements of aluminum alloy;2, second, 0 words indicate that the aluminum alloy, its impurity limit content without special control;3, third, fourth digit 03 indicates modification alloy, not too much actual connotation;4. H means products that increase strength by working hardening;5, 24 in 2 said the work hardening and incomplete annealing state (i.e. the degree of work hardening than product requirements after incomplete annealing strength is reduced to the specified index products) 4 means O is intermediate state to the 8 state that value.
Q:Don't you know how you can grind a pair of scissors along a piece of paper to make it curly? Would that work with aluminum foil? I have to make a sculpture for my 3D class and I need to know if this would work before I go off and buy any.

yes is it possible to make a ribbon out of aluminum foil if it is should i use the shiny or matte side for further ribbons out aluminum foil detail see here:
Q:Right now I have got some problems on how to machine high purity aluminium machinery,are thery any suggestions to promote for this kind of consecutive issue?

Aluminum okorder is a soft, silvery-white metal. In high-purity aluminum nearly all impurities have been removed. It is 99.99 percent pure and is machined like other grades of aluminum. To process aluminum for various applications, the manufacturer heats the aluminum in a smelter and then forms it into ingots (large blocks) or billets (log-shaped rods). Using rolling mills, workers machine ingots into aluminum plates, sheets or foils. Dies machine ingots or billets into extrusions or forgings.
Q:is there any kind of deoderant, other than those crystals that smell, that don't have aluminum in it?

aluminum is the anti persperat find any product that say deodorant only
Q:AND WAT R THE THECNOLOGICAL ANDCOSTS AND BENEFITESOF USING ALUMINUM? what health -related and environment-related issues gave surface as aresult of its widespread use in society?

airplanes are made from aluminum. certain beverages are also. aluminum is cheaper and lighter. the biggest problem is the amount of electricity that it takes to make aluminum
Q:I don't know if the electrons are being passed from my hand to the aluminum or from the aluminum to my hand.Thanks

Aluminum is a metal and every metal has a property that it holds electrons of its outer most orbital quite loosely ( it is electropositive ). And our hand's skin consists of mostly COVALENT bonded compounds which hold their electrons quite tightly. So if we touch aluminum the chances are strong that the electrons are being transferred from aluminum to our hands. But since our hand have covalent compounds so the total transfer must be very small if it is anyway. Otherwise we feel shock every time we touch a neutral aluminum also IF U develop some negative charge then aluminum will take that charge since it has small hold on the outermost electrons. so it easily takes charge frm yr hand at lower potential to its ground potential surface.
Q:i bought a light fixture for my bathroom wall and the ground wire is aluminum and the existing ground wire in the wall is copper,so i would like to know if i can join them and if so,how?

Unfortunately, aluminum wire is often used on lower end fixtures as a cost saving measure : aluminum is cheaper than copper. Aluminum does pass code in North America, however, it's current carrying capacity is lower than copper, for a given cross section, and this must be taken into account when the manufacturer selects the wire gage. A ground wire should not actually ever carry current, except in extraordinary circumstances, such as your hot or neutral wires shorting out. Most likely, your fixture has a braided aluminum ground wire. It usually does not join well with solid copper wire using wire-nuts, but it can be done. If you chose this method, a touch of solder between the copper and aluminum can help the wire-nut threads get a grip and prevent the braided aluminum from shredding or twisting severely around the copper. Another option is to use a ground screw (typically a small, green-colored bolt) to secure the braided aluminum ground to the junction box. Of course this is only allowed if the junction box is metal! In this case, make a small loop with the aluminum wire and pass the screw through it. If the direction of your loop matches the direction of the threads, it should hold just fine while you screw in the ground-screw. Lastly, you can also use a Buchanan splice cap to join the two wires.
1. Manufacturer Overview

Location
Year Established
Annual Output Value
Main Markets
Company Certifications
2. Manufacturer Certificates

a) Certification Name
Range
Reference
Validity Period
3. Manufacturer Capability

a)Trade Capacity
Nearest Port
Export Percentage
No.of Employees in Trade Department
Language Spoken:
b)Factory Information
Factory Size:
No. of Production Lines
Contract Manufacturing
Product Price Range