Tower Crane TC5013
Loading Port:

China Main Port
Payment Terms:

TT or L/C
Min Order Qty:

1 Unit unit
Supply Capability:

500 Units Per Month unit/month
Inquire Now
Customer Service
OKorder Service Pledge
Quality Product
Order Online Tracking
Timely Delivery
OKorder Financial Service
Credit Rating
Credit Services
Credit Purchasing
---
Add to My Favorites
---
Description of TC5013
1) CMAX TC5013 tower crane is one of the key product of CNBM company, which have competitive price and excellent quality, suitable for all kinds of construction project and can work under all kinds of work condition.
2) This kind of crane adopts standard section hydraulic lifting and connecting, and can decide the crane height according to the actual height of the building, and at the same time the lifting capacity will not be affected;
3) It has high working speed, good speed-adjusting performance, steady operation and high efficiency. Three-speed motor and mono-speed ratio decelerator are applied in the lifting struction, which enables heavy load low speed and light load high speed.
4) The crane has complete set of safety devices, which can guarantee the safe and high efficienct operation of the equipment. The machine is equipped with lifting height limiter, dolly range-change limiter, moment limiter, weight limiter, circumgyrating limiter, etc.
5)The machine has scientific layout and beautiful appearance. The operator's room is set independently on one side, with good vision field. It creates a good working environment for the operator
Description of Tower Crane Products
Max. working range 50m, tip lifting weight 1.3T and Max. lifting weight 6T.

Hoisting mechanism fitted with three speed motor, stable braking and less shock when shifting.

Trolleying mechanism can provide two operation speeds.

Free standing height (m) 41.5

Max height with attachment (m) 141.5

Working range can be adjusted(m)44/50

Min working range(m)2.5

Max lifting capacity(t) 6

Tip load @ 50m(t)1.3
Packaging & Delivery
40HQ container
30~40days after deposit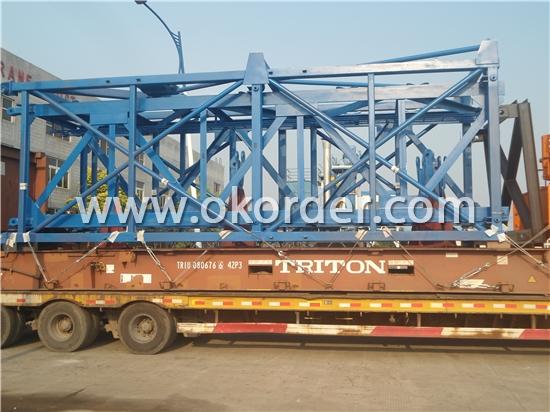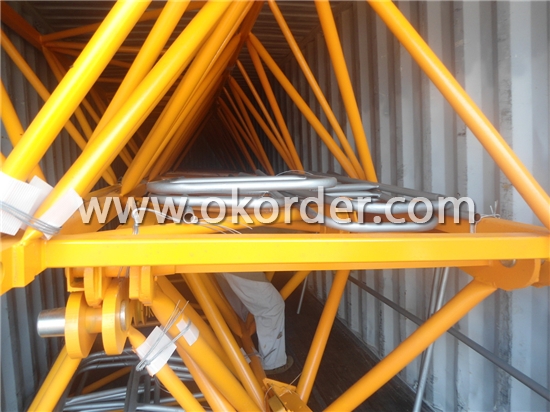 Q:A crew built this huge crane to build an office building next to my house.... There is a huge flag hanging from the top of it.... Why does the construction company do this???

Crane Flags
Q:we have a project starting that will require a stack built 1km high in the air?How will they install this?

use a heavy lift helicopter, these are especially designed for this work
Q:These cranes always stay higher than the construction process but I have never seen how they are extended to stay above all of it. They come in two formats, free standing and those attached to the building. The possibilities that I thought of was that maybe they use another crane to lift the housing and the horisontal arm to put in more modules into the vertical part; or that they extend it by some way by putting modules in at the top or bottom and that the crane has some self-lifting mechanism to accommodate the insertion of more modules. However, I have never seen this being done, nor does the construction of these cranes point to its ability to do so. The only other possibility that I could think of was that the crane is set up at the outset to be higher than the completed height of the building, hence there is no need to extend it but this does not explain how they do it for very high buildings where the crane is attached to the building and seems to grow higher with the building.

The cranes are self erecting. The cranes tower is raised in sections. The lowest section is jacked up to the correct height and then a new section inserted and so on.
Q:For example, self lifting tower crane mounted to 10 meters or 2 floor use. How do you install the third floor now? Is it necessary to remove the crane?. Then add the length of the steel frame on the base seat, and then install the crane above him If so, then 2 cranes are needed. But how is another crane installed?Ask you experts on the construction site of self lifting tower cranes how to install?. Do you use hydraulic jacks like car jacks?

It is required from the upper plus height, then the crane through the motor (hydraulic is not I don't know if not carefully studied to estimate almost) slowly up, because the installation of crane is a separate Union, only the crane is fixed on the top, and is connected to the lower die width ratio some long, above there are for the installation of people stay small table, but also it can open from the opening above the dead ground fill and then fix it by bolt, and then put the live up to OK
Q:I need to know exactly how much weight they can lift also how much do they weight?how long is thier life-time?in what temprature they can work?does mosture do any harm to them?for installation , do they need foundation?the exact height and width?

You need to be more specific. The lifting capacities for container cranes varies significantly, as does any other crane. Some of the variation is based purely on load (horsepower) availability; some is based on speed (rpm) for lift/drop portions of the cycle. Cranes like these operate year-round, at ports all over the world. Some ports have average ambient temperatures in the range of 45 C, with highs up to 60 C. Others can be as low an average as 10 C, with a low peak as much as -50 C. Moisture will, over the long haul, harm them - they're metal constructs, and thus are prone to oxidation. Using corrosion-resistant materials and/or coatings will certainly prolong their usable lifespan. The crane drives (electric motors and power electronics) are also susceptible to moisture and other contaminants. All true dockside cranes require some sort of permanent foundation; it's usually part of the pier construction itself. However, there are portable cranes that operate without one. There is also more than one crane manufacturer out there - all will have their trade secrets that will make each look a little different than the rest. It will generally also reflect in their operation parameters, and in their expected life cycle.
Q:What is the most amount of weight lifted by any crane?

Buffalo Hydraulic built a crane for NASA to lift their launch pads. The heavy one weighed about 5.4 million pounds, but the crane could handle 9 million if it had to.
Q:My boyfriend's a little sick right now, and he's going to have a surgery over summer. I'm in the process of folding him 1000 cranes (like the Japanese legend), and in every crane I wrote a message. I have a list of all the messages so far. I'm not sure how to give it to him, though. 1000 cranes is a lot of cranes... and I don't want to make him carry a big heavy box or anything. I also want him to be able to read the messages... something I didn't think of much when I decided to write them on the paper I folded the cranes with...Anyway, I was thinking about a scrapbook or something. But that would be a really big scrapbook. And I'd have to probably write out all 1000 messages again in it... Plus, I'm not sure if I can find a scrapbook with enough pages.Any ideas?

A clear Glass vase would be cool, the colors of the cranes would make it decorative, and he could reach in to read one whenever he needs a pick me up. It is especially a good idea for the hospital, since they sometimes frown on flowers for allergy reasons. I also love the idea of a mobile, but that would be huge and time consuming, also the messages would be hard to read. But perhaps you could take 20 and turn those into a mobile, tie them to a stick with sewing thread, and plant the stick in the jar or vase you use to display the others.
Q:What are the luffing, slewing, and walking points of a tower crane?

The luffing of a tower crane is the forearm of a crane;Slewing means the steering mechanism of a crane;Walking means the walking trolley on the luffing range of a crane
Q:ok so i have to us my phone so just give me instructions no links no youtube videos cause my phone cant support them and my phone may not be able to load some of the links

You are asking for a lot but I have seen you request this a number of times, so I will do it...a sucker born. 1. Valley fold the paper in half so it makes a triangle. With the long side held away from you, valley fold the triangle in half again. 2. Lift the top triangle and valley fold it so that its top point meets its bottom point. Unfold the crease you have just made. Put your fingers inside the top triangle, open it up, and flatten it so it forms a square. Turn the paper over and fold and flatten the remaining triangle in the same way. 3. Make sure that the open ends of the paper are pointing down. Valley fold the top layer of both sides in to meet the centre crease. You will now have a kite shape. 4. Valley fold the top point of the kite down and crease well. Unfold the crease you have just made. 5. Open the sides of the kite by unfolding the flaps you made in Step 3. Lift the top layer of the kite's bottom point up so the paper bends at the crease you made in Step 4. Push the outside edges of the paper in to meet the centre line. Then flatten the figure so that you have a long diamond shape. 6. Turn the figure over and fold a kite shape on the remaining side as in Step 3. Repeat Steps 4 and 5 on this side. You will now have a two-sided long diamond. The bottom half of the diamond is split in two. 7. Valley fold the top layer of both bottom edges in to meet in the middle. Turn the figure over and repeat on the other side. 8. To make the crane's neck and tail, valley fold each half of the bottom section out to the sides. Crease well. 9. Unfold the right crease you just made and make an inside reverse fold. Repeat this step on the left side. 10.To form the head, fold down the end of the neck. Unfold this crease and inside reverse fold the head. 11.Hold one of the crane's wings in each hand. Blow hard into the opening on the underside of the figure and gently separate your hands. You crane will puff up and be ready to hang.
Q:My best friend is going to live in Japan for about a year soon, and I want to send him a birthday present while he's there. A lot of the places I've looked say it's common to make 1000 cranes for people as a wedding present, or in preparation for your own wedding so I'm not sure this is an appropriate gift -___- Also, I have no idea how I would ship them to him...

One idea would be to send one crane that you've made using airmail paper. Write your wish for your friend tell him that you have 999 more cranes waiting for him to return home again.
We are a leading manufacturer of a broad range of disposable medical products and durable medical equipments. From 1993, our American Headquarter, Basic Medical Industries Inc. was set up in California USA exploring our initial business of gloves. Over the past 17 years, we has enjoyed unprecedented growth due in large part to the support of our valued customers.
1. Manufacturer Overview

Location
SHANGHAI,CHINA
Year Established
2000
Annual Output Value
Above US$100 Million
Main Markets


CHINA
Company Certifications
ISO 9001:2008;
2. Manufacturer Certificates

a) Certification Name
Range
Reference
Validity Period
3. Manufacturer Capability

a)Trade Capacity
Nearest Port
Shanghai
Export Percentage
0.8
No.of Employees in Trade Department
600 People
Language Spoken:
English;Chinese;
b)Factory Information
Factory Size:
Above138,000square meters
No. of Production Lines
Above 2
Contract Manufacturing
OEM Service Offered;Design Service Offered
Product Price Range
Average