TOWER CRANE SL6520 cabin with good sight and spacious interior
Loading Port:

Shanghai
Payment Terms:

TT or LC
Min Order Qty:

1 unit
Supply Capability:

1000 unit/month
Inquire Now
Customer Service
OKorder Service Pledge
Quality Product
Order Online Tracking
Timely Delivery
OKorder Financial Service
Credit Rating
Credit Services
Credit Purchasing
---
Add to My Favorites
---
1.The working style of this tower crane can be divided into 2 ways: base fixation and wall-attached fixation with independent erecting height up to 25 meters. On the basis of independent erecting, the attached erection can be achieved by adding standard sections and additional devices and the height can be 100 meters.
2.With high efficiency and excellent timing capacity, the tower crane is liable and safe. The rotating structure is driven by Epicyclic reducer. The elevating system is featuring in tight structure, high efficiency, convenient to use and maintain and safety.
3.Safety devices are integral and belong to mechanic and electric appliances with great reliability and can be used in wild and harsh environment.
4.The tower crane applies hanging jibs with large breadth and bi-tie bars. The jibs is very rigid , light in weight, pleasing to eyes, small in base with great capacity to shoulder pressure and resist wind.
5.The driver's cabin is independently designed with good sight and spacious interior.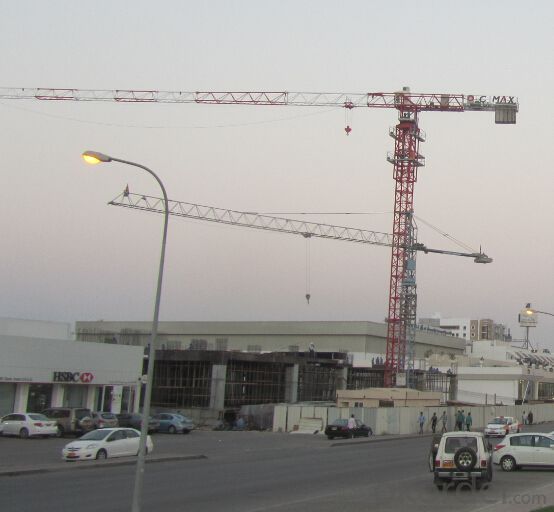 Q:A 3000-lb wrecking ball hangs from a 40-ft cable of density 10 lb/ft attached to a crane. Calculate the work done if the crane lifts the ball from ground level to 40 ft in the air by drawing in the cable.

The total work done by the crane equals the potential energy gained by the wrecking ball and the cable; the potential energy gained is W = V_final = Mg L + ρ L g L/2 which is the final potential energy of the wrecking ball and the cable added together. In the case of the cable, you take the center of mass of it which is located right at the center (L/2). The result is then W = 3000*32*40 + 10 * 40 * 32 * 40 / 2 = 4096000 ft-lbf = (4096000)*(0.001285067) BTU = 5263.63 BTU
Q:tell me how to do it, in the easiest way

It's okorder /
Q:National standards for tower cranes

GB/T 5031-2008 GB 5144-2006 tower crane safety code for tower crane safety GB mechanical and electrical equipment thirty-second 5226.2-2002 mechanical parts: requirements for hoisting machines GB 5802-1986 lifting short chain hoists and other lifting equipment for the T (8) test specification level calibration chain GB 5905-1986 hoisting machine test code and procedures GB/T 5905-2011 crane and GB/T program 5972-1986 lifting wire rope for examination and discard utility specification GB/T 5972-2006 crane wire rope inspection and scrap utility specification GB/T 5972-2009 crane wire rope maintenance, maintenance, installation, inspection and disposal GB/T 5973-1986 wire rope with wedge joint GB/T 5973-2006 wire rope with wedge joint
Q:Do large semi-submersible crane vessels such as the SSCV Thialf propel themselves to work sites or are they carried on heavy-lift ships. I understand they have propulsion systems but the just seem so bulky, inefficient, and slow to move across oceans on their own.

Very large capacity crane vessels have propulsion machinery for manoeuvring when on station. The most modern designs of semi-submersible vessel use them to achieve 'dynamic positioning'. Older designs used the propulsion systems to assist when deploying the anchors in the correct pattern. The vessels are towed by tugs when making deep sea passages. First generation crane vessels had much smaller lifting capacities and were either constructed on conventional hulls or were converted from existing ships. These types were capable of making ocean passages using their own propelling machinery.
Q:It seems like every time I turn on the news there is another crane collapse. I don't know if it is the same problem every time, but it seems awfully suspicious. Does anyone know why crane collapses seem so common lately? Has it always been this way?

You okorder .. This chart is not definitive, it leaves out many occupations (such as mining), it only considers fatalities (not loss of limbs, etc.) but it conveys the general picture. For hard data look at: www.bls /iif/
Q:What is the safe distance of a tower crane to the surrounding buildings?

JGJ160-2008 "construction site mechanical equipment inspection technical regulations" on the 46 page clearly written, safety distance shall not be less than 0.6 meters,
Q:I know they will leave because last year they left after a few weeks. I have seen that they normally leave after a month. They annoy me and I want them gone. They have been around since the end of February or beginning of March. Does anyone else have these in their house. It seems like they are leaving slowly usually there is like 1 or 2 a day in moms room but the last 2 days there have not been any. They have been in my room, just one a day it seems like and maybe one in the kitchen. We swat them or spray them and they die eventually but when will they be gone atleast for a little while?

Crane flies are totaly harmless to humans.They fly for some time and fall down to earth.Ants will take them away.These flies never byte or sting. Pet Cats like to play with it and catch it.They will disappear after some time. Do you know that crane flies spend most of their lives underground in their larval forms, which are known as leatherjackest?. Leatherjackets were very common round here, and are a favourite food of the local crows .These leatherjackets transform into crane flies.Summer is their growth time.
Q:Tower crane 5610 why call QTZ63 tower crane, 5613 call QTZ806015, call QTZ100

The type of "QTZ100" indicates the hoisting tower crane with nominal lifting torque up to 1000KN.m;5610, 5613, 6015 and so on model meaning is, the first 2 digits indicate effective variable amplitude length, the unit is m, and the latter 2 for the largest amplitude of gravity, the unit is KN.These two models do not have any objections, can be converted, not the latter way of expression is more reasonable, and by the current domestic manufacturers widely used.TC5610 nominal lifting torque to 630KN.m, but not up to 800KN.m, so it should be considered QTZ63 series.TC5613 nominal lifting torque reached 800KN.m, but not 1000KN.m, so divided into the QTZ80 series.TC6015 nominal lifting torque reaches 1000KN.m, so it is divided into QTZ100 series.
Q:I'm 17 and I was planning on reading it for class, do you think it will be easy to read?

Stephen Crane, Maggie is fantastic! I read it in school when I was 14 so I have no doubt you will have no problems in reading it. Maggie is the tale of an inevitable fall from grace on the part of a young, innocent girl trapped in the vicious world of New York City's slums. Yearning for acceptance and love, beaten at home by alcoholic parents, Maggie sets out with Pete, a local bartender whose cultured mannerisms elicit great respect from the impressionable young girl. However, when Pete spurns her for another, Maggie is ejected out onto the street, forced into prostitution to make a living. We last see her moving off, a huge, oily fat man in tow, for a darkened corner in the city's seedy underworld. If Upton Sinclair's The Jungle is a torrent of social anger and protest, Crane's Maggie is like a brilliant lightning strike, flashing across our vision and leaving us temporarily blinded. The book--scarcely 70 pages--is succint, brutish, and merciless. Crane allows his readers to form their own opinions regarding the characters. His innovative use of near-phonetic spelling to depict in the reader's ear the local dialect of New York's rough neighborhoods was shocking and difficult to comprehend when the book was first released. It lends Maggie an air of earthy legitimacy. Ultimately, Maggie is a cry for the plight of poor children--the souls we overlook with a callous unease mirrored in Pete's offhand, uncaring rejection of young Maggie's genuine love and affection. It is, without qualification, Stephen Crane's greatest and most moving achievement.
Q:would someone who study both white crane kung-fu & ninjutsu be called a mixed martial artist?

It is mixing two martial arts but its not mma. MMA is more for fighting. While the styles you speak of are thought to be more of an ART. White crane kung-fu is not even used today and very rare to find. Most people that claim to teach it are probly teaching there own crane style. That goes for the same as ninjutsu. Both I styles i find to be not affective when matched up against an mma fighter. Some people from watching movies have this belief that ninjutsu is some deadly art when what is left of it today is not. Ninjutsu has not evolved and does not possess the ground game the brazilian Jui jitsu posses. Its also widely known that finding a true ninjutsu school is next to impossible. Now to Emerald. Your wrong. I must disagree with just about all your points. Its widely known that Boxing is the oldest known martial art in the world. Next to that is wrestling. You forget that another popular style among MMA practitioners is Muay Thai which has been around just as long as kung fu. It is also known to be one of the most powerful styles used today. Sorry to say its been proven that a master of one art will lose to a master of BJJ. We all remember the gracie challenge that got this started. U must of never seen all the karate and kung fu guys get choked out. Ignorance is bliss. Your styles failed and that is why they are no longer is use in mma today. Watch the UFC then watch your karate point sparing. Think about it.
1. Manufacturer Overview

Location
Year Established
Annual Output Value
Main Markets
Company Certifications
2. Manufacturer Certificates

a) Certification Name
Range
Reference
Validity Period
3. Manufacturer Capability

a)Trade Capacity
Nearest Port
Export Percentage
No.of Employees in Trade Department
Language Spoken:
b)Factory Information
Factory Size:
No. of Production Lines
Contract Manufacturing
Product Price Range