SOLAR PANELS FOR HOT SALE ,SOLAR MODULE HIGHQUALITY
Loading Port:

Shanghai
Payment Terms:

TT OR LC
Min Order Qty:

2600 watt
Supply Capability:

26000 watt/month
OKorder Service Pledge
Quality Product
Order Online Tracking
Timely Delivery
OKorder Financial Service
Credit Rating
Credit Services
Credit Purchasing
---
Add to My Favorites
---
Item specifice
Material:
Polycrystalline Silicon
Max. Power(W):
260
Number of Cells(pieces):
60
---
Warranties
1. 10 years limited product warranty
2. 15 years at 90% of the minimal rated power output
3. 25 years at 80% of the minimal rated power output
Products Description
Monocrystalline Solar Module for 250W l : High efficiency crystalline solar cell. Even if under the weak light, the solar module can produce maximum power output.
II Tempered glass (toughened glass): Anti-reflecting coating and high transmission rate glass increase the power output and mechanical strength of solar module.
III EVA and TPT: Using high quality EVA and TPT to prevent destroying and water.
IV AI frame: Without screw, rner connection. 6 holes on the frame can be installed easily.
V Junction box: Multi function junction box with water proof.
VI Long lifetime: ≥25 years; Less power decrease.
VII Good performance of preventing from atrocious weather such as wind and hails.
VIII Resisting moisture and etching effectively, not effected by geology.
IX The certificate issued by international authority: UL, TUV, IEC, CE.
Advantages of Mono Solar Panels CNBM 240W-260W
• Solar performance guarantees for 25 years
• 10 years guarantee for workmanship
• Timeliness of delivery
• Quality Products certified (TÜV, UL, CE, VDE, ISO)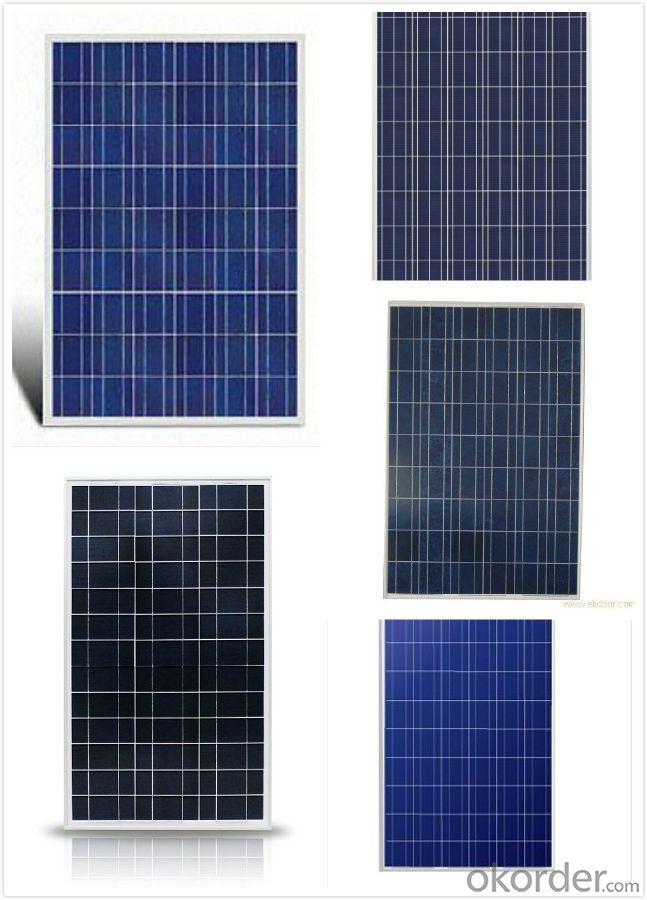 Structure of Solar Module Description
The solar module is an off-gird solar power generator, designed to provide stable and reliable electricity to homes and communities without access to grid electricity or to those regions where are short of power or even without power. The solar module is convenient to move, easy to set-up with reliable performance, making it ideal for situations where emergency power is required. It is an ideal & reliable energy source for a wide variety of applications, ranging from lighting , radios, fans ,televisions ,computers ,refrigerator. The USB port is compatible with all 5V-USB charged devices. It can also act as a back-up power source during emergency situations.

Standard Test Conditions of Monocrystalline Silicon Solar Panel:
The opto-electrical specifications shown below are stabilized values being measured at Standard Test Conditions, Irradiance: 1000W/m2, Spectrum: AM1.5 at 25°C, The info below is subject to manufacturing tolerances. Where appropriate minutes of measurement are available and are used for the dimensioning of the installation.
Advantages of Monocrystalline Silicon Solar Panel
• CNBM Solar performance guarantees for 25 years
• 12 years guarantee for workmanship
• Timeliness of delivery
• Quality Products certified (TÜV, UL, CE, ISO)
FAQ
1. Q: Are you a factory or trading company?
A: We have our own Factory,we warmly welcome you come to our Factory.

3. Q: Your Factory only provide the Solar panel?

A: We provide Solar panel from 5w to 330w for Mono&Poly.Solar cell from 17.2 to 19.Solar systerm off Grid from 500w to 300w. The Hybrid inverter is our new products.

4. Q: How can I get some price list?
A: Please contact.

5. Q: Can your company provide OEM service?

ontactA: We provide the OEM service,for Client Lable,Client Carton.
Q:

Yes, solar panels can be used to power security systems. Solar panels convert sunlight into electricity, which can be stored in batteries or used directly to power security cameras, sensors, and other components of a security system. This allows for a reliable and sustainable power source, especially in remote locations or areas with limited access to conventional electricity.
Q:

Yes, solar panels can be installed on public transportation systems. In fact, many cities around the world are increasingly integrating solar panels onto buses, trams, and trains to harness clean energy and reduce carbon emissions. These panels can be installed on the roofs or sides of vehicles, enabling them to generate electricity and contribute to the power needs of the transportation systems.
Q:So, I've seen cheap solar panel kits for sale from Harbor Freight, and regardless of whether or not I were to buy a set from them or someone else, I was wondering what the process of implementing a small-scale solar system into your household electrical system would be.I've read articles that started out too in-depth or were speaking of systems on a much larger scale.Can it be as easy as buying the panels and inverter, and plugging it into a socket, or is there more to it?Some of the articles I was reading had mentioned having to contract with your electrical supplier, having to have an electrician tie it all in in some special/ necessary way, using a battery pack (would this be necessary for a tied-in system?), or using the system to only power single items, like a water heater, or plugging items into a connected battery-pack, all of which I'm not sure is necessary or needed for what my goals/ means are/ would be.

You can't directly connect solar panel into household electrical system,you need to convert DC power to AC power more over it will cost more amount...
Q:

Yes, solar panels can be used to power agricultural irrigation systems. Solar energy can be harnessed to generate electricity, which can then be used to power pumps and other equipment required for irrigation. This can be a cost-effective and sustainable solution for farmers, especially in areas with abundant sunlight.
Q:Hi. I have been looking into getting solar panals but I only want them for one room. See, we're expanding the house by adding a basement, the basement isn't going to be that big but we wanted to have solar energy for the basement only. Could anyone give me a rough estimate on the cost of solar panals for my basement?

If you're really planning on solar energy, don't waste it on your own consumption. The Hydro company pays you for the energy you put back into the grid....the strange thing is, you buy the power back for less than you sold it, so you actually profit on the power you make! look into this. I wired a nice house for a doctor, and although I didnt supply the solar system, I learned of this concept there. The guy who installed her system charged her around $40,000.00 and the system would never be able to run any large portion of their home. They, of course sold the energy to the utility.
Q:My electric bill per month averages 800 kWh per month. I am looking at 65W solar panels. How many panels would I need to make my bill come to zero? I realize I also need an inverter to convert dc to ac.

Your local installer will estimate this much more precisely than I can. Your main problem, as I see it, is not that you need this many solar panels. Your main problem is that you consume WAY too much electricity. You should probably cut your energy consumption in half BEFORE you invest in solar because it will be way more economic to eliminate the main consumers than to generate that wasted energy. I, for example, need no more than 80kWh/month for a household of two.
Q:nan

Commercial monocrystalline panels are typically 8% efficient but inverters can be 65% to 90% efficient and lead acid batteries are 50% efficient at charging and 92% efficient at discharging plus they self-discharge at 3% to 20% per month.
Q:

Yes, solar panels can be installed on a garage or carport. In fact, these structures often provide ideal locations for solar panel installation due to their large, flat rooftops or open spaces. Installing solar panels on a garage or carport can help maximize energy generation, reduce electricity bills, and provide shade for vehicles or additional usable space.
Q:

Yes, solar panels can be installed on a farm or agricultural facility. In fact, they are increasingly being used in such settings due to their numerous benefits. Solar panels can help farmers and agricultural facilities reduce energy costs, become more self-sufficient, and promote sustainability by harnessing renewable energy from the sun. Additionally, solar panels can be installed on different structures like rooftops, barns, or open fields, making them a versatile option for farms and agricultural facilities.
Q:

Yes, solar panels can be used in areas with high levels of seismic activity. However, special design considerations and installation techniques may be required to ensure their stability and withstand potential earthquake forces.
1. Manufacturer Overview

Location
Year Established
Annual Output Value
Main Markets
Company Certifications
2. Manufacturer Certificates

a) Certification Name
Range
Reference
Validity Period
3. Manufacturer Capability

a)Trade Capacity
Nearest Port
Export Percentage
No.of Employees in Trade Department
Language Spoken:
b)Factory Information
Factory Size:
No. of Production Lines
Contract Manufacturing
Product Price Range
Hot Searches
Related keywords