Prepainted Aluzinc Steel Coil-0.47mm
With GL as base metal, after pretreatment (degrease and chemical treatment) and liquid dope with several layers of color, then after firing and cooling, finally the plate steel is called pre-painted aluzinc steel. Pre-painted Aluzinc steel is good capable of decoration, molding, corrosion resistance. It generally displays superior workability, durability and weather resistance.
General Information Of Prepainted Aluzinc Steel Coil-0.47mm
| | |
| --- | --- |
| Thickness | 0.23-1.2mm (BMT) |
| Width | 900-1250mm |
| Alu-zinc Coating | 50-150g/m2 |
| Internal Diameter | 508mm or 610mm |
| Color | According to RAL color fan |
| Coil Weight | 4-8MT |
| Quality | Commercial and structural quality |
| Paint | Polyester paint for topside, epoxy for reverse |
| Standard | JIS G 3322, ASTM A755M, EN 10169 |
| Package | Full wrapped with anti-damped paper inside, iron sheet wrapped outside, and bundled by iron strips |
| Base Steel Grade | SGCC, SGCD, DX51D+Z DX52D+Z; S200GD, S220GD, S280GD,S350GD,CS,FS,SS |
Technical Data Of Prepainted Aluzinc Steel Coil-0.47mm
Chemical Composition

C

Si

Mn

P

S

0.04-0.06%

0.01-0.03%

0.18-0.22%

0.014-0.016%

0.006%-0.009%
Technical Data Of Prepainted Aluzinc Steel Coil-0.47mm
| | |
| --- | --- |
| Yield Strength | (Mpa) 280-320 |
| Tensile Strength | (Mpa) 340-390 |
| Elongation | 20%-30% |
| Reverse Impact | 9J |
| T-bending | ≥2T |
| Pencil Hardness | ≥2H |
| Duration Of Salt Spray Test | 500 H |
| Bending At 180 Degree | No crack, purling and fraction |
Application Of Prepainted Aluzinc Steel Coil-0.47mm
It can be widely used in transportation, light industry, civil usage and farming. It is also the perfect building material in construction for making steel roofing, corrugate sheet, sandwich panel for wall or roofing, facade wall,shutters and home appliance.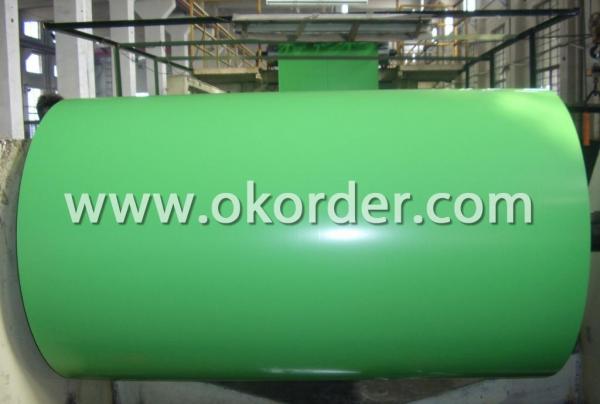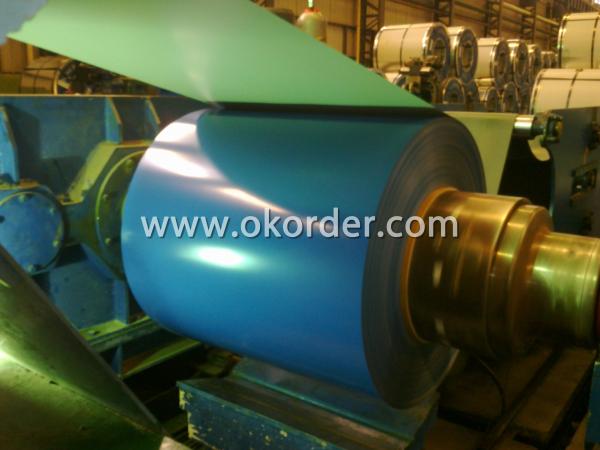 Packaging & Delivery Of Prepainted Aluzinc Steel Coil-0.47mm
The packing of coils consists of anti-damp paper, PVC film, hardboard paper, steel box, strapped with steel strips, fitted with locks and edge protectors and guarantees the optimal condition of the delivered goods. Each coil can be additionally fitted with wooden/steel skids(eye to the side) or wooden pallets(eye to the sky).
Delivery Detail: As customer requested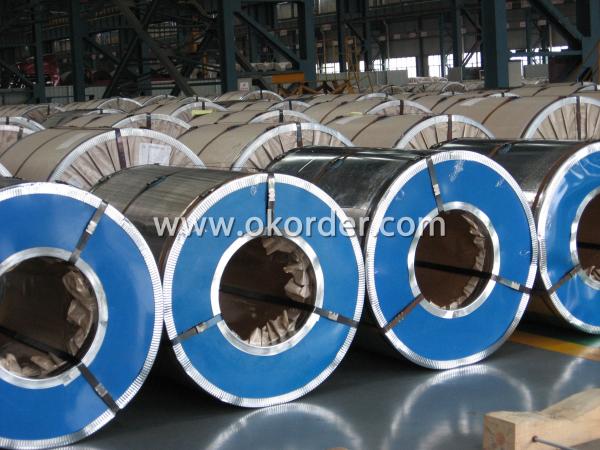 Q:

Steel coils contribute to seismic resistance in structures by providing strength, flexibility, and energy dissipation. When steel coils are incorporated into the structure's design, they act as seismic dampers, absorbing and dissipating the energy generated during an earthquake. The coils help to distribute and reduce the seismic forces, minimizing structural damage and enhancing the overall stability and resilience of the building. Additionally, the flexibility of steel coils allows them to withstand forces without breaking, ensuring the structure's integrity and safety during seismic events.
Q:

Steel coils play a crucial role in the production of fencing materials as they serve as the primary raw material for manufacturing various types of fences. These coils are typically uncoiled, cut, and shaped into individual fence components, such as posts, rails, and pickets. The strength and durability of the steel make it an ideal material for fencing, ensuring that the final product can withstand harsh weather conditions and provide security for a long time.
Q:

The main factors that affect paint adhesion on steel coils are surface cleanliness, surface roughness, presence of contaminants, proper surface preparation, and the type of paint or coating being used.
Q:What is the strongest steel ever made.

Wootz is laughable. A modern car spring has more tensile strength, not to mention better purity in manufacturing. Alpha B is right. My answer would be NS110. While wootz was the source of the original damascus steel. The manufacturing process was much like many crucible type steels of the past. And they were not used by japanese smiths. A traditional japanese sword was made from the ground up. Smelting the iron laden sand into Tamahagane. Which is a pumice like crude steel. It would be forged, and diamond powder would be applied and hammered into the skin. It would then be folded repeatedly to homogenize the blade. For what you are asking for now. I would say that 1/2 mild steel plate should work nicely.
Q:I received a very nice set of stainless steel cookware as a wedding gift. While very pretty, Im finding them almost useless for cooking. Everything sticks, they're difficult to clean, and Im using my old non-stick pans instead. Should I simply leave the stainless out for decortive purposes, or are stainless steel pans better for some applications?

Why Use Stainless Steel Cookware
Q:Is there any other way of testing whether or not you have a 1944 Steel penny that won't damage the penny. The magnet test doesn't seem to work cause even when I try to get a 2007 penny to stick to the magnet...it won't. So is there some kind of magnet needed? Like power wise or anything like that, if not then I need to know what are other ways of testing the 1944 penny.

1944 Steel Penny
Q:i cant find this stuff about steel:conductivitystrengthcorrosion resistancecommon applicationsif you know of any interesting facts, i could use those 2!thanx!

The strength and corrosion resistance depends on the mix. Pure steel is pure iron plus 6% pure carbon. It is the carbon molecules that give it a tough crystallized strength. Pure iron is wrought iron and you can bend that with your hands. Strength also depends on the shape of the beam the most common steel beam is the W flange more commonly called the I beam. That is because the strength of the 'I' beam is just a little bit less than if the entire I beam was filled in; however the weight and material savings is huge. Steel itself has no corrosion resistance and is often given a zinc coating just to resist oxidization. Manganese, vanadium and tungsten are just some of the other elements added to improve the steel.
Q:

Steel coils are used in the manufacturing of roofing materials as they are rolled into sheets or formed into various shapes to create durable and long-lasting roofing products. The coils are processed through machines that cut, bend, and shape them into the desired dimensions and profiles required for different types of roofs.
Q:I've been looking for lots of info on this steel. Cold Steel uses it now in their knives replacing the AUS-8 steel. I was hoping somebody had a knife with this steel who could give me some real first hand knowledge not just numbers. Thanks!

Before I answer I must let you know that I have been a knife collector for 17 years, and have a great assortment of specialty and antique folding knives. As for your question, I wouldn't worry too much about it. The first answerer is very knowledgeable in this category. But in the real world, the steel chemistry of folding knives will never be as important as that of fixed blades or kitchen knives. The fact that manufacturures go through great lengths to advertise their superior steel is just for sales and bragging rights. When it comes down to it, a pocketknife might be useful, but it is never the best tool for the job. It is a compomised design from the beginning. If you need to cut a steak, a steak knife will do. A box cutter works best on cardboard. A razor works best for shaving, wire cutters best for cutting wire, an axe for chopping wood...I could go on. A pocket knife is never going to perform better than the real thing ( although I do prefer the can openers on Swiss army knives than real can openers). As for self defense, minus the concealability factor, a folding knife sucks compared to a fixed blade. But if you were to pull one out during an extreme circumstance, I doubt anyone is going to be effected by the Rockwell hardness.
Q:benchmade mpr with m390 steel knife. Is it better than d2 s30v or 154cm steel?

From what I understand m390 is a new steel (at least for benchmade) so there doesn't seem to be a consensus on how it performs. Looking at the table, it should be very corrosion resistant. I'd guess it could be classified as a stainless steel. Sorry I don't have more info for you. EDIT: here's a link from the steel manufacturer. I hope this info helps.
Total area of XPSTEEL is approximately 600,000 square meters, and fixed assets of it is 2.5 billion Yuan;It specializes in manufacturing and selling hot-dipped galvanized steel sheet/coil , Prepainted steel sheet/coil hot-dipped,Galvalume steel sheet/coin , aluminum-zinc plated plate , cold-rolled products , Tin plate , hot-dipped aluminum steel sheet 50,000 tons, polysilicon 2,800 tons and single silicon wafer 8 million pieces;The Group has more than 1,800 employees, advanced professional manufacture equipment and matured technology as well as a team of high-quality professional management and technical talents.
1. Manufacturer Overview

Location
Wuxi, China
Year Established
2002
Annual Output Value
US$1 Million - US$2.5 Million
Main Markets
Mid East
Northern Europe
North America
Eastern Asia
Africa
Eastern Europe
Southeast Asia
Western Europe
Southern Europe
Company Certifications
ISO 9001;ISO 14000
2. Manufacturer Certificates

a) Certification Name
Range
Reference
Validity Period
3. Manufacturer Capability

a)Trade Capacity
Nearest Port
Shanghai
Export Percentage
1% - 10%
No.of Employees in Trade Department
50
Language Spoken:
English; Chinese
b)Factory Information
Factory Size:
Above 600,000 square meters
No. of Production Lines
10
Contract Manufacturing
OEM Service Offered
Product Price Range
Average