Item specifice
Material:
Polycrystalline Silicon
Max. Power(W):
300
Number of Cells(pieces):
72
---
Product Description
Produt name: 300W Poly Crystalline Solar Panel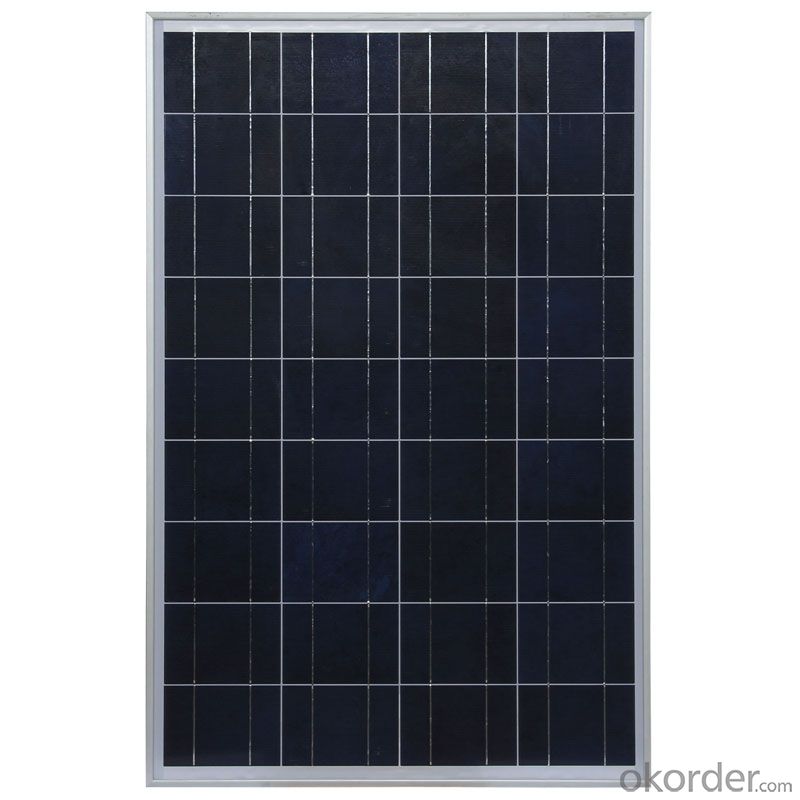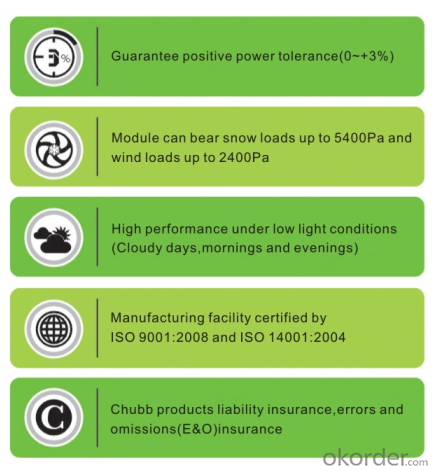 Specs

Electrical Characteristics

Maximum Power [Pmax]

300W

Power Tolerance

+/-3%

Maximum Power Voltage [Vmp]

36.1V

Maximum Power Current [Imp]

8.32A

Short-Circuit Current [Isc]

8.73A

Open-Circuit Voltage [Voc]

44.8V

Module Efficiency

15.46%

Max. System Voltage

1000VDC

Cell Size and Series

Poly 156*156 72pcs (6*12)

Temperature Coefficient of Pmax

- 0.47% /

º C

Temperature Coefficient of Voc

- 0.33% /

º C

Temperature Coefficient of Isc

0.05% /

º C

Mechanical Characteristics

Dimension (mm)

1956*992*45

Frame

Anodized Aluminium Alloy

Glass

3.2mm,High Transmission,Tempered Glass

Junction box & Cable
IP65 Rated weatherproof connectors
Cable: TUV 1x4.0mm2 / UL12AWG,Length:900mm
Weight

22.0Kgs
Industry-leading Warranty:
Warranty on material and workmanship: 10 years
Guaranteed output of 90% after 12 years and 80% after 25 years.
FAQ:
1.Price per watt?
It depends on the quantity, delivery date and payment terms.
2.Parameter of the module?
We have different series of panels in different output, both c-si and a-si. please take the specification sheet for your reference.
3.Can you provide the peripheral products of the solar panels, such as the battery, controller etc.?
We have two companies(CNBM International & CNBM engineering Co.) with different approaches. We can supply not only the solar module but also Solar Cells, off grid solar system, even service with on grid plant.
4.Warranty policy?
Our product performance guarantees for 25 years
• 12 years guarantee for workmanship
• Timeliness of delivery
• Quality Products certified (TÜV, UL, CE, ISO)
5.Lead time?
In 3 days after purchasing, we will arrange the factory delivery ASAP. The specific time of receiving is related to the state and position of customers. Commonly 7 to 10 working days can be served.

Q:how the power output of solar panels fitted to a house can chargenothing on the internet really answers this question, any information will really help..this is for GCSE, i don't really understand the meaning of the question. does it ask how the solar panel egts charged, and how it works? i don't get how you can charge a solar panel and is heat the only way you can produce electricity for it??please answer if you know! much appreciated!!! thank you so so so so so so so much, in advance =)

Solar panels do NOT get charged, so the question is junk, or you misstated it. Solar panels are used to charge a battery bank, which stores energy for times when there is no sun. Then energy from the batteries is used, via an inverter, to power appliances in the house. OR do you mean how the power output of solar panels can CHANGE? In that case, they change when the sun moves, such as behind a cloud, or just changes angle in the sky, or goes out.
Q:

Yes, solar panels can be installed on a historic building with careful planning and consideration. It is important to ensure that the installation does not compromise the architectural integrity or aesthetic value of the building. Special mounting systems and design techniques can be used to minimize any visual impact. Additionally, local regulations and preservation guidelines may need to be followed.
Q:Properties of solar panel?I know this is too general,but i am to write a report on the materials used to make solar panels,and i am to include the physical, mechanical ,and chemical properties of the materials.It's just too general,such that i am lost.There are so many types of solar panels.So i hope some experts on this subject can give me a general guide lines ,maybe the tensile strength ?as much as you can please.

American scientists have developed a new coating, which allows the solar cells to cool on its own, without relying on costly cooling and ventilation. Coating increases the output power and prolong the life of solar batteries .
Q:

Yes, solar panels can be installed on electric fences. The panels can provide the necessary power to keep the electric fence operational without relying on traditional electrical sources.
Q:

Yes, solar panels can be installed on billboards or signage.
Q:

Yes, solar panels can be used to power a military base. By harnessing solar energy, military bases can reduce their dependency on traditional energy sources and enhance their operational capabilities. Solar panels can provide a reliable and sustainable source of electricity to power various facilities and equipment in a military base, contributing to energy independence and environmental sustainability.
Q:I am completely ignorant on this subject. I was just wondering out of curiosity of how many solar panels and equipment that it would take to run a central ac for a 2500 sq ft home and a pump for a medium sized pool. I'm talking running ac for like 8 hours a day to keep around 65-70 degrees and running the pump 24/7. Just looking for a general ballpark answer.

Solar panels are not going to be able to run a pool pump 24/7. They will only produce their rated electricity for 4 to 8 hours a day. For the balance you will need a grid connection or a battery backup. Running the AC would require different power levels depending upon humidity, outside temperature levels, solar gain for the house, and insulation levels. An underground house in Maine will be much easier to AC than a Glass house in Arizona. First find the power requirements. If you had the existing equipment they will have a label with the power requirements or the minimum breaker required if nothing else. For example the pool pump may require a 0 amp 240 breaker while the AC may require a 30 amp 240 breaker. That would be 2400 watts for the pump and (30 x 240) 7200 watts for the AC or a total of 9.6kW each hour of operation. (max) You will next need to find the rated capacity of the solar panels. If each panel were rated at 300 watts then you would need 32 panels for the daytime use and perhaps more to fill in a battery backup. All the numbers are very rough estimates.
Q:Is there a cheaper way on how to make your own solar panels ? Can someone share their real life experience ? Thank you.

There are several things you're going to need when making a homemade solar panel, some of the main components include: Solar Cells Wood Plate Soldering Iron Solder Tabbing Don't worry; special tools are not required for this DIY 'solar panel' project, and you will probably have everything you need laying around the garage. and just bind them together.
Q:i need how a solar panel works, if possible make as easy to understand as possible like because of this , this happens and if you could please put a web source you got it from

How okorder /... Use the next page link to flip through the article.
Q:I am interested in installing a home solar panel system. In my city, we get a little over 5 hours of sun, and I typically use about 800-900 kwh per month.The available roof space is small- approximately 600 sqft.The online calculators provided on various sites are not uniform, thus providing inconsistent responses with the same input data.I think I need a 5kw system approximately. Can anyone verify that and provide a link for a reasonably priced system to meet my needs? Prefer grid-tied, but off-grid is acceptable as well.Thanks!

I'm sure that you will discover everything related solar energy at www.okorder .
1. Manufacturer Overview

Location
Year Established
Annual Output Value
Main Markets
Company Certifications
2. Manufacturer Certificates

a) Certification Name
Range
Reference
Validity Period
3. Manufacturer Capability

a)Trade Capacity
Nearest Port
Export Percentage
No.of Employees in Trade Department
Language Spoken:
b)Factory Information
Factory Size:
No. of Production Lines
Contract Manufacturing
Product Price Range
Hot Searches
Related keywords