Office Computer Chair with White Leather
Structure of Products Description:
We are always working for office with "Health, Environmental, luxury, Intelligent"; On design, we care for humanity office space, Environmental protection, Convenient, Efficient and Comfortable; On products, we take material which match international standard; For many years, we are honored with AAA credit company. Not only do we provide our customers with technological superiority, but also quality advantage. With a skilled R&D department, we consistently strive to introduce new products to fill our customers' needs. In addition, strict quality management policy is followed such as rigorous inspections conducted by professional engineers, so our customers receive only 100% qualified office furniture.
Our products have been proven to be practical and economical. Its durability, low initial cost, and ability to be reconfigured and updated easily add up to savings as you maintain an effective office space. We have strict quality control department to ensure all the goods to be right & correct delivery to customers. We will try our best to reply to you within 24 hours, normally a lot sooner, if your inquiry is very urgent.
Main Features of Products:
-Automatic Flexible Lumbar Support System
-Headrest Height Adjustment
-Backrest Tilt Angle Adjustment, Quick or Slight Tilt Tension Adjustment, Height Adjustment
-Lumbar Support Height Adjustment
-Armrest Height Adjustment
-Arm Pad Angle Adjustment, Forward and Backward Adjustment
-Seat Height Adjustment, Depth Adjustment, Gradient Adjustment
Products Images: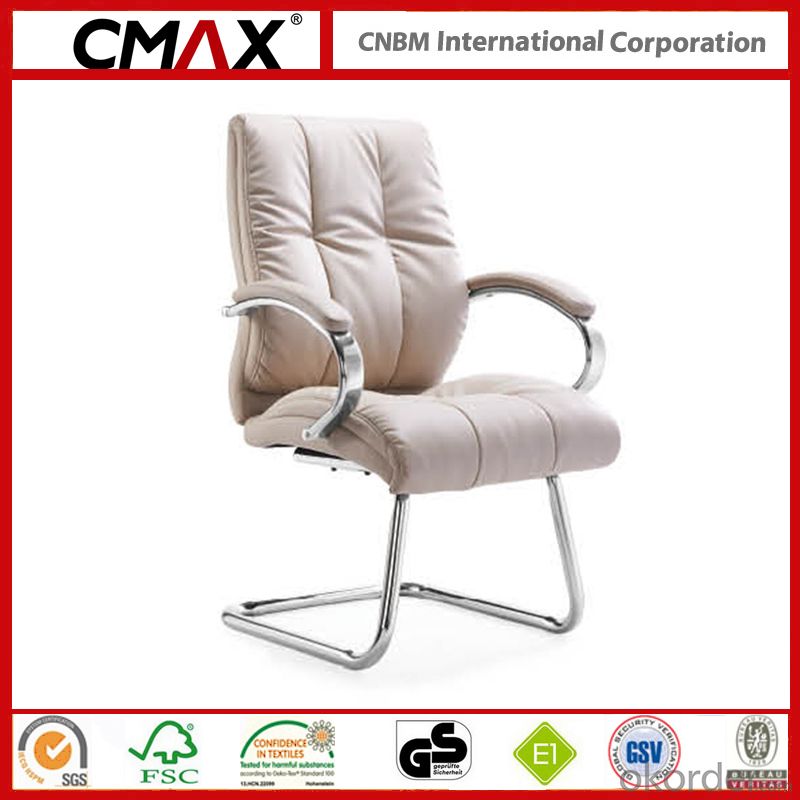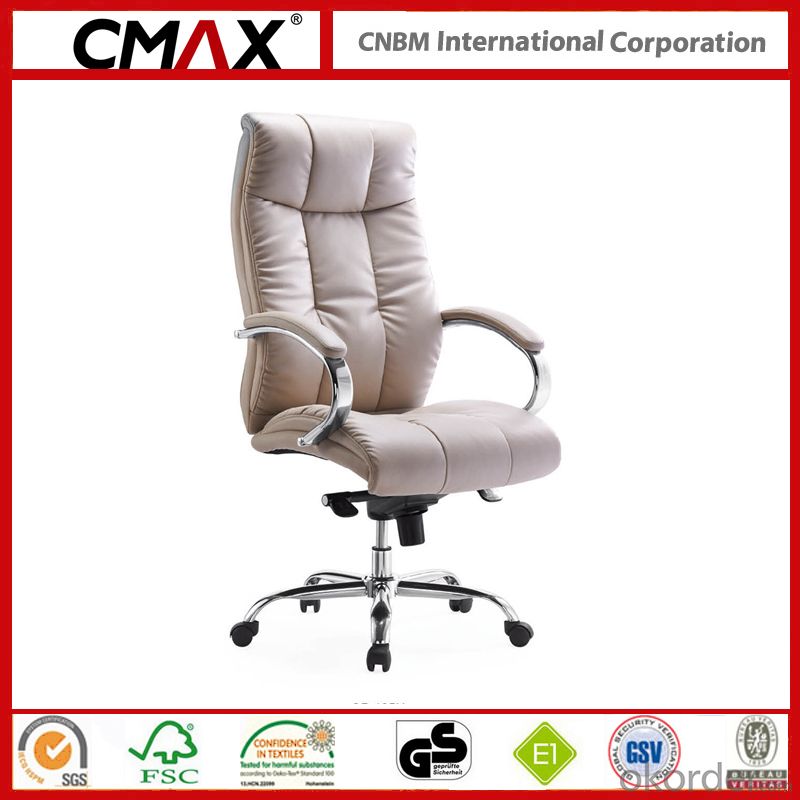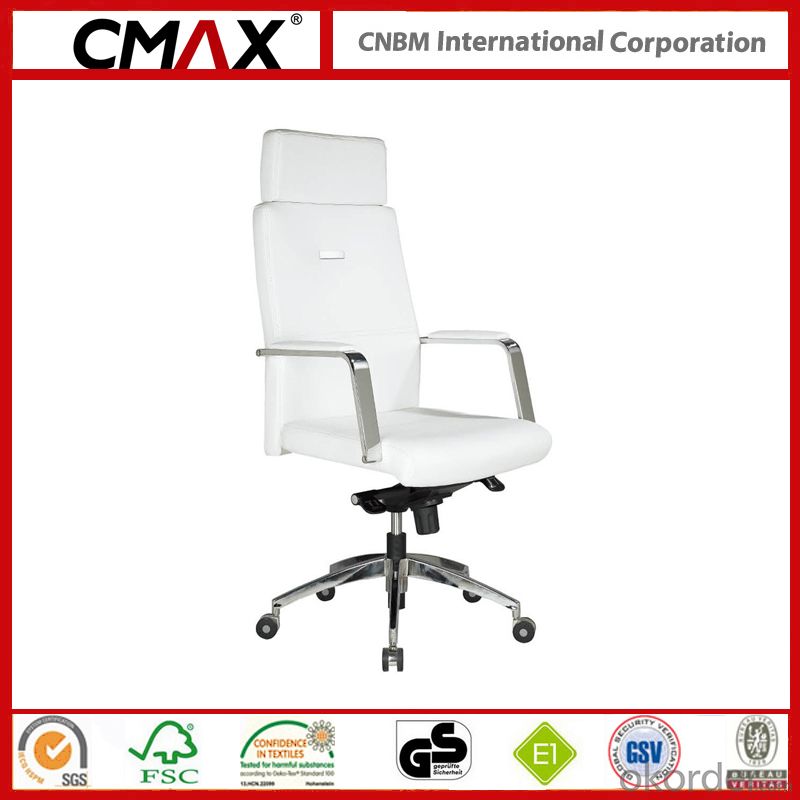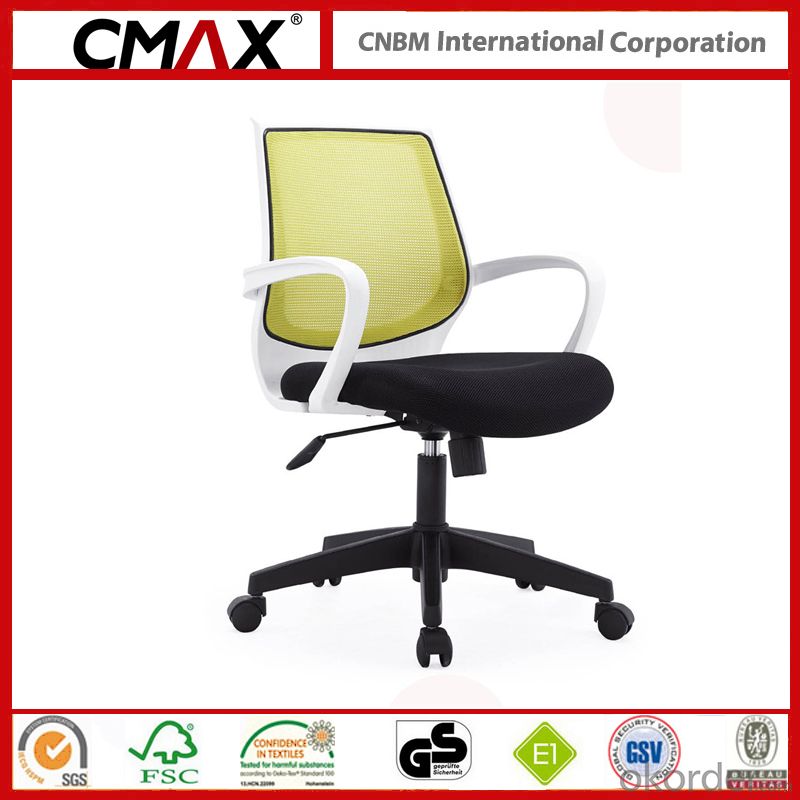 Products Specification:
Type:

Office Furniture

Specific Use:

Office Chair

Model:

CMAX-YZ-018

Size:




Material:

-High elasticity Korea leather back and seat.

-4D adjustable arms with rotating soft PU pad.

-Aluminum synchronized-tilting mechanism with 5 locked positions, back can be tilted and locked from any angles.

-High quality imported gas lift, more durable and security.

-Polished aluminum five star based with PU castors.

Functions:

Functional mechanism, aluminum, armrest PU cover

Color options:

Black, White, Gray, Red, Yellow etc.

Package:

CKD, inner PE foam, 5 Layer Brown Paper Cartons

Other:

Chair with adjustable neck rest; adjustable lumbar support; Mesh or fabric for back and seat, sliding waterfall design
Production Process: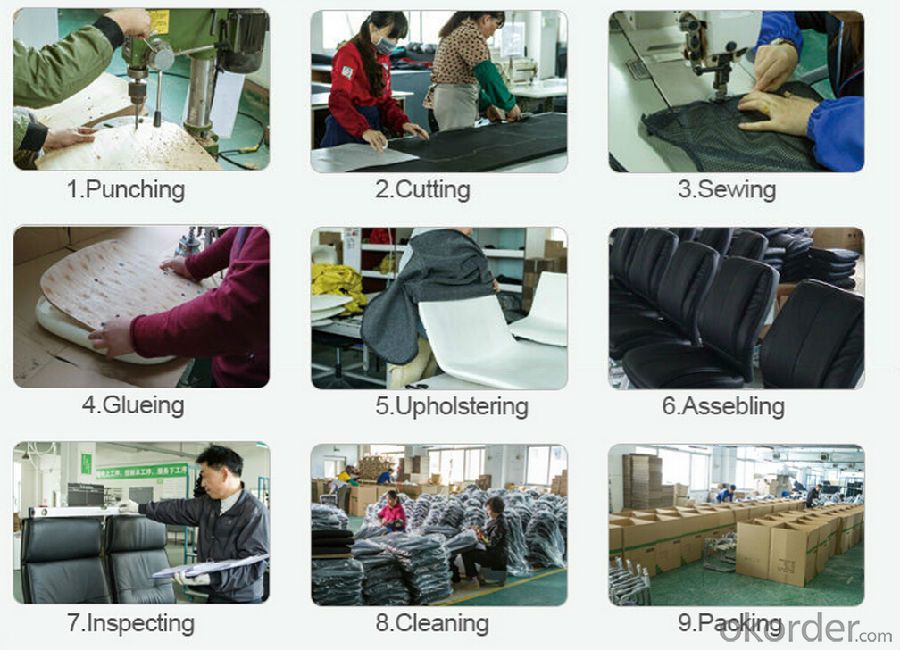 FAQ:
Why choose us?
-Directly factory with competitive price and quality control
-Professional advice to help you purchase the products you wanted
-Professional export service team servers in the deal.
-Customization service is available, OEM business is appreciated.
-We will inspect and test all products material carefully to ensure no damage and lost.
-The success of our cooperation can be guaranteed for our company is a credible and honest partner.
How about the quality?
Our normal material of MDF and MFC is with E1 standard. All oil paint we use is enviropaints. All kinds of Certification are available. All the material could be customized.
How about the payment term?
30% T/T before production, 70% T/T balance against B/L copy. L/C at sight. L/C after sight 60 days. Other payment term could be discussed with specific orders.
Could we choose color for office chair according our requirement?
Surely, you are allowed to choose the fabric colors from our standard color swatch. And also you can provide the suitable fabric materials yourself.
Q:if you had a choice would in be in the shape of a boat well like a boat kinda or in the shape of a panda as in a lot of pandas stuck together to form a chair???Thanks

actually i would pick a chair shaped like a really hot naked woman. of your two choices though i'd take the chair o pandas. much more interesting.
Q:My problem is I have a nice pedestal chair I don't want to get rid of, but I would much prefer the mobility of being able to move it without getting up. So, is there any (safe) way i could put some sort of attachment or mod on my chair?

A photo would be very helpful as there are several styles of pedestal chairs.
Q:hi does anybody know what chair this is called / named ?

Its a hospitality chair. In other words it is used in restaurants, bars, hotels, etc. There are thousands of styles made and they are constantly having new models introduced and old ones dropped. It was probably made and sold in large quantities by companies like GAR, Grand Rapids Chair, Sandler, MTS seating or other to-the-trade companies for interior designers. By the look of it I would guess it was made in the 80's You may have a hard time finding the exact same thing. Your best bet would be to check out places that resell restaurant equipment and furniture.
Q:There's a chair my grandma got at a garage sale, so its always been in really bad shape, but my dads been attached to it ever since she passed. The springs are starting to cut through the bottom of the chair and the filler (the stuff that gives the chair cushion) is beginning to go with it. I'd really like to reupholster the chair and give it new life. The thing is, I've never done any reupholstering at all. Would this be possible or would I need someone to work on it for me? Are there any good websites with how to videos on this type of thing? I don't care much about the cost. I'm just looking for tips and suggestions. Thanks.

I agree. i'm basically hoping that equusearch exhibits her body or casey supplies up the fact about what happen and the position caylee is .. so she will be in a position to finally be placed to relax with appreciate! Shes a loopy ***** casey
Q:If our knees bent the other way, what would a chair look like?

chairs work on gravity and relaxation. bit taller with a longer seat that part of swings up. irrelivent we wouldn't have survived the sabre tooths.
Q:Well I have ran into a little issue with my wedding ceremony...The only place I have managed to find to rent enough chairs for my wedding is booked full (of course) well my wedding will be taking place outside in June so I would really like to have something for guests to sit on (not the ground). Any one have any creative ideas....my mother suggested bales of hay.... Future brides learn from my mistake it's never to early to book your rentals :/

Keep looking. I find it hard to believe you can't find chairs to rent for an event 4 months away. Many churches and halls have chairs... is there someone you know with a contact in a church? Hay is better than nothing, but I would not want hay all over my dress.
Q:How to shorten the vacuum cushion office chair?

Mainly look at the chair, there is no handle under the right hand handle, if it is easy to handle. If not, 1, put the table high. 2, change a chair. 3, to do traction, increase yourself, your chair can not lift C?
Q:I plan on making some chair covers for a reception next summer. I would like to try to make them myself, but was wondering how many yards it would take for each cover. I want to use cheap white fabric as long as it's not see through.

Well, okorder download some pictures of the chair and repost it back here and then we can help you. I would say for a folding type chair, metal, you would need about 3 yards per chair, if that is the type of chair you are talking about. :-)
Q:So i had this chair for 3 years it is pretty good one, i just thew it out and didn't bother to check the bottom to find the name of the chair

Hi, okorder /
Q:I'm starting my own chair cover business like for weddings or graduations etc...Does anyone have any advice for me? Does anyone here run a chair cover business?

I'm with yojoe... this area is in a serious slump. Before dumping a lot of capital into it...I'd start looking around (If you haven't done so already) to existing businesses, pose as a client...and see if you can acertain a) how busy they are b) would your costs be effective/competitive? c) is this something you can run without retail space (giving you a larger profit margin, less overhead...and perhaps a better price for your client). Are you able to deliver set up on time? (transportation will be key) How else can you tastefully set yourself apart from the competition? What other services could you offer to nail more of this market? (think tables chairs, if they're your chairs...chances are the covers will always fit) I'm not in the business, and I'm probably talking out of my ear...but this is what I thought of... take what you can use and discard the rest. But do be careful...the rest of the country isn't doing too bad, but here in SE michigan, we're hurting bad. Look around at all the closed businesses. Office parks are empty... it's awful. But people are still getting married, there's still funerals, etc. To be successful, you gotta have one or more of -great service, great price, good product-. What about hooking up with an event planner? (s)
1. Manufacturer Overview

Location
Year Established
Annual Output Value
Main Markets
Company Certifications
2. Manufacturer Certificates

a) Certification Name
Range
Reference
Validity Period
3. Manufacturer Capability

a)Trade Capacity
Nearest Port
Export Percentage
No.of Employees in Trade Department
Language Spoken:
b)Factory Information
Factory Size:
No. of Production Lines
Contract Manufacturing
Product Price Range
Hot Searches
Related keywords