Non-Asbestos Calcium Silicate Board With Low Price and High Quality
Loading Port:

China Main Port
Payment Terms:

TT or LC
Min Order Qty:

-
Supply Capability:

-
Inquire Now
Customer Service
OKorder Service Pledge
Quality Product
Order Online Tracking
Timely Delivery
OKorder Financial Service
Credit Rating
Credit Services
Credit Purchasing
---
Add to My Favorites
---
Product Applications:
Gypsum board building systems are easy to install for several reasons. Gypsum board panels are relatively large compared to other materials. They come in 48- and 54-inch wide sheets and in lengths of 8, 10, or 12 feet, so they quickly cover large wall and ceiling areas. Gypsum board assemblies require only a few tools for their construction. Gypsum board can be cut with either a utility knife or a variety of saws, and it can be attached with a variety of fasteners, including screws, nails, and staples. It can also be adhesively attached to many substrates. Gypsum board is a lightweight material. Two workers can easily handle most panels and cover large areas in very short time periods. Gypsum board is easily finished using either a few hand tools or relatively modest machines. Gypsum board installers can quickly learn most application techniques in a few hours.
Product Advantages:
Gypsum board is used to construct strong, high quality walls and ceilings that offer excellent dimensional stability and durability. Surfaces created using gypsum board are easily decorated and refinished.
3) Economy
Gypsum board is readily available and easy to apply. It is an inexpensive wall surfacing material that provides a fire resistant interior finish. Gypsum board building systems can generally be installed at significantly lower labor costs than most alternate systems.
4) Fire resistance
Gypsum board is an excellent fire-resistive building material. In North America, it is the most commonly used interior finish where fire resistance classifications are required. Its noncombustible core contains nearly 21% chemically combined water, as described earlier, which, under high heat, is slowly released as steam. Because steam will not exceed 212 dgreees F under normal atmospheric pressure, it very effectively retards the transfer of heat and the spread of fire. Even after complete calcination, when all the water has been released from its core, gypsum board continues to serve as a heat-insulating barrier. Moreover, tests conducted in accordance with ASTM E 84 show that gypsum board has a low flame-spread index and a low smoke-density index. When installed in combination with other materials in laboratory-tested wall and ceiling assemblies, gypsum board serves to effectively protect building elements from fire for prescribed time periods.

5)Sound isolation
Preventing the transfer of unwanted sound to adjoining areas is a key consideration when designing a building, specifically when taking into account the intended activities of the occupants in the various parts of the building. For example, a building containing office spaces adjacent to manufacturing facilities requires more noise-reducing features than are typically necessary in a building that has only office space in it. Gypsum board wall and ceilings systems effectively help control sound transmission.
Main Product Features:
1.Framework
We recommend to use of Galvanized Steel to build the frame. Using metal studs ensures accuracy, and they will not move or twist due to shrinkage or water ingress. In either case set studs at maximum 600mm centres.
2. Align the board
Gypsum board are laid horizontally. Start at one end and align the first board along the studs. Securethe board with screw at 250mm centres, ensuring that the screw are at least 15mm from the board edge. Do not overdrive the screws.
3. Clean the adjacent board edges
In order to ensure that maximum adhesion is achieved when jointing, the adjacent edges of the fixed board and the next board in sequence must be cleaned. Sinmply clean the edges with a wet brush to remove traces of dust - the edges do not need to be soaked.
4. Interior Joint Adhesive
Using a suitable gun, apply a continuous bead of interior. Joint Adhesive to the adjacent edge of the fixed the boards. The bead should be of sufficient size to fill the joint fully when the next board is offered up.
5.Place the next board
Align the next board and push it firmly into the bed of adhesive. The gap between boards shoul be less than 1mm. Secure the board with Screws.
6. Scrape of the excess adhesive
Scrape off the excess interior joint adhesive the next day using a flexible steel scraper.
Product Specifications:
Images: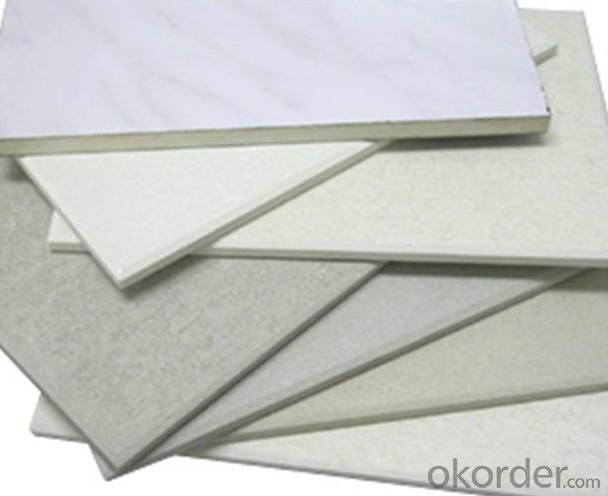 Q:Calcium silicate board can be ground?

Yes, you can ceiling, floor, etc. are possible, calcium silicate board light, waterproof, sound absorption is very easy to use
Q:Calcium silicate board water absorption on the performance of the plate have any effect

Calcium silicate board if the water after the impact of the plate have a certain impact, but will not loose will not be deformed, and then back to the plate after the original strength will be restored
Q:Calcium silicate board can do office space wall decoration it?

Gypsum board can Dry hanging and paving what you mean first clear
Q:Silicon calcium board can be used for external walls

Calcium silicate board is less to do outside the wall panels, are generally decorated with interior walls
Q:Calcium silicate board ceiling, wall patchwork and vertical degree how to control?

If the tile is affixed to the top of the case, on the side of the wall from the ground 230-240cm high point, with a transparent water pipe fixed on the other side of the wall coincide point and then line, to determine the hole after drilling with diamond drill bit The
Q:Fiber reinforced calcium silicate board is to do with the cut off it?

Industrial and commercial construction of ceiling ceilings and partitions, home decoration, furniture liner, billboard liner, ship compartment board, warehouse floor, network floor and tunnel and other indoor works of the wall.
Q:What is the use of calcium silicate board with calcium silicate board ceiling is good

Calcium silicate board is made of inorganic mineral fiber or cellulose fiber and other loose short fiber as a reinforcing material, with siliceous-calcium material as the main cementing material, pulping and molding, accelerating the curing reaction in high temperature and high pressure saturated steam to form Calcium silicate gel made of the plate. It is a kind of new building and industrial sheet with excellent performance. Its products are fireproof, moisture - proof, soundproof, insect - resistant and durable, and it is an ideal decorative plate for ceiling and partition.
Q:Silicon calcium board is mostly used for indoor decoration where.

Calcium silicate board is a kind of new kind of inorganic building material made of siliceous material, calcium material, reinforced fiber material and so on, which are prepared by the process of copying or molding, autoclaving and so on. Because of its high strength, light weight, has a good non-flammable, it is widely used in the ship's cabin, ceiling and construction of non-load-bearing walls, and fire safety requirements of the place.
Q:What is the difference between calcium silicate board and mineral wool board?

Mineral wool board from the slag through high temperature, high pressure, high-speed rotation, remove impurities, washed into mineral wool, mineral wool board mainly by mineral wool, adhesives, pulp, perlite composition. The mineral wool board has similar characteristics of silicon calcium board, but the sound insulation performance is worse than that of gypsum board and silicon calcium board. It can not be waterproof. It is easy to deform.
Q:Calcium silicate board surface putty Why crack?

1, improper handling of deformation joints: in the deformation of the calcium silicate board ceiling no seam, the entire plate directly connected. Although some of the deformation of the seam, but the deformation of the practice is not right, only in the panel at the seam, and the keel is not broken, the deformation of the structure under the action, calcium silicate board is easy to crack. 2, the wall at the junction of improper handling: not in accordance with the requirements of the node set construction, but in the calcium silicate board and the junction of the wall directly with the stopper putty full scraping, and some also use copper tape paste to strengthen, leaving no Shrink the space, causing the crack. 3, improper storage of the plate: the plate in the installation and construction of wet moisture, resulting in deformation, in the natural dry conditions after construction, resulting in shrinkage, cracks. 4, hanging keel installation spacing is too large: part of the keel of the mechanical properties did not meet the national standard indicators, the plate after the installation of a greater degree of deformation. Keel and plate when the connector is not staggered, it is difficult to avoid stress concentration. The whole plate is installed in different directions at the same time on the screw fixation, so that the sub-stress within the plate easy to crack.
1. Manufacturer Overview

Location
Year Established
Annual Output Value
Main Markets
Company Certifications
2. Manufacturer Certificates

a) Certification Name
Range
Reference
Validity Period
3. Manufacturer Capability

a)Trade Capacity
Nearest Port
Export Percentage
No.of Employees in Trade Department
Language Spoken:
b)Factory Information
Factory Size:
No. of Production Lines
Contract Manufacturing
Product Price Range
Hot Searches
Related keywords