FRP Fitting Fiberglass Reinforced Plastic Fitting Hot Sale
Loading Port:

Lianyungang
Payment Terms:

TT OR LC
Min Order Qty:

100 pc
Supply Capability:

1000000 pc/month
Inquire Now
Customer Service
OKorder Service Pledge
Quality Product
Order Online Tracking
Timely Delivery
OKorder Financial Service
Credit Rating
Credit Services
Credit Purchasing
---
Add to My Favorites
---
FRP Fitting Description
Made from the high quality corrosion resistant resin and continuous fiber winding without alkali, filament winding FRP fitting possesses the characteristics of lightness, high strength, distinguished corrosion resistance and expedient installation and maintenance etc.,
1)Drinking water transmiting
2)Sewage pipeline,rainwater pipelin
3)Angricultural irrigation
4)Seawater desalination system
5)Other kinds of liquid transmiting
6)Municipal engineering construction
Main Features of the FRP Fitting
1)Corrossive resistant
2)Light weight,high intensity.,long service life
3)Low installation and mainence costs
4)Design flexibility and short period of model-changing
5)Widely used in kinds of areas
FRP Fitting Images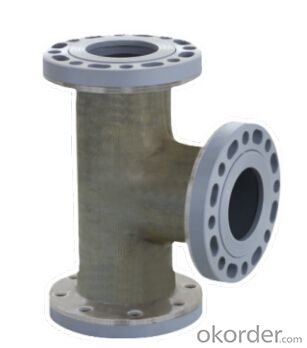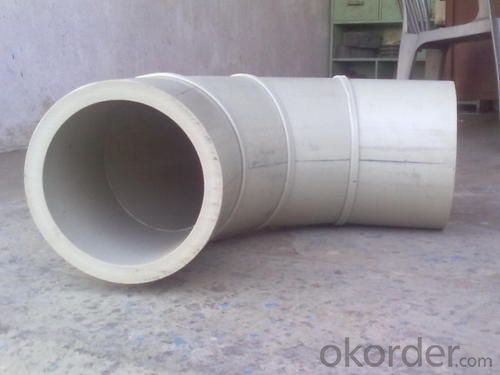 FRP Fitting Specification
1)Corrossive resistant
2 )Light weight,high intensity.,long service life
3)Low installation and mainence costs
FAQ of FRP Fitting
Q: What is fiberglass composite?
A: Fiberglass composite is a laminate made from glass fibers or filaments and thermosetting resin. It is commonly known as RTRP, RTMP, FRP, GRP, GRE and GRV.
Q: Are fiberglass fittings fragile?
A: Due to the elastic nature of the resin which holds the clothlike glass fibers together, fiberglass is strong and flexible. FPI products meet the rigorous "Impact Test" requirements of the international standard e.g. BS, API, ...
Q: Are fiberglass pipes an 'off the shelf' item?
A: No. FPI's fiberglass pipes are bespoke products engineered to the highest international standards and specifications.
Q:Glass fiber reinforced plastic sand pipe backfill 5m, how much kg pressure?

You don't even know the pressure inside.
Q:Can FRP pipes be used in heating pipes?

FRP pipes are generally not used in heating pipes, because the use temperature of FRP pipes is limited, as detailed below:1. universal unsaturated polyester FRP can only be used for less than or equal to 60 degrees (HG/T20696-1999)2. bisphenol A unsaturated polyester FRP can only be used for less than or equal to 100 degrees HG/T20696-1999)3. vinyl unsaturated polyester glass fiber can only be used for less than or equal to 120 degrees HG/T20696-1999)4. epoxy FRP can be used for less than or equal to 90 degrees HG/T20696-1999)5. glass fiber reinforced plastic sand holding pipes can only be used for less than or equal to 50 degrees (GB/T21238-2007)
Q:What can be done to solve the leakage of FRP pipe?

The method of mending is hand paste. The stones must be taken away so that the pipes are restored to their original shape. If you can get into the pipe, polish it first and repair the lining.
Q:What are the differences between FRP pipes and sand pipes in their uses?

Pressure more than 10 kg, generally do not clamp sand tube. Process tubes are mainly used in highly corrosive workplaces such as acids, alkalis, salt solutions, or high pressure pipes.
Q:How to open a DN300 port on the DN600 GRP pipe and install the DN300 gate?!

A 300 hole bonding a short tube, in the installation of a valve (see what install valves, iron needs a steel plastic conversion, direct bonding glass steel flange, a glass tube) special glue (a few years ago had forgotten what, like what's called 507), this thing is good to buy special glass steel where there is, the effect is quite good
Q:How to connect glass fiber reinforced plastic sand pipe?

Socket connection is one of the main connecting type of underground pipelines, the use of double "O" type sealing ring connection, the two sealing rings, the socket has pressure test mouth, the installation must be made up and mouth pressure test in the two ring between each interface can be arranged near side pressure test the test pressure, by design, water consumption is very small, the duration is 3 ~ 5min, with no leakage for qualified, ensure that each of the seal effect to ensure that the entire pipeline system overall pressure test success.
Q:There is a gap between the new glass fiber reinforced plastic pipe and its through wall. How can the plug be prevented from leaking through the cracks around the pipe?

Large glass fiber reinforced plastics plants such as the United States and Asia, with FRP through the cabin, can be used to solve your problem, the gap is filled with special blowing agent. In this way, the continuity of FRP material can be guaranteed.
Q:What is fiberglass communication tube?

Glass fiber reinforced plastic communication tube is a kind of light, high strength, corrosion resistant and burr free metal pipe. It is mainly used for protecting cables and cables.
Q:Slurry circulation glass fiber reinforced plastic pipe

The slurry circulation FRP pipe project has long service life and is safe and reliable. The pipeline is durable and the safety factor is above 6. The pipeline life can reach up to 50 - 100 years. For example, the water supply pipeline from Shenzhen to Hongkong was built on the side of Hongkong, long 50KM, respectively, two kinds of glass pipes with inner diameter, 2.2m and 1.7m, which were installed and used so far in 1965, and they were left intact.
Q:Do I need CCC certification for ventilated GRP?

The air duct is made of 10MM thick fiberglass pipe, and the design of the air duct is wrong. The FRP pipe is developed for fire control and smoke exhaust.
1. Manufacturer Overview

Location
Year Established
Annual Output Value
Main Markets
Company Certifications
2. Manufacturer Certificates

a) Certification Name
Range
Reference
Validity Period
3. Manufacturer Capability

a)Trade Capacity
Nearest Port
Export Percentage
No.of Employees in Trade Department
Language Spoken:
b)Factory Information
Factory Size:
No. of Production Lines
Contract Manufacturing
Product Price Range