Item specifice
Brand Name:
OK floss
Floss material:
bamboo charcaol
Logo:
OEM
Feature:
Clean Interdental Area Effectively
Color:
Black
Package:
PP bag,box as OEM
MOQ:
200 bags
Usage:
Restaurant & Household
---
Dental Floss Bamboo Charcaol Food Grade ISO CE Tooth Floss
| | |
| --- | --- |
| Brand | OEM/Ok Floss |
| Floss material | Bamboo Charcoal /OEM |
| Floss length | 7.4*2.2cm/OEM |
| Wax | Import germany wax/american wax/bee wax/candelilla wax/customized wax |
| Flavor | Mint / green tea / lemon / peach / fruit / aloe / gin |
| Color | Black |
| Floss original color | Individual bulk PP bag/individual paper box/as customized |
| Applications | Family,Hotel,Travel,Supermarket |
| Delivery | By sea,By air,By express. |
| Lead time | 20-30days |

Soft tape to ace the tight space
No break, no shred floss
Helps remove plaque between teeth
Helps prevent gingivitis between teeth
Unique handle design, makes it easy and comfortable to floss. Removes trapped food debris.
Extra bristled pick for hard to get bits,even gets behind hard-to-reach molars.
Gently slides smooth between tight teeth. Freshen breath with flavor.
Recommends you use OK flosser after every meal and snack to have a fresher, cleaner mouth. For a completely daily clean, use with a OK flosser to easily reach back teeth.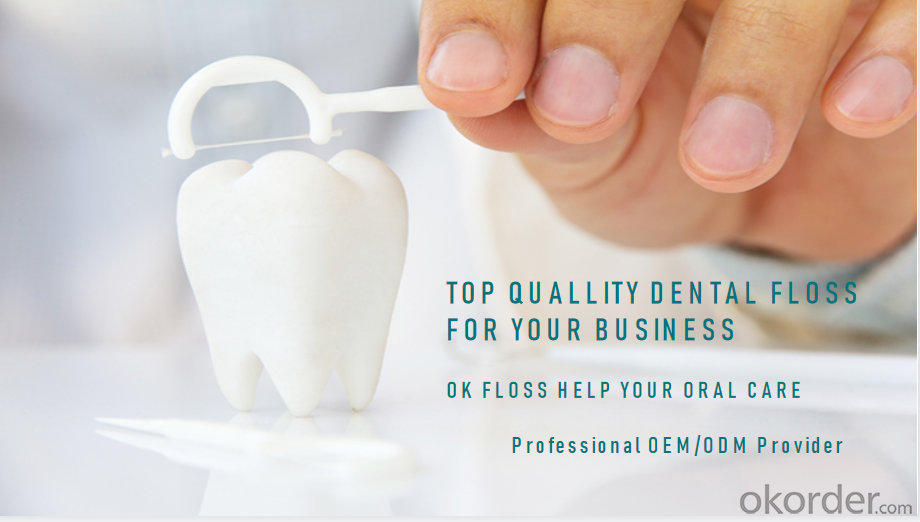 OK FLOSS HELP YOUR ORAL CARE PROFESSIONAL OEM/ODM PROVIDER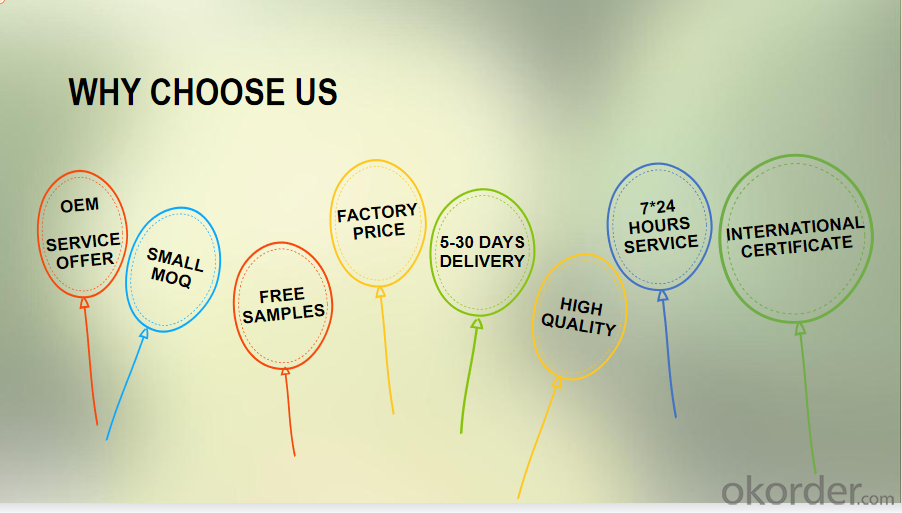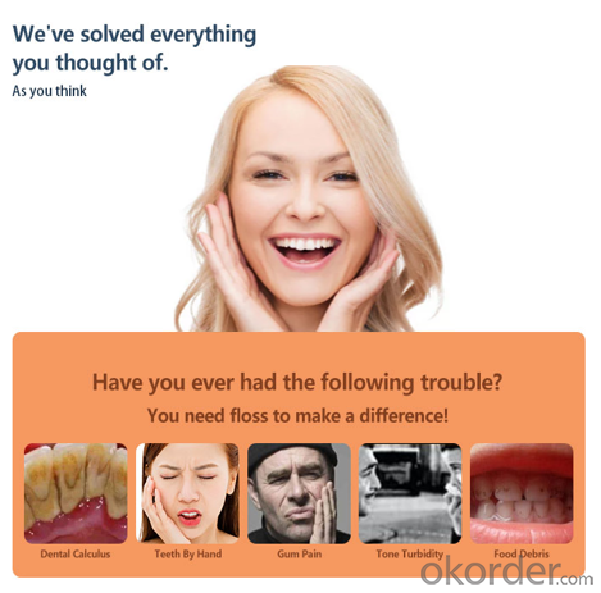 Why we need use dental floss??
Because it can reduce your chances of 60% of adjacent dental caries and 70% of periodontal disease. It allows you to have a healthy tooth of your own at
the age of 80.Flossing your teeth in the right way will remove food particles and growing plaque from spots where your toothbrush can't reach, generally
between your teeth and under the gumline.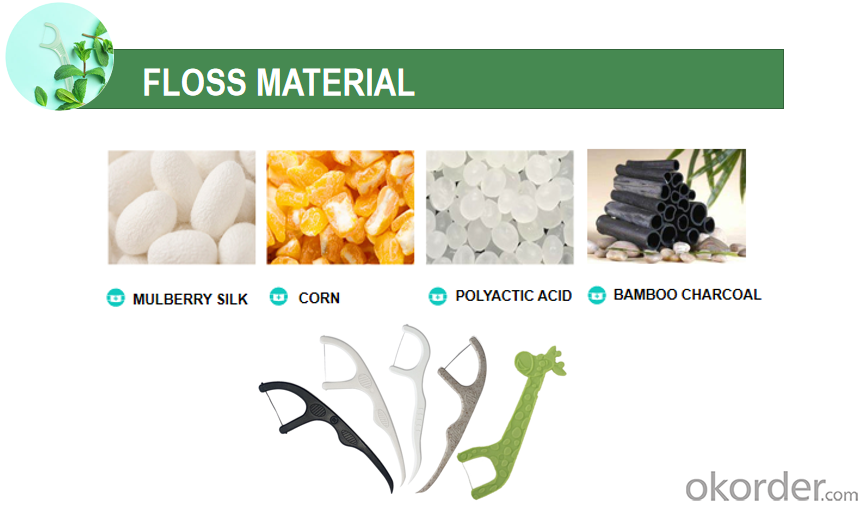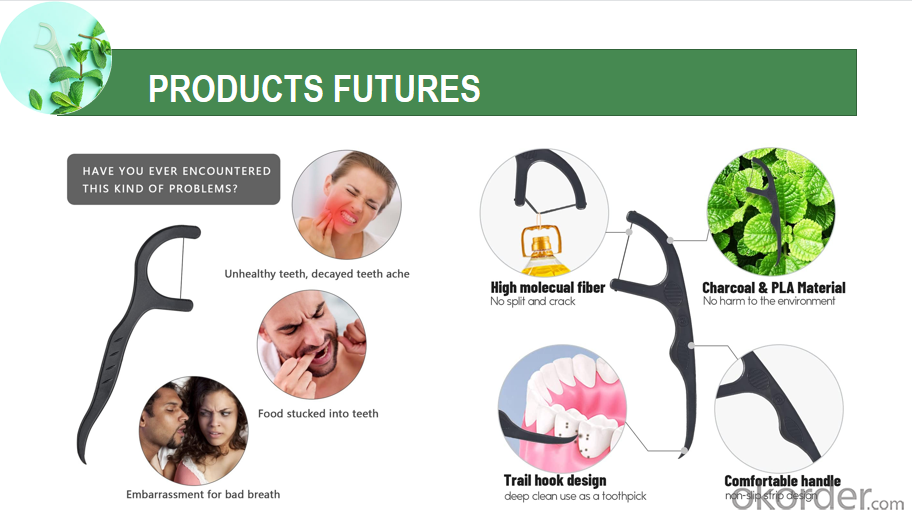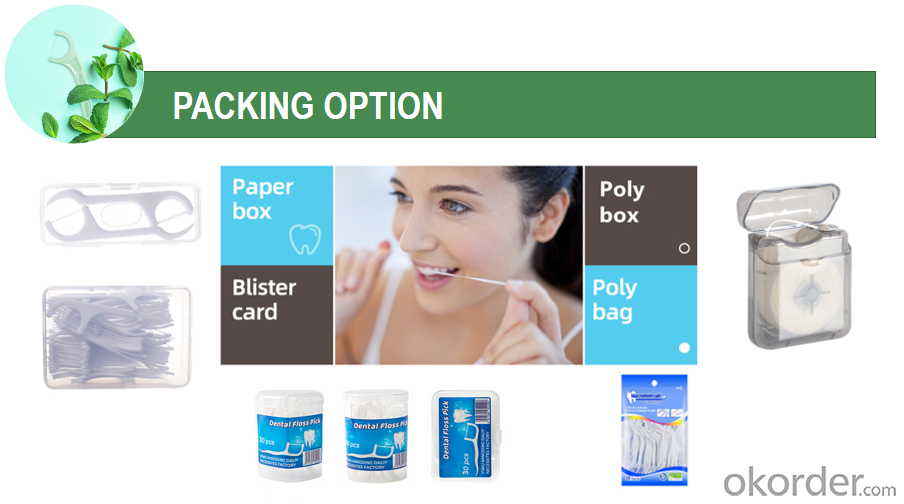 Suggested use
Directions for flossing: While holding the handle, gently guide the floss between your teeth using a zig-zag motion. Move floss away from the gumline in a gentle back and forth, up and down motion alongside each tooth to remove food particles and plaque. Rinse floss as needed and repeat for each tooth.

Warnings
Adult supervision recommended under age 10.



FAQ
Q: Can you accept OEM make?
A: Sure.We can make your customized brand and design blister card, inner box and master carton, and also pack as per your request.
2. Q: Where can I put my logo?
A: We can print your logo on the sticker, blister card, inner box and master carton.
3. Q: What are your MOQ?
A: Blister card packing: 10000 pcs/item.
Bulk packing: 5000 pcs/item.
4. Q: How can I get Samples?
A: Samples are free, while the shipping cost to be collected.
5. Q: What are your terms of payment?
A: 1) T/T(30% in advance, the balance by the copy of B/L).
2)For small order less than USD 3000, in order to save bank commision for both of us, we need 100% in advance.
6. Q: How long is the delivery time?
A: For the MOQ, the leading time is about 20-30 days.

Q:

Yes, medical plastics can be used in wound dressings. They are commonly used due to their versatility, durability, and ability to create a sterile barrier to protect wounds from infection. Medical plastics such as polyurethane, polyethylene, and silicone are often utilized in wound dressings for various purposes, ranging from moisture management to promoting healing and minimizing pain.
Q:

Medical plastic is commonly used in neurosurgical applications for a variety of purposes, including the manufacturing of surgical instruments, implants, and prosthetics. These plastics are designed to be biocompatible, meaning they are compatible with the human body and do not cause any adverse reactions. They are also durable, lightweight, and can be easily sterilized. In neurosurgery, medical plastics are used in the production of tools like catheters, tubing, and shunts, as well as in the creation of implants such as cranial plates, skull prosthetics, and spinal fusion devices. The use of medical plastic in neurosurgical applications helps to enhance patient safety, improve surgical outcomes, and promote faster recovery.
Q:

Medical plastic helps in preventing device contamination by providing a sterile and non-reactive surface for medical devices. It is specifically designed to resist bacteria growth and can be easily cleaned and sterilized. Additionally, medical plastic is often used to create barriers, seals, and enclosures that prevent contaminants from entering or exiting the device, ensuring a safe and hygienic environment for patients.
Q:

Medical plastics play a crucial role in the development of telehealth sensors by providing essential properties such as biocompatibility, durability, and flexibility. These plastics are used to create components and housings for telehealth sensors, ensuring safe and reliable operation. Additionally, medical plastics enable the miniaturization of sensors, allowing for more compact and wearable devices that can be easily integrated into telehealth systems.
Q:How can I get the glass glue out of the plastic cup?

With paper towels stained with some alcohol (preferably with industrial alcohol, not to use medical also OK) wipe, and then rub a few times on the clean.
Q:

There are several alternatives to medical plastic in healthcare applications, including glass, stainless steel, silicone, and biodegradable materials. Each of these alternatives offers unique properties and benefits, such as durability, chemical resistance, flexibility, and environmental friendliness. The choice of alternative material depends on the specific healthcare application and its requirements.
Q:Are hard PVC plastic particles dangerous products? Are there any restrictions on imports from the United States (customs, commodity inspection)?

Chinese from September 29th, forty-eighth in 2009, the Ministry of Commerce in 2003 fifty-third announcement, originating in the United States, South Korea, Japan, Russia and Taiwan imports of PVC (customs encoding 39041090) anti-dumping measures, the implementation period of five years. I did not find that the product (39042200) whether to levy anti-dumping duties related news, it is recommended to consult your local customs.
Q:

Medical plastic is used in medical tubing and connectors to provide a safe and reliable means of transporting fluids and gases within healthcare settings. These plastics are chosen for their biocompatibility, flexibility, and durability, ensuring they can withstand the demands of medical applications. Medical tubing and connectors made from these plastics are crucial for various purposes, such as delivering medications, draining fluids, conducting diagnostic tests, and facilitating surgical procedures.
Q:

Medical plastics play a crucial role in the diagnosis and monitoring of diseases by providing a wide range of innovative solutions. They are used in the production of medical devices such as syringes, catheters, and diagnostic test kits, which aid in the accurate and efficient detection of diseases. These plastics offer properties like transparency, durability, and biocompatibility, enabling the development of advanced imaging technologies like X-ray films and ultrasound transducers. Additionally, medical plastics help in the manufacturing of wearable devices and biosensors that continuously monitor vital signs, allowing for real-time disease monitoring and remote patient management. Overall, medical plastics contribute significantly to improving the accuracy, reliability, and accessibility of disease diagnosis and monitoring.
Q:

Yes, medical plastics can be used in drug eluting devices. The controlled release of drugs is possible by incorporating them into the structure of medical plastics, allowing for targeted and sustained drug delivery in various medical applications.
1. Manufacturer Overview

Location
Year Established
Annual Output Value
Main Markets
Company Certifications
2. Manufacturer Certificates

a) Certification Name
Range
Reference
Validity Period
3. Manufacturer Capability

a)Trade Capacity
Nearest Port
Export Percentage
No.of Employees in Trade Department
Language Spoken:
b)Factory Information
Factory Size:
No. of Production Lines
Contract Manufacturing
Product Price Range