Item specifice
Grade:
3000 Series
Surface Treatment:
Polished,Mill Finish
Shape:
Angle,Flat,Round
Temper:
O-H112
Application:
Door & Window,Decorations
---
1. Specification of Cold Rolling Gutter Aluminum Coil 3003 3004 3105
Alloy: 1050, 1060, 1100, 3003, 3004, 3005, 3105, 5005, 5052, 5083, 5754
2) Temper: Various status
3) Thickness: 0.3-150mm
4) Width: 300-1950mm
5) Length: Under9500mm/ Coil
6) Weight: 2.5-5.0 tons per coil
7) Dimensions and weight can be produced according to clients' specifications.
8) Inner Diameter: 505mm, 605mm
9) Packing: Export standard, wooden pallet.
10) Delivery time: 20 days
11) Minimum order quantity: 5 tons per size.
12) The term of payment: T/T, irrevocable L/C at sight.
13) Surface: Bright
14)Origin: China
2. Application of Cold Rolling Gutter Aluminum Coil 3003 3004 3105
(1).Interior: wall cladding, ceilings, bathrooms, kitchens and balconies, shutters, doors...
(2).Exterior: wall cladding, facades, roofing, canopies, tunnels,column covers , renovations...
(3).Advertisement: display platforms, signboards, fascia, shop fronts...
3. Feature of Cold Rolling Gutter Aluminum Coil 3003 3004 3105
*Such coil is specially designed to replace aluminum ingot, due to the high export tax of aluminum ingot, the coil has better price than ingot.
*This type of coil can fit customer's remelting furnace just like ingot, no need to make any change to the production line that was previously used for ingot. The standard coil size and weight is very suitable for the feed gate of furnace.
*This type of coil causes less material wastage than ingot when remelted.
*Our coil is made directly from ore, no need to go though the ingot making process, quality is much better than other suppliers who use ingot scrap to make coil.
Be free from Oil Stain, Dent, Inclusion, Scratches, Stain, Oxide Dicoloration, Breaks, Corrosion, Roll Marks, Dirt Streaks and other defect which will interfere with use
4. Certificate:
SGS and ROHS(if client request, paid by client), MTC(plant provided), Certificate of Origin(FORM A, FORM E, CO), Bureau Veritas and SGS (if client request, paid by client), CIQS certificate
5. Image of Cold Rolling Gutter Aluminum Coil 3003 3004 3105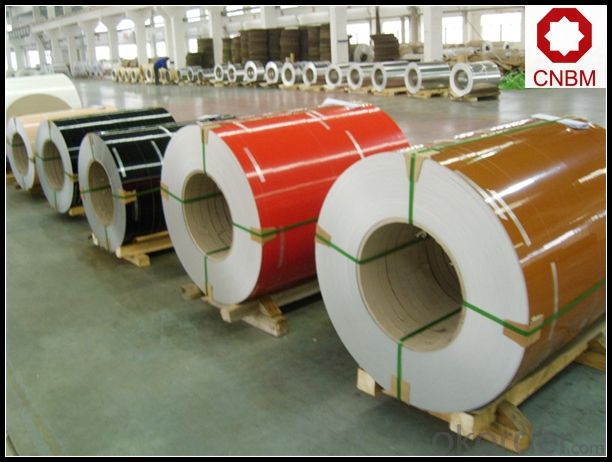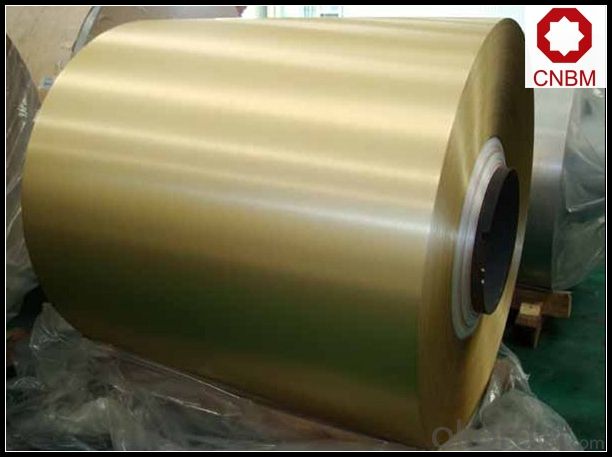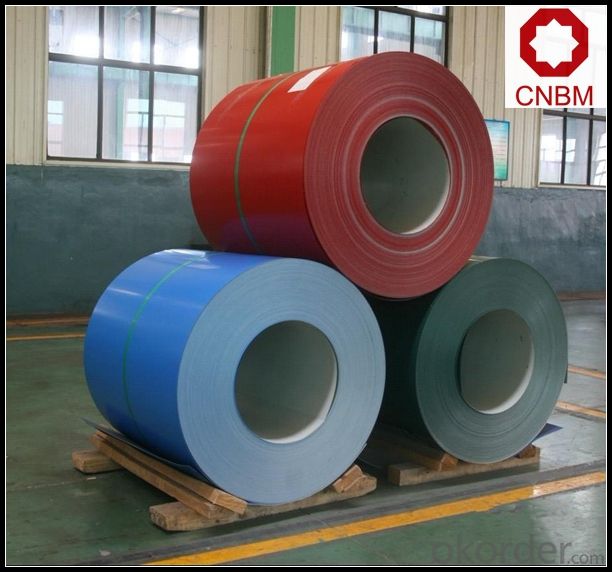 6. Package and shipping of Cold Rolling Gutter Aluminum Coil 3003 3004 3105
eye to wall
eye to the wall
with wood pallet (wooded case also available)
7. FAQ
1) What is the delivery time?
Dpends on actual order, around 20 to 35 days
2)What is the QC system:
We have QC staff of 20 persons and advanced equipment, each production is with MTC traced from Aluminum ingot lot.
3) What market do you mainly sell to?
Australia, America, Asia, Middle East, Western Europe, Africa etc
Q:I have a muffin pan made of aluminum foil and I do not know if i can put it in the oven to cook some muffins. Many sights say it will melt but they say that about putting a sheet of foil at the bottom of the oven for a long time. I just want it to be in their for half an hour to make muffins.

Aluminum foil is made for the oven. You can keep aluminum foil in there for hours. The aluminum foil pan you have are the disposable ones. You use those once or twice and throw them away. They will be just fine! I've used them plenty of times. They're convenient b/c if you're bringing muffins to someone- you can bring them in the aluminum container and don't care about getting the container back.
Q:What is virgin aluminum? I can't find anything about it, is it just another word for aluminum? Is there a difference?

Aluminum that contains no recycled aluminum.
Q:why is aluminum used for railway lines?thanks x

Aluminum is strong ans light weight.
Q:Dongying power plant with 0.6mm thick insulation aluminum coil, manufacturers can be divided into small volumes?

Yes, 50 meters per roll. I have a manufacturer's telephone number
Q:Relevant question 5Excuse me, what's the meaning of your "deoiling effect"? And you answer two kinds of performance, my understanding is that the oil removal effect is not good, lead to aluminum volume is not neat, what is the difference between the two? Solution, thank you

The layers between the extrusion effect increases, there is a high speed roll out effect, so that the support of oil film between layer and layer thinning, especially edge thinning, lost support of the aluminum layer partial collapse, there is the edge of the water ripple condition serious if the aluminum layer a big part of the in-plane film thickness thinning, will occur due to the inner tension decreases, torque generated in the outer layer of the strong rolling tension, will roll toward the side with the offset, coil diameter is larger, the offset will become increasingly large, even from the reel, offset The direction is uncertain, but from the analysis of stress can be analyzed;
Q:I have a edelbrock aluminum intake that was sitting around for a year and it has some fading with a little corrosion. What's a good cleaner or chemical I can use to clean it up?

Bare aluminum surfaces tend to corrode and go dull when left exposed to the air. That's just the way things are. If you want. you could use a lot of elbow grease and a metal polishing compound like Simichrome to shine up your manifold, then spray it with clear-coat paint to help keep it bright. Just be sure that if you do use clear-coat paint, that it will stand up to the high temperatures of your engine compartment.
Q:My grandpa died from Alzheimer's disease, I didn't know what it was but I came across something slightly disturbing. There were several blog and research sites linking Sodium Aluminum Phosphate ((you know the stuff in bisquick pancake batter stuff or maybe eggo waffles)) what bothered me is that two root words of that ingredient bothers me aluminum Phosphate ((is that like phospherous, as in phospherous paint...didn't that turn out bad to the body?)) If so maybe I need a second opinion or ensurance that it is real or not if it is I'm not eating pancakes again. Please help answer this.

make your own pancakes and you have nothing to worry about.
Q:I go on a trip once a year with a group of lets say 10 people, we go for 7 nights and consume on average approx 120 cans of beer each (throughout the week). We have a fire burning the whole time in a hole that we dig approx 1ft deep, then we dispose of each can in the fire and let them melt down never thinking about them again. That's approx 1,200 cans that melt in the one fire hole.Will the aluminum have an affect on the soil? does anyone know what sort of damage this can cause? and for what distance / area around the fire might be affected?The theory amongst the group is that cans do not hurt anything so that's why they take cans instead of glass.Thanks

Aluminum is very reactive in air and will form a layer of aluminum oxide around the outside of any piece. This oxide layer is very stable which is why aluminum doesn't corrode. Since your block of aluminum will be totally oxidized being in a fire, it's inert and just going to sit in the hole for the foreseeable future. The burning paint might not be healthy to breath but that's about the only hazard. Most common soil is a mixture of aluminum, carbon and silica compounds anyways so you aren't even adding anything particularly exotic. Alternatively, you could bring along a couple fifths of whiskey. It's lighter and has less packaging so it's the environmentally friendly way to get drunk.
Q:Is there any way aluminum can affect you if its absorbed into your body either by digestion, through an open cut, or even through breathing it in?Most likely inhaling it would surely affect you, but what about the other two?

Aluminium can accumulate in the brain possibly causing alzheimers. If you inhaled it it would poison you and damage your lungs, if you got it in your body it would damage your skin, possibly cause an infection and the cut might not heal. Aluminium is a solid so how could you accidently get it in your body unless you have been melting it etc? If it wasn't solid it would burn you if you got it on your skin. You can only inhale vapours not a metal. If you ate it then it would probably damage or clog up your insides otherwise just pass out in a stool, depends how much you ate. People eat from aluminium and touch it every day so it is not dangerous to be in contact with.
Q:my homework was to find out how do you get aluminium for rocks! I've been looking around but every web site i've been on only says that aluminium comes from rocks, but it doesn't say how you get it from rocks.e.g you get wool from sheep by shearing of their coat.so if anyone knows how you get aluminum from rocks please tell me i need your help.

Well, you start with an aluminum rich rock (cheaper to process). The raw ore after physical concentration (removal of secondary minerals) is reacted by an electrolytic process. This means that electricity is used to convert the aluminum ion in the raw rock into the metal aluminum. Sort of like the reverse of a battery, to keep things simple. Aluminum smelters tend to be set up in places with cheap electricity, because the process uses a LOT of electricity. That is why there are several up here in quebec, we have cheap hydro electricity and the government gives decent deals to the smelters on top of the already low market price. Do a search on aluminum smelting to find out more. Not sure what your level of knowledge is so not sure how much you will understand.
1. Manufacturer Overview

Location
Year Established
Annual Output Value
Main Markets
Company Certifications
2. Manufacturer Certificates

a) Certification Name
Range
Reference
Validity Period
3. Manufacturer Capability

a)Trade Capacity
Nearest Port
Export Percentage
No.of Employees in Trade Department
Language Spoken:
b)Factory Information
Factory Size:
No. of Production Lines
Contract Manufacturing
Product Price Range
Hot Searches
Related keywords