Aluminium Foil Facing; FSK-R7160A
Loading Port:

China Main Port
Payment Terms:

TT or L/C
Min Order Qty:

10000M2 m²
Supply Capability:

20000M2 Per Day m²/month
Inquire Now
Customer Service
OKorder Service Pledge
Quality Product
Order Online Tracking
Timely Delivery
OKorder Financial Service
Credit Rating
Credit Services
Credit Purchasing
---
Add to My Favorites
---
1. Specifications of Aluminium Foil Facing; FSK-R7160A
Aluminum foil: 7 microns
Tri-way fiberglass scrim: M.D: 8/100mm; X.D: 12/100mm
Adhesive: Flame Retardant
Kraft paper: 60gsm (Natural)
TYPICAL PHYSICAL PROPERTIES:
PROPERTIES

UNIT

VALUE

TEST METHOD

Basic weight

gsm

98

ASTM D646

Tensile strength: M. D.

X. D.

N/25mm

130

50

ASTM D828

Burst strength

N

30

ASTM D774

Reflectivity of foil surface

%

95

----------

Temp. Resistance

-29°C

66°C

No Delamination

No Delamination

ASTM C1263

Water vapor permeance

ng/N.s

5.75

ASTM E-96

Fire Rating

Class

B2

GB8624,GB/T8626
Width: 1.0m, 1.2m, 1.25 m, 1.30, 1.35m,1.37m
Length:300m, 500m, 1600m, 2750m, 3300m
Core I.D.:3"(76mm ±1)
Based on order, special sizes are also available.
Remarks:
1. The data above are typical results and subject to change without notice.
2. Tolerance: Weight and Thickness: ±10%; Width: ±3mm; Length: ±0.5%.
3. The products should be stored at room temperature, kept from wet and kept away heat source.
4.The users should take test and do trial-application on the above products before coming into application so as to witness and ensure suitability for their special purpose and technique.
2. Application of Aluminium Foil Facing; FSK-R7160A
FSK facing is mainly used for duct wrap in HVAC sustem and other fields, such as vapor barrier etc., and suitable for off-line lamination of glass wool or rock wool. By special processing, the facing will have excellent flame retardant property.
3. Packaging & Deliveryof Aluminium Foil Facing; FSK-R7160A
Depends on the clients' requirements and the production conditions.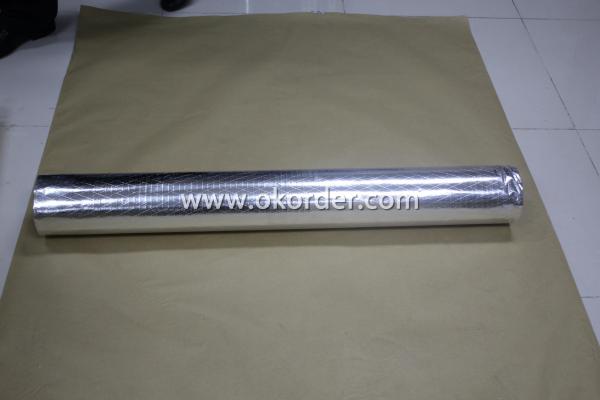 We are a famous brand name in China market, which was established by CNBM Group when 1994. Now it become the largest factory in the reinforced aluminum foil kraft paper business line. Nowadays,CNBM international as the International department of GREEN FOIL makes it more and more international.Certified by ASTM, UL,TUV,NATA,SABS etc.mainly items are reinforced aluminum foil scrim with kraft paper, aluminum foil with woven fabric
1. Manufacturer Overview

Location
Jangsu, China
Year Established
1999
Annual Output Value
Above US$ 0.3 billion
Main Markets
0.00% Mid East
0.00% Northern Europe
15.00% North America
10.00% Eastern Asia
20.00% Africa
0.00% Eastern Europe
20.00% Southeast Asia
0.00% Oceania
0.00% Western Europe
0.00% Southern Europe

South east asia;North America,South America
Company Certifications
ISO 9001:2008
2. Manufacturer Certificates

a) Certification Name
Range
Reference
Validity Period
3. Manufacturer Capability

a)Trade Capacity
Nearest Port
Shanghai
Export Percentage
41% - 50%
No.of Employees in Trade Department
20 People
Language Spoken:
English; Chinese
b)Factory Information
Factory Size:
Above 100,000 square meters
No. of Production Lines
Above 4
Contract Manufacturing
OEM Service Offered; Design Service Offered
Product Price Range
Average