Tower Crane TC6014 Chinese Manufacturer 8T
Loading Port:

China main port
Payment Terms:

TT or LC
Min Order Qty:

1 unit
Supply Capability:

30 unit/month
Inquire Now
Customer Service
OKorder Service Pledge
Quality Product
Order Online Tracking
Timely Delivery
OKorder Financial Service
Credit Rating
Credit Services
Credit Purchasing
---
Add to My Favorites
---
Structure of Tower Crane TC6014 Description
Feature: Tower Crane
Condition: New
Application: Construction
Max.Lifting Load: 8T
Max Tip Load:1.4T
Independent Height:46M
Max Lifting Height: 138M
Span: 60m
Certification: CE,ISO
Place of Origin: China(Mainland)
Model Number: TC6014
Packaging & Delivery of Tower Crane TC6014
Packaging Detail: Nude package
Delivery Detail: 25-30days
Main Feature of Tower Crane TC6014
Our tower crane is self-erecting and wall-attached tower crane, in addition to it's advanced parameters, reliable performance, well-looking appearance, and excellent quality.
It has characteristica such as long boom, largeworking coverage, hydraulic rising, and tandem mounted tower body.
It's design idea shows advantages including simple structure and good applicability, convenient maintainability, and lower price at the same time to emphasize meeting the requirement from construction units at different levels.
It's lifting height is obviously increased thanks to its self-erecting and wall attached function.
It is applicable for construction of different industrial, commercial, office, and civil building lower than 220m, and becomes an ideal service-building machine at home.
Tower Crane TC6014 Specifiction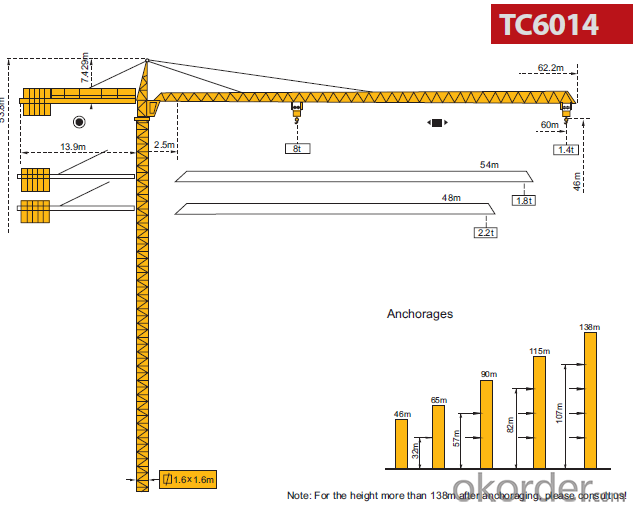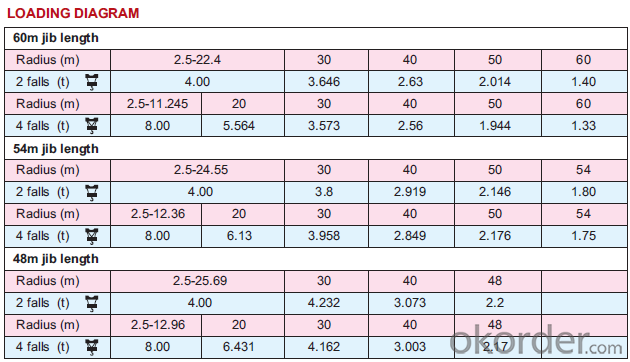 Independent height (m)

46

Max height with attachment (m)

138(200)

Working range can be adjusted(m)

48、54、60

Min working range(m)

2.5

Max lifting capacity(t)

8

Tip load @ 60m(t)

1.4

Hoist mechanism

Falls

2

4

Lifting capacity(t)

0-2

0-4

0-4

0-8

Speed(m/min)

0-80

0-40

0-40

0-20

Motor

YZRWFC250M-4/8 30/30KW

Trolleying mechanism

Speed(m/min)

53/27/12

Motor

YZTDE132L-4 /8/16 3.3/2.2/1.1KW

Slewing mechanism

Speed(r/min)

0-0.6

Motor

YZR132M2-6-3.7KW×2

Climbing speed(m/min)

0.5

Counterweight(t)

17.0

Mast section size(L×W×H)m

1.6×1.6×3.0

Working temperature

-40-+60℃

Total Power (KW)

42

Power supply requirement (KVA)

190KVA for generator

Cable type ( within 35 meters from site power source to lower

electric box of tower crane )

50mm2(3+2, 5 cores)

380V×95%=361V 179A

Rated working voltage & current

380V 128A
Images of Tower Crane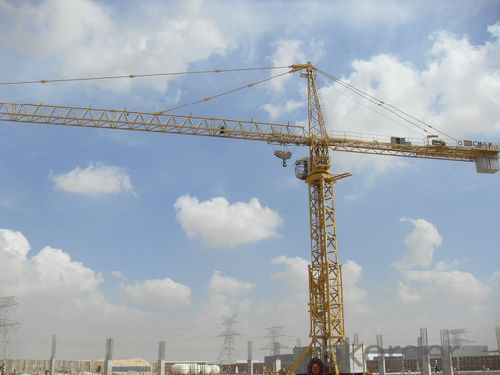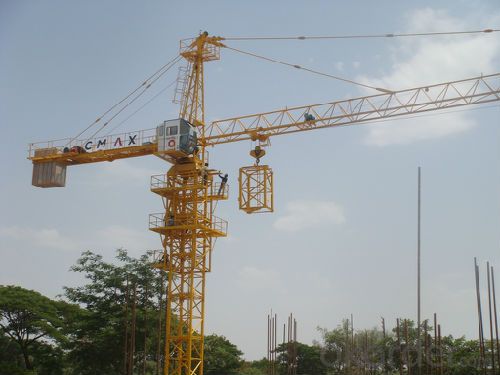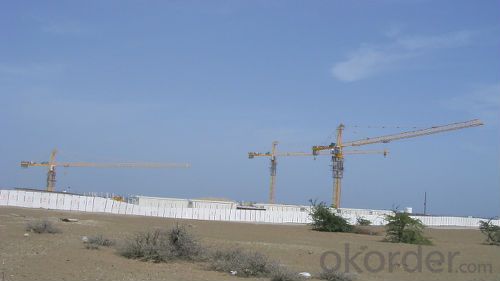 FAQ of Tower Crane
Q: What serice you could provide?
A: Providing timely delivery, standby engineers are ready to slove any of your problem
Providing all-embraced warranty of products quality, worksite installation guidance
Providing ample spare parts and training of operation and maintenance
Engineers have more than 20 years' experience in tower crane, ready to solve any of your problems.
Q: What about our tower crane's warranty?
A: Usually there is one-year quality warranty including main electronic parts (not including consumable parts). There are consumable spare parts together with whole machine and normally they are enough for one year.
Q: What is 3 main mechanism of the tower crane?
A: there are trolleying mechanism/ slewing mechanism/ hoisting mechanism.
Q: Can you equip with light on tower crane jib, monitor, remote control and anemometer?
A: Sure. All of these could be provided with extra cost upon the clients' requirements. But according to general practice, remote control is not suggested because most of the operator feedback operation in the cabin will provide a wide working view.
Q:Hi, I'd like to know what a crane symbolises in the asian(?) culture. any other meaningful symbols do list.

The cranes' beauty and their spectacular mating dances have made them highly symbolic birds in many cultures with records dating back to ancient times. Crane mythology is widely spread and can be found in areas such as the Aegean, South Arabia, China, Korea, Japan and in the Native American cultures of North America. In northern Hokkaidō, the women of the Ainu people, whose culture is more Siberian than Japanese, performed a crane dance that was captured in 1908 in a photograph by Arnold Genthe. In Korea, a crane dance has been performed in the courtyard of the Tongdosa Temple since the Silla Dynasty (646 CE). In Mecca, in pre-Islamic South Arabia, the goddesses Allat, Uzza, and Manah, who were believed to be daughters of and intercessors with Allah, were called the three exalted cranes (gharaniq, an obscure word on which 'crane' is the usual gloss). See The Satanic Verses for the best-known story regarding these three goddesses. The Greek for crane is Γερανο? (Geranos), which gives us the Cranesbill, or hardy geranium. The crane was a bird of omen. In the tale of Ibycus and the cranes, a thief attacked Ibycus (a poet of the 6th century BCE) and left him for dead. Ibycus called to a flock of passing cranes, who followed the murderer to a theater and hovered over him until, stricken with guilt, he confessed to the crime. Pliny the Elder wrote that cranes would appoint one of their number to stand guard while they slept. The sentry would hold a stone in its claw, so that if it fell asleep it would drop the stone and waken.
Q:What association does Wing Chun have with Fujian White Crane (Tiger-crane) kung fu?

Fujian White Crane is not Hung Gar or Tiger Crane. Southern White Crane, or Gu Lou Kuen (Ancestor Fist) is the predecessor to Goju-ryu karate. Goju and GLK emphasize the sam jian ma, sanchin dachi, or three battles stance, and rootedness, body conditioning, and strong shoulders and arms. The power comes from the rooted base and strong arms. There are rumors that Wing Chun is derived from Ancestor Fist, but philosophically, technically, tactically, and strategically, the styles are extremely dissimilar except for the short range fighting. Wing Chun is also rumored to be created by Ng Mui or Wu Mei, the Buddhist Nun. But the resemblances between modern Wing Chun and styles named after the nun are few and superficial. Wu Mei emphasizes power generation in numerous ways and continuous attacks. Wing Chun emphasizes deflection and power generation by shifting the feet, and simultaneous attack and defense. Wu Mei also has a full suite of weapons, and Wing Chun only the pike and butterfly sabers. Wing Chun is a style created in the Shaolin Temple, but it is probably closest to Hsing-I Kuen or Hsing Yi Quan in training with their chi sao or sticky hands practice.
Q:How can you tell the difference between a mosquito and a crane fly?

Crane flys are much larger than mosquitoes. They look like mosquitoes on steroids.
Q:anyone know of any Crane Kung fu teachers in MN twin cities area?

The closest you will find in your area that is related to White Crane Fist is Southern Praying Mantis. Grand Master Gin Foon Mark is one of the highest level Jook Lum Masters in the world. Even though it is Mantis fist, it is a Hakka Kuen art like White Crane and they have the same foundation. I study Yong Chun White Crane Fist and I can tell you that the art you seek is difficult to find. If I did not find my Teacher, I would want to learn Southern Mantis or Bak Mei, Chow Gar, or Chu Gar.
Q:my HSAP prep teacher wants us to find instructions on how to make an oragami crane.She said that it has to be less than 24 steps.I have looked on the internet and I cannot find anything.I need this by tomorrow.Please help!

Start with a square piece of paper. You got that? Fold the paper corner to corner to get a large right triangle, and fold it corner to corner again to get a smaller triangle. You got that ,or did I lose you. Open the paper, and you will see a big X. Never mind the X. We will come back to it. Now fold the paper side to side to get a rectangle, and fold the two SHORT SIDES to the X fold. Open and do the other two by repeating what you just did. Open the paper FLAT. You can now see a 4 pointed star. Along the four sides of the square, push down on the perimeter of the star to make the star come up. Fold down until you have a flat KITE. Make sure you have 2 flaps on each side. What you are looking at now is one wing, and the other one is in the back. The neck and head are inside the wings. Pull them out half way to expose them. Fold one side at the tip to make a head. If you did everything correctly, and hold under the neck with one hand and pull the tail with the other hand, the crane should flap its wing. Write back if you need more help.
Q:We had a very large tree removed from beside our house. The crane parked in the driveway and caused four very large depressions and crushed concrete.

No. The driveway is NOT a covered structure. The standard homeowners policy specifically excludes driveways from coverage. But the contractor who brought the crane in, should be responsible for it.
Q:Lifting tower crane tower more than 45 meters, the demolition cost and how to adjust the field Sinotrans transportation fees?

Self lifting tower crane tower 45 meters high to prevail, such as height of over 45 meters, each increased to 10 meters (less than 5 meters, excluding) demolition costs increase 20%, off-site transportation costs increased by 10%.
Q:I have a few questions...do they have a shuttle and if so where does it go? What is near the resort? Such as stores etc.

It will only take about 5-10 minutes driving to get there. One complex is in Emerald City and the other is on the other side of the road where Knights is. There is a bakery, hardware store, doctors, two banks, a pharmacy, video shop, Cheffette restaurant, clothing store,, a post office, gas station and Mademoiselle Shoe Shop among others. There is also another gas station quite near call Kirtons Star Mart which is about four minutes away.
Q:A crane lifts a 1265 kg steel beam vertically 26 m, it then stops and swings the beam 3 m horizontally into a position where the welders can secure it into its proper position. What is the work done on the beam by the crane? What is the work done by the force of gravity on the beam?

the work done on the beam by the crane = 1265 * 9.81 * 26 + 1265 * 9.81 * 0 = 322651 J answer work done by the force of gravity on the beam = 1265 * 9.81 * 26 + 1265 * 9.81 * 0 = 322651 J answer
Q:I got the crane gold 1.6 roller rocker I'm trying to install on my 95 z28 w/ an lt1 and it doesn't seem like they are installing quite right. I got the tall black nuts that hold the rocker down around the stud and the pushrods, that's it. Do I need to use those things that go below the rockers themselves (the things that slide over the stud and the rocker goes over it from the original rockers) or do I just install how I already am with just the crane rockers, black nuts and pushrods?

Lt1 Roller Rockers
1. Manufacturer Overview

Location
Year Established
Annual Output Value
Main Markets
Company Certifications
2. Manufacturer Certificates

a) Certification Name
Range
Reference
Validity Period
3. Manufacturer Capability

a)Trade Capacity
Nearest Port
Export Percentage
No.of Employees in Trade Department
Language Spoken:
b)Factory Information
Factory Size:
No. of Production Lines
Contract Manufacturing
Product Price Range