Shell Mosaic Wall Stickers
Loading Port:

Ningbo
Payment Terms:

TT OR LC
Min Order Qty:

-
Supply Capability:

1000平方米 m²/month
Inquire Now
Customer Service
OKorder Service Pledge
Quality Product
Order Online Tracking
Timely Delivery
OKorder Financial Service
Credit Rating
Credit Services
Credit Purchasing
---
Add to My Favorites
---
Conch is a natural product , Shell mosaic wall stickers is a combination of nature and technology, Shell mosaic wall stickers is combination of nature and process . It is formaldehyde Nemesis, It no radiation, Pollution-free. Shell mosaic wall stickers Environmental protection and luxury in a body, Let your home show luxurious the wind . Natural shell mosaic wall stickers, modern and stylish products, each particle are not synthetic, entirely by hand-cut from the top down the whole shell, and then hand-polished wheel showing the most natural pearl

Size:
2 * 2CMDetails
Color: (as picture shown)
Quantity: 1 square = 11
Quality: Our stickers are made of a high quality, waterproof and durable vinyl. These stickers will last for years without peeling or fading. Your satisfaction is guaranteed!
Material: Removable self-adhesive vinyl
Condition: New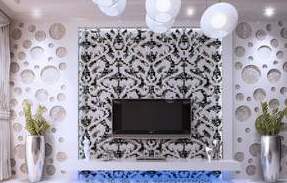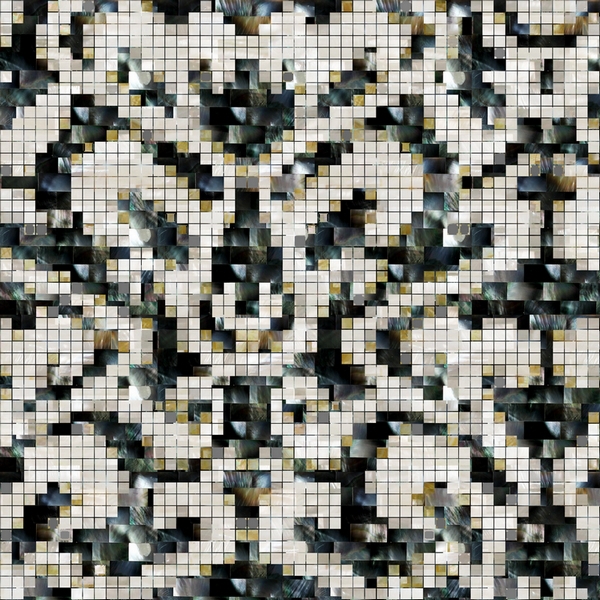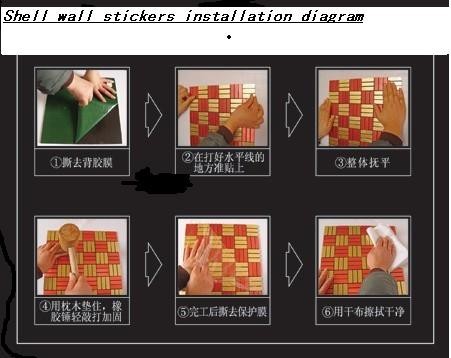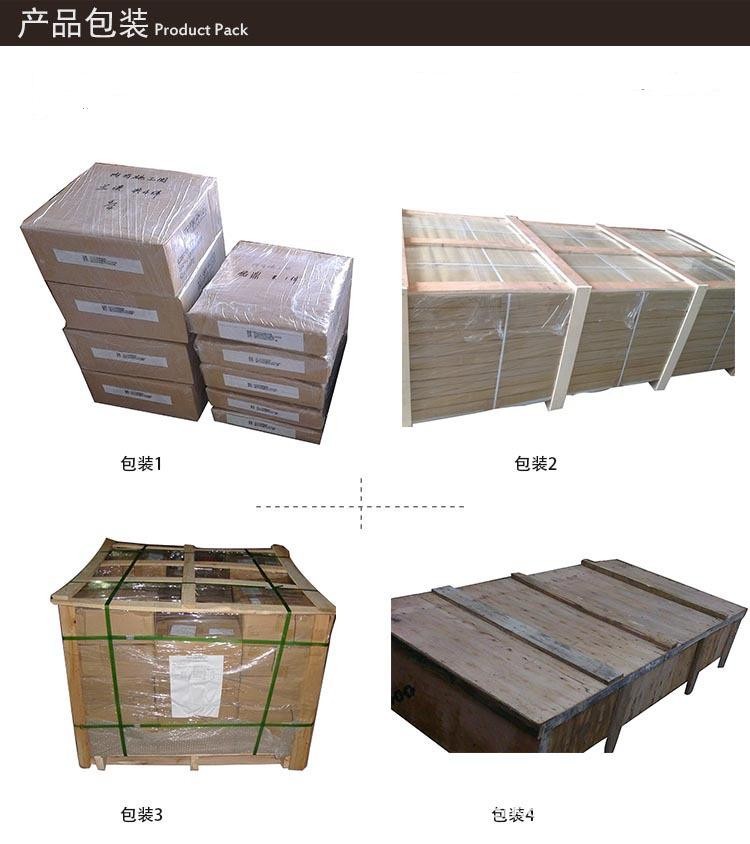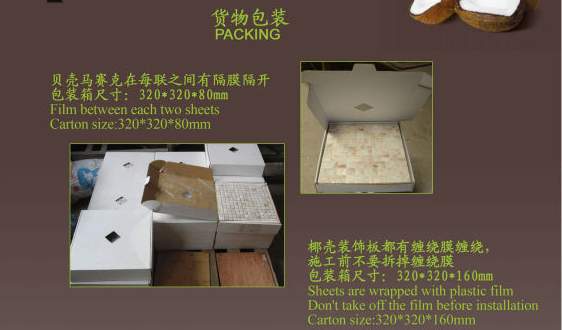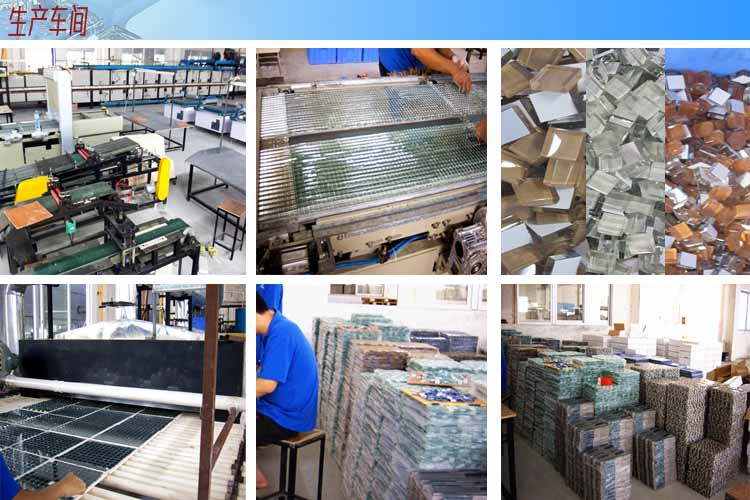 Q:and which is a better career to pursue out of the two , and are there any colleges for real estate?

A real estate agent finds you a house or property and finds a buyer for you. A real estate investor will find a house or property that they want to buy to rent out or turn around and sell for a profit. Difference, real estate agent has no interest in the property itself, just the seller and buyer...the investor has interest in the property...makes sense?
Q:I thinking to study accounting in college.I would like to do real estate business by myself and I'm not sure if accounting career can fit with my future.What's your opinion? I want to buy properties to rent.

you will need a job that pays you enough to have extra money and earnings to qualify to buy investment properties - don't count on being able to invest in such property for quite a while - rental properties REQUIRE at least a 20% down payment plus more cash for closing costs and you will be lucky to make $100/mo profit and most of that money should be put aside for major repairs like a roof or plumbing
Q:Do the real estate agents have their own painting company they rely on, or like do they recommend to the homeowner a painting company? and does this happen alot where there's a house to for sell, but the house needs to be painted and the agents tell the homeowner to get it painted? sry if it isnt clear

Good real estate agents have a network of people and companies for all needs that may be related to the buying and selling of real estate. It does amaze me, however, how many people either do not know, or do not care, about the rules, regulations or laws governing their industry. Aside from any State laws that may be in play, it is a violation of Federal Law to pay or receive kickbacks, or to participate in fee splitting. (RESPA section 8). (example of fee splitting: Inspector charges $150 gives referral source ANYTHING OF VALUE/ but most commonly $$)
Q:I did some research on the work of a real estate agent and I feel like I would really like the job. I know it all depends on me but I'd like to hear some opinions from real estate agents, brokers or anyone who has an opinion about the job.

I'm starting next week on my studies. The comission is great. Lets say you sell a multimillion dollar house, you'll easily walk away with atleast half a million in comission. Typically, one sale equals several thousand. I'd say that and if your into looking at different homes, having your own hours, and being out in the streets while on the job; it can be very ideal. The major con, is the recession. The economy seems like it's shot even though they say the recession ended, what, about a year ago? The housing market is in a bad state. It would be tough to make a sale, especially for a new agent. But if you already have a part time job like me, I think you could do it without struggling financially any worse than you already are..
Q:I'm interested in becoming a Commercial Real Estate broker, but don't know where to begin. Obviously I would need a license. What other steps will I need to take to get started?

Here in Calgary, where the commercial real estate market (all real estate, actually) is red-hot, there are some companies where you can invest $25,000, $50,000, etc. and buy a piece of commercial real estate, while getting a return on your investment. If you have something like that in your city, that might be a good starting point to get some experience.
Q:i want john alexander real estate richest in 14 days i am scared that it is phony can anyone tell me if that is a good program and if not what is a good real estate program? i am in a wheelchair broke as a joke with horrible credit and a girlfriend with a baby can someone please help me i just want to supplement my income it is hard *** hell living off of ssi by the way the baby is not mine but she is a beautiful girl and i want to be a man and help out no bs so please help i don't know where to start and I ONLY have a high school diploma i been a wheelchair for a 11 years now i got shot i don't want no hand out i just want to be able to hold it down on my own thanks

No you're now not correct. In present day financial system you will have to continuously have a again up plan in case your pleasant thought does not repay. Because the process marketplace is ache correct now employers have become very choosy approximately who they bigger so it is greater to have a few sort of measure to position in your resume. Am I correct? :)
Q:I was thinking about going into real estate but I'm afraid that I wont make the money I want. One of my friends suggested this. What is this job?

If you wants to become real estate broker then you need to do following activities. Evaluate a property together with comparable qualities which have not too long ago available to view it's cut-throat selling price. Recommend consumers in current market circumstances, prices, mortgages, appropriate prerequisites as well as related matters. Advertise sales of qualities as a result of commercials, available houses, as well as taking part inside many itemizing products and services. Join purchasers during sessions to as well as inspections of house, guidance these individuals for the suitability as well as importance of the households there're browsing. Prepare yourself docs including counsel agreements, purchase arrangements, shutting down statements, actions as well as rents. Consult with escrow corporations, financial institutions, residence inspectors, as well as infestations management staff in order that stipulations of purchase arrangements are usually achieved prior to shutting down times. Appointment consumers to view what forms of qualities there're in search of. Coordinate house closings, conspiring placing your signature to of docs as well as disbursement of funds. Generate directories of qualities which can be works with buyers' wants as well as savings. Speak to homeowners as well as publicize products and services to obtain house sales listings.Arrange for title researches to view whether or not consumers include distinct house headings.
Q:I majoring in economics and I wanted to minor in real estate because that's ultimately what I want to end up doing, but my school doesn't offer the minor anymore, though I'm still allowed to take the classes. I know I don't need a BA degree but I want to have something to back me up and I feel as though I'd feel more accomplished. I don't have the time to take the classes right away to get my real estate license and work as one during school but I want to get as much experience as possible and learn the ropes. I contacted a few real estate agents in my area and all but one has returned my call and even they are not looking for an unlicensed assistant. I'm looking to move to southern California after graduation and would love to find out as much as possible about that market before I go out there. Does anyone know of any internship opportunities out there or in PA? Any advice would help, Thanks.

Real estate brokers and agents would not use the term Internship to describe what you are offering. That is why they were not interested. There are 2 avenues that could work. YOu agree to work for no salary for one month. YOu go on appointments with a successful agent.... and in return, you do small jobs like putting up For Sale signs and removing lockboxes (with house keys inside) from sold houses. The 2nd month you could get a small salary because the agent now knows that you will work hard. Or you go to work as an assistant for $1,500 a month. You are a paid employee. You will answer calls and pass out flyers and go to meetings as well as put up signs. You will be more like a secretary but you will get paid for your work. Decide which one you want and call 100 agents. Or visit them as they hold Open Houses.
Q:Whats the best way to approach cold calling a large commercial real estate firm about career opportunities? I'm a recent a graduate with a Finance and Economics degree, but I don't have a real estate license...

You don't need a real estate license in order to apply for a job with a commercial real estate company, plenty of people work for commercial real estate companies in positions that don't require one. If you want to go into leasing then you'd need one. What position are you looking for, corporate accounting and finance etc? I guess just submit your resume and ask for a business card for the person who you could speak to then make a follow up call a couple days later.
Q:I e-mailed one of the most successful real estate agents in my area and asked him for some advice. I asked him which would be the best degree for me to study at University and he e-mailed me back to say he would like to help me and advised me to ring him up during the day to talk to him.Do you think he might be taking an interest and looking to hire me? or do you think I might be over looking this

Okay, to over look something means to ignore it. Just saying. As for if he is looking to hire you, how on earth did you jump to that from a friendly gesture? No, it sounds like he is kindly offering to give you some advice.
1. Manufacturer Overview

Location
Year Established
Annual Output Value
Main Markets
Company Certifications
2. Manufacturer Certificates

a) Certification Name
Range
Reference
Validity Period
3. Manufacturer Capability

a)Trade Capacity
Nearest Port
Export Percentage
No.of Employees in Trade Department
Language Spoken:
b)Factory Information
Factory Size:
No. of Production Lines
Contract Manufacturing
Product Price Range