Reusable Plastic Formworks for Concrete Form
Loading Port:

Shanghai
Payment Terms:

TT OR LC
Min Order Qty:

100 m²
Supply Capability:

50000 m²/month
Inquire Now
Customer Service
OKorder Service Pledge
Quality Product
Order Online Tracking
Timely Delivery
OKorder Financial Service
Credit Rating
Credit Services
Credit Purchasing
---
Add to My Favorites
---
Waterproof Plastic PVC Foam Board Formworks Introduction
This kind of construction formwork can be special form like column and square.
They can be used in bridge, office building and roads construction.
Our products have characters such as energy conservation, environment-protection, and in low price. Another, turnovers can be up to 30 times, temperature adaptation range is wide. Plastic steel template can be any sizes so that it has wide adaptation.
easy installed and removed, sawed and drilled, and accessories complete.
save working hours more than 30% and increase efficiency more than 40%.
save construction template allocable cost over than 50%
Waterproof Plastic PVC Foam Board Formworks Feature

1. Life:turnover can be up to 40times
2. Tempreture condition:-20°C to 60°C
3. Feature:save 40%manhours and 50 %allocable cost
4. Convenient installation:be widely accepted by workers
5. Moldable size:size can be changed freely.
6. Resist compression:can support more than 5000 kilograms
7. Waterproof:100%
8. Useable widely used in building and construction
9. Energy saving,/environmental protection,/resource circulation
Waterproof Plastic PVC Foam Board Formworks Paramwter
Material: PVC

Structure: solid plate

Cycle-index: 30 times above

Water content :0.3%

Water thickness expansion rate: 0.1%

Static bending strength:21.9MPa

Bending elastic modulus:1280MPa

Wear resistant surface(g/100r):0.08g/100r

Condition after heating: no bubbles, no crack, no pitting

After heating the size change rate :0.20%

Grip screws to board : 1470N

Grip screws to the edge of the board : 1070N

Anti impact performance :14.1mm

Impact toughness :64.8KJ/ m2

High temperature repeated dimension change rate :0.12%
Waterproof Plastic PVC Foam Board Formworks Specification
1, 15*915*1830(mm) 16.5Kg/pc±1Kg
2, 15*1220*1240(mm) 29Kg/pc±1Kg
3, Specifications can be customized
4, About 100M3 /T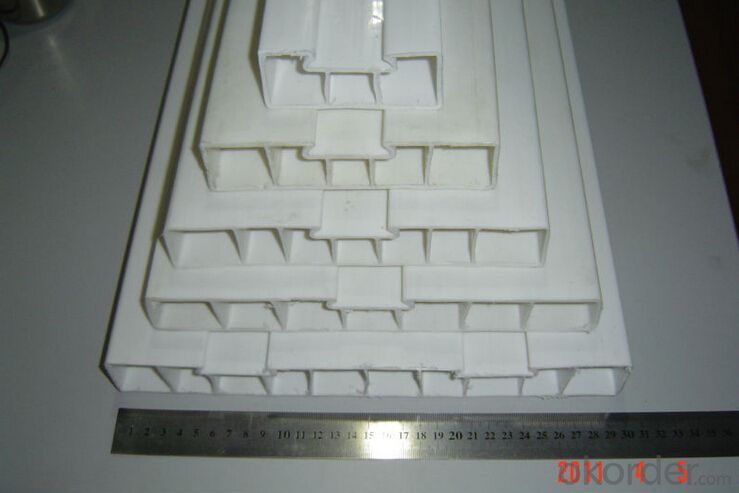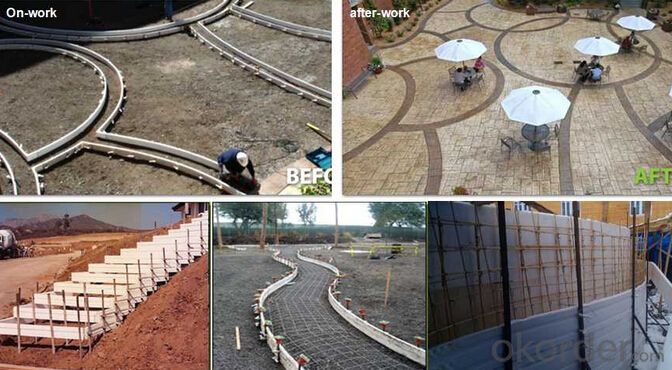 Q:Shear wall plastic template for the wall height and thick ratio requirements is how much?

Should not be less than 160mm, and should not be less than the floor of the high 1/20; bottom reinforced parts of the wall thickness of not less than 200mm, and should not be less than the floor of the high 16/1. Hope to be helpful to you.
Q:Why the floor is not plastic building materials square wood and template

Is the plastic strong? The environment on the site you know, throw off how to do, have to find strong and durable.
Q:Who used plastic building templates? How is the effect? What are the advantages and disadvantages?

The main advantages are:1, the surface smooth and smooth, high strength, the provincial workers, the expected material, can meet the requirements of clear water concrete template, after stripping without cleaning the surface of the template, thus saving a lot of labor, template flatness can be controlled within 0.3mm, thickness uniformity, Can be controlled within ± 0.3mm, wood than the wood to save 2/3 of the nails.2, good water resistance, toughness, long-term immersion is not layered, water swelling rate of less than 0.06%, in -30 ℃ _ +60 ℃ range of normal use, the use of 6 years of aging of 15%, normal use of 8 Years or more.3, plasticity, according to the design and component size requirements, processing and production of different shapes and different specifications of the template, a curvature of the template for the production of a more simple template can be drilling nails, saws, planing and other wood mold with the same machinability , On-site stitching simple and convenient.4, recyclable use, plastic template to a certain extent can be fully recycled, regardless of the size of the old and new, after processing, can be added to produce a new template
Q:Plastic deformation of the template how to solve or why the deformation Thank you I want the reason

Personally feel that PVC sheet deformation has more reasons. The main reasons are as follows.Pvc plate deformation are: physical deformation and chemical deformation.1. Physical deformation, cause:High temperature lead to deformation, if it is such a deformation, targeted plastic raw materials for high temperature modification, can effectively improve such problems. Improper textile lead to deformation, such deformation has two reasons, a plate of raw materials can not meet the actual requirements of the product requirements, re-deployment of raw materials formula to meet the actual requirements of the product can be. Second, the processing and storage methods are not correct, leading to deformation, such problems can solve the problem from the root causes.2. Chemical deformation: mainly the molecular structure of raw materials change.
Q:Europe and the United States national construction template is made of plastic or wood

With plastic construction, then, is the most solid touch on the back, Europe and the United States part of the country after the earthquake so the use of wood plus wire
Q:Plastic mold dynamic template, the size of the template

A lot of it? What are you talking about? Plastic mold points a lot of tonnage, there are 80T, 120T, 240T, 1000T, 1250T
Q:Why is the building template made 1830mm * 915mm and not made 2000mm * 1000mm it?

Can be ruled length processing, can be ruled length processing, can be ruled length processing
Q:Will the plastic building template on the builders really do not use the price is how much price

Easy to use, heat insulation. A lot of building materials market there ah, to see what you want the model, the price range,
Q:I heard that plastic construction template workers do not want to use, there is such a situation

The quality of the building template is relatively strong, compared to the cost is also higher. hope this helps!
Q:Who used it, how not universal.

4. The product pouring concrete surface smooth, bright as a mirror, to meet the requirements of decorative and decorative water, eliminating the need for secondary plastering process. 5. Turnover times more than 50 times, the template each time the amortization cost is less than 3 yuan, steel frame plastic template turnover times more than 300 6. The material is non-toxic, harmless, pollution-free, 100% recovery, green products The 7. The product acid, alkali, anti-corrosion performance. Product use temperature of -80 ℃ ~ 100 ℃, good weather resistance.
1. Manufacturer Overview

Location
Year Established
Annual Output Value
Main Markets
Company Certifications
2. Manufacturer Certificates

a) Certification Name
Range
Reference
Validity Period
3. Manufacturer Capability

a)Trade Capacity
Nearest Port
Export Percentage
No.of Employees in Trade Department
Language Spoken:
b)Factory Information
Factory Size:
No. of Production Lines
Contract Manufacturing
Product Price Range
Hot Searches
Related keywords