PVC Ceiling of Beautiful Appear Building Material
Product Applications:
PVC ceiling panels solves the problem of dirty, unhygienic ceilings that are difficult, and expensive to clean by providing a bright, durable and hygienic surface, which is easily maintained. This extremely practical ceiling system is suitable for any area requiring a fixed, non-porous, non-fibrous and non-absorbent ceiling.
Product Advantages:
1.Design Type:Flat glossy and clear
2.So many patterns can meet your needs
3.Environmental protection
4.The product never fade easily
5.Easy to clean and install
6.High quality,good service and good price
7.For indoor decoration, e.g.ceiling and wall decoration
Main Product Features:
1. Artistic Ceilings, Honeycomb Ceilings, Integrated Ceilings, Perforated Ceilings
2.Easy getting and cleaning
3.Waterproof and fireproof
4.Environmental and friendly
5.Certificate: TUV Rheinland
Product Specifications: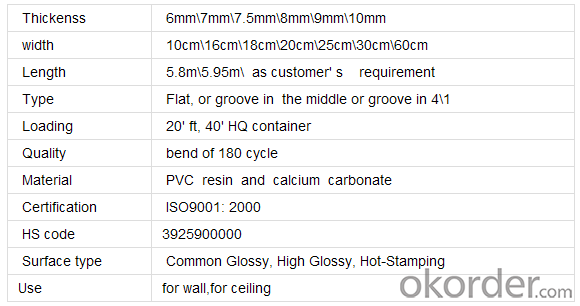 FAQ:
1.Terms of payment:
30%T/T deposit, 70% before the shipment.
2.Delivery time:
within 7-10 days after receiving the 30% deposit.
3. Port of Loading:Shanghai
4.Price terms: FOB Shanghai
Images: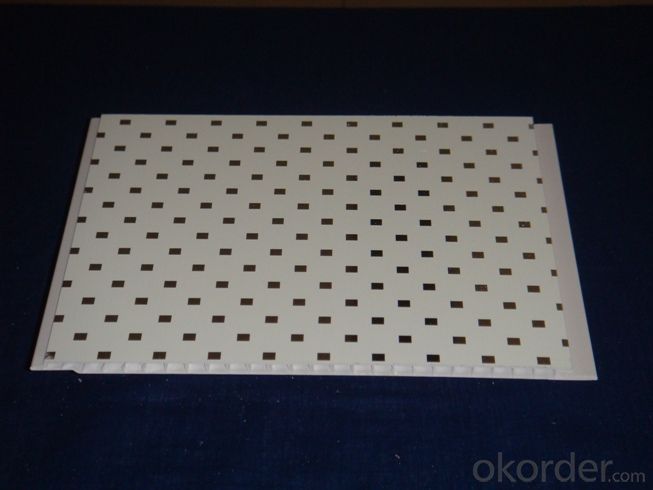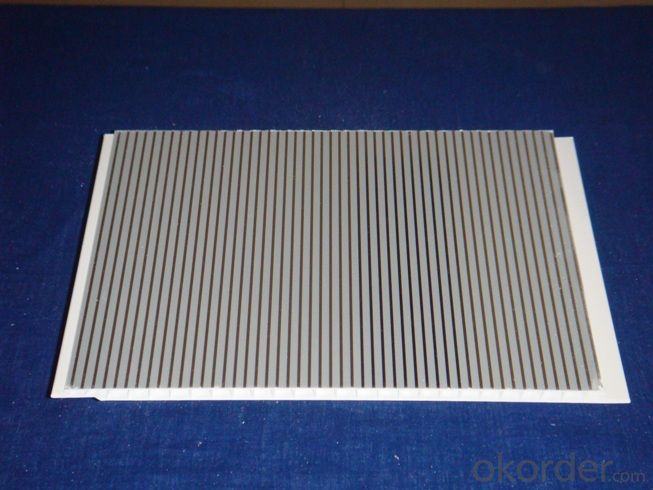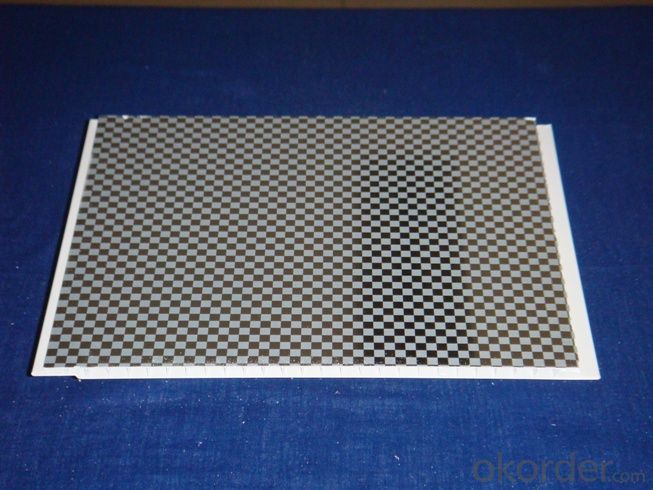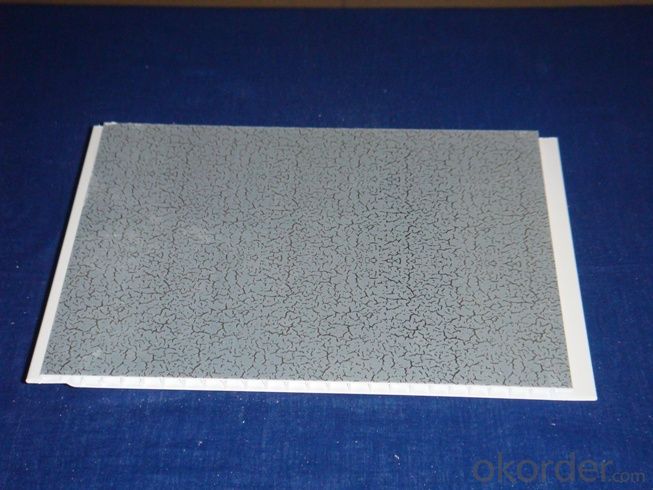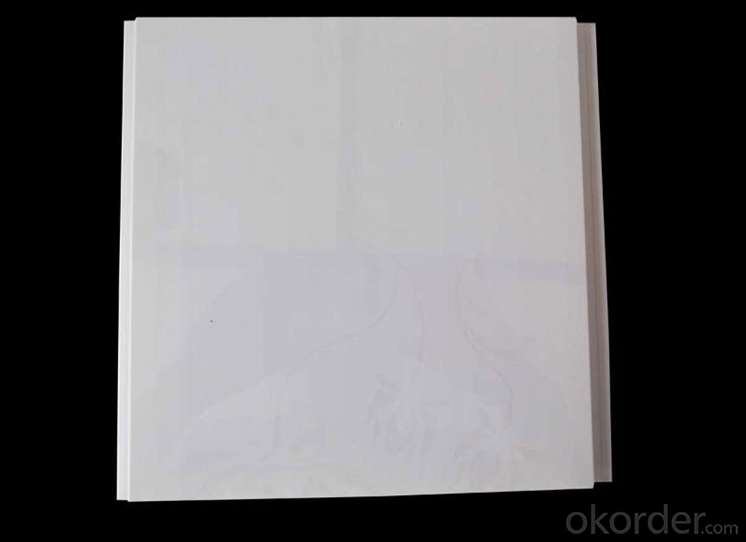 Q:its in a place i cannot get to without knocking down a wall and ceiling - is there anything i can pour down the drain to stop the leak at the joint - its a very small drip

there,s nothing you can put in it to stop the leak. you might be able to shut the water off and run a new line.
Q:The kind of ceiling of the striped groove (pvc?) Board wall how

The market to see, with that kind of wall is only possible, but the middle must be joined woodworking board or wood keel, and both sides are nailed to this board, the price is not cheap, but save the brush wall part
Q:My daughter inside the floor of the house is a little green light green point of the PVC board, would like to ask what color with a warm wall

Light pink
Q:My family just moved into a new house in Maryland. In the basement there is a finished part and an unfinished part we use for storage. Over the last few days, we noticed this smell/odor coming from the basement, most notably from the unfinished side. We discovered a large PVC pipe which dead-ends has been leaking this dark brown water, and identified this water as the source of the smell.Does anyone know what this dead-end pipe is for?Thanks a bunch!

its most likely a drain pipe that used to flow from a fixture on your first floor but the fixture was removed. The easiest way to fix this is to see if you can lift it up slightly so it runs the other direction and then strap it in place. However this could break a connection further down if the pipe is old. The other option is to either cut off the end and put a new end cap on it (clean it and apply PVC glue) or determine where it connects to the main drain and cut and cap it there and remove the 'dead' pipe, that way it isn't just hanging out waiting to get hit with someones head and broken. btw, I'm assuming this pipe is whiteish and at least 1.5 inches in diameter. if it's not then it will probably be something else.
Q:Companies do department door, want to be fixed on the ceiling, the ceiling is flat, how can the installation can be simple and beautiful? What material to install?

In the end how much weight? If you can use the universal glue, the screw can be reinforced ah
Q:What is the density of the PVC board?

PVC sheet ? Density (g / qm) ? Thickness range (mm) ? Low density free foam board (LD-FF) ? 0,5 - 0,6 ? 3 - 25 ? Co - extruded core foam sheet ? 0,6 - 0,65 ? 3 - 20 ? Crust foam sheet (CELUKA) ? 0,5 - 0,6 ? 10 (8) - 30 ? Dense board * ? 1,4 - 1,5 ? 0,8 - 20 ? cant see thing* ? 1,4 ? 0,8 - 10
Q:I am going to be sealing the wall when making the basement a family room. Between the sump pump shooting out and the water traveling through the pipe, it's noisy. Anything that will quiet this?

You will never get rid of all the sound, but you might dampen it a bit by insulating around the pipes. You can use fiberglass insulation (batts) and stuff it around the pipe before you close them up. If you insulate the entire ceiling it will also keep the family room noise from disturbing people upstairs from noisy people down stairs. (I almost said from teenagers, but that might not be politically correct LOL).
Q:What are the specific national standards for pvc? The

To be specific, it is pipe or pipe. A lot of types, to check the net job
Q:PVC crust foam surface can brush latex paint?

Water-based latex paint on the PVC foam board no adhesion, if you do not ask strict, a small area of the best spray paint, the PVC foam board grinding and then spray will be better, if it is to do the list of orders such as display panels, PVC Bathroom cabinet painting, the best use of special paint. My company is doing this PVC foam board paint, excellent adhesion, good water resistance, will not fall off the bubble.
Q:Pvc crystal plate 1.6mm per square meter with multiple

If the stealing thickness may be smaller, and normal manufacturers will make a negative tolerance. In addition some will be affixed to the protection or paper, it is different, 2160 grams is the net PVC.
1. Manufacturer Overview

Location
Year Established
Annual Output Value
Main Markets
Company Certifications
2. Manufacturer Certificates

a) Certification Name
Range
Reference
Validity Period
3. Manufacturer Capability

a)Trade Capacity
Nearest Port
Export Percentage
No.of Employees in Trade Department
Language Spoken:
b)Factory Information
Factory Size:
No. of Production Lines
Contract Manufacturing
Product Price Range
Hot Searches
Related keywords