| | |
| --- | --- |
| Product Name | Ductile Iron Pipes |
| Material | Ductile Cast Iron |
| Registered Brand | CMAX or CNBM |
| Nominal Diameter | DN80 - DN2000mm |
| Application | Water supply, Drainage, Civil Engineering, Construction & Housing, etc. |
| Standard | EN545, EN598, ISO2531 |
| Joint Type | T type, Flange type, Self-restrained type |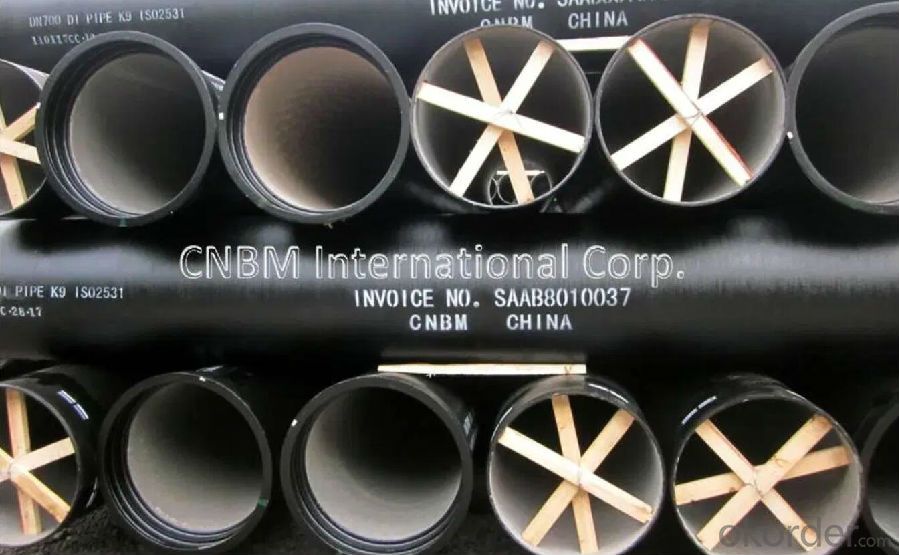 Packaging & Shipping
Container Loading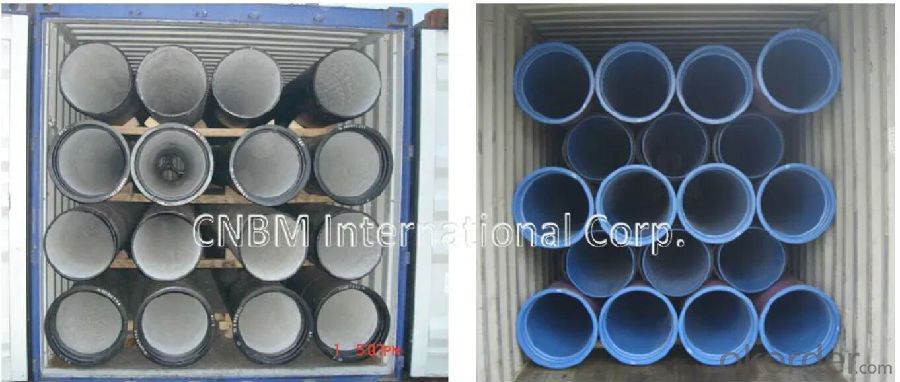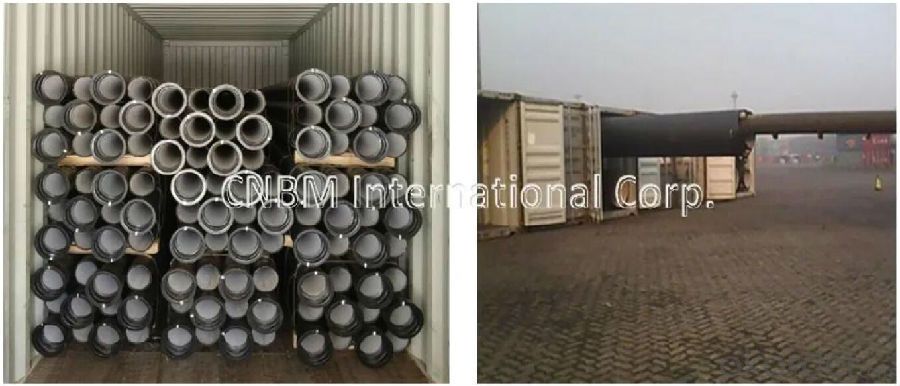 Bulk Bulk Loading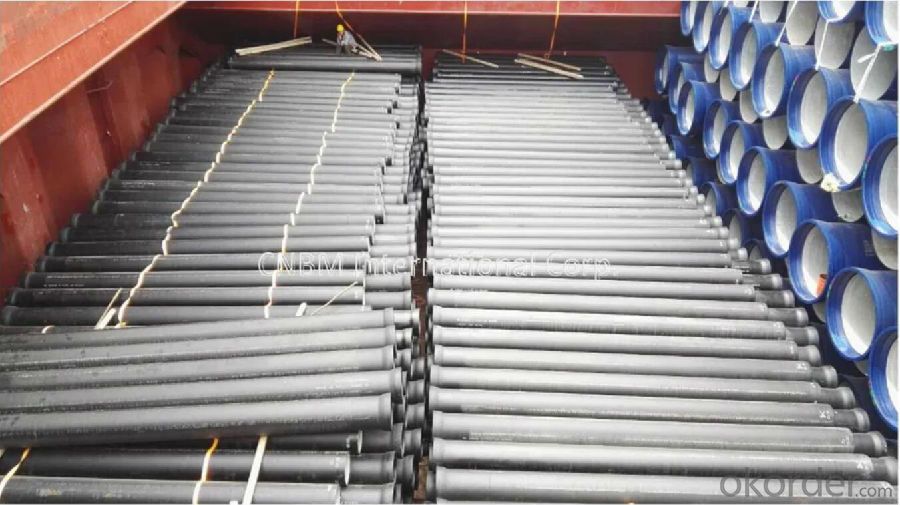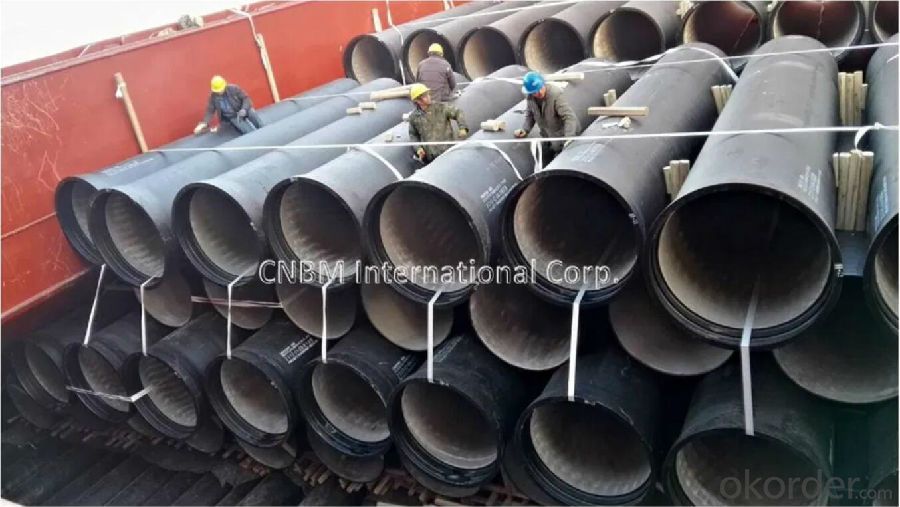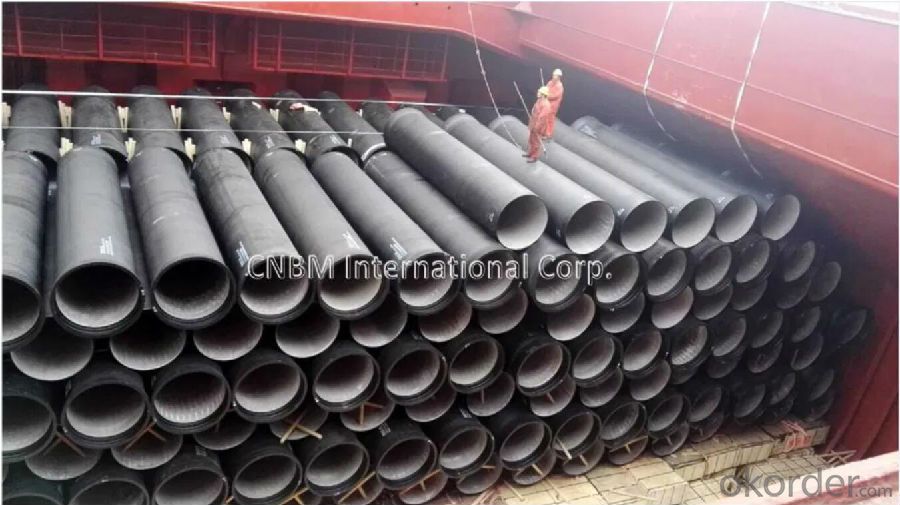 Some Projects


CNBM INTERNATIONAL CORPORATION
Build your world with our materials.
We are a primary subsidiary of China National Building Material Group Co., Ltd.
CNBM Group is a central government-owned enterprise and a Fortune Global 500 company (Ranking 203th in 2019). It is the largest building material manufacturer and service provider in the world, with 15 publicly-listed companies and over 180,000 employees (2017).

CNBM Water Section is one of the pioneering suppliers of pipes, fittings and systems in China.
We are leading the market by supplying:
Ductile iron water and sewer pipes, fittings, valves and couplings and adaptors

Ductile iron access covers and gratings

Other types of pipes and fittings

Why choose CNBM?
CNBM Intl is a primary subsidiary of CNBM Group, a Chinese central governmental enterprise. We've been accessed by D&B as Duns Registered 4A1 level since 2012, which endorsed us as one of the safest suppliers to work with in China.
As an industry leader, CNBM Intl is also a top-ranking buyer of iron ore and coking coal in the world. Our raw materials' cost and quality are under strict control from A to Z.
Strong Logistics Capability
1. Professional Logistics team
2. 20,000 containers + 30,000 M3bulk vessel per year = Cost-effective and Prioritized Shipments
3. 50000 M2 Dubai Logistics Park solely-owned by CNBM
1. Professional Sales Team
2. Multi-language Sales Managers
3. One-to-One fast response
One-Stop Purchase Solution
Over 800 kinds of industrial products within CNBM product range.

Our Services
Usually you can get our quotation within ONE day. In particular cases, we are committed to providing it within 48 hours.

Total technical supports from our senior consultant engineers.

Timely & Cost-efficient delivery.

Real time information of Chinese market.

Special discounts and protective policies provided to our distributors/partners.
FAQ
Are you a trading company or manufacturer?

CNBM is a large-scale central governmental industrial group with its own manufacturing sector, research and development sector, trading sector and logistics sector.

I have some special requirement about specifications.

We have a well-rounded product range, which endows us with the capability of applying many special specifications. Please feel free to contact us with yours.

Do you accept OEM service?

Yes, we do.

What is your delivery time?

It depends on the size/complexity of your order and our own production schedule. Usually we provide a faster delivery than the industry's average.

What is the payment term?

Our payment terms are negotiable.

Can I have my own logo on the product?

Sure, we can apply your own logo on the products according to your drawings.

Can I get samples?

Yes, you can. And you only need to bear the delivery costs, if the samples are not too big.

How is your company's experience?

We have an over 20 years of experience in water industry and been exporting to over 56 countries. We cherish our reputation as a company and our customers love us.

Can I request to change the form of packaging and transportation?

Sure, we're glad to fulfill your requirement. Yet please understand that extra costs may occur if the form of packaging and transportation are changed.
Q:There are several forms of flexible interfaces for Spigot Cast Iron Pipes

Japan's Kubota ductile mechanical interface, in recent years has been introduced to China. As in the Beijing water pipeline construction from the Miyun reservoir to the Huairou reservoir, the use of a large number of nodular type DN2600mmK mechanical interface of cast iron pipe.The mechanical interface of ductile iron pipe is divided into A and K. The tubes and fittings are made of ductile iron, straight pipes, screws, bolts and rubber rings.The mechanical interface has good sealing performance. When the water pressure reaches 2MPa in the test, there is no leakage. The axial displacement and the angle of folding all reach a high level, but the cost is higher.
Q:Method for cutting large diameter ductile iron pipe

When the ratio of oxygen to acetylene is 1 to 1.2, the flame produced is called neutral flame, also known as normal flame. It consists of flame core, inner and outer flame: near the welding nozzle at the flame core, a bright white; followed by the flame, a blue purple, the highest temperature, about 3150 DEG C, from the front cone at 2 ~ 4mm, and the application of welding wire to the workpiece; the outer flame is orange red. Neutral flame is a flame commonly used in welding. It is used to weld low carbon steel, medium carbon steel, alloy steel, copper and aluminum alloy.
Q:What effect does magnesium play in nodular cast iron?

The role of magnesium as spheroidizing agent used in iron spheroidizing treatment, promote water ink is made of iron, carbon in liquid iron spherical graphite precipitation.
Q:What is the relationship between the installation direction of the ductile iron pipe and the direction of flow?

Suppose the water flows from east to west, then the pipe mouth is in the East socket at the West
Q:Ductile cast iron can replace copper sleeve

Although the ductile cast iron with lubrication, but no lubrication or copper sleeve, Rongchang graphite copper sleeve, with self lubrication with high strength copper alloy (CuZn25Al5, CuZn24Al6Fe3Mn4) as the basic material, according to the use conditions according to a certain proportion in the work surface processing hole and fill in the solid lubricant, high strength copper alloy provide a high bearing capacity and solid lubricant can form low friction.
Q:What are the lubricants for the installation of ductile iron pipes for tap water?

The lubricant can also be used for cooling, cleaning and preventing pollution. In order to improve lubricity, suitable additives may be added to certain lubricants.
Q:Why does the construction wastewater system use ductile iron pipes instead of galvanized steel tubes?

The sewerage system uses ductile iron pipes. The premise should be pressure pipe drainage. It must be a special occasion, otherwise the cost will be high. In general, precast concrete pipes are recommended.
Q:DN300 how long is it for water polo and iron pipes?

Cast iron pipe (Cast Iron Pipe) with the cast iron casting pipe cast iron pipe for water supply and drainage gas pipeline pipe fittings including cast iron casting with fatigue strength by continuous cast iron pipe from the cast iron pipe from the cast iron pipe sand metal two according to material with grey cast iron pipe, ductile iron pipe at the interface with flexible sealing interface LAN interface, self anchored interface, interface of the rigid flexible cast iron pipes rubber ring;
Q:What material is ductile cast iron 235A?

Ductile iron is a pig iron
Q:Which is good for water polo cast iron pipe steel pipe?

Flexible seamless steel pipe is good toughness, good processing, better than ductile iron corrosion resistance, the price is slightly higher;
1. Manufacturer Overview

Location
Year Established
Annual Output Value
Main Markets
Company Certifications
2. Manufacturer Certificates

a) Certification Name
Range
Reference
Validity Period
3. Manufacturer Capability

a)Trade Capacity
Nearest Port
Export Percentage
No.of Employees in Trade Department
Language Spoken:
b)Factory Information
Factory Size:
No. of Production Lines
Contract Manufacturing
Product Price Range