Hot Steel Rolled/jis g3141 spcc steel coil SPCC SPCD SPCE
Loading Port:

Shanghai
Payment Terms:

TT or LC
Min Order Qty:

20 m.t.
Supply Capability:

9000 m.t./month
Inquire Now
Customer Service
OKorder Service Pledge
Quality Product
Order Online Tracking
Timely Delivery
OKorder Financial Service
Credit Rating
Credit Services
Credit Purchasing
---
Add to My Favorites
---
Product Description
JIS g3141 spcc cold rolled steel coil
Grade :SPCC,SPCD,SPCE
Width:600-1500mm
WT:0.15-3mm

Product Feature
Packaging Details: Wrapped by water prove paper and plastic film, covered by steel sheet, strapped with steel strips to prevent damage from transportation
Product Specification / Models
Standard: AISI, ASTM, DIN, GB, JIS
Grade: Q195, SPCC, SPCD, SPCE, DC01-0S, St12, ST14, ST15, ST16
Thickness: 0.2mm-2.0mm
Place of Origin: Tianjin, China (Mainland)
rand Name: TianJin MuChang
Model Number: 0.2-2.0mm*600-1500mm
Type: Steel Coil
Technique: Cold Rolled
Surface Treatment: oiled
Application: Construction,mechine,building,container manufacture,shipping building,
Special Use: High-strength Steel Plate
Width: 1000mm,1200mm,1219mm,1250mm,1500mm or as per customer's request
Length: Coil or as customs' request
Carbon constructional steel: SPCC,St12,DC01,Q235A/B/C/D Constructional quality steel: 20-45#,08-15#
Carbon quality steel coil: 08AL,Z,S,P SPCD,ST14
Low carbon deep-drawing coil: SC1,SPCE,SPCEN,ST14,DCO4 Extra-deep drawing coil: SC2,ST15,DCO5,SC3,ST16,DCO6,ST17 Corrosion-resistant steel: 05CuPCrNi,09CuPCrNi,Q345GNHL
Low carbon drawing steel: SPCD,ST13,DC03
Steel Coil: COLD ROLLED
Certificate: ISO, SGS, BV

Application
1.common structural parts and parts for drawing in engineering machines
2. transportation machine construction machines, lifting machine,
3. agricultural machines, light and civil industrial, household appliance industries.
4. chemical equipments, drive casing pipe and light industrial civil industries.

Other Information
Name Cold Rolled Steel Sheet Coil
GB11253-89,Q195 Q235,IS G3141,SPCC SGCC SPCD SPCE,DIN1623,ST12 ST13 SPCD ST14, EN10130,DC01 DC02,DC03
Thickness 0.18-3.0mm
Width 680mm-2000mm or 1000/1200/1219mm/1250mm
Finish General, bright, dull and mirror finish, oiled or non-oiled
Coil ID 508mm
Coil weight 5-12 tons.
Packing as client's requirement
Certificate ISO9001:2008
Standard GB11253-89, JIS G3141,DIN1623,EN10130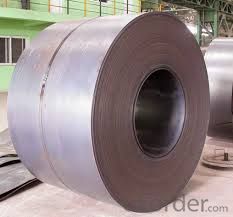 Q:I'm doing a commercial for chemistry and I need to know any kind of chemistry dealing with Callaway Big Bertha Irons. I know they are stainless steel but any more info would help out! Thank you! :)

Stainless steel is a mixture of metals, each metal is included in order to make up for each others weaknesses. Each metal is included due to a property that is benificial in some way, for instance Chromium is included because it makes the stainless steel 'stainless'. In chemistry a mixture of metals, stainless steel, is called an alloy.
Q:Looking for an insight here into what hiking with steel toe-capped boots would be like, as I saw a nice pair of steel toed magnums that I plan to use for my future hiking (which I will be doing a fair amount of in the future). They seemed fairly comfortable, but I am curious into what others have to say and what might be known of this sort of approach. Thanks in advance.

Steel toed boots are very heavy compared to hiking boots, after a long hike (especially in rough terrain) the extra weight is gonna tire you out. Steel toes are made for things like construction, or doing a task where extra protection of the toe is needed. So it's not ideal, but whatever floats your boat man (better than wearing tennis shoes). I personally have Converse composite toed boots from my airsofting days and since im too cheap to buy dedicated hike boots, I use it for hiking. Its supposedly made for military use and is much lighter than steel toe. But WAIT!!! lets say you dont have a gun or knife and you run into a pissed off Sasquatch, a steel toe boot too the nutz would do well in puttin the hurt on the dude.
Q:Galvanized Steel or Standard Steel. This will be for the grilling surface.

Bare steel. Galvanized or ANY coated racks will produce deadly chemicals in the food when heated. Galvanizing is a tin coating applied to the surface of the iron. Cadmium is a deadly chemical when ingested and is one of the chemicals on refrigerator racks. I'm not sure about Stainless Steel. The safest way is if in doubt DON'T.
Q:My boyfriend says he has balls of steel.

it is extra of a euphemism than actuality. somewhat the testicles are somewhat gentle and may even herniate or rupture; it somewhat is why they cover those balls of steel with athletic cups earlier they actually take the sector.
Q:so why shouldn't one use a steel cased 223 in an ar15?

Some have said that steel cases (Russian?) will wear out the extractor prematurely, others have said they have shot thousands of rounds of these with no problems.
Q:I'm building a single-speed commuter bike and I was wondering what the advantages and disadvantages of steel and alloy wheels are. Any experts out there who can give me specifics for each kind?

Alloy wheels are definitely the standard on most bikes nowadays, ive always bought rims from mavic and they have always taken a battering. In fact the last two bikes i owned both cracked while the wheels were almost perfect! Different types of rims can be bought depending on how you ride and of course the more you pay generally the better the rims. Also alloy wheels will be a lot lighter and corrosion resistant . Hope this helps
Q:My mother is in a weilding class, and today she accidentally welded Galvanized Steel. She doesn't feel good and she wants to know what the symptoms are for Galvanized Poisoning from breathing in the Fumes. Please help, I am worried for her.

Pot stands and stoves constructed from galvanized steel can cause metal fume fever when heated. This is caused by the inhalation of zinc oxide fumes or dust produced when galvanized steel is welded or burned. The signs and symptoms can be vague (shaking chills, fever, body aches, headache, and fatigue) and are similar to those of the flu or a viral illness.
Q:nan

Carbon Tool Steel usually in the form of forged bar stock. Steel Grades for tool steel can be any of the following (depending on the application) T10/1.1645 SK3/SK4/W1A-91/2/ TC105/y10/1880/BW1B T10A/1.1545/y10A/1880 Standards are published by: DIN, JIS, ASTM, AISI, BS, SS, ISO, TOCT, GB Doug
Q:And by how much? I'm pretty sure that sterling silver is stronger, but I'm wondering if I could still use a metal stamp to stamp into something that's stainless steel - if it would be soft enough?

Silver is a relatively soft metal, while stainless steel is an alloy that has been designed for strength and durability. Your ability to use the stamp on steel will largely depend on the stamp's material. Why not just man up and give it a go?
Q:what do they use to make stainless steel?and can stainless steel be melted again and again without losing it's Specifications

The basic ingredient is from 11%-30% chromium, however in many stainless steels nickel or manganese are important secondary ingredients. There are two basic types of stainless steels: 1)austenitic stainless steels, and 2)ferritic stainless steels. In austenitic SS the important ingredients are Chromium and Nickel. (Chromium and manganese are occasionally use instead of nickel.) It's important to note that many austenitic SS's contain almost no carbon, so by some definitions they are not steel at all but iron/chromium/nickel alloys. the additions of nickel (or manganese) actually changes the crystal structure of the iron, so the properties of these types are quite different from normal carbon steels. Austenitic SS have very good to excellent corrosion resistance, and fairly good heat resistance. In ferritic stainless steels, the important ingredients are chromium and carbon. Ferritic stainless steels have markedly greater strength than austentitic types. However since they contain less chromium than austenitic types they are only moderately corrosion resistant and are much less heat resistant. Without the addition of nickel and/or manganeese adding more than about 20% chromium tends to make the steel brittle. Most stainless steel is melted under an inert argon atmosphere in an airtight furnace. Melting stainless in open air would preferentially oxidize the chromium, forming slag which would float to the surface of the steel, thus reducing the chromium content. Chromium also tends to react with nitrogen in the air at high temperatures, exposure to nitrogen tends to cause brittleness in stainless steels. As long as the manufacturer keeps careful control of the composition of the metal and the level of impurities during melting, stainless is endlessly recyclable.
1. Manufacturer Overview

Location
Year Established
Annual Output Value
Main Markets
Company Certifications
2. Manufacturer Certificates

a) Certification Name
Range
Reference
Validity Period
3. Manufacturer Capability

a)Trade Capacity
Nearest Port
Export Percentage
No.of Employees in Trade Department
Language Spoken:
b)Factory Information
Factory Size:
No. of Production Lines
Contract Manufacturing
Product Price Range