Best Quality for Prepainted Aluzinc Steel Coil
Loading Port:

China Main Port
Payment Terms:

T/T or L/C
Min Order Qty:

50mt m.t.
Supply Capability:

100000 mt/year m.t./month
OKorder Service Pledge
Quality Product
Order Online Tracking
Timely Delivery
OKorder Financial Service
Credit Rating
Credit Services
Credit Purchasing
---
Add to My Favorites
---
General Informationof Prepainted Aluzinc Steel Coil
Thickness 0.23-1.2mm (BMT)
Width 900-1250mm
Alu-zinc Coating: 50-150g/m2
Internal Diameter 508mm or 610mm
Color According to RAL color fan
Coil Weight 4-8MT
Quality Commercial and structural quality
Paint Polyester paint for topside, epoxy for reverse
Standard JIS G 3322, ASTM A755M, EN 10169
Base Steel Grade SGCC, SGCD, DX51D+Z DX52D+Z; S200GD, S220GD, S280GD,S350GD,CS,FS,SS
Technical Data of Prepainted Aluzinc Steel Coil
Chemical Composition

C

Si

Mn

P

S

0.04-0.06%

0.01-0.03%

0.18-0.22%

0.014-0.016%

0.006%-0.009%
Technical Data

Yield Strength

(Mpa) 280-320

Tensile Strength

(Mpa) 340-390

Elongation

20%-30%

Reverse Impact

9J

T-bending

≥2T

Pencil Hardness

≥2H

Duration Of Salt Spray Test

500 H

Bending At 180 Degree

No crack, purling and fraction
Package of Prepainted Aluzinc Steel Coil
Full wrapped with anti-damped paper inside, iron sheet wrapped outside, and bundled by iron strips
Applicationof Prepainted Aluzinc Steel Coil
It can be widely used in transportation, light industry, civil usage and farming. It is also the perfect building material in construction for making steel roofing, corrugate sheet, sandwich panel for wall or roofing, facade wall, shutters and home appliance.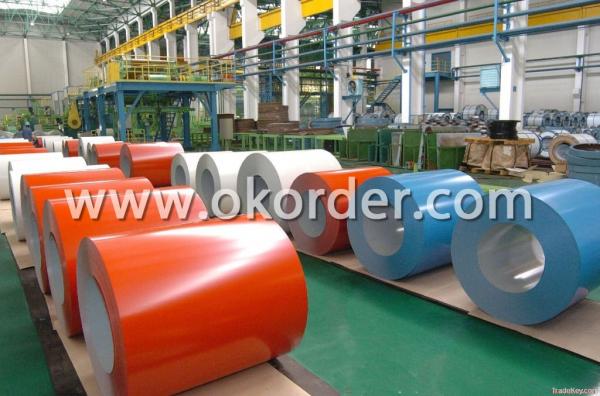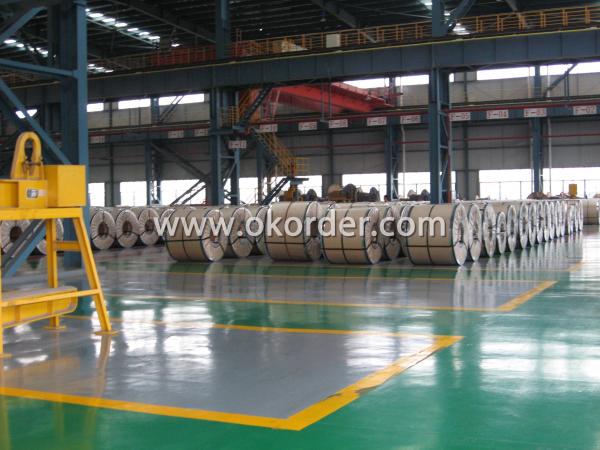 Q:Where can I find a great deal online for Danesco Stainless Steel Egg Poacher

looks like Target is going to be your best bet for about $35
Q:What minerals are mixed to make steel?

Carbon and Iron.....usually.
Q:

Steel coils are used in the manufacturing of tools as they provide a strong and durable material for the construction of various tool components. The coils are processed and shaped into specific forms, such as blades or handles, through cutting, shaping, and heat treatment processes. The resulting steel tool parts exhibit excellent strength, toughness, and resistance, making them suitable for a wide range of applications in industries like construction, automotive, and manufacturing.
Q:

Steel coils are used in the energy sector primarily for the manufacturing of electrical transformers and power generation equipment. The high strength and durability of steel make it an ideal material for constructing these critical components, ensuring efficient energy transmission and distribution.
Q:I bought a Remington 870 super mag last fall and wanted to to switch to non-tox steel loads. The gun came with a modified rem choke. I know that not all chokes are qualified to handle steel. It doesn't say anywhere on the choke no steel I was just wondering if anyone out there knew for sure that those chokes that the guns come with won't get damaged be steel.

All Modified chokes will shoot steel with no problems. It is only when you get more restrictive, full, xfull, and on that you start to run into problems while shooting steel. There are manufacturers out there that make full chokes that can use steel. Carolson is one of them. That is if you want a full choke for steel.
Q:How many inches of steel can an AK47 using 7.62x39mm rounds penetrate through?

A very thin layer of steel. I've fired the AK47 at tanks, ofcourse that wouldn't penetrate but it's not going to penetrate anything crazy. It is a strong Assault Rifle don't get me wrong.
Q:

Steel coils are used in the production of shelving units by being cut, shaped, and formed into the necessary components such as uprights, shelves, and brackets. These coils are unrolled and fed into machines which use different processes like stamping, bending, and welding to transform them into the desired shelving parts.
Q:

Steel coils are inspected for quality control purposes through a combination of visual inspection, dimensional measurements, and various non-destructive testing techniques. This includes checking for surface defects, such as scratches or dents, as well as verifying the dimensions, weight, and shape of the coils. Additionally, technologies like ultrasonic testing, magnetic particle inspection, and X-ray examination are employed to detect internal defects, such as cracks or inclusions, ensuring that the steel coils meet the required quality standards.
Q:many sword sellers sell swords made of 440 and stainless, i know those are both totally **** for real swords. so are 1045, 1060, or 1095 good grades of steel for a sword?

You'll okorder has a great introductory articles on metallurgy as it pertains to swords. Check 'em out.
Q:

Steel coils are used in the production of automotive suspension systems as they provide the necessary support and flexibility to absorb shocks and vibrations. These coils are typically used in the construction of coil springs, which are then integrated into the suspension system to ensure a smooth and comfortable ride for the vehicle.
"WKSTEEL is a large foreign-owned enterprises, with a total area of ​​358 acres, close to China's largest economic center Shanghai. The total investment of $ 330 million. Using advanced production technology, we can produce 3000-4000 t steel coils per month. Our products have already exported to Southern Asia, America,South America and Eastern Europe. "
1. Manufacturer Overview

Location
Jiangsu, China
Year Established
2003
Annual Output Value
US$1 Million - US$2.5 Million
Main Markets
Southern Asia; America; South America; Eastern Europe
Company Certifications
ISO 9000 ISO 14000 OHSAS 18000
2. Manufacturer Certificates

a) Certification Name
Range
Reference
Validity Period
3. Manufacturer Capability

a)Trade Capacity
Nearest Port
Shanghai
Export Percentage
1% - 10%
No.of Employees in Trade Department
100 People
Language Spoken:
English; Chinese
b)Factory Information
Factory Size:
Above 200,000 square meters
No. of Production Lines
14
Contract Manufacturing
Design Service Offered
Product Price Range
Average