High Quality-Hot Dip Galvanized Steel Coil-Regular Spangle
Loading Port:

China Main Port
Payment Terms:

TT or LC
Min Order Qty:

50mt m.t.
Supply Capability:

5000 tons per month m.t./month
OKorder Service Pledge
Quality Product
Order Online Tracking
Timely Delivery
OKorder Financial Service
Credit Rating
Credit Services
Credit Purchasing
---
Add to My Favorites
---
General Information Of Hot Dip Galvanized Steel Coil
Hot-dip galvanized steel coils are available with a pure zinc coating through the hot-dip galvanizing process. It offers the economy, strength and formability of steel combined with the corrosion resistance of zinc. The hot-dip process is the process by which steel gets coated in layers of zinc to protect against rust. It is especially useful for countless outdoor and industrial applications.
Thickness 0.13-0.7mm (BMT)
Width 600-1250mm
Zinc Coating 30-200g/m2
Internal Diameter 508mm or 610mm
Coil Weight 3-12MT
Quality Commercial and structural quality
Spangle Regular Spangle
Surface Treatment Oiled/dry , Skin pass/non-skin pass ,Chromated/non-chromated
Standard JIS G 3302, ASTM A 653M, EN 10327
Steel Grade SGCC, CS, FS, SS, LFQ, DX51D+Z , S280GD
Chemical Composition Of Hot Dip Galvanized Steel Coil
| | | | | |
| --- | --- | --- | --- | --- |
| C | Si | Mn | P | Si |
| 0.04-0.06% | 0.01-0.03% | 0.18-0.22% | 0.014-0.016% | 0.006%-0.009% |
Technical Data Of Hot Dip Galvanized Steel Coil
| | |
| --- | --- |
| Yield Strength | (Mpa) 280-320 |
| Tensile Strength | (Mpa) 340-390 |
| Elongation | 20%-30% |
| Out-of-square | not exceed 1% Flatness |
| Bow | 15mmmax |
| Edge Wave | 9mmmax |
| Centre Buckle | 8mmmax |
| Bending At 180 Degree | No crack, purling and fraction |
Application Of Hot Dip Galvanized Steel Coil
Production of cold formed corrugated sheets and profiles for roofing, cladding, decking, tiles, sandwich walls, rainwater protective systems, air conditioning duct as well as electrical appliances and engineering
With GI as base metal, after pretreatment (degrease and chemical treatment) and liquid dope with several layers of color, then after firing and cooling, finally the plate steel is called pre-painted galvanized steel. Pre-painted galvanized steel is good capable of decoration, molding, corrosion resistance. It generally displays superior workability, durability and weather resistance.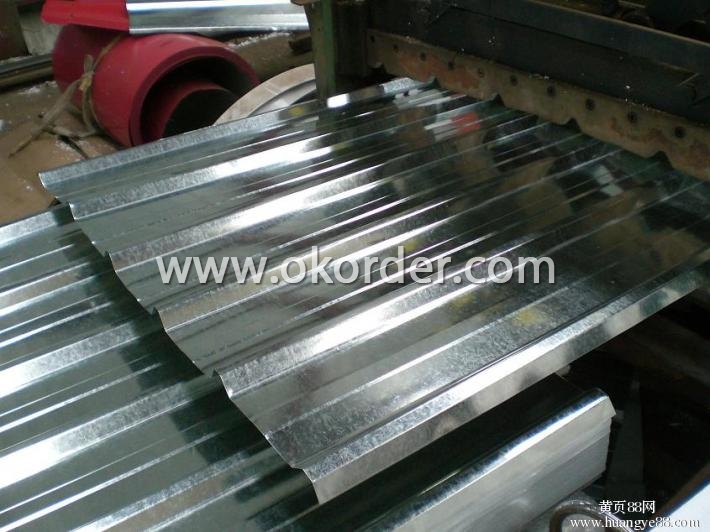 Packaging & Delivery Of Hot Dip Galvanized Steel Coil
Anti-damp paper inside full wrapped with plastic film, iron sheet outside on wooden pallet in 20 feet container with 25mt.
Q:

There are several different types of steel coil edge trimming methods, including shearing, slitting, and laser cutting.
Q:

The average lifespan of a steel coil storage rack can vary depending on various factors such as the quality of the rack, the frequency and intensity of use, and proper maintenance. However, a well-maintained and durable steel coil storage rack can typically last for several decades.
Q:I work with stainless steel a lot and I know it's rust resistant but it's definitly not STAIN resistant. You might be able to remove some stains easier from it than you can from some other surfaces but when it does stain, its hard as heck to clean it. It takes forever to scrub stains off my stainless steel pans so maybe it should just be called rustless steel?

This okorder /
Q:I personally don't believe the story of 8 guys who flew small planes can navigate passenger jets into buildings hundreds of miles away with that precision. It just doesn't make sense.I am wondering what the story surrounding the molten steel was, how could molten steel have been produced when fuel from the planes wasn't hot enough (it melts at 2850 degrees)?

that's just it: there wasn't very much molten steel for the very reason you point out. Jet fuel burns at 800° to 1500°F. This is not hot enough to melt structural steel. However, engineers say that for the World Trade Center towers to collapse, their steel frames didn't need to melt, they just had to lose some of their structural strength. Steel will lose about half its strength at 1,200 degrees F. The steel will also become distorted when heat is not a uniform temperature. after the collapse, a LOT of folks took a look at the remains. the result was the conclusion that the fire caused the central core of the building to weaken. When the floors collapsed one on top of the other, the weight was too much for the weaked core to bear, causing the result we are all familiar with. hope this helps
Q:Project for school, we're learning about periodic elements and we have to choose an item from our hobbies to research what its made of. Any ideas on steel guitar strings??

Steel is usually mainly made up of Iron (Fe) element, but it can also include Carbon (C) for a stronger steel or Nickel (Ni) for stainless steel.
Q:

Some of the different steel coil surface treatments include galvanizing, painting, powder coating, and oiled finishes.
Q:i cant find this stuff about steel:conductivitystrengthcorrosion resistancecommon applicationsif you know of any interesting facts, i could use those 2!thanx!

The strength and corrosion resistance depends on the mix. Pure steel is pure iron plus 6% pure carbon. It is the carbon molecules that give it a tough crystallized strength. Pure iron is wrought iron and you can bend that with your hands. Strength also depends on the shape of the beam the most common steel beam is the W flange more commonly called the I beam. That is because the strength of the 'I' beam is just a little bit less than if the entire I beam was filled in; however the weight and material savings is huge. Steel itself has no corrosion resistance and is often given a zinc coating just to resist oxidization. Manganese, vanadium and tungsten are just some of the other elements added to improve the steel.
Q:

There are various types of steel used in steel coils, including carbon steel, stainless steel, and alloy steel.
Q:

Steel coils are inspected for dimensional accuracy during processing using various methods such as laser measuring systems, ultrasonic thickness gauges, and calipers. These tools are used to measure the width, thickness, and diameter of the coils to ensure they meet the required specifications. Additionally, visual inspections are also conducted to identify any irregularities or defects in the coils.
Q:Or is it a coating that is applied? If so what types of steel? Or what types of coatings?

there is a weathering steel that corrodes and then stops. The outer surface of the steel is a rusty looking brown but after the first layer of rust appears, the process stops. It used to be called A588 steel. So called mild steel is not A36 anymore, it is A992 (50 ksi yield). The only material that is A36 anymore are angles, channels, and plate. You can coat the steel with an epoxy coating to protect the steel from this highly corrosive environment. Google a company called TNEMEC. They offer epoxy coatings for steel and other coatings. Weathering steel and epoxy coating are not cheap options.
FORWARDSTEEL is a manufacturer of galvanized sheets with well-equipped testing equipment and strong technical force. With a wide range, good quality, reasonable prices and stylish designs, our products are extensively used in building materials and other industries.
1. Manufacturer Overview

Location
Shandong, China
Year Established
2010
Annual Output Value
Main Markets
33.03% Southeast Asia
33.03% South America
20.18% Africa
13.76% Mid East
Company Certifications
ISO9001:2008
2. Manufacturer Certificates

a) Certification Name
Range
Reference
Validity Period
3. Manufacturer Capability

a)Trade Capacity
Nearest Port
Tianjin Port, China
Export Percentage
61% - 70%
No.of Employees in Trade Department
Above 100 People
Language Spoken:
Chinese, English
b)Factory Information
Factory Size:
10,000-30,000 square meters
No. of Production Lines
10
Contract Manufacturing
OEM Service Offered
Product Price Range
Low