Range summary:
The MPG range gel batteries are designed with front terminal structure. The perfect design ensures MPG series battery the high reliability and makes the installation quite simple and safe when placed on a standard relay rack tray or in a closed cabinet. Adopt Flat plates with gel electrolyte.
This new technology leverages on the advantages of the AGM and Ares technology to provide better cycle performance versus the AGM technology and a shorter time discharge performance as compared with the Gel technology.
MPG range gel battery is designed with high energy density and suitable for 19", 23" rack or cabinet, and also offers options of top connection and side of monoblocs connection. MPG range battery can be equipped with central gas collection system according to the requirement of customer.
The MPG batteries are ensured the quality with the ISO9001 standard.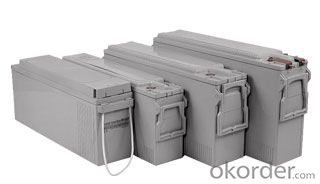 Technical feature:
Gel technology applied in MPG range batteries.

Front-access terminal connections for fast and easy installation and maintenance

Suitable for 19", 23" rack or cabinet

Excellent special lead-tin-calcium formula alloy for Grids and plates

Mircoporous glass mats in low resistance as separator

Self-regulating pressure relief valve

12+ years expectant Life under full float service at 25oC(77oF)
| | | |
| --- | --- | --- |
| Type: | MPG12V200 | |
| Voltage: | 12V | |
| Nominal Capacity: | 200Ah(C10) | 200Ah(10 hours rate:) |
| Length: | 498mm | |
| Width: | 259mm | |
| Height: | 238mm | |
| Height with termial: | 238mm | |
| Weight: | 71Kg | |
Compliant standards :
IEC60896-21/22

Din standard

UL

Manufactured under system ISO9001(TUV)
Battery installation compliant with:
EN 50272-2 or local equivalents
Main application:
Telecommunications

Uninterruptible power supply (UPS)

Switchgear / utility

Other applications to provide integrated stored energy system
Products characteristics:
Recommended float charge voltage for 12V battery:

2.25Vpc at 25oC(77oF)

Self discharge rate: < 2% per month at 25oC(77oF)

Shelf life: six months at 25oC(77oF)

Valve regulated system, no water addition needed.
FAQ

What is sulfation of batteries?
Sulfation is the formation or deposit of lead sulfate on the surface and in the pores of the active material of the batteries' lead plates. If the sulfation becomes excessive and forms large crystals on the plates, the battery will not operate efficiently and may not work at all. Common causes of battery sulfation are standing a long time in a discharged condition, operating at excessive temperatures, and prolonged under or over charging.

How long a battery can last?
The service design life of a battery are vary considerably with how it is used, how it is maintained and charged, temperature, and other factors.

Do batteries self-discharge when not in use?
All batteries, regardless of their chemistry, self-discharge. The rate of self-discharge depends both on the type of battery and the storage temperature the batteries are exposed to. However, for a good estimate, Narada batteries self-discharge approximately 4% per week at 80ĄăF.

How can I evaluate the health and charge state of a battery?
Routine battery examinations divulge irregularities in the charging system as well as in the batteries. The principle method is to examine the electrochemistry of the battery through hydrometric electrolyte inspection. As previously discussed, this important examination cannot be accomplished with sealed absorption or gel batteries. Voltage readings alone require experience to interpret. Hydrometric readings will uncover early warnings of overcharging or overdischarging before batteries are damaged. The state-of-charge and reliability of a lead acid battery can best be determined by the specific gravity of the electrolyte measured directly with a common bulb-type hydrometer with a glass float. We do not recommend the ball float type hydrometer. Specific gravity is a unit of measurement for determining the sulfuric acid content of the electrolyte. The recommended fully charged specific gravity of marine batteries is 1.255 to 1.265 taken at 80ĄăC More than .025 spread in readings between fully charged cells indicates that the battery may need an equalization charge. If this condition persists, the cell is failing and the battery should be replaced. Since water has a value of 1.000, electrolyte with a specific gravity of 1.260 means it is 1.260 times heavier than pure water while pure concentrated sulfuric acid has a specific gravity of 1.835.
Q:The role of the battery?

It filled with lead plate filled with sponge lead as a negative electrode, filled with lead dioxide lead dioxide as a positive electrode, and with 22 to 28% dilute sulfuric acid as electrolyte. In the charge, the electrical energy into chemical energy, the discharge of chemical energy and into electrical energy.
Q:What kind of battery is divided into?

At present, we used the car battery is divided into three categories, namely, ordinary batteries, dry batteries and maintenance-free batteries three.
Q:How is the capacity of the battery defined?

The capacity of the battery unit is AH (safety) is the product of current and time.
Q:80ah how much battery storage capacity?

Is 80AH. Understood to discharge at 80 amps for about 1 hour (but not to say that after 1 hour is finished, there is still electricity). In theory, this is your battery power.
Q:What is the meaning of the battery above 12v65Ah?

12V is said to be the voltage, 65Ah is the current. (A is the unit of current. H is the time unit .1 hours.)
Q:How does the battery increase the voltage?

With the same battery pack in series; if the required current is relatively small, you can use DC-DC module.
Q:What battery does the van use?

The most obvious feature of lead-acid batteries is the top of the plastic cover can be unscrewed, there are ventilation holes above. These fillers are used to fill pure water, check the electrolyte and the use of exhaust gas. In theory, lead-acid batteries need to check the density of each electrolyte and the level of liquid, if there is a need to add distilled water. But with the upgrading of battery manufacturing technology, lead-acid battery development for the lead-acid maintenance-free batteries and colloidal maintenance-free batteries, lead-acid batteries do not need to add electrolyte or distilled water. Mainly the use of positive electrode to produce oxygen can be absorbed in the negative oxygen cycle, to prevent water reduction. Lead-acid water batteries are mostly used in tractors, tricycles, car start, etc., and maintenance-free lead-acid battery wider range of applications, including uninterruptible power supply, electric vehicle power, electric bicycle batteries. Lead-acid batteries according to the application needs to be divided into constant current discharge (such as uninterruptible power supply) and instantaneous discharge (such as car to start the battery).
Q:What is a maintenanceable battery?

Maintenance-free battery due to its own structure on the advantages of electrolyte consumption is very small, in the life of the basic need not add distilled water.
Q:How to deal with waste batteries?

In addition to lead-acid batteries, all kinds of batteries are dissolved in sulfuric acid, and then by means of ion resin from the solution to extract a variety of metals, raw materials obtained in this way than the heat treatment method is pure, so the market price is higher, and the battery contains 95% of the various substances can be extracted.
Q:Maintenance-free battery how to detect it?

When using a maintenance-free battery, it is easy to think that maintenance-free is the idea that no maintenance is required. Maintenance-free Although maintenance costs and times can be reduced, but for the appearance of the clean-up is essential, so that "maintenance-free" more point to the battery inside.
1. Manufacturer Overview

Location
Year Established
Annual Output Value
Main Markets
Company Certifications
2. Manufacturer Certificates

a) Certification Name
Range
Reference
Validity Period
3. Manufacturer Capability

a)Trade Capacity
Nearest Port
Export Percentage
No.of Employees in Trade Department
Language Spoken:
b)Factory Information
Factory Size:
No. of Production Lines
Contract Manufacturing
Product Price Range
Hot Searches
Related keywords