FRP Pipe Glass Fiber Reinforced Plastic and Fitting Made in Chiina
Loading Port:

Tianjin
Payment Terms:

TT OR LC
Min Order Qty:

100 pc
Supply Capability:

1000 pc/month
Inquire Now
Customer Service
OKorder Service Pledge
Quality Product
Order Online Tracking
Timely Delivery
OKorder Financial Service
Credit Rating
Credit Services
Credit Purchasing
---
Add to My Favorites
---
1.Introdiction
FRP Pultrusion profile is a kind of composite which made by reinforced fiberglass materials (fibers, mat,etc.) and combination withresins and other auxiliary materials(binders). It has very excellent characteristics such as high temperature resistance, corrosion resistance, high strength, light weight, low moisture absorption, good insulating, large-span etc.Pultrusion profiles has very high designability, it can be made into diverse FRP products by appropriate connection and combination of various kinds shaped pultrusion profiles, and it is widely used in different fields such as light industrial products, construction platform, handrail, crawling ladders, pedestrian walkways, cable bridge, cooling tower support, electrotechnical products, etc.We can supply many kinds of FRP pultrusion profile such as Angel beam, I beam, U channel, round tube/rod, square tube, rectangular tube, solid rod, other special shaped profiles etc, and we can also make customized designs.
2.Product Features:
1. High strength.
2. Light weight.
3. Excellent corrosion resistance.
4. Good electric insulating.
5. Fire resistance.
6. Structurally strong.
7. Anti-aging and low maintenance.
8. Easy to fabricate and install.
9. Various Colors available.
10. High designability, can make customized designs.
11. Cost-effective.
3.Specifications
1) adopted the glass fiber and products as its reinforced material,
2)saturated polyester resin as its body material,
materials:
3) adopted the glass fiber and products as its reinforced material,
4)saturated polyester resin as its body material,
5)sand as its filler and equipped with the stipulated length winding technique,
features:
6)lightness and high strength,
7)distinguished properties of water-fast and corrosion resistance,
8)excellent hydraulic property,
9)good hermetical property of joint without poison.
Application:
1) for water -leading projects
2) reduction of the transportation cost and therefore ensured the high quality of the drinkable water.
3)sewage pipes,rainwater pipes
Diameter: DN300-4000
Pressure: PN6-25
Rigidity level: SN2500-10000
Length: 6m, 12m
4.Pultruded Fiberglass Pipe, FRP pipe, GRP pipe of high strengh
The fiberglass reinforced plastic rod is made from high strength glass fibers along withextremely durable resin. The glass fibers impart strength to the rod while the resin impartsexcellent corrosion resistance properties in harsh chemical and alkaline environments.
5.Advantages
1) Long Working life
2) Light weight
3) High strength
4) Good flexibility
5) Beautiful appearance
6)Good Insulation
7) Corrosion resistance
8) Good comprehensive benefits.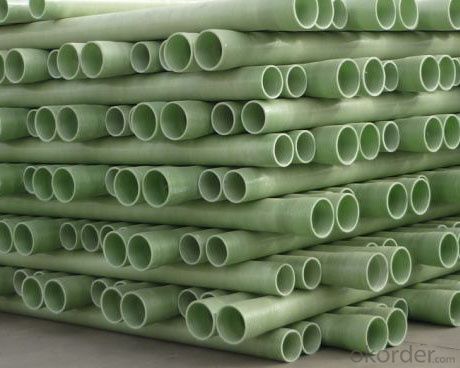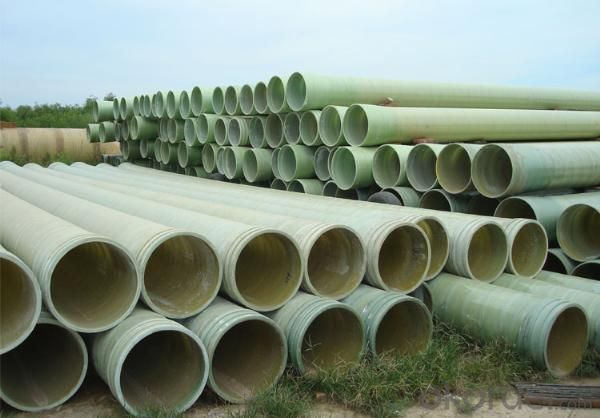 Q:Glass fiber reinforced plastic sand pipe backfill 5m, how much kg pressure?

In general, glass steel pressure refers to the internal pressure, the conveying pressure of water, and you said the backfill produces is the external pressure, often say that the stiffness parameter.
Q:Pipe installation of glass fibre reinforced plastic pipe

The slope of the pipeline shall be adjusted according to the requirements of the drawing. The adjustment method can be achieved by using the support to reach the slope requirement. The weld shall be located where it is convenient for inspection and observation.
Q:What kind of diamond saw blade for cut glass steel pipe?

Glass fiber reinforced plastic pipe is also called glass fiber winding sand pipe (RPM pipe). Mainly to the glass fiber and its products as reinforcing material, polymer composition of unsaturated polyester resin, epoxy resin as basic material, quartz sand and calcium carbonate and other inorganic non-metallic particles as filler materials as the main raw material. The standard effective length of the tube is 6m and 12M, and the production methods include fixed length winding process, centrifugal casting process and continuous winding process of three kinds. Classification can be carried out according to the product process method, pressure grade PN and stiffness grade SN.
Q:Underground garage inorganic glass fiber reinforced plastic wind pipe water out of the way?

Condensate water leaking from the interface of the pipe flange: when the pipe carries the airflow, it condenses the water molecules in the air and is concentrated at the lower part of the pipe due to speed, compression and other reasons. When the flange facing the gap is encountered at the low point, it will leak out of the pipe.
Q:How can I replace the valve on the water supply pipe?

According to the position of the branch pipe, the position of the opening is reasonably determined, and the position of the socket of the glass steel pipe is avoided as far as possible, and a better position is selected in the middle of the pipe body;
Q:Where are the advantages of FRP pipes? Long life?

Heat resistant and frost resistantAt the temperature of -30 DEG C, it still has good toughness and high strength. It can be used for a long time in the range of -50, -80 degrees Celsius, and the resin with special formula can work at the temperature above 110 DEG C.
Q:Mending method for glass fiber reinforced plastic pipe

Tip: if glass fibre reinforced plastic pipe is broken, it is suggested to replace it with new pipe.
Q:The difference between FRP process tubes and GRP tubes

Process tubes are mostly pure glass steel, not sand, and sand pipe, of course, is added sand.
Q:What are the differences between inorganic FRP pipes and plexiglass pipes, what are the advantages and disadvantages?

Inorganic glass fiber reinforced plastic wind pipe: magnesium magnesite soil and glass fiber mesh cloth made of advantages: flame retardant shortcomings: large proportion, low strength
Q:What are the posts of glass fiber reinforced plastic sand pipe and the corresponding occupational hazards and protection?

Glass fiber reinforced mortar pipe lightweight high strength: for the same diameter of the unit length, weight, RPM tube only carbon steel 1/3, cast iron pipe 1/5, prestressed concrete pipe 1/10, easy transport, loading and unloading.
1. Manufacturer Overview

Location
Year Established
Annual Output Value
Main Markets
Company Certifications
2. Manufacturer Certificates

a) Certification Name
Range
Reference
Validity Period
3. Manufacturer Capability

a)Trade Capacity
Nearest Port
Export Percentage
No.of Employees in Trade Department
Language Spoken:
b)Factory Information
Factory Size:
No. of Production Lines
Contract Manufacturing
Product Price Range