Model: SG-S1000A
It has character of super light weight and small size, use MPEG4 coding format and COFDM (coded orthogonal frequency division multiplexing) digital modulation, provide high quality image in revolution 720*576. Support NLOS transmission and reception as well high speed mobile transmission. Can be carried in your pocket / briefcase for secret evidence. it can send live video of the scene circumstances to the rear command post. Widely used in UAV, public security organs, procuratorate, court and security bureau etc.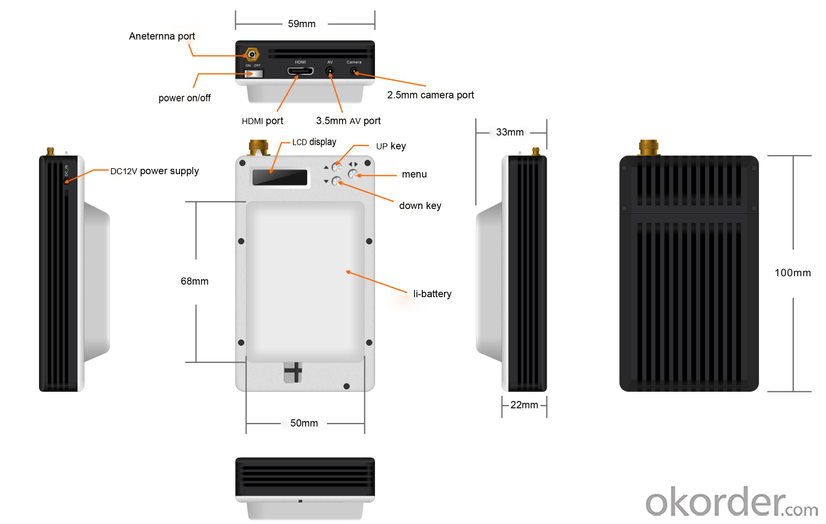 Main Feature
1. COFDM modulation, Stable transmission
2. MPEG-2 video compression, DVD video quality;
3. Modular design and highly integrated
4. NTSC/PAL automatically adapt ,support user adjustable;
5. Shortly time delay;
6. Supports high-speed mobile NLOS ( Non Light Of Sight ) transmission;
7. Lithium battery for power supply(continuous working time is 1 hours max)
8. Adjustable working frequency,bandwidth,RF power and etc.
9. Transmission security by encryption of AES 265 bit
10 Good quality image without any mosaic;
11. Transmitter only has 195g net weight(without battery),very easy for portable and UAV applications.
12. Matched with multifunction amplifier for longer range requirement.
Product Parameters
Modulation

COFDM

Power supply

DC7.5-12V/ 0.9A-13A

Frequency

300-900MHz(optional)

Bandwidth

2/2.5/4/8M(adjustable)

Power Output

1Watt

AV Interface

2.5mm jack for camera(CVBS)

3.5mm jack for AV (CVBS)

Encryption

AES 128 bits / ALLTECH Basic scrambling

Constellation

QPSK,16QAM

FEC

1/2,2/3,3/4,5/6, 7/8

Guard Interval

1/32,1/16,1/8,1/4

Flatness

≤2dB(within full frequency range) , ≤0.5dB (within 8MHz)

Carrier

2K

CNR

≥-30dB @ 30dBm power output

SHG

>52dBc

CBER

<2.0e-4< p="">

Video Signal

1Vp-p@75Ω,NTSC/PAL analog adaptive

Video Compression

MPEG-2 4:2:0 /MPEG-4 (optional)

Resolution

Standard 720P

RF Interface

N(type)

Video Format

PAL/NTSC(self-adaption)

Battery working time

1hour

Operating Temperature

-25℃~55℃

Storage Temperature

-40℃~70℃

Transmission Distance

20km LOS/NLOS distance (for air to ground) if over 300m high

300m NLOS distance(for body worn)

Size

100*59*22mm

Weight

195g(without battery); 288g(with battery)
Packaging Details
Complete set & Accessories

1* Transmitter;1* Receiver;

1* Airborne Antenna;

1* Omni antenna/Yagi antenna;

2* RF cables.

Style

Paper carton

Size

19*52*48cm

Overall Weight

10kg (volume weight)


Product Application
It's widely used in UAV aviation filming, covert investigation, video surveillance, wireless image real-time transmission and etc.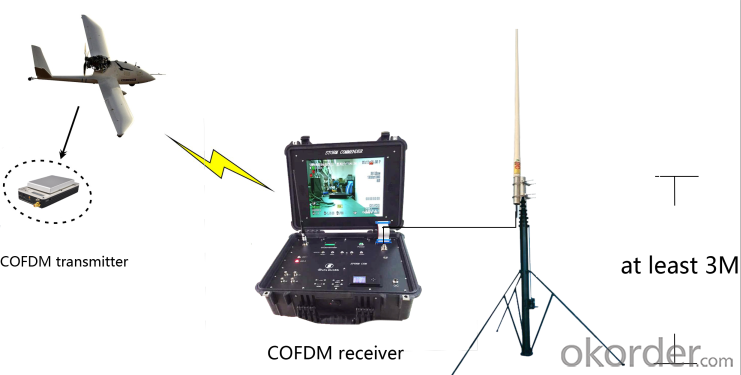 Our Services

One year free warranty;
Three months for free spare parts (Replacement parts will be charged after a year);
24-h technical guidance;
One-stop ODM/OEM solution;
We provide professional system design and construction;
We have over 15 years experience's study, design and manufacturing in wireless microwave transmission area;
We are the professional plant source,so we can provide you high quality in best price.