Adjustable Arced Timber Beam Formwork for Circle Column
Loading Port:

Tianjin
Payment Terms:

TT or LC
Min Order Qty:

50 m²
Supply Capability:

1000 m²/month
Inquire Now
Customer Service
OKorder Service Pledge
Quality Product
Order Online Tracking
Timely Delivery
OKorder Financial Service
Credit Rating
Credit Services
Credit Purchasing
---
Add to My Favorites
---
1. Structure of Curve Concrete Wall Formwork
TBW system-C is a kind of formwork for pouring curve wall, it is composed of several pieces of Tim-formwork, tie rod, wing nut, etc.
It will be designed according to wall's size.
2. Main Features of Curve Concrete Wall Formwork
1. Quickly construction with TBW system-C.
2. Light weight but high bearing capacity. For conventional design, its load bearing capacity is 60KN/m2 with weight of 60-80kg/m2. If required, the formwork can be specially designed for higher concrete pressures.
3. Timber is easy re-sized, so the Tim-formwork is relatively easier to change self's size and shape. This approved formwork's economical efficiency.
3. Curve Concrete Wall Formwork Images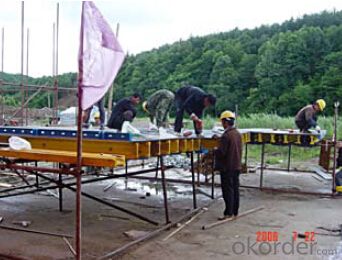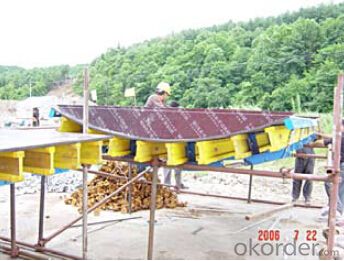 4. Curve Concrete Wall Formwork Specification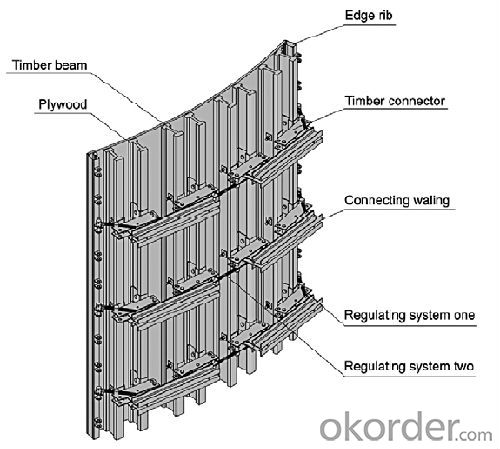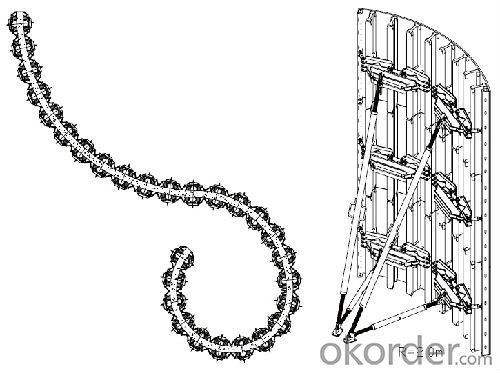 5. FAQ of Curve Concrete Wall Formwork
1) What can we do for you?
We can ensure the quality of the Curve Concrete Wall Formwork and avoid extra expenses for customers.
We can provide you the professional design team.
We can provide fashionable and newest styles for you.
We can design the artwork for you.
Please feel free to customize.
2) What promises can be done by us?
If interested in Curve Concrete Wall Formwork, please feel free to write us for any QUOTE.
If printing required, please advise asap because the whole set need much more time to complete.
Please DO check goods when courier knocks your door and contact us asap if any issue.
3) What about of our after-sale service?
Response will be carried out in 24hours after receiving any complain or request.
If the products are not based on the requirements, there will be the relevant compensations made for you.
4) What about the package and shipping time?
Packing: As Customer's Requirements
Shipping: We have various shipping ways for our customers, such as express which including TNT, DHL, FEDEX, UPS, EMS, etc. ; by air/ sea, and we are VIP of these express.
Shipping time:Normally small orders, it just 10-15 business days to arrive your hand; When comes to the customs declaration, it may need 7 days. Other mass qty of Curve Concrete Wall Formwork, we send them out by sea or by air to sea port or air port to save some shipping freight for our customers. By ocean, it may need 45~60days, by air, it may need 25~40days.
Q:What is the difference between the steel template and the wood template? When to use steel formwork? When to use a wooden template?Now what kind of use

Can use a combination of steel templates can also be used in large format steel formwork
Q:I would like to ask, large steel formwork and the average number of square meters of a template?

You can find the local rental station under the general template is charged by the day rental fees
Q:I was engaged in the patent agency, the two days of receipt of a patent application on the bridge, it is a drawing section map, the other nothing, no label no text, I am on mechanical, civil engineering drawings and utterly ignorant of ah, so simple, later on the Internet for a long time and recall ratio of patent it is unclear whether the drawings, sections of the box girder template, now the goal is clear, but a box girder template knowledge I don't know much about the Internet, did not find out what things, patent is only a few patents, I want to know more about the box girder and box girder template for example, the box girder template with cast-in-place prefabricated, full steel structure, steel wood structure, the hydraulic support system, but also ordinary (the ordinary I don't know what), etc. So, anyway, more detailed information as possible, thank you ~ ~ no more, I don't mind ah, not much, have a point with the province oh

I am specialized in Civil Engineering (design and construction), you see the drawings are box girder template for the design of template
Q:Types of building templates? What is clear water template?

Wood plywood (water templates): currently widely used in the solid wood plywood formwork, should promote the use of wood covered plywood. Commonly used in Guangdong area of Eucalyptus wood membrane.
Q:I would like to ask the bridge column (D110) steel template thickness should be how much

Because of the complexity of bridge construction, in addition to the requirements of key templates of high rigidity, high strength, but also the overall requirements of steel formwork has strong adaptability, to meet the different needs of bridge construction, and the steel plate must have strong compatibility or accommodation. The cross section of the pier column steel formwork is round, round, conical, hyperbolic, etc.,
Q:Are all steel plates used for beam slab prefabrication

Prefabricated components according to the number of times to determine the turnover, the same specifications of the components to reach more than 10, the general use of stereotypes steel template, the specification of the component is less, the general use of steel or steel formwork formwork
Q:PVC building template introduction

VC building templatesPVC building template is also called wood plastic formwork, plastic formwork, plastic formwork. PVC building template is an energy-saving and environment-friendly products, after the wooden template, composite steel formwork, bamboo plywood, all steel template and a new type of product.
Q:What are some of the components of the combined steel template, what role?

First, the material requirements1, the length of the plane template specification: 450, 600, 750, 900, 1200, 1500; width:: 100, 150, 200, 250, 300mm, rib height are 55mm, code2, setting steel angle mould internal corner template specification: width 150mm * 150mm, 100mm * 150mm; length of 450, 600, 900, 1200, 1500mm; rib height of 55mm, named E; Yang angle template specification: width 100mm * 100mm, 50mm * 50mm. The length and the rib height with the internal corner template, code named Y; connecting angle template specification: width 50mm * 50mm, and the length of rib height template likewise yam Kok, named J.
Q:What is the standard thickness of steel formwork

Pellicle is down; if there is no pellicle, there is a line below, the light on one side
Q:The wooden plank road construction, the steel structure and the template pavement, the railing installation all construction labor cost to want how many money? Or how much a square?

Light steel structure or heavy steel structure, labor costs are not the same
1. Manufacturer Overview

Location
Year Established
Annual Output Value
Main Markets
Company Certifications
2. Manufacturer Certificates

a) Certification Name
Range
Reference
Validity Period
3. Manufacturer Capability

a)Trade Capacity
Nearest Port
Export Percentage
No.of Employees in Trade Department
Language Spoken:
b)Factory Information
Factory Size:
No. of Production Lines
Contract Manufacturing
Product Price Range