Key Specifications/Special Features of Glazed Tile :
1. Material: glazed porcelain
2. Antique feel, Metal Image
3. Low water absorption
4. Strong in hardness
5. Coordination in color and luster
6. Usage Area: home, office, hotel, government and corporate projects, flooring tiles, deluxe clubs flooring
7. Style: simple, classic, elegant and splendid in color
8. Good in abrasion and chemical corrosion-resistant
9. Resistance to thermal shock
10. Available in various sizes and colors
Primary Competitive Advantages of Glazed Tile:
1. All product of rustic ceramic tiles are of top grade AAAA
2. CE certificate, ISO9001:2008 and ISO14001:2004
3. OEM accepted.
4. Speial dimensions available according to your floor tiles request.
5. Best Quality with best price, strictly quality control.
6. On time delivery, in general 7-10days.
7. Best after sale service, customer can follow their porcelain tiles order situation any time. no matter on product line, warehouse or shipment.
Main Export Markets:
1. Asia
2. Australasia
3. Central/South America
4. Eastern Europe
5. Mid East/Africa
6. North America
7. Western Europe
Specification:
Tile type:

Ceramic tile

Material:

Porcelain

Size(MM) :

600x600mm

Thickness(MM):

9mm

Water Absorption:

≤0.5%

Color:

Available in all designs and colors

Usage:

Used in floor

Surface treatment:

Glazed surface

Features:

Professional triple-burning in oven, which makes our tiles more excellent quality.

Function:

Acid-Resistant, Antibacterial, Heat Insulation, Non-Slip, Wear-Resistant, Anti-fouling easy to clean

Packaging:

600x600mm: 4pcs/box,28kg/box,standard cartons and

wooden pallets packing

Remark:

All kind of designs can be produced according

to your requirements

Quality

Surface quality:

95% tiles no defect from 0.8 away uprightly

Breaking strength:

As require

Resistance to thermal shock:

Without crack and flaw after 10 times anti heat shock test

Brightness:

≥55

Frost-resistance:

No crack or spalling after frost resistance test
Product Picture: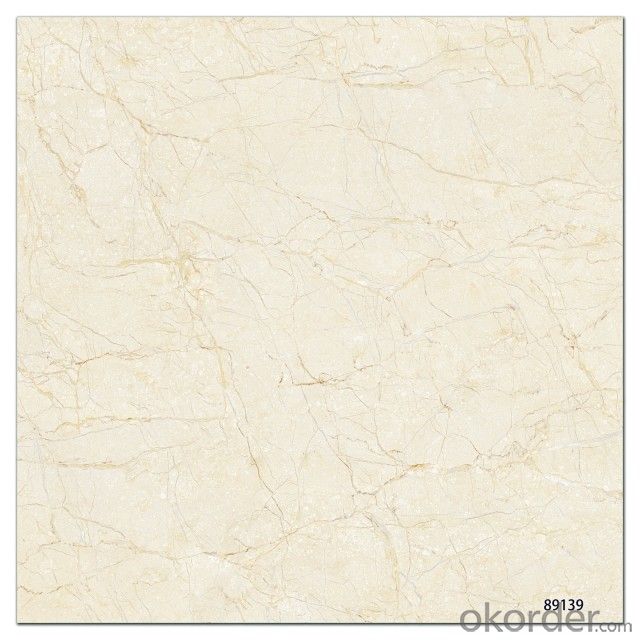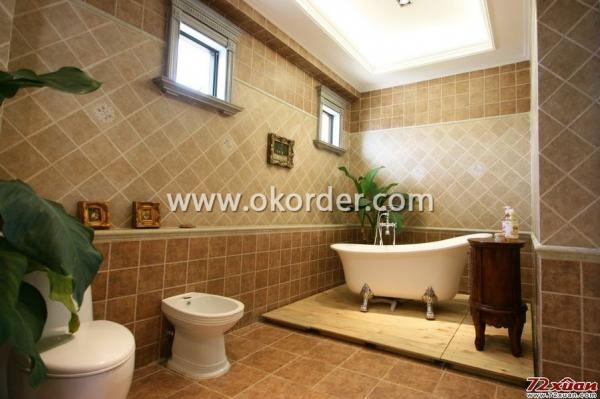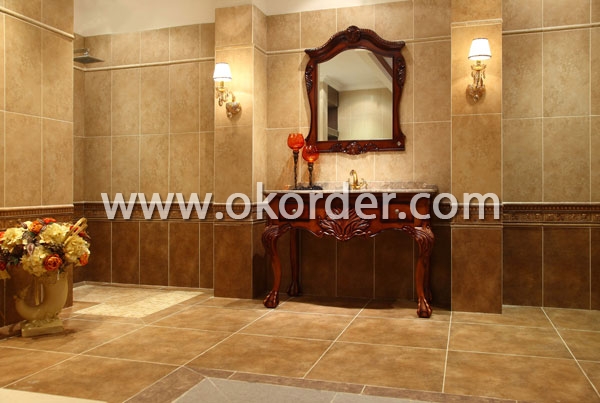 Packing Pictures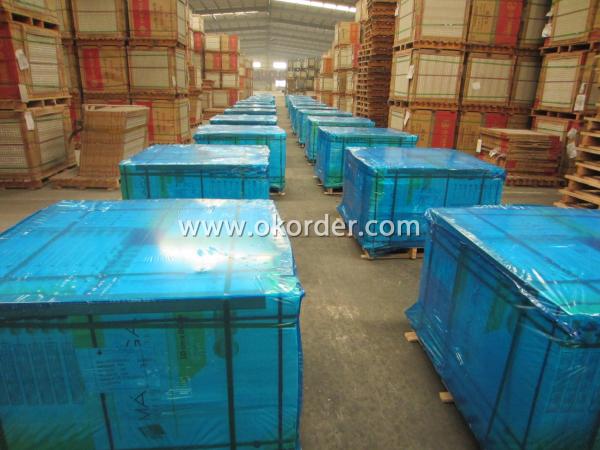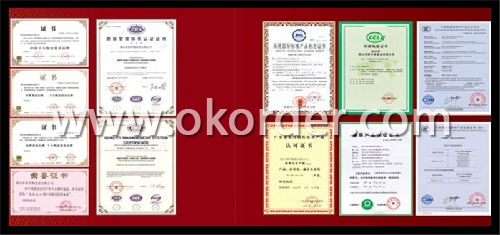 FAQ
1. For Polished Porcelain Tile, is the 30*60 available?
—— Yes, 30*60 is available. Due to the basic size is 60*60, we need to cut 60*60 tile into 30*60. 6 pcs are packed into one carton.
2. What is the MOQ for this tile?
—— Normally the MOQ is 1382.4 m2 for one 20' container. To support our clients, we could go with 3 models to fill one container at most.
3. Can we use the carton with our own design and brand name?
—— Yes. Normally we go with Neutral Carton or our Carton with our CMAX brand name. But for carton of client's own design, the MOQ for one size is 5 containers, due to the carton factory can't arrange production if quantity is below 5000 pcs.
Q:can you tile an old brick fireplacegt;?would it look stupid?

To do that it is a bit more complicated than it sounds. You would need to make the brick surface smooth, no crevaces. It's expensive time consuming. Consider resurfacing the fireplace
Q:Our house was built in 1925. My husband is removing our bathroom floor tiles that haven't been touched since then...we had only vinyl tiles on top of the old. He discovered these tiles are extremely difficult to take out they are very hard tiles under the vinyl we have now. Then when he tried to remove the hard tiles he had to remove concrete like stuff and sand like stuff. It's been one hell of a job just to remove everything. He went down to the foundation of the house! I just started worrying now about asbestos. I remember how old homes have them. Is it possible there is asbestos in these? There is a lot of dust in the house because of the removal process. Anyone know? I have two small kids and I'm petrified. I've heard of vinyl tiles having them, but what about the other stuff in our floors?

No. That is just old tiles hardened due to age.
Q:I have a tile floor in a basement bathroom. These are small 2 inch tiles and I would like larger 8 by 8 inch tiles on the floor. Do I need to remove the old tile or can the new tile be laid right over the old tile? The subloor is concrete slab.

Hey okorder
Q:The bathroom tile in my recently purchased house isn't finished. The previous owner used floor tile to surround the tub; he/she left many pieces of tile unfinished, but luckily left us a stack of the tiles so we could finish it off. However, we don't have an unlimited supply of these tiles, so we'd like to get it right with as few tries as possible!I'm wondering: -I need to fit the tub faucet and knobs within two 12 square tiles. What's the best way to measure the placement of the fixtures? Is it possible to make some sort of template that I could transfer to the tiles? -Can I make the cuts for the fixtures using a hacksaw-type tile saw blade, or should I buy a tile drill bit? (I realize it rather depends on where the fixtures fall within the tile-- but if I don't need to buy both, I won't waste my money. )Thanks!

By making some tiles out of cardboard, then placing them in their proper position, will show you where to use a ceramic hole-saw on the real tile to make good holes. I have also seen tile setters cut the tile in two places, intersecting at the centre of the hole. Then use a plier-like nibbling tool to remove the necessary material [ please where safety glasses for this ], when finished the cut lines are barely noticeable, especially if it is done in least conspicuous place. Another option is if you were to go to a professional tile setter, with your clearly marked tiles, I'm fairly certain he/she would make your holes, for a fee.
Q:Theres only a doorway no door separating my bedroom to my bathroom? Should I finish it with the Wood flooring or go with a ceramic tile?

If okorder Good luck with your project!
Q:→ tile background wall is good tiles background wall renderings

4, easy to return to the tide: in many parts of China, especially the southeast coast and the middle and lower reaches of the Yangtze River is particularly serious, but also has a certain radiation. You can try the cloud era of integrated walls, green building materials as the source and design energy-saving materials, and access to a number of national honor. "Integrated wall" is a decoration material, its advantages relative to the market in other wall treatment materials are significantly different, the service life is also higher than other wall materials.
Q:What is transparent tiles

(The market also known as tiles, polished tiles, etc.) is the rock debris by pressing high pressure, the surface after grinding hardness compared with the stone, water absorption is lower, good wear resistance. The surface of the whole body is not glazed, and the front and the back of the material and color consistent, hence the name. Although there are seepage of the whole body bricks and other varieties, but relatively speaking, its color than glazed tiles. Most of the anti-skid brick are all bricks. If you have more questions, you can click on ID consultation.
Q:I was told that you can use slate (indoor/outdoor flooring) tiles outside on walkway if you mortar them over a concrete walkway.Do they have to be mortared to a concrete walk or is there another way to place the tiles?Part 2. Can you use concrete you mix at home from a bag for laying a new small concrete walkway or do you have to order mixed concrete from a concrete supplier?

If what you're talking about is REAL slate milled into tile then it is the same as Field Stone, but far more brittle. Natural slate is extremely porous, and much like Plywood, it's a natural Laminate substance. Just a day or two ago I answered a similar Q. Certainly answer number one is valid in suggesting that TILE be secured with an even coat of Exterior mortar, in your case, allowing there will be no voids. You could even install the tile by pressing them down enough, to push the mortar up through the seams/joints, allowing then, that you don't have to grout. Smoothing the lines will be similar however. The problems with natural slate and the conditions it will endure would likely disappoint you if you mortar textured REAL slate onto a patio. Slate Flakes, Chips, Cracks, and absorbs water. If in fact these are manufactured slate tiles, they still will need an exterior grade sealant, and re-sealing on occasion. If they are natural slate/Field Stones, I personally would use tamped sand, or better, tamped, crushed limerock for the base. That won't be possible with manufatured TILE usually at 1/4 inch thick Plus or Minus. Depending on the size of the concrete walk, you may want to consider having a load delivered, or renting a mixer. To do any space with BAGS will be more costly, (given that a 60 - 80 lb. bag only covers approx. 1.5 CU. FT....then time consuming, and may in fact be a dissapointment. YES you can use premix, but if you order a load it will be mixed in the proper formula/ratios, from the supplier. Steven Wolf
Q:How do you use tiles? I'm sure it's easy, but I don't know how to use them yet. They look pretty complex. Thanks. I appreciate it.

Game Maker Tiles
Q:Can you have tile insalled in your kitchen w/o using grout in between tiles? Or, can you space the tiles very close together so there is very little grout? I just keep hearing about how hard it is to clean grout.

You can have the grout lines small but the trick is to seal the grout a week after you install it. You can reseal the grout a few times a year to keep it up. Also, business is slow right now so you might want to consider granite. There are a lot of granite, tile and marble people looking for jobs. Not, Lowes or Home Depot -Call around to some granite marble places and get referrals. I had granite put in 2 years ago and absolutely love it!!!
1. Manufacturer Overview

Location
Year Established
Annual Output Value
Main Markets
Company Certifications
2. Manufacturer Certificates

a) Certification Name
Range
Reference
Validity Period
3. Manufacturer Capability

a)Trade Capacity
Nearest Port
Export Percentage
No.of Employees in Trade Department
Language Spoken:
b)Factory Information
Factory Size:
No. of Production Lines
Contract Manufacturing
Product Price Range