POLISHED ALUMINIUM PLATES FOR MOLD PRODUCTION
Loading Port:

Shanghai
Payment Terms:

TT or LC
Min Order Qty:

3 m.t.
Supply Capability:

4000 m.t./month
Inquire Now
Customer Service
OKorder Service Pledge
Quality Product
Order Online Tracking
Timely Delivery
OKorder Financial Service
Credit Rating
Credit Services
Credit Purchasing
---
Add to My Favorites
---
1.Structure of Product Description:Polished aluminium sheets 6061 for mold production
2. Our Strength:
a.Competitive price
b.Frist-Class Service.
c. Shortest service.
3. Image: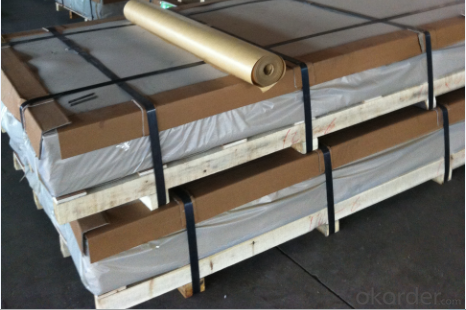 4. Common Specification
1000mm*2000mm, 1500*3000mm, etc.
5. FAQ:
What is the quality standard?
---Usually our standard is GB3880-2006 or others.
What is the width range?
---It is from 1000mm to 2500mm, etc.
What is the length range:
---It is from 2000mm to 6000mm, etc.
What is the MOQ for your products yet?
---Normally it is around 5 tons/each size.
What is your mainly products?
---Normally they are aluminum sheet, checkered sheet,
mirror finish aluminium sheet, aluminum casting coil, etc.
Q:Can I bake falafel patties in the oven using an aluminum foil on top of the pan I am using to put in the oven? Will the aluminum foil catch fire in the oven? Also, if I put the aluminum foil I wouldn't have to grease up the foil with oil...the patties just wont stick to aluminum foil right?

okorder building materials
Q:I've narrowed down my next bike next year to either the cannondale Caad10 Ultegra version or the supersix 105 version, I've heard good things about both bikes, and at this point its gonna be down to preference after I ride it but, is aluminum stronger than carbon or vice versa? Will carbon crack easily or fail catastrophically?

I am not sure where some of these posts came from, but from someone like myself who road cycles 6000 to 8000 miles per year and has a 3 year old carbon fiber frame, I have never had any problems with my frame... I have never heard of any carbon bike breaking unless it was in some MAJOR crash... the same crash that would destroy almost any bike (except cromealloy steel)... That being said, carbon frames are usually the lightest out there, but they can be pricey. Yes, they can be stiffer, but that is a GOOD thing because the power transfer through the drivetrain is better, especially when you have to get up out of the saddle. While riding regularly, especially on the flats, it gives a bit, providing a plush ride. I love my Specialized Roubaix Pro, pretty much everything on the bike is carbon, from the FSA cranks to the Specialized carbon stem... But be prepared to spend at least 3000 bucks to get the bike with good components. Ride safe and have fun!
Q:Does anyone know why Mercury -(Thimerosal) is used in Flu Vaccinations and where Mercuryisnot used Aluminium in other vaccines ? While these are known to be toxic metals, can these cause headaches, severe hot burning heads and or Sinusitus ?

Thimerosal is not the same as mercury. It's a mercury-based preservative which to prevent the growth of germs, bacteria and fungi, that can contaminate them. It's used in seasonal flu vaccine because the vaccine is produced in large quantities and often in multi-dose vials. Thimerosal helps safeguard against possible contamination of the vial once it is opened. The aluminum in vaccines is aluminum hydroxide, aluminum phosphate, alum (potassium aluminum sulfate), or mixed aluminum salts. They're an adjuvant added to enhance the immune response in the vaccinated individual. Whether or not something is toxic has to do with how much a person receives not the substance itself. People can die from drinking too much water, but we don't go around calling water toxic. The amount of mercury or aluminum in vaccines is so small that it's not toxic. You ingest more mercury by eating fish and a baby ingest more aluminum in breast milk than they get in a vaccine. So if mercury and aluminum caused head aches, severe hot burning heads or sinusitis in a person, that person would have a lot more to worry about than vaccines since they would be exposed to those things in so many other ways.
Q:Im wondering what type of clutch would be better for my fox body mustang. A aluminum or steal. And why

aluminum if you are drag racing ( have to learn to feather the clutch a bit) STEEL on the street( easier to keep the fire lit for mere mortals ) course you can use aluminum on the street--most people cant, because you have to be easy with the clutch-but it gives you an excuse why people cant borrow your car
Q:I need to know what composite bats do and how (or if) they are better than aluminum bats.

This Site Might Help You. RE: What is the difference between composite bats and aluminum bats? I need to know what composite bats do and how (or if) they are better than aluminum bats.
Q:If Aluminum can, in fact, not be sterilized I would love to know why.

Sterilization refers to the ability to clean a surface of bacterium. Simply pouring rubbing alcohol on something sterilizes it. Aluminum can be sterilized just as good as any other metal. If it couldn't, would we ship our favorite drinks in cans of it?
Q:Don't you know how you can grind a pair of scissors along a piece of paper to make it curly? Would that work with aluminum foil? I have to make a sculpture for my 3D class and I need to know if this would work before I go off and buy any.

The answer to your two questions is that aluminum foil cut long and narrow is very weak and further weakened by its tendency to have slight tears on the edge in cutting due to stress. Aluminum foil will curl when pulled over an edge but it has to be done very carefully to keep it from tearing and has very little spring to it - a slight touch will flatten it. Although it would be a little extreme and sharp, you could cut narrow pieces off of thin aluminum sheet - soda cans or flashing used for valleys on roofs and which will curve in cutting and have enough stiffness to hold the shape. And cost more
Q:Which kind of solution should I use while welding aluminum sheet and copper pipe by tin soldering?

1, you must use over 350W soldering iron, 2,prepare some borax and tin soldering paster, you can't use rosin to weld it, 3, polish the pipe to clean with fine abrasive paper and borax, 4, put the pipe and sheet into borax, use the soldering trip to rub on the weldment with some borax. 5, after the pipe and sheet become hot, use the soldering iron with the paster and tin to rub the pipe and sheet in borax, then it can be welded. 6, they can be welded together after welding.
Q:For example, in hydrangeas, when aluminum reacts with the anthocyanins in the flower's petals, the hydrangeas turn blue, but what chemical reaction occurs?

Two factors affect the color in Hydrangea macrophylla cultivars: soil acidity and the presence of aluminium in the soil. To obtain a blue hydrangea, aluminum must be present in the soil. The pH of the soil should be low (4 - 4.5). In alkaline soil aluminium is tied up. The plants are unable to absorb the existing aluminium and the flowers will not bloom blue. Also, when aluminium in the soil is used up the flower color will be red or pink again. If the soil is watered with aluminium salts aluminium is accumulated in the petals and the color turns blue. Only red and pink colored Hortensis are suitable for the breeding of blue flowers. They contain the dye component delphinidin. At the end of this site you find explanation and the formula: www.uni-regensburg.de/Fakultaeten...
Q:What type of aluminum plate does the traffic sign use? 1100?

Formulated according to unused specifications and design requirements. May refer to the road traffic sign and the marking establishment standard execution.
1. Manufacturer Overview

Location
Year Established
Annual Output Value
Main Markets
Company Certifications
2. Manufacturer Certificates

a) Certification Name
Range
Reference
Validity Period
3. Manufacturer Capability

a)Trade Capacity
Nearest Port
Export Percentage
No.of Employees in Trade Department
Language Spoken:
b)Factory Information
Factory Size:
No. of Production Lines
Contract Manufacturing
Product Price Range
Hot Searches
Related keywords