Hot Rolled Steel Coils with Standard ASTM
Loading Port:

Tianjin
Payment Terms:

TT or LC
Min Order Qty:

50 m.t.
Supply Capability:

10000 m.t./month
Inquire Now
Customer Service
OKorder Service Pledge
Quality Product
Order Online Tracking
Timely Delivery
OKorder Financial Service
Credit Rating
Credit Services
Credit Purchasing
---
Add to My Favorites
---
Rolled to its final dimensions while it's hot enough to scale, our hot-rolled steel is an amalgamation of the various qualities of steel.
It can be in the form of plates, sheets and coils.
Our hot rolled steel sheets and coils are applied to wide range of uses such as automobile, electrical appliance, machinery manufacturing, container manufacturing, shipbuilding bridge, pipeline, and receive high acclaim from our customers for its excellent quality.
Specification of Hot Rolled Steel Coils with Standard ASTM
Standard:ASTM, JIS, GB
Steel Grade:Q235
Technique:Hot Rolled
Packing:in Bundles or Coils
STANDARD & GRADE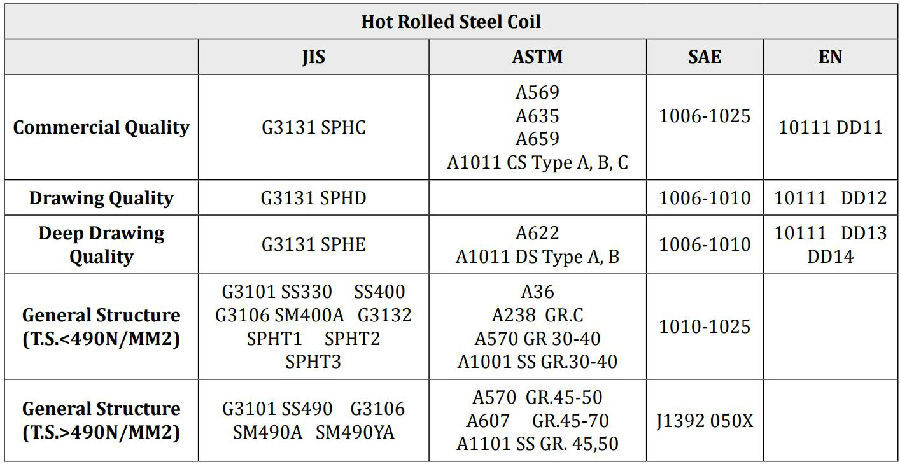 APPLICATION
Automobile, Electrical Appliance, Machinery, Transport Equipment, Steel Structure, Pressure Vassel Tank, Welded Pipe, Bridge, Container Shipbuilding.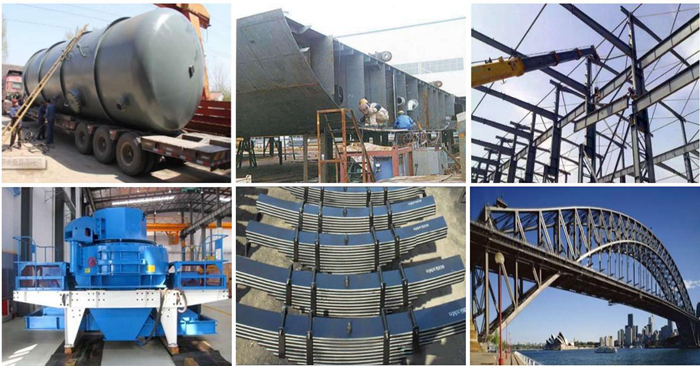 ---
FAQ:
1. What is the minimum order quantity ?
Our MOQ is 50mt for each size.
And we will consider to give more discount if you make big order like 1000 tons and more.
Further more, the more appropriate payment term your offer the better price we can provide.
2. How long can we receive the product after purchase?
Usually within thirty working days after receiving buyer's advance payment or LC.
We will arrange the factory manufacturing as soon as possible. The cargo readiness usually takes 15-25 days, but the shipment will depend on the vessel situation.
3. How to guarantee the quality of the products?
We have established the international advanced quality management system,every link from raw material to final product we have strict quality test;
We resolutely put an end to unqualified products flowing into the market.
At the same time, we will provide necessary follow-up service assurance.
4.What is the validity of your quotation?
Normally 7 days.
5.What is your advantage?
24 hour quick response /Customer oriented/ Credit foremost/ Top quality Excellent
Q:I heard that the stores don't sale Steel Legion anymore...Is this true..Also I want to know why they cost more than regular Imperial Guardsmen..Such as Cadian...Do they have something Special?Also what do I need to buy to have a complete Steel Legion army..I need two squads of troops of 20's?and two sergeants for each squad.and one commiser?Well I;m guessing..someone please help...I havent played in about 4 years.

The stock at various shops may vary, but you can buy Steel Legion miniatures through the mail order, or the Internet from GW. Cadian troopers are plastic, There are no plastic Steel Legion troops. The plastic models are (a tiny bit) not so horribly expensive as the metallic ones. The minimum requirements for your force vary from mission to mission, but a good start is 1 HQ unit 2 Troop choices. Also, the total points cost of the battle is to be considered. (Usually 500, 1000, or 1500 points.) What you described is one possible choice, although the size of IG squads is 10 and not 20. And you must include a command squad, the commissar is optional. You might change the other 20 troops for a tank, or a squad of Sentinels. Happy gaming!
Q:and which one is better?i'm looking into buying some aftermarket headers, but companies make them in both chrome and stainless steel

I know nothing of aftermarket headers so can't help you there, but - chrome is a coating on metal. Stainless Steel is a type of metal.
Q:is it much difference between 1095 and 1080,,,1065,,,1060 or even 1045 steel?please help and thanks!

The guy below me obviously has no idea WTF he's talking about. It does NOT have anything to do with the edge angle at which the blade is sharpened. It does NOT have to do with heat treating. Both of these things are important, but they won't determine the type of steel. I'll try to help. 1095 is one of the best performing steels, against carbon steel or stainless steel, in the world. It's incredibly hard, holds its edge well and comes to a beautiful edge when sharpened correctly. As you know though, carbon steels need to be properly maintained to avoid rust/corrosion. Out of the steels you listed I'll give a brief summary of each steel... -1095 (Great all around steel, but is brittle by comparison to the others. This doesn't mean it will chip easily, but the other steels can take more of a beating. That being said, this is going to take a nicer edge, and hold it longer.) -1080 (A little bit more flexible and less liable to chip than 1095. A good compromise between edge retention/quality and ruggedness. -1065 (Commonly used in machetes and other heavy duty bush tools. Takes a decent utility edge and is highly unlikely to chip) -1060 1045 (Both extremely flexible and soft in comparison to 1095. Unlikely to chip, but it takes a crude edge. This edge will cut, but not like 1095 will.) Go with 1095. My favorite knife I own is in 1095 and serves me well everytime I head off into the woods. Keep some Rem-Oil on that bad boy though.
Q:I mean about if I had a piece of metal, how can i decide that's iron or steel?Sorry for bad English.

Iron and steel have different thermal expansions and specific heats. You could either heat it up and see how much it changes in length or you could put it in water inside a calorimeter and observe how much the temperature of the water changes
Q:I need help! Please help, I'm in Chemistry, and me and my friend Lucy are making a presentation on steel and iron, so how is steel manufactured? Thank you. :D

Abed is off on some of the details... Steel is, by definition, Fe-C. There are thousands of different steel alloys and I am not aware of a single one that is simpkly Fe-Ag. There are different processes but the chemistry is basically the same, converting the iron compounds we dig out of the ground into metallic iron. Iron is typically found as iron oxides or iron sulfides (not with a lot of carbon). We add carbon so the carbon takes the oxygen from the Fe atoms making Fe + CO/CO2. Research iron smelting, iron ore, reduction of iron oxide, these types of things. You will find plenty of information because this is one of the most important industrial processes humans have. Good luck
Q:I just want regular steel, not stainless steel.

If it rusts, magnetic, hard, heavy with high melting point I reckon yourve found mild steel.
Q:Ive been playing with my ping i3 graphite irons for 6 years now and some days i can hit it and some days i cant. Then i tried out my friends irons the other day and he had steel and i was hitting the ball anywhere i wanted it to go..Is that a fluke or is steel irons just better than shaft? I was thinking about trading my graphites for steel, is that a good idea??

Ping Graphite Iron Shafts
Q:I'm trying to make a corset but I can't find any steel boning in my area. Any clue as to what materials I could buy to to make my own bones, or anything that would work similarly?I know there are places to buy it online, but the cost of shipping makes it barely seem worth it.

Don't try it. For two main reasons: 1. Corset boning is not just strips of flat steel; it is made from coiled high tension spring steel with clever metal ends to prevent tearing any fabric that comes into contact. You could try strips of hard wood such as teak, ash, oak. The risk is that the st rips will break when they bend around your corseted figure. Then they'll be dangerous and could puncture your skin. 2. Corset bones are there in the corset to support the fabric; not to exert any pressure on you for figure reduction. It is the cut of the fabric that produces the shape, but bones stop the fabric from crinkling, or gathering into your waist as the tension is applied. That is why commercial bones are specially made to be fairly lightweight, flexible in the right directions for your figure, and will not rust or otherwise deteriorate with wear or careful cleaning. So go for easiest you can get from the Net. That's my advice. OK?
Q:I'm looking to buy the Milano Stiletto, and it uses 1045 steel. I was just wondering whether this will hold up and keep an edge.

Unfortunately, okorder /
Q:I am thinking of buying a stainless steel necklace, but I need to know if it will discolor. My brothers ring turned brown, but he forgot what kind of metal it was. Also answer if I can wear it in the shower because I wear my other necklace in it.

I would say don't wear it in the shower because it will tarnish and it could rust.
1. Manufacturer Overview

Location
Year Established
Annual Output Value
Main Markets
Company Certifications
2. Manufacturer Certificates

a) Certification Name
Range
Reference
Validity Period
3. Manufacturer Capability

a)Trade Capacity
Nearest Port
Export Percentage
No.of Employees in Trade Department
Language Spoken:
b)Factory Information
Factory Size:
No. of Production Lines
Contract Manufacturing
Product Price Range