GRE pipe, FRP pipe Manufacturer Passed ISO 9001 with Good Quality
Loading Port:

Tianjin
Payment Terms:

TT OR LC
Min Order Qty:

100 pc
Supply Capability:

1000 pc/month
Inquire Now
Customer Service
OKorder Service Pledge
Quality Product
Order Online Tracking
Timely Delivery
OKorder Financial Service
Credit Rating
Credit Services
Credit Purchasing
---
Add to My Favorites
---
1.Introdiction
FRP Pultrusion profile is a kind of composite which made by reinforced fiberglass materials (fibers, mat,etc.) and combination withresins and other auxiliary materials(binders). It has very excellent characteristics such as high temperature resistance, corrosion resistance, high strength, light weight, low moisture absorption, good insulating, large-span etc.Pultrusion profiles has very high designability, it can be made into diverse FRP products by appropriate connection and combination of various kinds shaped pultrusion profiles, and it is widely used in different fields such as light industrial products, construction platform, handrail, crawling ladders, pedestrian walkways, cable bridge, cooling tower support, electrotechnical products, etc.We can supply many kinds of FRP pultrusion profile such as Angel beam, I beam, U channel, round tube/rod, square tube, rectangular tube, solid rod, other special shaped profiles etc, and we can also make customized designs.
2.Product Features:
1. High strength.
2. Light weight.
3. Excellent corrosion resistance.
4. Good electric insulating.
5. Fire resistance.
6. Structurally strong.
7. Anti-aging and low maintenance.
8. Easy to fabricate and install.
9. Various Colors available.
10. High designability, can make customized designs.
11. Cost-effective.
3.Specifications
1) adopted the glass fiber and products as its reinforced material,
2)saturated polyester resin as its body material,
materials:
3) adopted the glass fiber and products as its reinforced material,
4)saturated polyester resin as its body material,
5)sand as its filler and equipped with the stipulated length winding technique,
features:
6)lightness and high strength,
7)distinguished properties of water-fast and corrosion resistance,
8)excellent hydraulic property,
9)good hermetical property of joint without poison.
Application:
1) for water -leading projects
2) reduction of the transportation cost and therefore ensured the high quality of the drinkable water.
3)sewage pipes,rainwater pipes
Diameter: DN300-4000
Pressure: PN6-25
Rigidity level: SN2500-10000
Length: 6m, 12m
4.Pultruded Fiberglass Pipe, FRP pipe, GRP pipe of high strengh
The fiberglass reinforced plastic rod is made from high strength glass fibers along withextremely durable resin. The glass fibers impart strength to the rod while the resin impartsexcellent corrosion resistance properties in harsh chemical and alkaline environments.
5.Advantages
1) Long Working life
2) Light weight
3) High strength
4) Good flexibility
5) Beautiful appearance
6)Good Insulation
7) Corrosion resistance
8) Good comprehensive benefits.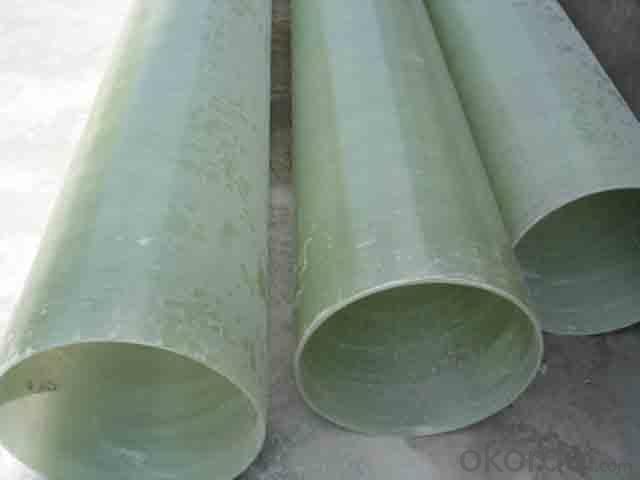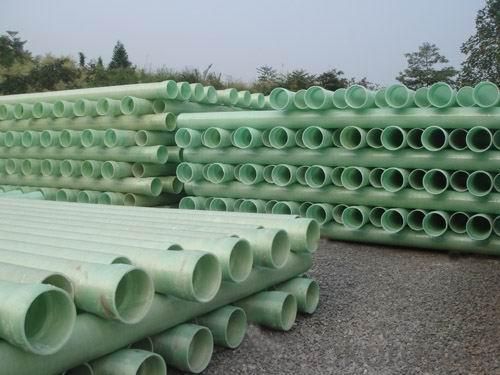 Q:Glass fiber reinforced plastic sand pipe backfill 5m, how much kg pressure?

In general, glass steel pressure refers to the internal pressure, the conveying pressure of water, and you said the backfill produces is the external pressure, often say that the stiffness parameter.
Q:What are the advantages of glass fiber reinforced plastic sand pipe than HDPE pipe?

Both have their merits, but it depends on their choice!
Q:Underground garage inorganic glass fiber reinforced plastic wind pipe water out of the way?

The condensed water duct wall: when the fan start, rapid air circulation in the inorganic pipeline flow, pipeline internal and external space of large temperature difference, leading to the underground garage of the water vapor condenses into water droplets freeze in the outer wall of the pipe. At this point, on the surface, it seems to seep through an inorganic pipe;
Q:How many times can the temperature withstand of FRP winding pipes? What are the factors?!

FRP coil pipe:(1) corrosion resistance: chemically inert material, excellent corrosion resistance, and can choose different corrosion resistant pipes according to the transmission medium.(2) strong mechanical strength: good water pressure resistance, good resistance to external pressure and impact strength, and piping and fittings can be designed according to the required pressure.(3) temperature adaptability: the use of temperature range: greater than -70 degrees Celsius, less than 250 degrees Celsius, under the freezing medium, the pipe is not split. (4) the resistance of the fluid is small: the pipe wall is smooth, the roughness coefficient is 0.0084, and the pipe diameter can be reduced under the same flow rate.(5) light weight, long life: light quality, convenient transportation, low construction cost, no maintenance, and the service life of more than 50 years.(6) maintain the water quality: non-toxic, conveying drinking water, can maintain long-term water quality sanitation.
Q:Would like to ask about the plastic lined steel pipe, steel pipe, glass steel skeleton, the advantages and disadvantages of each ceramic pipe, to know a friend told, very grateful!

Plastic lined steel pipe of strong corrosion resistance, heavy quality, need to be made, on-site installation, if the size deviation cannot be installed. The price is more than 5 times more expensive than that of FRP
Q:What qualifications do FRP pipes need to export to Australia?

We often have glass steel pipe or other products, have not heard what the other party needs special qualifications, as long as the customers are willing to order your goods, general foreign customers before shipment is to inspection, acceptance, what qualifications do not need. The key is whether domestic related requirements are met. Besides, you can ask the customer directly
Q:What are the materials used in smoke exhaust pipes?

According to the current national standards: ventilation pipe exhaust pipe material selection of steel pipe (steel), galvanized plate (Bai Tie) smoke pipe, the exhaust pipe exhaust pipe, exhaust pipe, stainless steel pipe, plastic glass smoke exhaust pipe, composite sandwich insulation board, industrial exhaust pipe exhaust exhaust pipe.
Q:What are the differences between FRP pipes and sand pipes in their uses?

Glass fiber reinforced plastic sand pipe is mainly used for conveying medium and low pressure water, raw water and sewage.
Q:What are FRP pipes used for making? What raw materials?

Reinforced plastic made of glass fiber or its products as reinforcing material. Entitled "glass fiber reinforced plastics" or "glass fiber reinforced plastics". Because of the different kinds of resins used, they are called polyester glass fiber reinforced plastics, epoxy glass fiber reinforced plastics and phenolic resin glass fiber reinforced plastics. Glass has a hard and brittle, has a good transparency and high temperature resistance, corrosion resistance and other properties; at the same time, steel is very hard and not brittle, but also has high temperature resistance characteristics.
Q:What kind of material does glass steel ship honeycomb board use?

Analysis of glass steel tube and glass steel tube cellular communication used in communication network construction, is currently used PVC bellows and PVC honeycomb tube, pipe and pipe crossing is the use of plastic pipe or galvanized steel pipe.
1. Manufacturer Overview

Location
Year Established
Annual Output Value
Main Markets
Company Certifications
2. Manufacturer Certificates

a) Certification Name
Range
Reference
Validity Period
3. Manufacturer Capability

a)Trade Capacity
Nearest Port
Export Percentage
No.of Employees in Trade Department
Language Spoken:
b)Factory Information
Factory Size:
No. of Production Lines
Contract Manufacturing
Product Price Range