Fire Rated Gypsum Board / Plasterboard for Feiling Decoration
Loading Port:

Qingdao
Payment Terms:

TT or LC
Min Order Qty:

10000 m²
Supply Capability:

300000 m²/month
OKorder Service Pledge
Quality Product
Order Online Tracking
Timely Delivery
OKorder Financial Service
Credit Rating
Credit Services
Credit Purchasing
---
Add to My Favorites
---
Plasterboard is made of high-grade environmental protective gypsum raw material, no harming to human body, and it has some performances: (such as environmental protection, fire-proof, moisture-proof, light and high intensity).
Plasterboard is easy to install, and its decoration effect is good. Its special indoor temperature adjustment function can provide a comfortable living environment. It is the first choice to interior decoration.
Product Applications:
+ Furred ceiling

+ Interior wall cover

+ Partition wall
Product Advantages:
1.Thermal insulation

2.Fire-resistant performance for fire-proof plasterboard
3.Water-resistant performance for water-proof plasterboard
4.Easy installation (it can be easily sawed,planed,holed and sticked)

5.Special respiratory function (it has a great mass of ting holes and its function of moisture-adsorbing and moisture-dismissing)
Main Product Features:
Material: Gypsum Board, non asbestos, sulfate free

Surface: High quality PVC/Vinyl

Backside: High quality aluminized PET foil

Edges: Square

Weight /cbm: 780kgs/m3

Tolerance: Length: ± 1.0mm, Width: ± 1.0mm,

Thickness: ± 0.5mm

NRC: 0.1 - 0.3

Light reflection: 0.75

Standards: Gypsum boards are manufactured according to EN-520, ASTM C1396, E84 and E96

Humidity resistance: up to 95% relative
Product Specifications:

FAQ:
1. What kind of certificate do you have?
ISO9001, ISO14001, CE, SONCAP, VOI(CO), CARB, FSC, CE

2. What color can you produce?
You can choose the design you want

3. How about the delivery time?
20-25 days after receiving prepayment or L/C
For the samples, it will be prepared ASAP.

4. What's the MOQ and Payment Terms?
Minimum Ordering Quantity: 2X20ft Container
Payment Terms: T/T or L/C at sight


Images: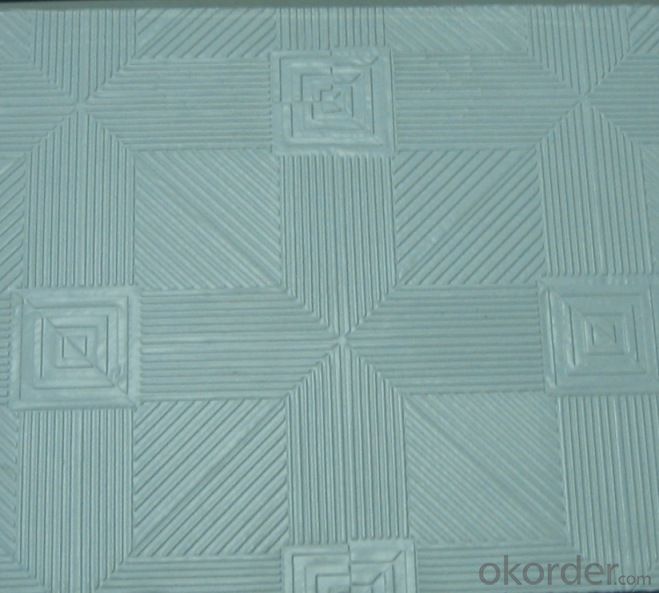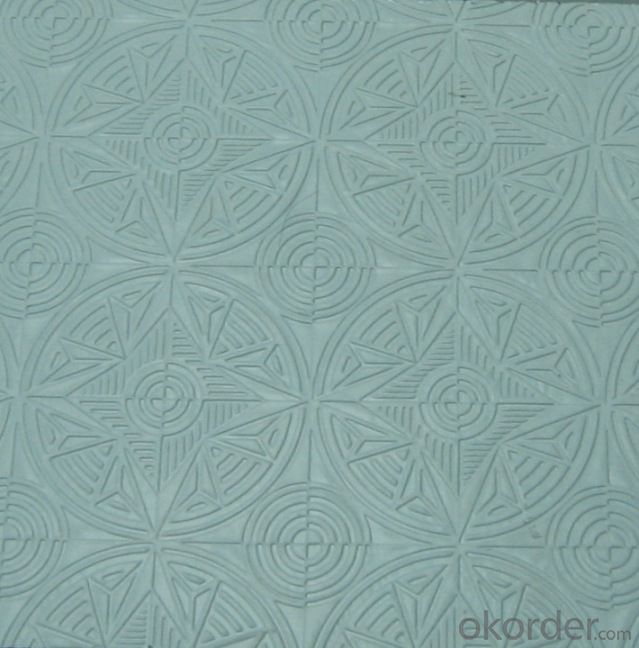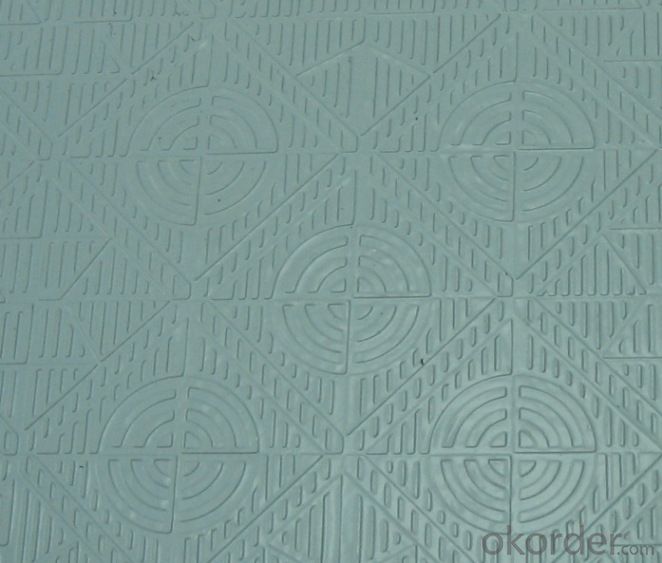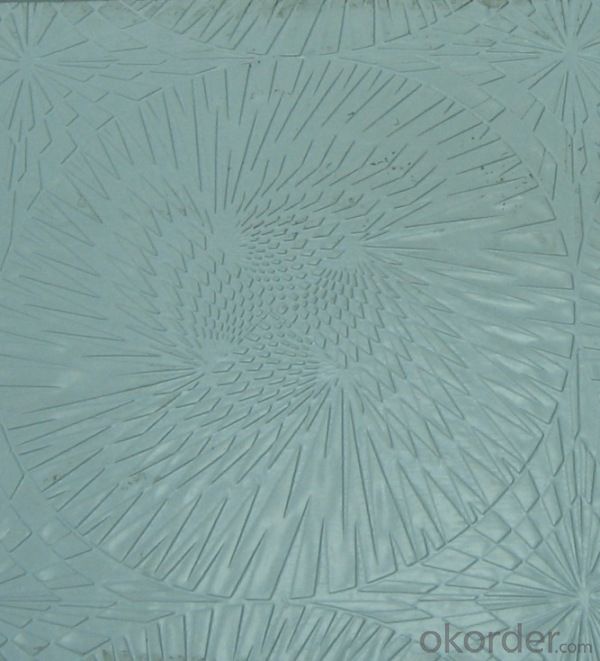 ‍
Q:Hi,How reliable it will be if i go for gyp board cubicles in my new office ?. Will it be able to bear the weight of Monitors ? How long it will last ?

Gypsum, usually called drywall, is typically screwed on to 2x4 or 2x2 wood framing as the finished wall or ceiling surface in a room. Drywall by itself has virtually no load-bearing strength; it certainly could not bear the weight of a computer monitor.
Q:Built-in lamp ceiling of the living room at least how much thickness, only enough possession of light. Built-in lamp ceiling of the living room at least how much thickness, was enough possession of light? Brick wall standard What is the thickness of the cement sand? living room, bathroom, kitchen, restaurant and other ceiling height at least how much?

100 to 200mm to possession of lights;
Q:What is the gypsum ceiling?

Ordinary paper gypsum board or ceiling with silicon calcium board (embossed gypsum board)
Q:How to install the ceiling on the gypsum board ceiling

Can be in the case of its permission in the gypsum board to open a hole in the light steel keel to add a piece of wood can be fixed lamps. You can also make an expansion bolt to add a wire to a wire.
Q:What is gypsum?

Gypsum is mainly produced in Hubei, Gansu, Sichuan, Anhui and other places. Can be harvested throughout the year, out of sediment and miscellaneous stones, grinding fine or with the use of calcined. Medicine: Gan, Xin, big cold To the meridian
Q:Living room ceiling in the end to do a good ceiling or plaster line is good

But the above said, but also according to your house to the high level, the level of the plaster board ceiling will be good to suppress. So it was done with plaster line.
Q:Gypsum ceiling why a long time there is a gap

Damp, according to the climate, have to use waterproof moisture board
Q:My interior decoration of a company about 170 square meters, gypsum board ceiling what materials are needed? Please master the details.

If it is a curve gypsum board ceiling or complex grade modeling need to add woodworking board. Special needs of the requirements of waterproof gypsum board, there are requirements in the gypsum board laying non-combustible board, these generally do not have access.
Q:Gypsum board ceiling, when digging holes, and installation should be noted

Note the following: Digging holes should be based on the size of the diameter of the downlight to dig, too large or too small will affect the use and beauty; Digging the hole position should be based on the location of the design to locate, that is, the layout of the lamp box position, can not offset the aisle will lead to late light line is not enough, can not access downlight. Dump the end of the hole when ready to wiring, it should be taboo to close the house under the headlamp line switch to prevent electric shock.
Q:I would like to thank you

You first need to know the size of the downlight, and then can be two ordinary nails nailed to the woods, the distance between the two nails is half the size of the hole; and then determine the center of the hole, Only nails nail in this central position, and then round the circle like a compass, so that you can break the gypsum board - at this time, a downlight hole to open well. In addition, building materials stores have finished products sold.
1. Manufacturer Overview

Location
Year Established
Annual Output Value
Main Markets
Company Certifications
2. Manufacturer Certificates

a) Certification Name
Range
Reference
Validity Period
3. Manufacturer Capability

a)Trade Capacity
Nearest Port
Export Percentage
No.of Employees in Trade Department
Language Spoken:
b)Factory Information
Factory Size:
No. of Production Lines
Contract Manufacturing
Product Price Range
Hot Searches
Related keywords