Item specifice
Material:
Polycrystalline Silicon
Max. Power(W):
200
Number of Cells(pieces):
1
---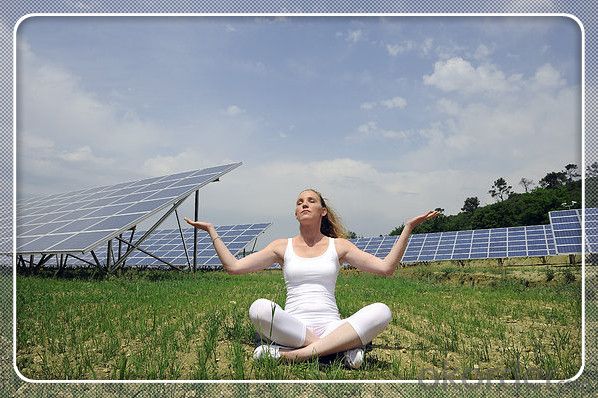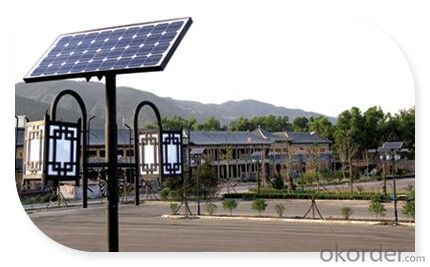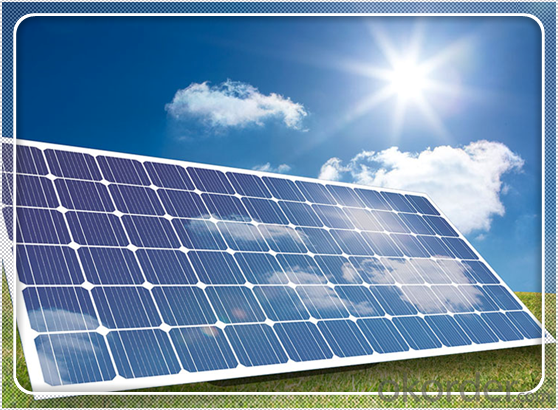 Solar Module Introduction
Solar Module is the core part of solar PV power systems, also is the highest value part of it. The function of Solar Module is to convert the sun's radiation to electrical energy, or transfer it to battery and store in it, or to drive the load running.
The Product has been widely used in space and ground, it mainly used for power generation systems, charging systems, road lighting and traffic signs areas. It could offer a wide range of power and voltage, and with high conversion efficiency, and long service life.
Solar modules use light energy (photons) from the sun to generate electricity through the photovoltaic effect. The majority of modules use wafer-based crystalline silicon cells or thin-film cells based on cadmium telluride or silicon. The structural (load carrying) member of a module can either be the top layer or the back layer. Cells must also be protected from mechanical damage and moisture. Most solar modules are rigid, but semi-flexible ones are available, based on thin-film cells. These early solar modules were first used in space in 1958.
Electrical connections are made in series to achieve a desired output voltage and/or in parallel to provide a desired current capability. The conducting wires that take the current off the modules may contain silver, copper or other non-magnetic conductive transition metals. The cells must be connected electrically to one another and to the rest of the system. Externally, popular terrestrial usage photovoltaic modules use MC3 (older) or MC4 connectors to facilitate easy weatherproof connections to the rest of the system.
Secification
| | |
| --- | --- |
| Model Type | |
| Peak Power-Pmax(W) | 5-200W |
| Open Circuit Voltage-Voc(V) | 44.2 |
| Maximum Power Voltage-Vmp(V) | 36 |
| Short Circuit Current-Isc(A) | 5.4 |
| Maximum Power Current-Imp(A) | 5 |
| Maximum System Voltage | 1000V DC |
| Maximum Series Fuse Rating | 10A |
| Power Tolerance | -1~+3% |
| Temperature Coefficients of Pmax | -0.45%/℃ |
| Temperature Coefficients of Voc | -0.348%/℃ |
| Temperature Coefficients of Isc | 0.031%/℃ |
| Nominal Operating Cell Temperature | 44.5±2℃ |
| Standard Testing Condition(STC) | Irradiance:1000W/m²;Temperature:25℃;AM=1.5 |
| Qualification Test Parameters | |
| Operating Temperature | -40℃~+85℃ |
| Storage Temperature | -40℃~+85℃ |
| Pressure Bearing | ≥5400Pascal/m² |
| Wind Bearing | ≥5400Pascal/m² |
| Mechanical Characteristics | |
| Cell Size | Mono 125*125mm±0.5 |
| No.of Cells | 72pcs(6*12) |
| Dimension | 1580*808*40mm |
| Weight | 15.5Kg |
| Glass | 3.2mm High Transmission,Low Iron |
| Frame | Anodized Aluminum Alloy |
| Junction Box | IP65Rated |
| Internal Diodes | 3 Bypass Diodes |
| Cable | 1*4.0mm² Length 900mm |
Images
Packing & Shipping:
We have rich experience on how to pack the panels to make sure the safety on shipment when it arrives at the destination.
The normal size is packed by 25pcs/ carton / pallet. Paper carton for FCL shipping and wood carton for LCL shipping.
Warranty:
For c-Si panel: 25years output warranty for no less than 80% of performance, 10 years output warranty for no less than 90% of performance. Free from material and workmanship defects within 5 years.
For a-Si panel: 20 years output warranty for no less than 80% of performance, 10 years output warranty for no less than 90% of performance. Free from material and workmanship defects within 2 years.
FAQ:
(1)What price for each watt?
It depends on the quantity, delivery date and payment terms.
(2)What is your size for each module? Can you tell me the Parameter of your module?
We have different series of panels in different output, both c-Si and a-Si. Please take the specification sheet for your reference.
(3)Can you provide the peripheral products of the solar panels, such as the battery, controller, and inverter? If so, can you tell me how do they match each other?
Actually we are only manufacturer of solar panels, but we could try to source them for you in China if you need. We could provide you an optimal system design to instruct you how to install.
(4)Do you have the CE, TUV, UL Certification?
We've already passed all the tests, and any certificate is available.
(5)Have you ever sold your products to companies in my country?
Of course, we have customers in all general PV markets, but I think we should expand our market share along with the market growth.
(6)When did your company set up? You are a new company, how can I believe your quality?
We entered into Solar PV industry in 2005, now we have several plants in manufacturing of a-Si and c-Si panels, and our capacity is 220MW per year. Till now we have already passed all the tests by authorized laboratories, e.g. TUV, VDE, UL.
(7)Can you help us install the module if we cooperate with you?
We haven't entered into installation sector, but we have the plan in near future.
(8) How do you pack your products?
We have rich experience on how to pack the panels to make sure the safety on shipment when it arrives at the destination.
(9) Can you do OEM for us?
Yes, we can.
(10)Can we visit your factory?
Surely, I will arrange the trip basing on your business schedule.
Q:

Yes, solar panels can be installed on a prison or correctional facility.
Q:I don't remember what number exactly but it's in the single digits. This number represents how efficient solar panels are at capturing the sun's rays and converting it into electricity.Why?

There are a lot of solar panels available today's. The problem of the efficiency is the proccess of converting, these cells use the photons of the sun to react with the ( Si compound inside the cell) due to the little thing that cell's are only a fraction of these energy is converted, remember that solar cells are paper thin and the really problem of these cells are the voltage not the amps. A single 3x6 inches solar cells can produce 3.6 amps but only 0.5 volts.
Q:Is it possible for the everyday person to increase the efficiency of solar panels that they own? If so, how is it done?

There are 3 (simple) ways to increase the efficiency of a solar panel at home - they all work by increasing the amount of light that falls onto it: . Have the solar panel track the sun throughout the day so that it always faces it; 2. Place a lens (larger than the panel) in front of the panel that focuses the light from the sun onto it. 3. Have mirrors around the panel than redirect light from themselves onto the solar panel. (e.g. imagine a satellite dish with the solar panel at the front and the dish being all mirrored.)
Q:

Yes, solar panels can be used for powering water treatment plants. Solar energy can be harnessed and converted into electricity to operate the various processes involved in water treatment, such as filtration, disinfection, and pumping. This renewable energy source can help reduce reliance on fossil fuels, lower operational costs, and contribute to a more sustainable and environmentally-friendly water treatment process.
Q:

Yes, solar panels can be installed on military vehicles or equipment. In fact, several military forces around the world have already started incorporating solar panels onto their vehicles and equipment as a means of reducing reliance on traditional fuel sources and enhancing energy efficiency. This not only helps reduce carbon emissions but also provides a sustainable and reliable source of power for various operations and equipment on the field.
Q:Ok so if i wanted to put a solar panel on my house and i live where it snows, will that be a problem? If the snow covers the solar panel will that be a problem? If so then do i have to climb on my roof and clear it off or what?

My sincere advice is forget about using a solar panel in your place. It is not suitable for your type of place.I am using three solar panel in my house. One is 30 watts driving an axial flow fan giving very good air for me and for my family people during day time. Another one is only 5 watts. Giving air for my face alone when I work on my lap top.Another 3 watts Panel I am using to determine the life of Panel that drives a mini motor for all the day time from the past 4 years.
Q:solar panels!!they are fantastic! cause they are the new way of quot;chargingyour home, without killing the earth!would you install them, or not? and make sure you say WHY

If your house was not built to include solar panels, it may encounter problems that most people do not consider. For example, your neighbor may plant trees nearby and they could shade your panels. Your house may not have good alignment with the sun, so your net hours of sunshine may be too small. If your local planning folks allow panels and your house is oriented properly to the sun and no trees will block the sun, I suspect it will be a good investment long term. Still the up front cost is high. I feel that common folk like myself would be better served if we could buy shares in our local power company by purchasing a number of panels ... offered and installed by them ... and that we would then get a net monitoring of both our own electrical use and a reduction on our electric bill for the portion of our investment. That way, it seems we could each make a small investment in solar and add to that investment as we earn more money ... and essentially eliminate the need for new centralized power plants. How many malls does your city have that are completely empty and could be returned to the community as a mini power plant site. My city is loaded with malls that nobody uses anymore. Businesses move and and fail because nobody goes there. They go to the new more sexy malls. Several of these outdated malls have power lines running directly through their empty parking lots. Why not have community solar investments in these sites? Every building could include solar panels and the entire parking lot could be covered with panels. The inside of the building could still be used for other routine purposes. The local power company would be the perfect organizer and maintainer. This way solar would not be so expensive. The cost would be shared by many and so would the rewards.
Q:hey, i am wanting to help our earth a little bit, and I was wondering how to do a solar panel connection for powering my home.... i just want to reduce my energy bill a little bit, Would these solar panels work?and how would i connect them?

Hello, Yes you definitely can use this kind of panels. Powering your home entirely will be an issue if you are not familiar with solar energy and electricity in general. If it's the case I'm afraid you'll need a specialist. The basic principle of a solar power system: - Solar panel to charge the batteries - DC to AC converter that will convert the DC voltage from your battery to AC voltage so that you can connect regular home appliances like lights or TV.
Q:In short, I have 2- 390 w panel's, MPPT Renogy 40a controller 2/24v 50 v max, ,000 w max. My 4 batteries are Interstate 6v 234 ah each. My Pure Sine Wave Inverter is a 4,000w 24 vdc to 20 vac. My Solar panel Specs are ASP390, VMP 50.4, IMP 7.83, VOC 59.87 and fuse 5a. My AC window unit is a cheapie Walmart 20 vac, 5a at 5,000 btu. The data plate says LRA 20a. Obviously this will be a 24 vdc system and what I'd like to know is if I'm better off wiring solar panels in series or parallel. Lastly, should batteries be wired series parallel or just in series? I'm hoping to run AC unit 8 hour's a day. I ordered watt meter too. My panels will lay flat and i live in southern Florida. Everything is NEW.
Q:How much is the cost of solar panels including installation for my home so that I can have low monthly power bills.

You can start as small as 7,500. It all according to how much you want to run off solar and your Environment. You can move into Solar slowly as the technology Improves every six months or so.
1. Manufacturer Overview

Location
Year Established
Annual Output Value
Main Markets
Company Certifications
2. Manufacturer Certificates

a) Certification Name
Range
Reference
Validity Period
3. Manufacturer Capability

a)Trade Capacity
Nearest Port
Export Percentage
No.of Employees in Trade Department
Language Spoken:
b)Factory Information
Factory Size:
No. of Production Lines
Contract Manufacturing
Product Price Range
Hot Searches
Related keywords