240W Poly Crystalline Solar Panel for Sale
Loading Port:

Shanghai
Payment Terms:

TT OR LC
Min Order Qty:

10000 watt
Supply Capability:

1000000 watt/month
OKorder Service Pledge
Quality Product
Order Online Tracking
Timely Delivery
OKorder Financial Service
Credit Rating
Credit Services
Credit Purchasing
---
Add to My Favorites
---
Item specifice
Material:
Polycrystalline Silicon
Max. Power(W):
240
Number of Cells(pieces):
60
---
Product Description
240W Poly Crystalline Solar Panel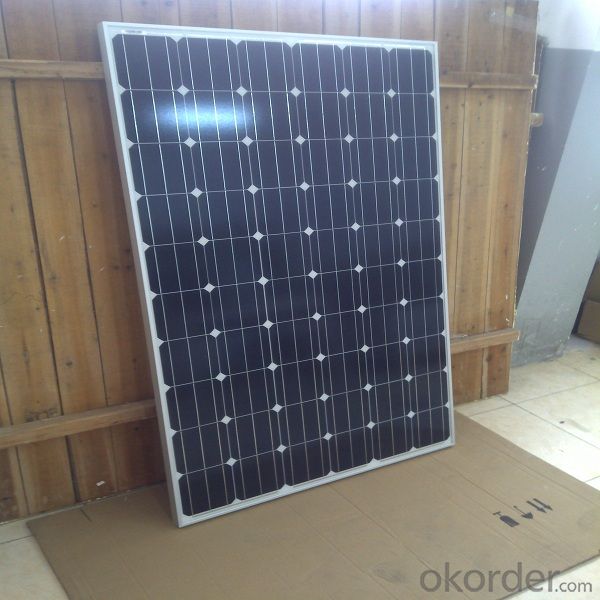 Product Highlights:

Specs

Electrical Characteristics

Maximum Power [Pmax]

240W

Power Tolerance

+/-3%

Maximum Power Voltage [Vmp]

29.8V

Maximum Power Current [Imp]

8.06A

Short-Circuit Current [Isc]

8.62A

Open-Circuit Voltage [Voc]

37.0V

Module Efficiency

14.75%

Max. System Voltage

1000VDC

Cell Size and Series

Poly 156*156 60pcs (6*10)

Temperature Coefficient of Pmax

- 0.47% /

º C

Temperature Coefficient of Voc

- 0.33% /

º C

Temperature Coefficient of Isc

0.05% /

º C

Mechanical Characteristics

Dimension (mm)

1640*992*40

Frame

Anodized Aluminium Alloy

Glass

3.2mm,High Transmission,Tempered Glass

Junction box & Cable
IP65 Rated weatherproof connectors
Cable: TUV 1x4.0mm2 / UL12AWG,Length:900mm
Weight

19.0Kgs
Industry-leading Warranty:
Warranty on material and workmanship: 10 years
Guaranteed output of 90% after 12 years and 80% after 25 years.
FAQ:
1.Price per watt?
It depends on the quantity, delivery date and payment terms.
2.Parameter of the module?
We have different series of panels in different output, both c-si and a-si. please take the specification sheet for your reference.
3.Can you provide the peripheral products of the solar panels, such as the battery, controller etc.?
We have two companies(CNBM International & CNBM engineering Co.) with different approaches. We can supply not only the solar module but also Solar Cells, off grid solar system, even service with on grid plant.
4.Warranty policy?
Our product performance guarantees for 25 years
• 12 years guarantee for workmanship
• Timeliness of delivery
• Quality Products certified (TÜV, UL, CE, ISO)
5.Lead time?
In 3 days after purchasing, we will arrange the factory delivery ASAP. The specific time of receiving is related to the state and position of customers. Commonly 7 to 10 working days can be served.
Q:can anyone help me? i was thinking of installing solar panels to cut bills but would it be a waste considering its gonna need a circulating pump running almost 24/7 (which will use electricity) and even still will only provide me with quot;warmwater? also would it be possible to install the solar panels for the sole purpose of providing sufficient power to run electric heaters instead of using gas/oil? this way allowing me to have a warm house without the expensive bills. brobably talking about running 7 heaters/electric radiators.

Are you thinking of installing electric solar panels or thermal solar panels or both? It would be better to install electric solar panels for electric heating. You can run 7 heaters as long as you do the calculations for the number of panels need for the daylight hours, and the required battery bank to supply the required power.
Q:

Yes, solar panels can be used in areas with high levels of noise from transportation. Noise pollution does not affect the functionality of solar panels as they primarily rely on sunlight to generate electricity. However, it's important to ensure that the panels are properly installed and maintained to maximize their efficiency and minimize any potential disruptions caused by noise pollution.
Q:Hi! I bought a Coleman 2 vdc cooler that pulls 9 amps. What size solar panel and amp-hour battery do I need? I only open it 3 times a day. It will hold about 3 gals of milk.

If it pulls 9 amps continuously, that's 08 watts/hour or about 2.5 kwh/day. If it only pulls half that (does it cycle?) it's about .2 kwh/day. You only want to drain a lead-acid battery 50% or so, so you'll want a 5 or 2.5 kwh battery pack. A typical setup for the 5 kwh would be two L-6 batteries in series, and for the 2.5 kwh you could use 2 T-05 batteries in series. This does not account for days of cloud. If you regularly have cloudy days, size the battery pack for two or three days of use with no input (2-3 x the sizes given above). To charge them, you typically want panels that will charge your battery at least 5% of its capacity per hour (C/20). For 2 volt nominal panels that's 0 amps for the T-05 or 20 amps for the L-6 batteries. It's good to have more than that for battery life (it cuts down on what's called stratification), so you'll want probably 50-200 watts of panels for the T-05 and 300-400 for the L-6. You'll also need a charge controller. Peltier coolers are very inefficient. You'll save money by using a regular mini-fridge and an inverter. Most mini-fridges only draw 50 watts or so, so you're talking 600 watt-hours for a 50% duty cycle. This means two T-05 batteries will give you two days of use and you'll only need 20-50 watts of panel. DK
Q:

Yes, solar panels can be used to power remote monitoring systems. Solar panels generate electricity from sunlight and can charge batteries or directly power devices. This renewable energy source is ideal for remote locations where access to the electrical grid is limited or unavailable. Solar panels can provide a reliable and sustainable power solution for remote monitoring systems, ensuring continuous operation without the need for frequent battery replacement or reliance on fossil fuels.
Q:

Yes, solar panels can be successfully used on boats or RVs. In fact, they are increasingly popular for these applications due to their ability to generate clean and renewable energy while on the move. Solar panels can provide power to charge batteries and run various onboard devices, making them an excellent choice for boating and RV enthusiasts seeking energy independence and sustainability.
Q:I found portable solar panels used for boats etc. and was wondering how I could effectly use them for my home instead. If you have used them in the past, please tell how they worked (good or bad).

Most people think all one needs is some solar panels to make power. It doesn't usually work that way. On a boat it is easy because most boats use batteries and DC power. If all you want to do is make DC power, you will need a battery to hook your portable unit / units to. You can then use the battery to supply power to something that uses battery power. You may need a voltage converter if the device is not 2 volt. To use the power you get from solar panels for AC power like your house has, you need a regulator, inverter, and controller to change the DC output from the panel (s) to AC and then control the power into your electric system. You also need a unit from your electric company installed. A decent minimal solar system for an average house may cost around $5000 - $0,000. It will take many, many years to pay back. For a full-use system with generator, it will probably take $30,000 - $40,000 IF you don't use it for air conditioning. If you live in an area where you have a lot of cloudy days, it will take many, many, many, many years to pay back. The reason everyone isn't using solar power is because it is not cheap and has not been cost-effective for most situations. Most Americans would not like it's inconvenience at times. It is not new science. It is in use many places and well known. It is great for some applications and as fuel and electrical power cost increase it will be used more. Don't believe the media and hollywood. They are not interested in truth. They are just interested in making you believe their way. Study and learn.
Q:I know what they do and how they work, but at this point they're expensive, don't always produce enough electricity as needed, and can't be used when there's no sun, as in half the day. Wouldn't wind power seem so more efficient? Or if they do use solar panels, how about putting them in the desert. But I really believe that research money should go to fusion generators since that's the future and the answer to our problems. Which is best in your opinion?

It absolutly depends on where you live. I don't have enough wind in my area for a wind turbine to do any good. I just installed solar, the system will pay for itself in about 6 years. I didn't get a system that will zero out my electcity usage, but it will dramatically be decreased. I can always add to it in a few years. Since I plan on living here forever I will see a great financial benift.
Q:I know that there is a life expectancy for solar panels, and I suppose, the technology involved. Any information?

All okorder /... PV warranties typically allow for 20 percent output degradation over the module's 20- to 25-year warranty life. But measurements of many modules put into service in the 980s show that it's unusual to see even half that much degradation. Many of those earliest modules still perform to their original specifications. It is safe to say that modules carrying warranties of 20 years or more have a high probability of working well 30 years from now
Q:

Yes, solar panels can be used to charge electric vehicles. By harnessing the energy from the sun, solar panels can convert sunlight into electricity, which can then be used to charge the batteries of electric vehicles. This provides a sustainable and environmentally friendly way to power electric vehicles.
Q:

Yes, solar panels can be used in areas with high winds. However, it is important to ensure that the solar panel installation is designed and built to withstand the specific wind conditions of that area. This may involve using appropriate mounting systems, securing the panels properly, and considering the orientation and tilt angles. Additionally, selecting high-quality materials and conducting regular maintenance can help ensure the longevity and performance of the solar panels in high wind areas.
1. Manufacturer Overview

Location
Year Established
Annual Output Value
Main Markets
Company Certifications
2. Manufacturer Certificates

a) Certification Name
Range
Reference
Validity Period
3. Manufacturer Capability

a)Trade Capacity
Nearest Port
Export Percentage
No.of Employees in Trade Department
Language Spoken:
b)Factory Information
Factory Size:
No. of Production Lines
Contract Manufacturing
Product Price Range
Hot Searches
Related keywords