100% SMS Nonwoven Fabric, Spunbond PP Non Woven Fabric, TNT Non Woven Fabric
Loading Port:

Shanghai
Payment Terms:

TT OR LC
Min Order Qty:

1000 kg
Supply Capability:

10000 kg/month
Inquire Now
Customer Service
OKorder Service Pledge
Quality Product
Order Online Tracking
Timely Delivery
OKorder Financial Service
Credit Rating
Credit Services
Credit Purchasing
---
Add to My Favorites
---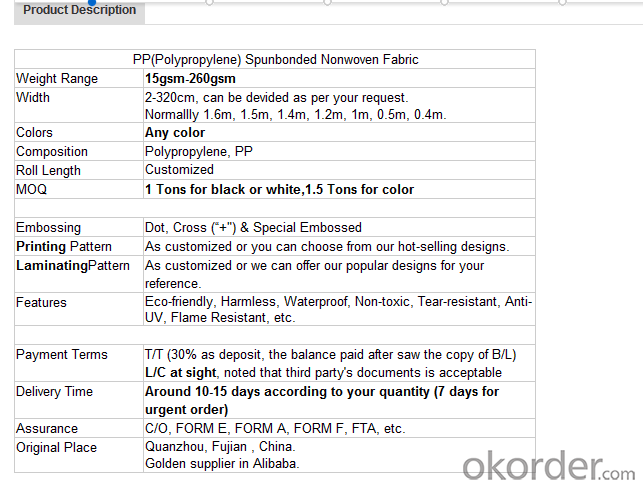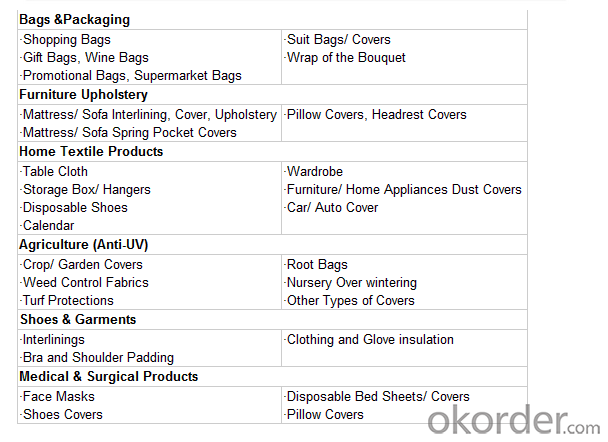 We are recognized as a reliable Manufacturer, Exporter and Supplier of Non Woven Fabric. We can provide Non Woven Fabric in any gram/m2 and any colour required by customer. Non Woven Fabrics are broadly defined as sheet or web structures bonded together by entangling fiber or filaments (and by perforating films) mechanically, thermally or chemically. PP Spun bonded Non woven Fabrics are produced using a precise extrusion-based technology. The polymer is stretched into a continuous filament and loosely spread onto a conveyor belt to form the web. Air is used to form and lay the fabric filaments. On the other hand, some non woven fabrics can be recycled after use, given the proper treatment and facilities.
Product Specifications
Weight: 10 - 150 gsm

Width: Max 1600 mm (can be slit)

Fabric Roll Length: As per buyer's need ( 200 - 1200 Mtr)

Color: various colors available.

Procedure of production: Spun bonded Non Woven, Diamond design

Material: polypropylene

Minimum Order: 1000 Kg

Sample: sample free, freight collect
Product Application
Non woven fabric manufacturers usually manufacture the fabric in a roll form. It is then sent to various other industries where it has end applications, where is it cut and given different form depending upon the use. They can also be used in combination with different materials and offer a wide range of products.

Colored Non woven fabrics are use in many sectors and variety of applications, such as Health, Hygiene, Medical, Packaging, Agriculture, Furniture Upholstery, Geo Textiles, Leather Industry, Shoes and Garments. Customers come from the textile and automotive industries as well as many other sectors.
Q:The Development of Textile Industry

From the international environment, the international market is still a large expansion of space and opportunities. With the end of 2007, China and the EU textile limit expires, the end of 2008 the end of the Sino-US textile quota limit, the Chinese textile quota era is approaching, accounting for more than 60% of the global textile market share of the region fully open, will bring to China's textile trade Great opportunity.
Q:What is a large circular machine and a small circular machine in the textile?

First, the circular machine and the small round machine is based on the weaving plant to produce the width of the fabric to determine, not according to its price and the quality of the fabric produced by the request.
Q:The difference between double distribution and processing in textile fabrics

Distribution - that is, you buy fabrics, only the money on the line, all of them will give you a good job.
Q:What kind of textile is China's export to the United States?

In 2006, I exported US $ 7.6 billion (17% of all US exports), $ 5.8 billion (36%) of knitted garments, $ 2.7 billion for home textiles, Dollar (17%).
Q:Performance requirements for textile fibers

The abrasion resistance of the fiber is closely related to the fastness of its textile products. The wear and tear of the pros and cons is the performance of clothing with fabric is an important indicator.
Q:Differences between textile mills and garment factories

In order to have fabric sent to the garment factory made of clothes. Garment factory is made of various kinds of fabric clothing;
Q:DTY FDY POY What are the textile raw materials?

FDY: full stretch silk. Full name: FULL DRAW YARN. The synthetic filament filaments were further prepared by spinning. The fibers have been fully stretched and can be used directly for textile processing.
Q:From the yarn to the finished textile fabric production process is how

Including aliphatic PA, fat-aromatic PA and aromatic PA. Among them, the aliphatic PA varieties, large output, widely used, the name of the monomer by the specific number of carbon atoms
Q:Antistatic fabrics of textile electrostatic materials

It has long been found that when the two insulators are rubbed and separated from each other, the dielectric coefficient, the higher object is positively charged, and the dielectric coefficient is low with a negative charge. This is the law found at the end of the nineteenth century, and this rule is consistent with many experimental results
Q:Textile industry after finishing what pollution, especially air pollution

At least chronic poisoning for humans and animals is usually the government in order to create achievements or to meet the personal interests of individual officials will be so because of chronic poisoning, after all, there are three or five years or even 30 years of concealment proposed to the Provincial Environmental Protection Office to call complaints or petition
1. Manufacturer Overview

Location
Year Established
Annual Output Value
Main Markets
Company Certifications
2. Manufacturer Certificates

a) Certification Name
Range
Reference
Validity Period
3. Manufacturer Capability

a)Trade Capacity
Nearest Port
Export Percentage
No.of Employees in Trade Department
Language Spoken:
b)Factory Information
Factory Size:
No. of Production Lines
Contract Manufacturing
Product Price Range