Nonwoven Fabric Wholesale Spunbond Polypropylene Non Woven Febirc
Loading Port:

Shanghai
Payment Terms:

TT OR LC
Min Order Qty:

1000 kg
Supply Capability:

100000 kg/month
Inquire Now
Customer Service
OKorder Service Pledge
Quality Product
Order Online Tracking
Timely Delivery
OKorder Financial Service
Credit Rating
Credit Services
Credit Purchasing
---
Add to My Favorites
---
Eco-friendly Polypropylene PET Spunbond Non-woven Fabrics Made in China

Our products have been widely used in the field of medical& sanitary, industry &agriculture, and construction &daily-used products such as agriculture plant covers, roof waterproof materials, disposable items for medical and industrial applications, liners for furniture, lining in cases,apparel, warm facilities, bedding products, sofas, packing materials, packing material land mulriple cloth shopping bags, suits and garment covers, Industrial protective coveralls, garment accessory materials, bed articles, medical and sanitary articles as well.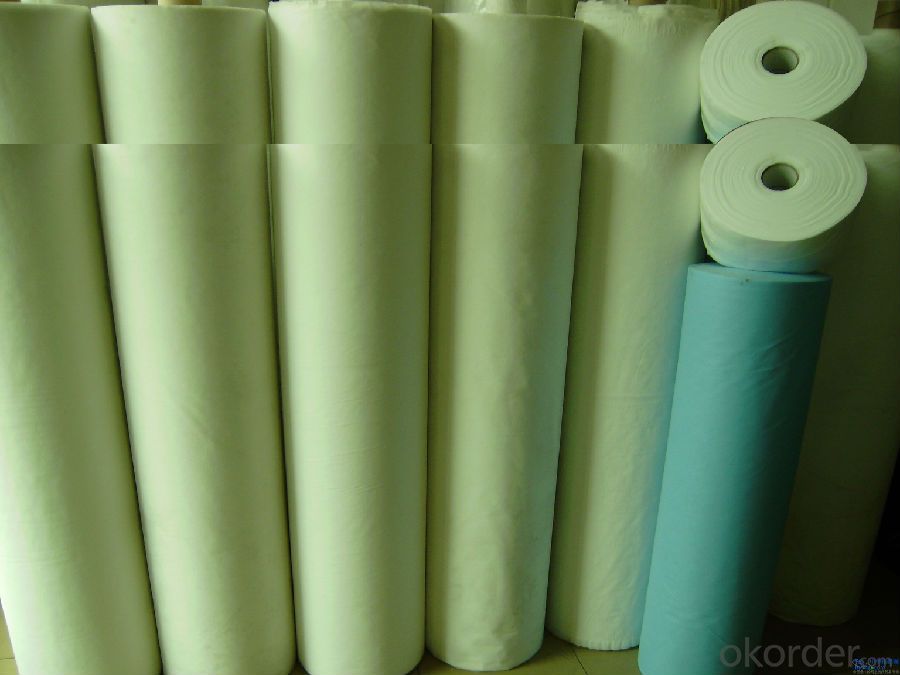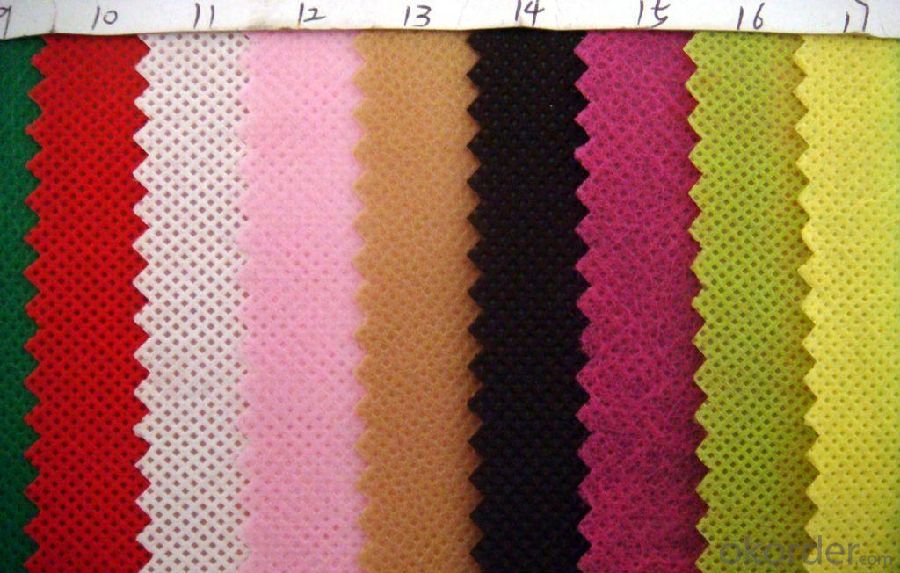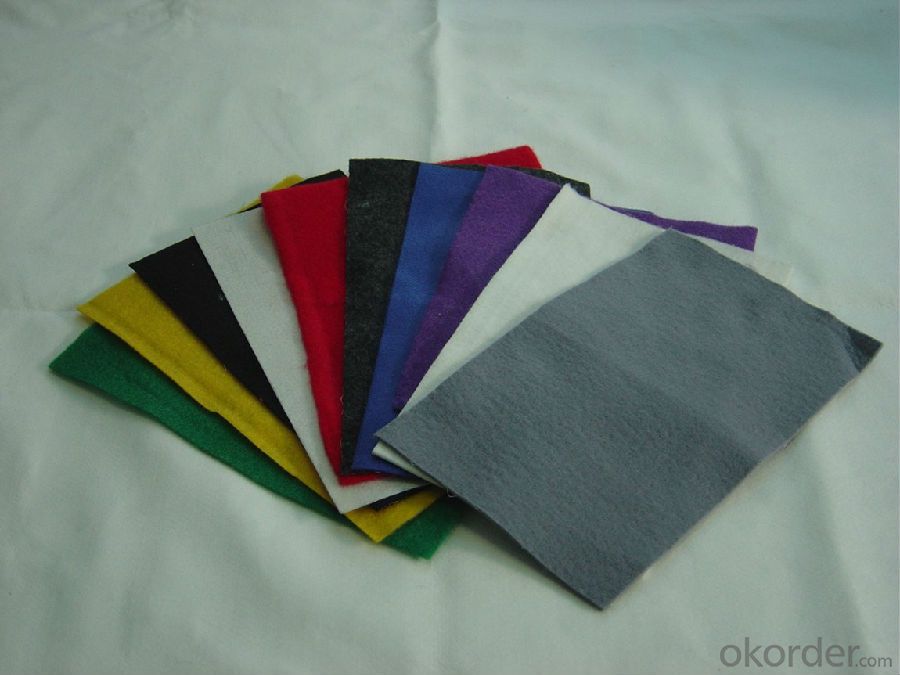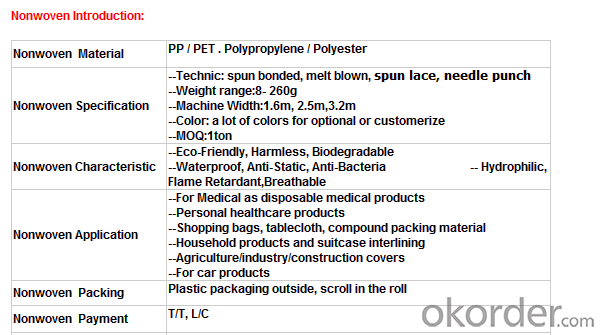 Our Service:
Within 24 hours reply ;
Well-trained and experienced staffs in English;
OEM & ODM , Customized are warmly welcomed , or design for you ;
Protecting customer's privacy and profits;
Make sure the quality is approved , or we pay the return or remake them at once .
Nonwoven Advantage:
1. Light: Polypropylene is the main raw material; specific gravity is 0.9, is only third five, fleecy and touches well.
2. Flexibility: made up of microfiber (2-3D), dot by dot thermo-melt formed. Flexibility of products is suitable, comfortable.
3. Water resistance and breathability: slices of Polypropylene and finished products resist water, breathable and easy to maintain and wash.
4. Non-toxic, non-irritating: made of materials which catch up FDA standard, without other chemical composition, stable, non-toxic, no smell, safe for sensitive skin.
5. Anti-bacterial, anti-chemical: Polypropylene is blunt chemical substances can protect in liquid from bacterial and insects; antibacterial, alkali corrosion, erosion and the finished product will not affect sensitive skin.
FAQ:
Q: What standards are you carrying out for your products?
A: We produce according to the ISO9001 and ISO14001 rules.
Q: How to install the machine?
A: We will arrange 1~2 engineers to your factory to guide installation and assembly.
Q: What's your international market?
A: We Have exported to about 40 countries and regions all around the world, such as, the USA, France, Singapore, Australia, Middle East, Brazil, Peru and so on.
Q: Do you sell steel shot or steel grit which can be uses in shot blasting machine?
A: We have four production lines for steel shot and steel grit production, one work shop for steel cut wire shots, and one workshop for stainless steel shot and Aluminium shot and so on.
Q: Do you have the right to export?
A: Yes, we registered in the Customs and gained the right to export by ourselves.
Q:The difference between double distribution and processing in textile fabrics

Double distribution - that is, fabric fabric is where you specify, they buy, processing, and then sold to you.
Q:What are the invoices for the textile industry?

Ordinary invoices can not be deducted, VAT invoices for input tax can offset sales tax
Q:Buy two large round machine to do processing, in Changshu side of the textile processing to do it?

In addition, Changshu City, the main clothing market. There are many wholesale trade clothing, for example, there are many in the vicinity of Changshu bus station.
Q:What are the products produced by the textile mill?

From the ingredients that have: cotton, wool, silk, linen and chemical fiber, man-made fibers (viscose fiber).
Q:What are the test tests for the color fastness of textiles?

13, resistant to non-chlorine color fastness 14, resistance to chlorine color fastness 15, acid color fastness 16, alkali color fastness 17, water-resistant color fastness 18, resistance to organic solvent friction color fastness
Q:What is the earliest textile tool?

In 1975, Zhejiang Yuyao Hemudu Neolithic sites, unearthed spinning special, tubular bone needle, playing carpets and bone knife, wire rods and other textile tools. This is more than six thousand years ago has been the earliest original loom evidence. It is also the earliest original weaving tool found in the world so far.
Q:Analysis of import and export of textile

From the first eight months of 2011 to the first eight months of 2014, the industrial added value of textile enterprises above designated size increased by 10.7%, 10.8%, 8.3% and 7.4% respectively according to the constant prices, respectively. In the first eight months of 2014, the main indexes of textile enterprises above designated size Has entered the single-digit growth, of which the main business income growth of 8.2%, exports increased by 5.7%.
Q:Is there a large yarn factory or a textile garment factory?

Clothing (to fabrics, accessories all complete): cutting, film, sewing, ironing, inspection, packaging. The fastest 7 days out of the finished product. Above are theoretical calculations, and the actual difference
Q:What is the use of polyurethane TPU hot melt adhesives in textiles?

Adhesive interlining is made on the surface of the fabric. When used, the adhesive lining is cut into the desired shape and size, and the side coated with the hot melt adhesive is thermocompression bonded to the back of the other fabric material (fabric). It lined in the clothing layer, as the backbone of clothing, simplifying the garment processing technology and time, so that clothing with light, beautiful, comfortable, security type, washable, durable and many other effects.
Q:Today, the national textile market prospects

This is both the enterprise's own efforts, but also thanks to the policy support. "In the Chinese textile industry in the new century the most difficult winter, to achieve the wind and wind is not just a lion Danan a
1. Manufacturer Overview

Location
Year Established
Annual Output Value
Main Markets
Company Certifications
2. Manufacturer Certificates

a) Certification Name
Range
Reference
Validity Period
3. Manufacturer Capability

a)Trade Capacity
Nearest Port
Export Percentage
No.of Employees in Trade Department
Language Spoken:
b)Factory Information
Factory Size:
No. of Production Lines
Contract Manufacturing
Product Price Range