Specifications of PU Coated Fiberglass Fabric:
Width: 40 - 80 inch

Thickness: 0.2 - 0.6mm

Weight (coating): 30 g/ m2-200 g/ ㎡

Coating surface single coated, double coated

Color silver grey, black, red, white and etc.

Package: 50 yards/roll, 100 yards/roll

Properties flame retardant, non flame-retardant, high flexibility and etc.

Customized specifications, colorand package is available.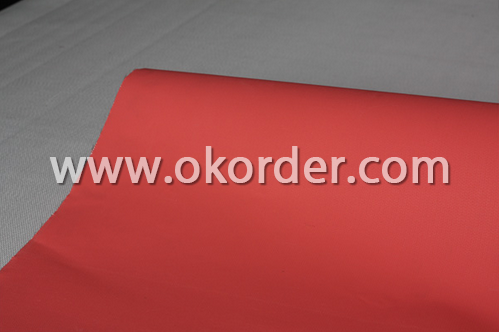 Application of PU Coated Fiberglass Fabric:
Can be used for waterproofing in roof, underground projects, bridges, drainage channels, reservoir and disposal of sewage and etc, also applied to motor, chemical plant, equipment of power plant and so on.
Q:What is the use of alkali resistant fiberglass mesh cloth on the exterior wall?

How to identify quality problems of alkali resistant glass fiber cloth, glass fiber cloth market price of 1. of the worst is usually around 1 yuan -1.60 yuan, his glass fiber is usually made of some kind of waste glass beer bottles, the production process for clay crucible drawing, production process is prohibited by the state, the surface coating is non alkali resistant emulsion. From the intuitive point of view: the work is relatively rough, generally sold in the market volume of the theory, often lack of length, grams of weight is not enough, two fold on the break, the contact is not firm, easy to shift, and easy to stab the skin. In the insulation layer in general in the two months after the loss of strength using the grid cloth, if the mortar off grid cloth out, just gently crushed, fiberglass yarn is made into powder.
Q:How is fiberglass mesh used?

Brushing the wall latex Putie mesh cloth, mesh cloth to Putie formation, Jiecha overlap should be at least 50MM, to be completely dry after the wall, and then carry out the procedure.
Q:How to fill the sample size of glass fiber mesh cloth, fill what general specifications

Mesh size: 5mm*5mm, 4mm*4mm: net weight: 80g---160g/ square meters per roll length: 50m, 100m or 200m.
Q:What are the transverse and longitudinal tensile forces of alkali resistant glass fiber mesh cloth?

The reason: the current domestic weaving factory method or pre roll beam weaving, and net fabric warp yarn and weft yarn is usually, roving, the intensity is greater than the warp weft. Secondly, to weave is usually weaving, woven to the continued strength of more than.
Q:What kind of wall fabric is covered with fiberglass mesh? Do you apply the powder or the powder? Thank you

Most of the fiberglass mesh is used for the powder, but also outside powder, but at present there is no domestic how expensive, too expensive!
Q:Where is fiberglass mesh better?

Quality and import gap is not large, but prices are significantly lower. If you do not take the price into consideration, it must be the best of the imports.
Q:Can indoor glass fiber mesh cloth be stuck with wall tiles?

Yes, glass fiber mesh is used for roofing, waterproofing and gypsum, marble, mosaic and other wall or plate reinforcement.
Q:What are the fiberglass mesh fabric manufacturers?

Glass fiber mesh cloth, also called fiberglass mesh, mesh cloth, heat insulation, it can be divided into standard type glass fiber cloth, glass fiber cloth reinforced, flame retardant glass fiber mesh and self-adhesive fiberglass mesh cloth four.
Q:Glass fiber mesh fabric stereotypes poor, general use of glue is acrylic emulsion, please add what accessories, you can finalize a better shape

To increase the penetration of some surface active agent, increase the permeability of the emulsion, adding some phenolic thermosetting resin, melamine formaldehyde and improve sizing effect, to prevent the resurgence of soft, adding cationic film plasticized thermosetting resin while reducing fiber absorption and softening fiber
Q:Where are the steel wire mesh and the alkali resistant grid cloth used in the exterior wall insulation?

The wall is filled with aerated blocks. Use shotcrete interface agent and then steel wire mesh. Is the foundation for the structure of the wall, after the thermal expansion and contraction, plastering no hollowing, cracking. Using mesh cloth for full paving. To reach the wall roughness, strengthen the surface cohesion, and consolidate the grassroots. Steel nets are generally used in the decoration, in the masonry wall and the original wall of the junction, but also can be used in the light body wall reinforcement. Mesh cloth is suitable for use in many parts.
We supply the following categories of products: Aluminized Fiberglass Cloth, Phenolic Foam Air Duct Panel, Polystyrene(XPS) Foam Insulation Panel, Polyurethane(PU) Sandwich Panel, Phenolic Foam Panel with Colored Steel, Aluminum Foil Tape and Fiberglass cloth, which meets Chinese and international standard -- bringing the benefits of thermal insulation, flame-resistant, fire safety, moisture resistance, anticorrosion, and acoustic insulation.
1. Manufacturer Overview

Location
Jiangsu,China
Year Established
2002
Annual Output Value
US$10 Million - US$50 Million
Main Markets
North America
South America
Eastern Europe
Southeast Asia
Africa
Oceania
Mid East
Eastern Asia
Western Europe
Company Certifications
ISO9001:2000
2. Manufacturer Certificates

a) Certification Name
Range
Reference
Validity Period
3. Manufacturer Capability

a)Trade Capacity
Nearest Port
SHANGHAI,NINGBO
Export Percentage
31% - 40%
No.of Employees in Trade Department
6-10 People
Language Spoken:
English, Chinese
b)Factory Information
Factory Size:
5,000-10,000 square meters
No. of Production Lines
Above 10
Contract Manufacturing
OEM Service Offered Design Service Offered Buyer Label Offered
Product Price Range
Average