Polypropylene Spunbonded Nonwoven Fabric
Loading Port:

Shanghai
Payment Terms:

TT or LC
Min Order Qty:

1000 kg
Supply Capability:

10000 kg/month
Inquire Now
Customer Service
OKorder Service Pledge
Quality Product
Order Online Tracking
Timely Delivery
OKorder Financial Service
Credit Rating
Credit Services
Credit Purchasing
---
Add to My Favorites
---
Good Material eco friendly material roll polypropylene nonwoven fabric
Product discription
Composition

100%polypropylene

Technology

Spunbond

Size

As your requirement

Weight

8gsm-260gsm

Width

10cm-320cm

Color

As customer request

Usage

1.Shopping bags,tablecloth,compund packing material,Filter material
2.Medical field :Face mask Surgical gown,protective clothes,operation cover,cap,shoe cover,bed sheet etc.
3.Sanitary and Health:Baby&adult diaper,feminie hygiene,hygiene pad,etc
4.Agriculture and horticulture cover

Sample time

3-5days

production

15days after sample confirmed

Packag

Packed in rolls,with 2" or 3"ID core inside, poly bags outside, loaded by 20GP or 40 HC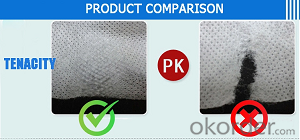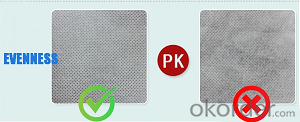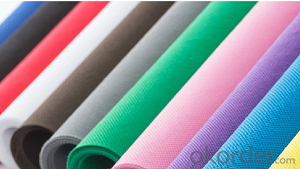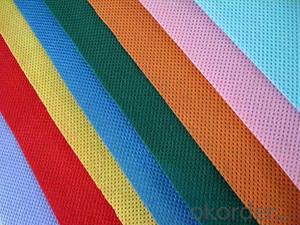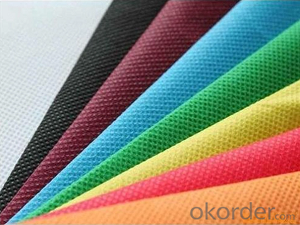 Packaging & Shipping





FAQ
1. Q:Are you a factory or trading company?
A:We are a factory
2. Can I get samples first of my own design, and then start the order?
A: Yes, of course.Making samples fee will be needed and shipping fee as well
3. What are your payment terms?
100%TT for small order,otherwise 30%TT as deposit,70% before delivery or L/C at sight.
Welcome to contact us for more details!!!
Q:What material is the Gong Duan?

Twill: the warp and weft are interleaved at least once between the 1 yarns, i.e., 2, 1, or 3. The fabric structure is changed by adding warp and weft points, which is called twill fabric. This kind of cloth is characterized by its relatively thick and strong three-dimensional structure. There are 30 branches, 40 branches and 60 branches.
Q:What is a composite fabric?

Composite fabric is a kind of superfine fiber used in special textile processing and unique dyeing and finishing, and then processed by compound equipment. Application of composite fabric "high technology and new materials of new synthetic fiber", with many excellent properties (compared with ordinary synthetic fiber), such as fabric performance, fine clean delicate, elegant, warm, fabric appearance plump, windproof, breathable, waterproof function, fabric warm and good.
Q:How can you tell what fabric is made of?

Clothing fabrics are divided into: A. cotton, B. linen fabric, C. wool fabric, D. silk fabric, E. chemical fiber fabric, F. knitwear fabric, G. fur and leather fabric
Q:What fabric is 90%polyester 10%elastane?

Hello, fabric is:90% polyester, also known as: polyester fiber,10% of elastic fibers.This is the fabric of the dress, generally used for stockings, thank you!
Q:What are the ingredients of knitted fabric?

The warp knitted fabric: polyester, nylon, vinylon component, polypropylene fiber or synthetic filament, cotton, wool, linen, silk, chemical fiber and blended yarn. The warp knitted velvet fabric has a dense surface and feels very nice.Warp knitted fabric, longitudinal structural stability, good dimensional stability, fabric stiff, raveling, not curling, good ventilation and so on.
Q:What is the general material of men's windbreaker?

Woolen coat lining generally has two kinds, with satin, taffeta or. Satin fabric dyeing and finishing process is in the postprocessing extension, the density increased, feel more soft, more development.
Q:What's the difference between spunpoly and polyester fabrics?

Polyester, that is, everyday polyester fabrics. Is a synthetic fiber in an important species, but also our country's polyester fiber commodity name, chemical abstracts number (CAS No.) for 113669-95-7. It is a pure terephthalic acid (PTA) or terephthalic acid methyl ester two (DMT) and ethylene glycol (EG) as a fiber polymer, polyethylene terephthalate as raw materials by esterification or transesterification and polycondensation prepared (PET), the spinning and postprocessing fibers.
Q:What's the difference between knitting cotton and pure cotton?

In fact, cotton and knitting cotton is not much difference. Knitting cotton is a fabric made of cotton through the machine. Therefore, it is very healthy and has no harm to the body. Two kinds of fabrics have certain advantages, but also has certain shortcomings. The disadvantage of knitting cotton is that the warp and weft of fabric is larger, and there is no good warmth of cotton. However, its dyeing process is very good, but cotton is shrinking more serious, and easy to deformation, and to really say both of which is better, but also according to their preferences to decide.
Q:What material is lamb wool?

CashmereBasic componentCashmere is usually made of 100% polyester or blended with acrylic fibers. It can also be 100% pure wool, or wool blended with chemical fiber.CharacteristicFirst, the appearance of light and clean, with good breathability and drapeTwo, soft texture, thin transparent, feel smooth and elasticThree, wear on the body, a strong sense of comfort, very elegantFour 、 after high temperature shrinkage treatment, it is difficult to deformation and wrinklingFive, good physical properties, high fiber strength, wear-resistant, durable wearSix. Good chemical properties, alkali resistance, chemical resistance, insect resistance, mildew resistance.
Q:What material is the brushed fabric

Fluff direction pattern area and non pattern area brushed fabric highlights the opposite pattern within the region pattern of three-dimensional, full of fashionable breath.
1. Manufacturer Overview

Location
Year Established
Annual Output Value
Main Markets
Company Certifications
2. Manufacturer Certificates

a) Certification Name
Range
Reference
Validity Period
3. Manufacturer Capability

a)Trade Capacity
Nearest Port
Export Percentage
No.of Employees in Trade Department
Language Spoken:
b)Factory Information
Factory Size:
No. of Production Lines
Contract Manufacturing
Product Price Range