Plug Trays (Growing and Seedling) Greenhouse Usage HIPS Made Plastic
Loading Port:

China main port
Payment Terms:

TT OR LC
Min Order Qty:

3000 pc
Supply Capability:

50000 pc/month
OKorder Service Pledge
Quality Product
Order Online Tracking
Timely Delivery
OKorder Financial Service
Credit Rating
Credit Services
Credit Purchasing
---
Add to My Favorites
---
Brief Introduction to CNBM:
CNBM International Corporation (CNBM International) is the most important trading platform of CNBM Group Corporation, a state-owned company under the direct supervision of State-owned Assets Supervision and Administration Commission of the State Council.
CNBM International is highly recognized by its business partners and clients all over the world and has obtained rapid development under the spirit of win-win. We will carry on the mutual beneficial, innovative and revolutionary trading structure as we did before, create value for our employees, share holders and clients and benefit the whole society in our future development.
Features of Plug Trays (Growing and Seedling) HIPS Made Plastic Plug Tray for Greenhouse:
· Material: HIPS
· Thickness: 0.5mm-1.5mm, Standard:1mm
· Weight: 80g(±5)g-230g(±5)g, Standard weight:155g(±5)g
· Size: length:490mm-540mm, width:190mm-345mm,depth:25mm-150mm
· Standard:540mmX280mm
· Cell count: 18-512
· Package: In Carton
· Warrenty: 8-10 times
Picture: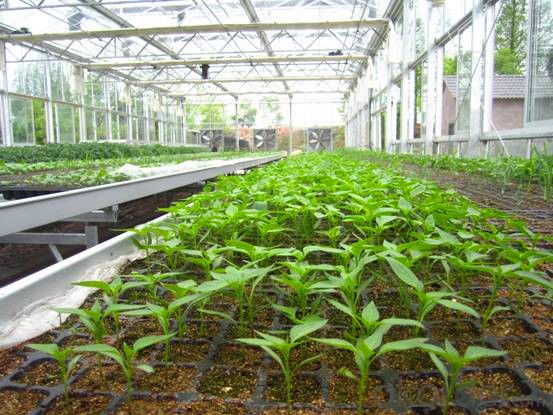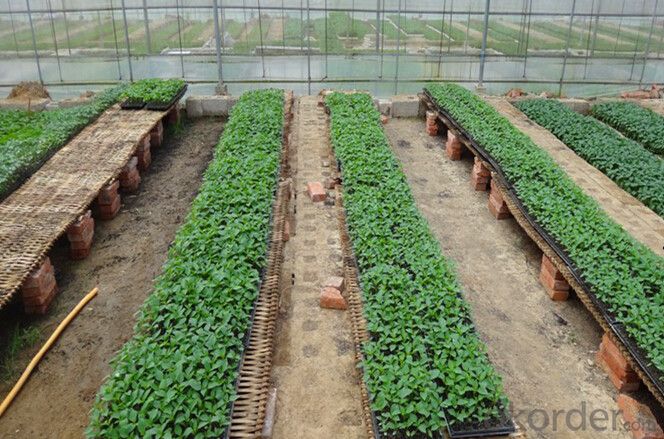 Specification of Plug Trays (Growing and Seedling) HIPS Made Plastic Plug Tray for Greenhouse: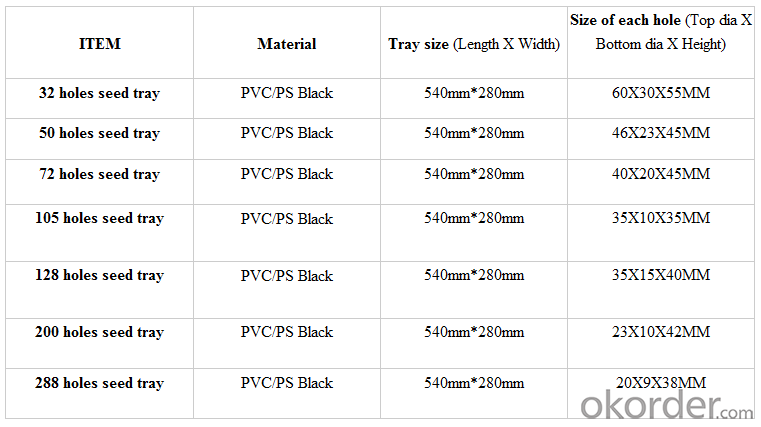 FAQ of Plug Trays (Growing and Seedling) HIPS Made Plastic Plug Tray for Greenhouse:
Q:1.How many times can the seed tray be used?
A: Under the same environment, it is decided by the thickness. Usually 0.6mm thickness can be used for 1 or 2 times.
1.0 thickness can be used for 3-4 times. 1.5 thickness can be used for 8-10 times.
Q: 2.How long is the production time?
A: Usually one to two weeks.
Q: 3.How is the seed tray being packaged?
A: They can be packaged in carton or pallets. Carton size is 1375px*725px*1250px.
Q:

Yes, some nursery trays come with a water reservoir.
Q:

Yes, agricultural plastic can be used for horticultural grafting. Agricultural plastic materials, such as grafting clips or grafting tapes, can be used to secure the graft union in horticultural grafting. These plastic materials provide support and protection to the grafted plants, ensuring a successful grafting process and promoting their growth.
Q:

Ground cover can significantly impact the water requirements of a garden by reducing evaporation, suppressing weed growth, and improving moisture retention in the soil. It acts as a protective layer, preventing water from evaporating quickly, thus reducing the need for frequent watering. Additionally, ground cover helps to suppress weed growth, preventing competition for water resources. By improving moisture retention in the soil, it allows the garden to stay hydrated for longer periods, reducing the overall water requirements.
Q:Does anybody know what might cause plastic bags to discentegrate for no apparent reason? I opened the cupboard a few weeks ago and there were bits and pieces of a few plastic bags spread around. I freaked out and thought that it might be mice or something but it isn't. Then yesterday, I opened a basket in which I had placed a plastic bag inside and there was nothing wrong with the bag when I had placed it in there. Yet, a few days later it too had discentegrated. I just don't know what it could be.

Some plastic bags are now biodegradable - not sure how long they take to break down - perhaps if they were in a damp place they might start to break down? Sounds very odd though!
Q:

One effective way to control the spreading of ground cover into lawn areas is through regular maintenance practices such as mowing, edging, and using a physical barrier like landscape fabric or plastic edging. Additionally, selective herbicide application can be used to target and suppress the growth of ground cover in specific areas.
Q:

Yes, nursery trays are suitable for starting ground vegetables. They provide a controlled environment for germination and seedling growth, allowing for easy transplanting into the ground once the seedlings are well-established.
Q:

Plastic bird spikes are commonly used in agriculture to deter birds from landing or nesting on structures such as fences, rooftops, and ledges. These spikes feature thin, pointed rods made of durable plastic material, which make it uncomfortable for birds to perch or roost. When installed strategically, the spikes create a physical barrier that prevents birds from accessing these areas, thus reducing damage to crops, sheds, and other agricultural facilities caused by bird activities.
Q:

Agricultural plastic products help with fruit preservation by providing a protective barrier that prevents moisture loss, reduces the risk of physical damage, and inhibits the growth of bacteria and fungi. This can extend the shelf life of fruits, maintain their quality, and minimize post-harvest losses.
Q:plus, Where are the wholesale markets for plastic in India?

what kind of plastic are you looking for because you and I know that they do not use plastic to do plastic surgery. It is just what they call people who do it plastic. What are you really trying to do?
Q:

Yes, nursery trays can be used for starting ground mosses. The trays provide a controlled environment for the mosses to grow, allowing for easy monitoring and management of moisture levels. Additionally, the trays can help prevent the mosses from spreading too much and can be easily moved or transplanted when needed.
1. Manufacturer Overview

Location
Year Established
Annual Output Value
Main Markets
Company Certifications
2. Manufacturer Certificates

a) Certification Name
Range
Reference
Validity Period
3. Manufacturer Capability

a)Trade Capacity
Nearest Port
Export Percentage
No.of Employees in Trade Department
Language Spoken:
b)Factory Information
Factory Size:
No. of Production Lines
Contract Manufacturing
Product Price Range