Monocrystalline Solar Panels-50w Series
High efficiency crystalline solar cell. Even if under the weak light, the solar module can produce maximum power output.
II Tempered glass (toughened glass): Anti-reflecting coating and high transmission rate glass increase the power output and mechanical strength of solar module.
III EVA and TPT: Using high quality EVA and TPT to prevent destroying and water.
IV AI frame: Without screw, rner connection. 6 holes on the frame can be installed easily.
V Junction box: Multi function junction box with water proof.
VI Long lifetime: ≥25 years; Less power decrease.
VII Good performance of preventing from atrocious weather such as wind and hails.
VIII Resisting moisture and etching effectively, not effected by geology.
IX The certificate issued by international authority: UL, TUV, IEC, CE.
Standard Test Conditions of Monocrystalline Silicon Solar Panel
The opto-electrical specifications shown below are stabilized values being measured at Standard Test Conditions, Irradiance: 1000W/m2, Spectrum: AM1.5 at 25°C, The info below is subject to manufacturing tolerances. Where appropriate minutes of measurement are available and are used for the dimensioning of the installation.
Advantages of Monocrystalline Silicon Solar Panel
• CNBM Solar performance guarantees for 25 years
• 12 years guarantee for workmanship
• Timeliness of delivery
• Quality Products certified (TÜV, UL, CE, ISO)
Specification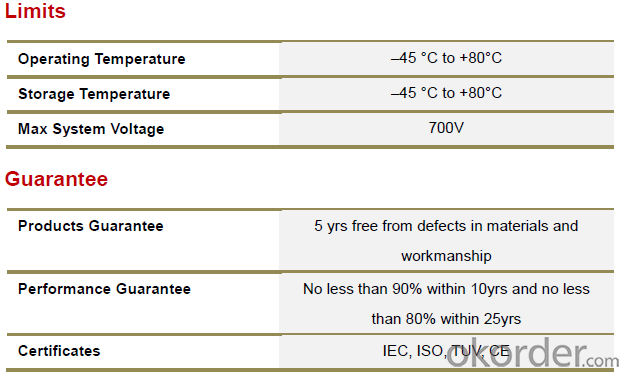 Certification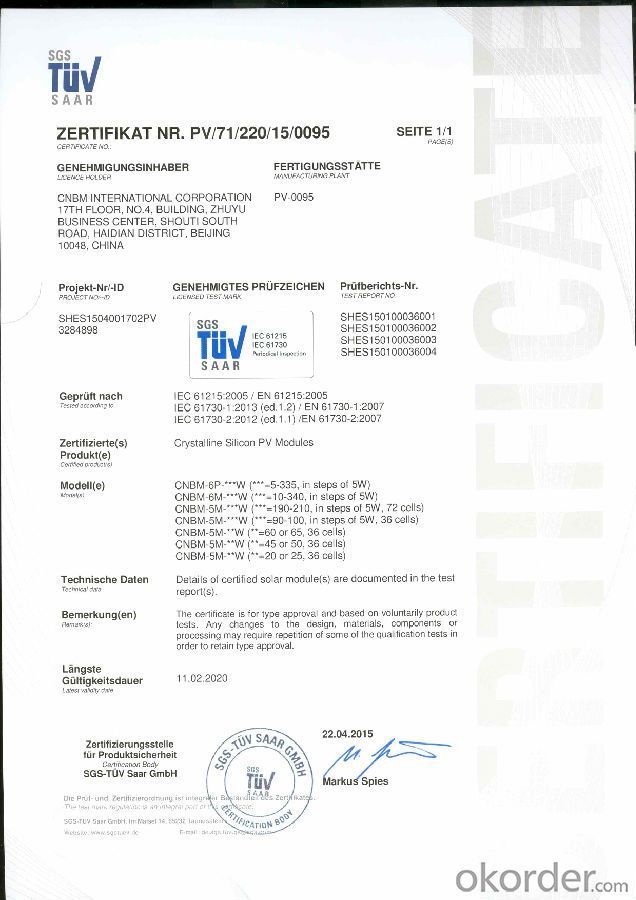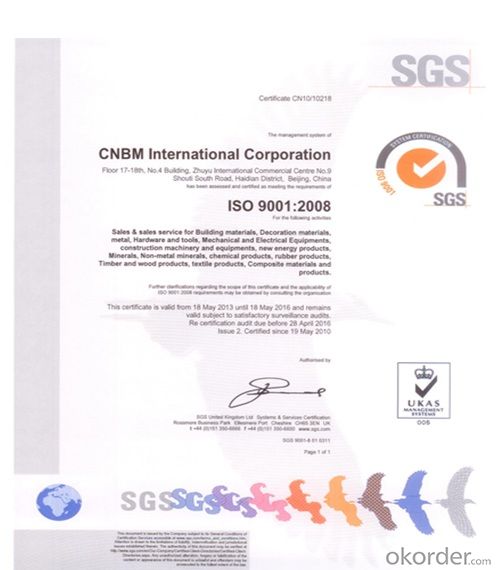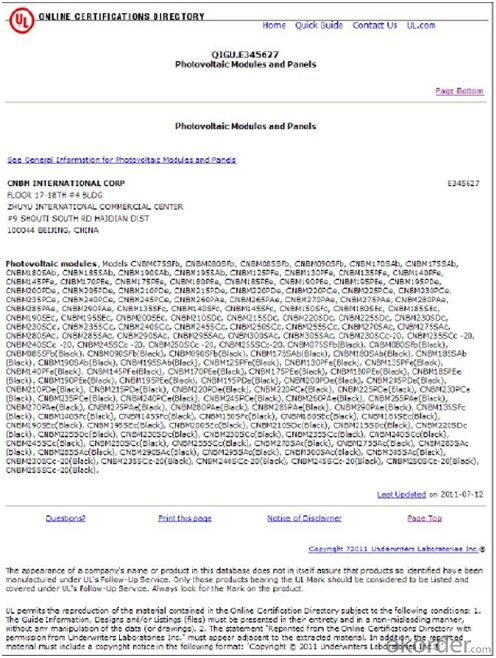 FAQ
We have organized several common questions for our clients

,

may help you sincerely

:
①What price for each watt?
It depends on the quantity, delivery date and payment terms,
②What is your size for each module? Can you tell me the Parameter of your module?
We have different series of panels in different output, both c-Si and a-Si. Please take the specification sheet for your reference.
③Can you provide the peripheral products of the solar panels, such as the battery, controller, and inverter? If so, can you tell me how do they match each other?
Yes, we can, we have two companies for solar region, one is CNBM International, the other is CNBM engineering Co.
We can provide you not only the solar module but also the off grid solar system, we can also provide you service with on grid plant.
④What is your warranty system?
Our product performance guarantees for 25 years
• 12 years guarantee for workmanship
• Timeliness of delivery
• Quality Products certified (TÜV, UL, CE, ISO)
⑤How do you pack your products?
We have rich experience on how to pack the panels to make sure the safety on shipment when it arrives at the destination.
⑥ Can you do OEM for us?
Yes, we can.
⑦How long can we receive the product after purchase?
In the purchase of product within three working days, We will arrange the factory delivery as soon as possible. The pecific time of receiving is related to the state and position of customers.Commonly 7 to 10 working days can be served.
Q:

Solar panels do not significantly affect the roof's structural integrity when properly installed. The panels are mounted on a rack that evenly distributes the weight, and professional installers ensure that the roof can handle the additional load. In fact, solar panels can even provide some protection to the roof by shielding it from the elements.
Q:

Yes, solar panels can be installed on public transportation systems, such as buses and trains, to harness solar energy and reduce their reliance on traditional energy sources. This can help to make public transportation more sustainable and environmentally friendly.
Q:

Yes, solar panels can be used to power a museum. Solar panels capture sunlight and convert it into electricity, which can then be used to power various electrical systems within the museum. This sustainable energy source can help reduce reliance on traditional grid electricity and lower the museum's carbon footprint. Additionally, advancements in solar technology have made it more efficient and cost-effective, making it a viable option for powering both small and large-scale facilities like museums.
Q:Solar panel for battary charging

What you are stating is that the battery you have will operate the UPS for about 2 hours before it is drained past the point of no return (technically 2.82 hours, but that would be a dead battery - most well-designed UPS systems cut off when the battery gets below about a 30% charge so that battery is not damaged. Lead-Acid batteries have about a 0%/month self-discharge rate if there is no load connected. The very best systems are as low as 3%, the worst are over 20% - and all at a 'normal' temperature. So, you will need a maintenance charger of about ten (0) watts or so - amp will be more than enough. And about any solar panel will handle that much with the proper charging connection.
Q:i see these things all over the internet on how to make 'home made solar panels' but all of them require you to buy the solar cells and nothing tells you how to make your own. So how can you make your own solar cells?

I don't have an idea but would surely refer you to a website where you would surely find information on solar cells and many more alternative energy questions.
Q:okay so im lookin 4 an article which explains how practical, wokable, feasible solar panels are. only positive points please :) give me the link. PLZ HELP!!!!

Solar Panels are practical because they provide electricity to your home directly avoiding the rates paid to the utility. They are pay themselves off in 5 years or less and supply an income stream in NJ for 5 years!
Q:I have had this 2v portable Solar Panel for my apartment for awhile. Only problem is that I have no balcony and I can barely get enough sun to use it with my Cobra 450 400-800 watt outlet converter. Can someone advise me a better method to use these? Like do I have to get more 2v solar panels? I have a small apartment and use it on one window. Also is it possible for me to buy a portable storage tank to store the energy gathered from the sun by the solar panel?

portable storage tank would be lead acid batteries. Use only marine sealed type for safety, about $300 each. You will need a charge controller to control the charging of the batteries. If you don't get enough sunlight, then the only alternative (aside from using the roof) is to get more panels. .
Q:the solar panel works with LEDs, small bulbs,etc but neve with any dcmotor. Please help. I have a science exhibition.

It may well be that the motor demands more *current* than the panel can provide. Can you measure the voltage from the panel with the LEDs across it, and then with the motor across it? I suspect that you'll find that the motor makes the voltage collapse.
Q:

Yes, there are fire risks associated with solar panels, although they are relatively rare. The main risk factors include faulty installation, damaged wiring, and electrical malfunctions. However, adherence to proper installation standards, regular maintenance, and the use of high-quality equipment significantly mitigate these risks.
Q:please help me

Hint: It's behind the foreground.
1. Manufacturer Overview

Location
Year Established
Annual Output Value
Main Markets
Company Certifications
2. Manufacturer Certificates

a) Certification Name
Range
Reference
Validity Period
3. Manufacturer Capability

a)Trade Capacity
Nearest Port
Export Percentage
No.of Employees in Trade Department
Language Spoken:
b)Factory Information
Factory Size:
No. of Production Lines
Contract Manufacturing
Product Price Range