1、Structure of Seamless Pipe ASTM A106/53:
Seamless pipe is formed by drawing a solid billet over a piercing rod to create the hollow shell. As the manufacturing process does not include any welding, seamless pipes are perceived to be stronger and more reliable. Historically seamless pipe was regarded as withstanding pressure better than other types, and was often more easily available than welded pipe.
2、‍‍Main Features of the Seamless Pipe ASTM A106/53:
• High manufacturing accuracy
• High strength
• Small inertia resistance
• Strong heat dissipation ability
• Good visual effect
• Reasonable price
3、Seamless Pipe ASTM A106/53 Specification:
Standard

GB, DIN, ASTM

ASTM A106-2006, ASTM A53-2007

Grade

10#-45#, 16Mn

10#, 20#, 45#, 16Mn

Thickness

8 - 33 mm

Section Shape

Round

Outer Diameter

133 - 219 mm

Place of Origin

Shandong, China (Mainland)

Secondary Or Not

Non-secondary

Application

Hydraulic Pipe

Technique

Cold Drawn

Certification

API

‍Surface Treatment

factory state or painted black

‍Special Pipe

API Pipe

Alloy Or Not

Non-alloy

Length

5-12M

Outer Diameter

21.3-610mm

Grade

20#, 45#, Q345, API J55, API K55, API L80, API N80, API P110, A53B

Standard

ASME, ASTM
4、Packaging & Delivery
| | |
| --- | --- |
| Packaging Details: | seaworthy package,bundles wrapped with strong steel strip |
| Delivery Detail: | 15-30days after received 30%TT |
5、FAQ of Seamless Pipe ASTM A106/53:
①How is the quality of your products?
Our products are manufactured strictly according to national and internaional standard, and we take a test
on every pipe before delivered out. If you want see our quality certifications and all kinds of testing report, please just ask us for it.
Guaranteed: If products' quality don't accord to discription as we give or the promise before you place order, we promise 100% refund.
②How about price?
Yes, we are factory and be able to give you lowest price below market one, and we have a policy that " for saving time and absolutely honest business attitude, we quote as lowest as possible for any customer, and discount can be given according to quantity",if you like bargain and factory price is not low enough as you think, just don't waste your time.Please trust the quotation we would give you, it is professional one.
③Why should you chose us?
Chose happens because of quality, then price, We can give you both.Additionally, we can also offer professional products inquiry, products knowledge train(for agents), smooth goods delivery, exellent customer solution proposals.Our service formula: good quality+good price+good service=customer's trust
SGS test is available, customer inspection before shipping is welcome, third party inspection is no problem.
● Professional teams ensure a high efficiency of your purchase
▲ Professional sales team
▲ Professional engineering and technology team
▲ Professional exportation and contract processing/management team
▲ Professional cooperators and partners
● All round supports ensure your business' safety & interest of all time
▲ CNBM is a state owned enterprise, which background ensures it of funds support and preferential policies
provide by ministry of commerce.
▲ CNBM enjoys a sound reputation both at home and aboard. The company stands a first-rate credit status
and has gained the access to preferential loans through a lot of international banking organizations.
▲ The company is renowned of it manufacturing capabilities and overall sourcing abilities. It has a long
track proven record of strategic cooperation with leading players in steel industry.
▲ Brand name "CMAX" commit to the best quality products and high cost effectiveness which ensures your
company a booming development & success.
6、‍‍Seamless Pipe ASTM A106/53 Images: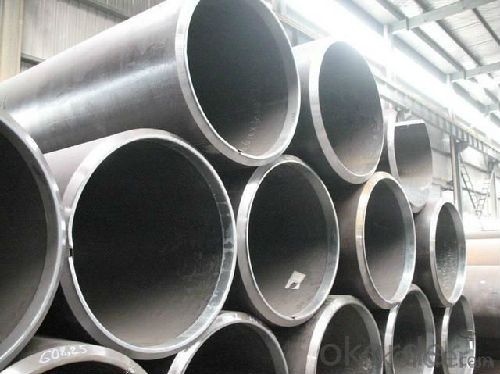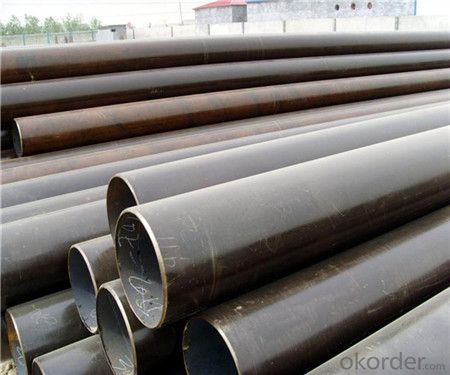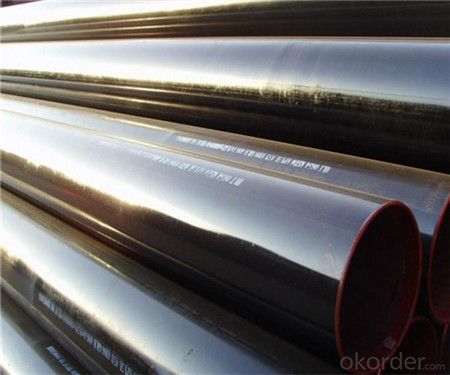 Q:

Yes, steel pipes are suitable for use in nuclear power plants. They are commonly used for various purposes including cooling systems, steam generation, and containment of radioactive materials due to their high strength, durability, and resistance to corrosion.
Q:

Some of the industries that commonly use steel pipes include oil and gas, construction, manufacturing, automotive, infrastructure, water treatment, and plumbing.
Q:

There are several methods of insulation for steel pipes, including foam insulation, fiberglass insulation, mineral wool insulation, and polyurethane insulation. These methods help to prevent heat loss or gain, protect against corrosion, and reduce condensation on the pipes.
Q:

Yes, steel pipes can be used for the construction of tunnels. Steel pipes are often used as support structures in tunnel construction due to their strength, durability, and ability to withstand high pressures. They can be used for various purposes such as drainage, ventilation, or as part of the tunnel structure itself. Additionally, steel pipes can be easily manufactured, transported, and installed, making them a popular choice in tunnel construction projects.
Q:

There are several factors that can affect the cost of steel pipes. Some of the main factors include the price of raw materials, such as iron ore and coal, which are used in the steel manufacturing process. Additionally, the cost of labor, transportation, and energy can also impact the overall cost of steel pipes. Market demand and competition within the industry can also influence prices. Finally, factors such as government regulations, trade policies, and currency exchange rates can also play a role in determining the cost of steel pipes.
Q:

Steel pipes are made from a durable alloy of iron and carbon, while fiberglass pipes are composed of a reinforced plastic material. The main difference is that steel pipes are stronger and more resistant to high temperatures and pressure, making them suitable for heavy-duty applications such as oil and gas pipelines. On the other hand, fiberglass pipes are lighter, corrosion-resistant, and have better thermal insulation properties, making them ideal for industries like chemical processing and wastewater treatment.
Q:

Yes, steel pipes can be used for fire sprinkler systems. Steel pipes are commonly used in fire sprinkler systems due to their strength, durability, and fire-resistant properties. They are capable of withstanding high temperatures and are less prone to damage from fire, making them a suitable choice for such systems.
Q:

Steel pipes are used in the automotive exhaust system to transport and direct the flow of exhaust gases from the engine to the rear of the vehicle. These pipes are durable, heat-resistant, and corrosion-resistant, making them suitable for withstanding the high temperatures and harsh conditions of the exhaust system. Additionally, they help reduce noise and emissions by providing a pathway for the gases to exit the vehicle efficiently.
Q:

Steel pipes are highly resistant to abrasion and can effectively handle abrasive materials. The durable nature of steel allows it to withstand the erosive forces caused by abrasive particles, preventing damage and maintaining structural integrity. Additionally, steel pipes can be further protected by applying coatings or linings, enhancing their ability to handle even the most abrasive substances.
Q:

There are several types of threading commonly used on steel pipes, including tapered or NPT (National Pipe Taper), straight or NPS (National Pipe Straight), and British Standard Pipe (BSP) threading. These different types of threading are designed to ensure a secure and leak-free connection between pipes and fittings.
1. Manufacturer Overview

Location
Year Established
Annual Output Value
Main Markets
Company Certifications
2. Manufacturer Certificates

a) Certification Name
Range
Reference
Validity Period
3. Manufacturer Capability

a)Trade Capacity
Nearest Port
Export Percentage
No.of Employees in Trade Department
Language Spoken:
b)Factory Information
Factory Size:
No. of Production Lines
Contract Manufacturing
Product Price Range