GRP FRP Pipes Sea Water Pipe Series DN 700
Loading Port:

Lianyungang
Payment Terms:

TT OR LC
Min Order Qty:

100 pc
Supply Capability:

10000 pc/month
OKorder Service Pledge
Quality Product
Order Online Tracking
Timely Delivery
OKorder Financial Service
Credit Rating
Credit Services
Credit Purchasing
---
Add to My Favorites
---
Features & Benefits of GRP FRP pipe sea water pipe series
Corrosion-resistant
•Long, effective service-life materials
•No need for linings, coatings, cathodic protection, wraps or other forms of corrosion protection
•Low maintenance costs
•Hydraulic characteristics essentially constant over time
Light weight
(1/4 weight of ductile iron; 1/10 weight of concrete)
•Low transport costs (nestable)
•Eliminates need for expensive pipe handling equipment
Long standard lengths
(6, 12 metres)
•Fewer joints reduce installation time
•More pipe per transport vehicle means lower delivery costs
Extremely smooth bore
•Low friction loss means less pumping energy needed and lower operating costs
•Minimum slime build-up can help lower cleaning costs
Precision sealability
With elastomeric rubber rings
•Tight, efficient joints designed for bell & spigot to eliminate infiltration and ex-filtration
•Ease of joining, reducing installation time
• Accommodates small changes in line direction without fittings or differential settlement
Flexible manufacturing
•Custom diameters can be process manufactured to provide maximum flow volumes with ease of installation for rehabilitation
lining projects
High technology pipe design
•Lower wave celerity than other piping materials can mean less cost when designing for surge and water hammer pressures
High technology pipe manufacturing system producing pipe that complies to stringent performance standards (AWWA, ASTM, DIN, EN, etc.)
•High and consistent product quality worldwide which ensures reliable product performance
Control Testing of GRP pipe sea water pipe series
Raw Materials
Raw materials are delivered with vendor certification demonstrating their compliance with Zhongfu Lianzhong quality requirements. In addition, all raw materials are sample tested prior to their use. These tests ensure that the pipe materials comply with the specifications as stated
Physical Properties
The manufactured pipe's hoop and axial load capacities are verified on a routine basis. In addition, pipe construction and composition are confirmed.
Finished Pipe
All pipes are subjected to the following control checks:
• Visual inspection
• Barcol hardness
• Wall thickness
• Section length
• Diameter
• Hydrostatic leak tightness test to 1.5 rated pressure (only PN6 and above)
On a sampling basis, the following control checks are performed:
• Pipe stiffness
• Deflection without damage or structural failure
• Axial and circumferential tensile load capacity
Thickness and Weight of Standard Pipes based on Internal Pressure of GRP pipe sea water pipe series
1. Internal liner (thickness 1.0 – 2.0 mm)
In tables bellow thickness include 1.5mm of liner and minimum pipe Stiffness 1250 Pa
2. Mechanical resistant layer in glass filament winding (based on internal pressure)
3. Top coat (0.2 – 0.3mm) . In tables bellow thickness include 0.2mm of top coat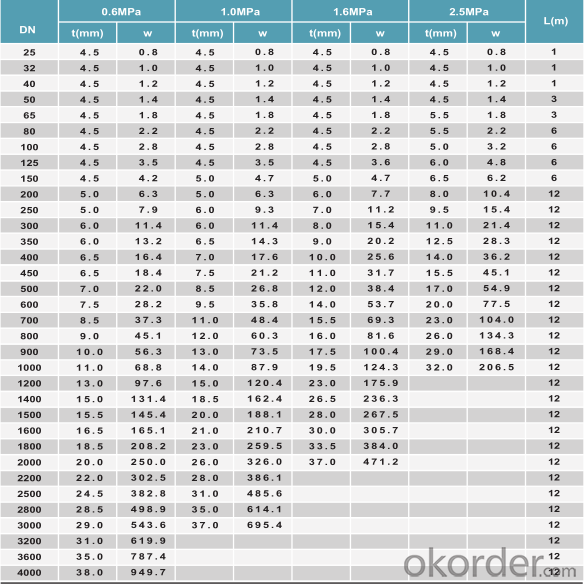 Unloading,Handling,Transportation and Storage of GRP pipe sea water pipe series
Unloading and Handling Pipes
Unloading the pipe is the responsibility of the customer. Be sure to maintain control of the pipe during unloading. Guide ropes attached to pipes or packages will enable easy manual control when lifting and handling. Do not drop, impact, or bump the pipe, particularly at pipe ends.
If at any time during handling or installation of the pipe, any damage such as a gouge, crack or facture occurs, the pipe should be repaired before the section is installed.
Transporting Pipes
Strap pipe to the vehicle over the support points using pliable straps or rope. Never use steel cables or chains without adequate padding to protect the pipe from abrasion. Bulges, flat areas or other abrupt changes of curvature are not permitted. Transport of pipes outside of these limitations may result in damage to the pipes.
Site Pipe Storage
It is generally advantageous to store pipe on flat timber to facilitate placement and removal of lifting slings
around the pipe.
When storing pipe directly on the ground, be sure that the area is relatively flat and free of rocks and other
potentially damaging debris. Placing the pipe on mounds of backfill material has been found to be an effective
way of site storing the pipe. All pipes should be chocked to prevent rolling in high winds.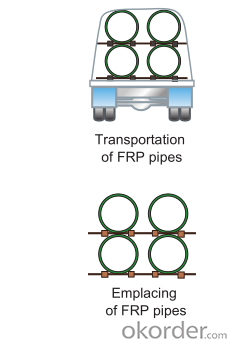 FAQ of GRP pipe sea water pipe series
Q1: What's the performance standards?
Lianzhong pipe is designed to meet all of these ASTM , AWWA, BS, DIN standards.
Q2: What's the qualification testing for the products?
Lianzhong pipe has been rigorously tested to verify conformance to the ASTM D3262, ASTM D3517, AWWA C950 and DIN 16868 requirements
Q3: How long can I receive my goods?
A: Usually, we will deliver products within 20 days after the contract is signed. Delivery time is negotiable when necessary.
Q:What is the difference between glass tube, sand pipe and glass tube?

If the thickness of the pipe can meet the requirements of pressure, but can not meet the stiffness requirement, will choose to increase the thickness of sand to meet the stiffness (of course can not directly increase the sand thickness to meet the requirement of stiffness, but the cost is too high). Sand sandwiched glass fiber reinforced plastic pipes only have more than one sand sandwiched with glass fiber reinforced plastic pipes, and sand layer can be understood to replace glass fiber with quartz sand. The sand pipe with the same thickness is compared with the glass fiber reinforced plastic pipe, but the sand holding pipe is cheap, but the strength is poor; and the glass steel pipe is opposite.
Q:What are the advantages of glass fiber reinforced plastic sand pipe than HDPE pipe?

Advantages of FRP pipes:1, insulation, acid, alkali and salt corrosion, antistatic, rust, aging is not easy, the service life of up to 50 years.2, non-magnetic, non electrical corrosion, waterproof performance, and can be used in humid environment or water for a long time without deterioration.3, high strength, is the same degree of the original PE pipe is more than 6 times, light weight, smooth wall, perforated cable when the friction coefficient is small, no cable operation.4, heat resistance, antifreeze, fire protection, fire retardant type. It can be used for a long time at -35 ~ 139 degrees celsius.5. The bending modulus is good, the impact resistance is strong, and it solves the defects of metal tube easy to decay and no distortion and elasticity.6, the cable across the bridge and across the river, the use of glass fiber reinforced plastic catheter is more economical and appropriate.7, construction and installation is very simple, no need to tie steel, pouring concrete.
Q:How is FRP ventilation pipe made?

Solidification strippingThe coated FRP pipe can be released after a period of constant pressure to a certain strength. When the mold is released, the pre - prepared ejection support points shall be removed to separate the mold from the molded air pipe and then to exit the mold. Finally, remove the glass paper on the inside and outside surface. Air duct after stripping. Excess parts or burrs can be polished by hand cutting machine or sand grinder.
Q:How long is the service life of glass fiber reinforced plastic pipes?

The glass fiber reinforced concrete grille is made of three kinds of polypropylene, polyvinyl chloride and ethylene propylene copolymer. The FRP grille is only half the size of the glass, saving transportation, unloading, mounting, and supporting the cost of the frame.
Q:What are FRP pipes made of?

It has excellent corrosion resistanceDo not use cathodic protection and other anti-corrosion measures to produce two contamination of water and other media. Long service life of products.
Q:Which is better, PVC pipe and GRP pipe?!

Depends on location, and design requirements. Nowadays FRP is in the majority.
Q:What are FRP pipes used for making? What raw materials?

The glass tube with its unique strong corrosion resistance, smooth surface materials, low energy consumption and long service life (50 years), convenient transportation and installation, maintenance and many other advantages of low cost and low cost in electric power, petroleum, chemical industry, papermaking, city water supply and drainage, sewage treatment plant, seawater desalination, gas transportation other industries have been widely applied.
Q:What are the advantages of FRP pipes?

As a result, aviation, rockets, aerospace vehicles, high pressure vessels, and other applications that need to reduce weight have excellent results. The tensile, flexural and compressive strengths of some epoxy FRP can reach over 400Mpa.
Q:What are the main points for the installation of FRP ducts?

All you can think of public places, shopping malls, residential buildings, enterprises, institutions, etc., and so on, as long as the money, that can be installed
Q:Glass fiber reinforced plastic pipe to withstand 1.0MPa pressure, pipe wall to do how much thickness?

Glass tube wall thickness is generally determined by the manufacturer design, with stereotypes products and sequences, you can choose according to the pressure level.
1. Manufacturer Overview

Location
Year Established
Annual Output Value
Main Markets
Company Certifications
2. Manufacturer Certificates

a) Certification Name
Range
Reference
Validity Period
3. Manufacturer Capability

a)Trade Capacity
Nearest Port
Export Percentage
No.of Employees in Trade Department
Language Spoken:
b)Factory Information
Factory Size:
No. of Production Lines
Contract Manufacturing
Product Price Range