FIBER GLASS REINFORCED PLASTICS PIPE DN3000
Loading Port:

China Main Port
Payment Terms:

TT or LC
Min Order Qty:

1000 kg
Supply Capability:

3000000 Per Month kg/month
Inquire Now
Customer Service
OKorder Service Pledge
Quality Product
Order Online Tracking
Timely Delivery
OKorder Financial Service
Credit Rating
Credit Services
Credit Purchasing
---
Add to My Favorites
---
Description of FRP Pipes
In the FRP .with high tensile strength, the fiberglass plays the role of reinforcement whiles the wear-resistance and pressure –resistance synthetic resin is used for bonding the fiber as the basic materials. Putting together, they commonly play the role of being in finished form and load carrier.
Specifications:
1) Color: red, black, white, yellow, blue, green, gray
2) Fiberglass tool handles may be produced cut-to-length or in stock-length quantities determined by the customer
3)Lightweight, High Impact Resistant, Low Conductivity, Corrosion Resistant, Durable/Weather Resistant Surface, Aesthetic Appeal
Main Features
Corrosion-Resistance
Fire-retardant.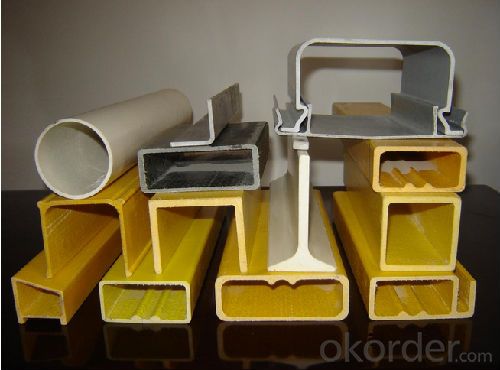 Safety
Insulation
Economy Characteristic
Applications:
beam,armrest,fence,and handrail, and it could be used in different industries like:Oil&Gas;Pulp&paper, Sewage water treatment;Power plant;Mining/refining;construction engineering;weaving and dyeing;pharmaceuticals;Food processing;Marine.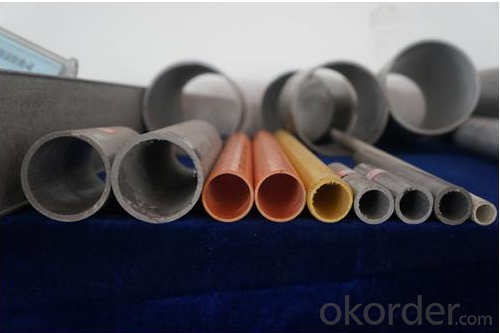 Packaging:
plastic film ,Cartons; pallets; customized packaging are welcomed
FAQ
1.Who will pay for the express cost ?
A: We can support you free samples ,but express cost will be paid by you .
5.How long is the delivery time?
A:within 10-15 days after receiving deposit.
Q:Glass fiber reinforced plastic sand pipe backfill 5m, how much kg pressure?

In general, glass steel pressure refers to the internal pressure, the conveying pressure of water, and you said the backfill produces is the external pressure, often say that the stiffness parameter.
Q:FRP pipe and 0.7 thick galvanized pipe which cost is low?

The best material in glass steel mould rubber production 20 years, customers in all aspects
Q:What's the difference between glass fiber reinforced plastic pipe and glass fiber reinforced sand pipe? What kind of material is good?

There are two main functions of glass fiber reinforced plastic sand adding, one is to improve the rigidity, the other is to reduce the cost. These two aspects just agree with the municipal, the dosage is large, the pressure is low, and the underground and maintenance are few.
Q:What kind of material is the pipe of the pipe that installs the pressure transmitter of GRP conduit? Is it fiberglass or carbon steel?

This depends on what your medium is, the general food industry requires stainless steel, but the medium contains acidic substances, stainless steel is better than FRP corrosion resistance
Q:Why FRP pipes for outdoor waste gas treatment equipment are selected?

Therefore, the outdoor waste gas treatment equipment is usually made of glass fiber reinforced plastic.
Q:What epoxy resin is used for anticorrosion of pipeline glass fiber reinforced plastics?

3PE has some disadvantages. (1) the bending of the guiding hole and the protruding rock, pebble and gravel in the hole will cause friction and scratch to the relatively soft 3PE corrosion resistant layer. (2) 3PE coating using polyethylene heat shrinkable sleeve joint, the convex part of the concave or lap joint, which makes it easy to travel being scratched or pulled off lead. (2) 3PE corrosion protection layer has a strong electrical shielding, so that the cathodic protection current is difficult to reach the defects of corrosion protection layer, thus causing perforation corrosion.So, from the last century at the beginning of 90s, the United States developed Powercrete (s) Powder Concrete Anticorrosion structure, namely in the bottom of fusion bonded epoxy powder, sprayed with epoxy resin as main film-forming material, and adding a two-component epoxy coating for concrete, polymer concrete curing agent and other inorganic fillers. The coating is tough and wearable and can be used directly in FBE coated pipes to protect the pipe from damage during handling, directional drilling, crossing, etc..
Q:How many times can the temperature withstand of FRP winding pipes? What are the factors?!

FRP coil pipe:(1) corrosion resistance: chemically inert material, excellent corrosion resistance, and can choose different corrosion resistant pipes according to the transmission medium.(2) strong mechanical strength: good water pressure resistance, good resistance to external pressure and impact strength, and piping and fittings can be designed according to the required pressure.(3) temperature adaptability: the use of temperature range: greater than -70 degrees Celsius, less than 250 degrees Celsius, under the freezing medium, the pipe is not split. (4) the resistance of the fluid is small: the pipe wall is smooth, the roughness coefficient is 0.0084, and the pipe diameter can be reduced under the same flow rate.(5) light weight, long life: light quality, convenient transportation, low construction cost, no maintenance, and the service life of more than 50 years.(6) maintain the water quality: non-toxic, conveying drinking water, can maintain long-term water quality sanitation.
Q:What is the elastic modulus of glass fiber reinforced plastic?

Glass fiber reinforced plastic is another name for glass fiber reinforced plastics, commonly known as FRP (Fiber Reinforced Plastics), that is, fiber reinforced composite plastic. Depending on the fiber used, glass fiber reinforced plastics (GFRP), carbon fiber reinforced plastic (CFRP), boron fiber reinforced composite plastics and so on are classified. It is a kind of composite material made of glass fiber and its products (glass cloth, band, felt, yarn, etc.) as reinforcing material and synthetic resin as base material. Fiber reinforced composites are composed of reinforced fibers and matrix. Fiber (or whisker) diameter is very small, generally below 10 mu m, less defects and smaller, fracture strain of about 30/1000, is brittle material, easy to damage, fracture and corrosion. The matrix is much lower in strength and modulus than fiber, but it can withstand large strains, often with viscoelasticity and elasticity, and is a ductile material.
Q:Why FRP pipe corrosion?

No material was selected. If there is corrosive requirements, it is necessary to use corrosion-resistant materials to make glass fiber reinforced plastic pipe.
Q:What are the posts of glass fiber reinforced plastic sand pipe and the corresponding occupational hazards and protection?

Glass fiber reinforced mortar pipe lightweight high strength: for the same diameter of the unit length, weight, RPM tube only carbon steel 1/3, cast iron pipe 1/5, prestressed concrete pipe 1/10, easy transport, loading and unloading.
1. Manufacturer Overview

Location
Year Established
Annual Output Value
Main Markets
Company Certifications
2. Manufacturer Certificates

a) Certification Name
Range
Reference
Validity Period
3. Manufacturer Capability

a)Trade Capacity
Nearest Port
Export Percentage
No.of Employees in Trade Department
Language Spoken:
b)Factory Information
Factory Size:
No. of Production Lines
Contract Manufacturing
Product Price Range