1.Introdiction
FRP Pultrusion profile is a kind of composite which made by reinforced fiberglass materials (fibers, mat,etc.) and combination withresins and other auxiliary materials(binders). It has very excellent characteristics such as high temperature resistance, corrosion resistance, high strength, light weight, low moisture absorption, good insulating, large-span etc.Pultrusion profiles has very high designability, it can be made into diverse FRP products by appropriate connection and combination of various kinds shaped pultrusion profiles, and it is widely used in different fields such as light industrial products, construction platform, handrail, crawling ladders, pedestrian walkways, cable bridge, cooling tower support, electrotechnical products, etc.We can supply many kinds of FRP pultrusion profile such as Angel beam, I beam, U channel, round tube/rod, square tube, rectangular tube, solid rod, other special shaped profiles etc, and we can also make customized designs.
2.Product Features:
1. High strength.
2. Light weight.
3. Excellent corrosion resistance.
4. Good electric insulating.
5. Fire resistance.
6. Structurally strong.
7. Anti-aging and low maintenance.
8. Easy to fabricate and install.
9. Various Colors available.
10. High designability, can make customized designs.
11. Cost-effective.
3.Specifications
1) adopted the glass fiber and products as its reinforced material,
2)saturated polyester resin as its body material,
materials:
3) adopted the glass fiber and products as its reinforced material,
4)saturated polyester resin as its body material,
5)sand as its filler and equipped with the stipulated length winding technique,
features:
6)lightness and high strength,
7)distinguished properties of water-fast and corrosion resistance,
8)excellent hydraulic property,
9)good hermetical property of joint without poison.
Application:
1) for water -leading projects
2) reduction of the transportation cost and therefore ensured the high quality of the drinkable water.
3)sewage pipes,rainwater pipes
Diameter: DN300-4000
Pressure: PN6-25
Rigidity level: SN2500-10000
Length: 6m, 12m
4.Pultruded Fiberglass Pipe, FRP pipe, GRP pipe of high strengh
The fiberglass reinforced plastic rod is made from high strength glass fibers along withextremely durable resin. The glass fibers impart strength to the rod while the resin impartsexcellent corrosion resistance properties in harsh chemical and alkaline environments.
5.Advantages
1) Long Working life
2) Light weight
3) High strength
4) Good flexibility
5) Beautiful appearance
6)Good Insulation
7) Corrosion resistance
8) Good comprehensive benefits.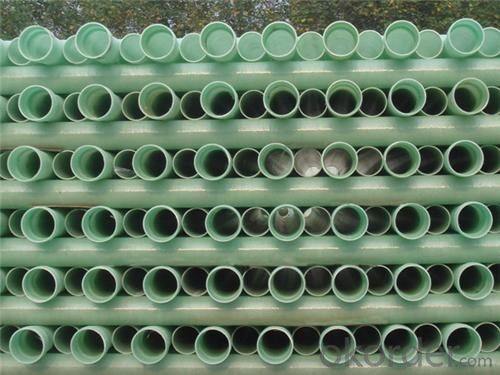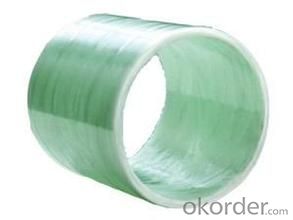 Q:What's the difference between glass fiber reinforced plastic pipe and glass fiber reinforced sand pipe? What kind of material is good?

Sand tube is more brittle, gfrpmp is relative to the glass tube can be called pure glass tube, glass tube is not with quartz sand, the two pipes generally used in different areas, the pure glass pipe can be used in most areas, but the sand tube is generally only used in the political field, especially is the large diameter sand tube.
Q:What is the stiffness of FRP pipe?

Stiffness, also called ring stiffness, is a numerical indicator of actual resistance to external pressure. Ring stiffness S definition: S =EI /D 3 (where E is the elastic modulus of the material, I is the moment of inertia, D is the average diameter of the pipe ring), and the ring stiffness is KN/m2.
Q:How to install FRP pipe correctly

And glass fiber reinforced plastic parts (three, elbow, etc.) in general, the best way is on-site bonding, quality stability and convenience.
Q:What is the thickness of all types of FRP pipes?

DN200, DN150, DN100, DN80 pipe, polyurethane foam pad, 50mm thick shell, glass steel, thickness 3mm.
Q:Galvanized steel sheet and inorganic glass fibre reinforced plastic pipe are calculated according to this norm or norm

According to the project of quota valuation mode, input the actual quantity according to the quota item number, the following materials will automatically adjust the quota quota project, has been considering material wastage, when engineering calculation does not need additional.
Q:Winding method of glass fibre reinforced plastic pipeline anticorrosive glass fiber cloth

1) FRP reinforcement, length of rectangular duct is greater than 900mm, and the pipe length is more than 1250mm, should be strengthened. The reinforcement shall be made of bulk material (fiber reinforced plastic) and reinforced plate at the maximum stress, so as to increase the modulus of the section and increase the overall strength of the tube. FRP reinforcement can also be in the wind pipe production is completed, the treated metal or other corrosion resistant material for reinforcement, reinforcement and FRP as a whole, and with the same pipeline body cementitious material sealing gap2) hobas pipe surface thickness of the slurry to flatten the glass fiber mesh cloth texture is appropriate (see:). No dense air holes and grout leaks are allowed on the wall of the pipe to avoid the stress concentration under the bending tensile stress (positive air pressure) and the bending compressive stress (negative wind pressure).3) FRP pipe and flange corner should transition arc, transition radius to wall thickness of 0.8 ~ 1.2 times, improve the bearing capacity and the cantilever flange to avoid stress concentration. Fiberglass mesh shall be extended to the duct at the flange of the duct.
Q:Is it possible to touch the water when the glass fiber reinforced plastic pipe is polished?

For nearly 20 years of brand silicone mold manufacturers, steel and glass also played nearly 20 years, glass steel pipe interface after grinding with water is Never mind, can be polished with water to the point where you can proceed to the next step of the operation of the glass steel bonding with a clean cotton cloth to wipe clean.
Q:FRP duct material plan is how to mention?

Process design according to user's requirements and choose what material to use. Then according to the drawings and process, calculate the amount of various materials. According to the delivery date and production schedule, you can write the material schedule.
Q:How to connect glass fiber reinforced plastic sand pipe?

The quality of the connection of glass reinforced plastic sand pipe pipe directly affects the quality of the pipeline. The connection forms between the pipes include 3 forms: socket, butt joint and flange connection.
Q:Is it useful to make gas pipelines with glass steel pipes? Or the idea that the technology is mature?

I don't think it's enough, because the strength of FRP is not enough, it can easily be brittle and easily perforated in the field for a long time!
1. Manufacturer Overview

Location
Year Established
Annual Output Value
Main Markets
Company Certifications
2. Manufacturer Certificates

a) Certification Name
Range
Reference
Validity Period
3. Manufacturer Capability

a)Trade Capacity
Nearest Port
Export Percentage
No.of Employees in Trade Department
Language Spoken:
b)Factory Information
Factory Size:
No. of Production Lines
Contract Manufacturing
Product Price Range