Calcium Silicate Boards Model 02 for Exporting
Loading Port:

China Main Port
Payment Terms:

TT or L/C
Min Order Qty:

1Container pc
Supply Capability:

35000Pcs/Day pc/month
Inquire Now
Customer Service
OKorder Service Pledge
Quality Product
Order Online Tracking
Timely Delivery
OKorder Financial Service
Credit Rating
Credit Services
Credit Purchasing
---
Add to My Favorites
---
Description of Calcium Silicate Board:
A calcium silicate board is one of the new-type building materials recommended by the Ministry of Construction. It is a light, high-strength, fire-resistant and heat-proof material composed of scientific proportions of siliceous and calcareous materials, adulterated with appropriate amount of reinforcing materials, which are processed through pulping, molding, autoclave curing, drying and sandpaper polishing.
Main component:
Wood fiber, cement and so on. The nominal size is 1220*2440/1200*2400, with the maxium length 3.66m.
Technical Datas of Calcium Silicate Board:
1.100% non-asbestos
2. Density: 1000-1200 KG/m3
3. Coefficient of thermal expansion: 0.24W/MK(JC/T54)
4. Bending strength: Over 13Mpa(GB/T7019-1997)
5. Linear expansion rate: 0.1%
6. Water absorption rate: Less 0.19%(GB/T7019-1997)
7. Water penetration rate: 0%
8. Water content: 10%
9. Incombustibility: 180 minutes
10. Incombustibility, A grade; Waterproof
11. Radioactivity: Standard(GB6566-2000)
Main Characteristics of Calcium Silicate Board:
1. Light weight
2. The wall is solid and firm inside, and resistant to impact pressure
3. Painting, tiling and nailing is possible in the new system
4. Noise reduction can be up to 46 dB
5. Good efficiency
6. Fireproof, damp proof
7. Easy to install 8. Stable dimensions
Specifications of Calcium Silicate Board:
1) Thickness: 4 - 20mm
2) Normal Size: 1220*2440/1200*2400, with the maxium length 3.66m.
Usage of Calcium Silicate Board:
The magnesium board is widely adoptable to partition and suspending ceiling in decoration of buildings. It is also absolutely suitable to the structure for heat preservation, sound insulation wall places with dampness, mobile partition, special class fire prevevention, sandwiched plate in fireproof- gate and packaging of equipment cases.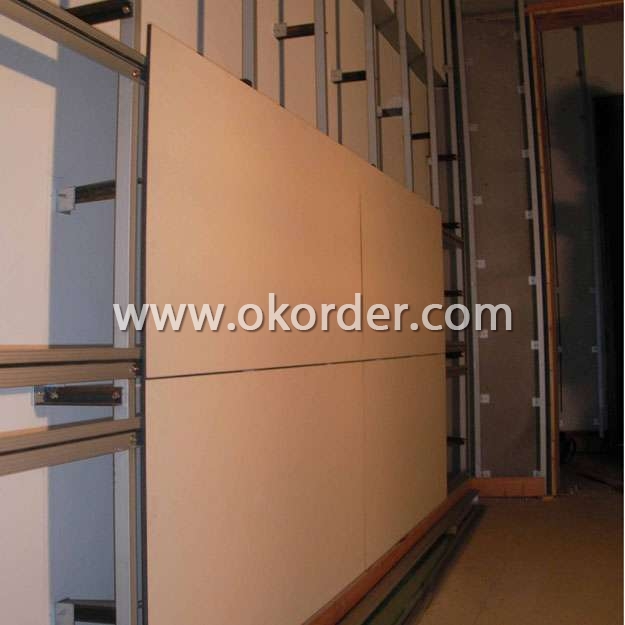 Packaging & Delivery of Calcium Silicate Board:
Pieces with palletes or pieces loosely in the container.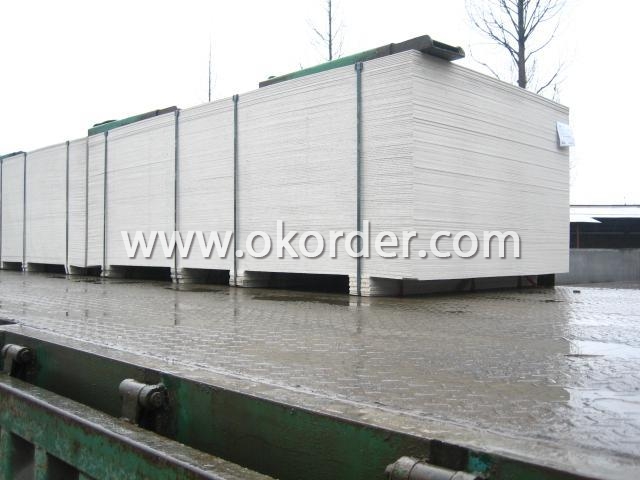 Q:Fiber cement pressure plate and calcium silicate board What is the difference, what is the use

Fiber cement board pressure plate density of 1.5-2.0g / cm3, the density of calcium silicate board does not exceed 1.5g / cm fiber cement board bending strength is V level, silicon calcium board strength is IV level. The performance of the fiberboard must be better than that of the calcium silicate. The same price than silicon calcium plate price is higher
Q:I recently learned to decorate the smallpox, I understand that the general is to use keel + silicate rafts to promote the Wo drum drums to support the calcium plate. Will the current maximum number of people is 6%, or 8 PCT thickness of calcium silicate board? More

Smallpox 6 is enough, not the outer wall. You are afraid of thin with 8, of course, 8MM to more expensive
Q:Decoration

1220 * 2440 mother 1200 * 600 mother 603 * 603 mother 595 * 595 mother
Q:Is the calcium silicate board combustible? Some people say that it is completely non-combustible material, it was said that calcium silicate board only need one positive and one 8mm board to achieve one hour fire

Calcium silicate board is non-combustible material, can do 1 hour fire aging.
Q:Living room to do silicon calcium board ceiling, whether need to put putty, brush latex paint?

Silica calcium board does not need to put putty brush latex paint
Q:8mm thick calcium silicate board (CalciumSilicateBoard) how much money a square meter!

8 mm chrysotile calcium silicate board 26 yuan a, excluding tax and shipping
Q:Hello, may I ask your calcium silicate board fire and fire test report, fire level several, how much fire temperature?

Some grade A1 grade refractory temperature seems 1000 degrees, can not remember
Q:It is good to use calcium silicate board or fiber cement board for interior decoration wall

Almost, if you want to choose, then use fiber cement board
Q:Calcium silicate brand Tingduo, but do not know which brand quality is relatively strong. More

The new element is a professional enterprise to do calcium silicate board, excellent product quality, the proportion of domestic sales close to 1: 1, but also won the global manufacturer of the award
Q:Calcium silicate board does not paint it

Oil is not the main paint is that you want to use the board there, indoors and outside there is a difference
We are a professional manufacturer of calcium silicate boards and fiber cement boards. For many years, our company has researched environmentally-friendly materials which are leading in our country. We passed the evaluation of ISO9001 Quality System certification in 1999 and our products were awarded with title of "China Environment Symbol Products" by State Environment Protection Bureau. Our products sell well in Japan, America and other countries and regions.
1. Manufacturer Overview

Location
Feicheng city, China
Year Established
1955
Annual Output Value
Below US$1 Million
Main Markets
55.00% China Market
15.00% Mid East Market
9.00% Africa Market
7.00% Korea Market
5.00% Europe Market
5.00% Austraila Market
4.00% Eastern Asia Market
Company Certifications
ISO 9001:2000 Certificate , Green Building Materials Certificate
2. Manufacturer Certificates

a) Certification Name
Range
Reference
Validity Period
3. Manufacturer Capability

a)Trade Capacity
Nearest Port
Qingdao PORT
Export Percentage
1% - 10%
No.of Employees in Trade Department
20 PEOPLE
Language Spoken:
English;Chinese
b)Factory Information
Factory Size:
Above 270,000 square meters
No. of Production Lines
ABOVE 4 LINES
Contract Manufacturing
Design Service Offered ,Quality control offered
Product Price Range
MODERATE PRICE
Hot Searches
Related keywords