Calcium Silicate Board from China
Loading Port:

China Main Port
Payment Terms:

TT or L/C
Min Order Qty:

1Container pc
Supply Capability:

35000 Pcs/Day pc/month
Inquire Now
Customer Service
OKorder Service Pledge
Quality Product
Order Online Tracking
Timely Delivery
OKorder Financial Service
Credit Rating
Credit Services
Credit Purchasing
---
Add to My Favorites
---
Description of Calcium Silicate Board:
A calcium silicate board is one of the new-type building materials recommended by the Ministry of Construction. It is a light, high-strength, fire-resistant and heat-proof material composed of scientific proportions of siliceous and calcareous materials, adulterated with appropriate amount of reinforcing materials, which are processed through pulping, molding, autoclave curing, drying and sandpaper polishing.
Main component:
Wood fiber, cement and so on. The nominal size is 1220*2440/1200*2400, with the maxium length 3.66m.
Physical performance of Calcium Silicate Board:
1.100% non-asbestos
2. Density: 1000-1200 KG/m3
3. Coefficient of thermal expansion: 0.24W/MK(JC/T54)
4. Bending strength: Over 13Mpa(GB/T7019-1997)
5. Linear expansion rate: 0.1%
6. Water absorption rate: Less 0.19%(GB/T7019-1997)
7. Water penetration rate: 0%
8. Water content: 10%
9. Incombustibility, A grade; Waterproof
10. Radioactivity: Standard(GB6566-2000)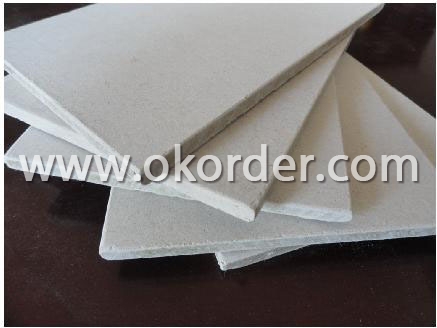 Main Characteristics of Calcium Silicate Board:
1. Light weight
2. The wall is solid and firm inside, and resistant to impact pressure
3. Painting, tiling and nailing is possible in the new system
4. Noise reduction can be up to 46 dB
5. Good efficiency
6. Fireproof, damp proof
7. Easy to install 8. Stable dimensions
Specifications of Calcium Silicate Board:
1) Thickness: 4 - 20mm
2) Normal Size: 1220*2440/1200*2400, with the maxium length 3.66m.
Usage of Calcium Silicate Board:
The magnesium board is widely adoptable to partition and suspending ceiling in decoration of buildings. It is also absolutely suitable to the structure for heat preservation, sound insulation wall places with dampness, mobile partition, special class fire prevevention, sandwiched plate in fireproof- gate and packaging of equipment cases.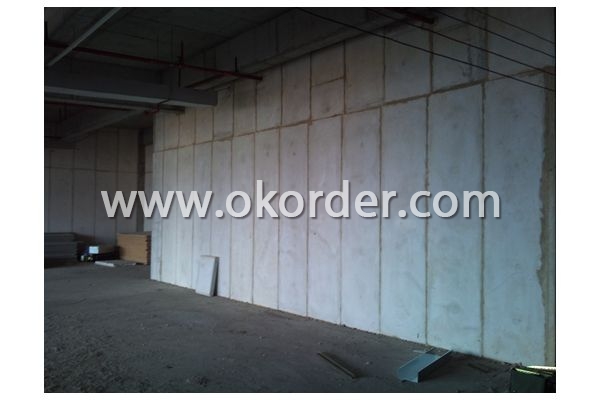 Packaging & Delivery of Calcium Silicate Board:
Pieces with palletes or pieces loosely in the container.
Q:What is the difference between the silicate version and the calcium silicate board and whether the two materials are the same

The main component of the same calcium silicate board is that the physical properties of the silicate are the same
Q:What is the popularity of the living room recently?

Depends on your chandelier is what kind of shape. Flat ceiling, then use the light steel keel calcium silicate board cover modeling smallpox words using light steel keel +9% plywood + calcium silicate board cover Calcium silicate board cost and gypsum board almost but the strength of hard, fan do not crack ~ ~
Q:Seam method of effective calcium silicate board ceiling

Do not know what you say is a large board ceiling or small board ceiling
Q:Decoration problem: a calcium silicate board about how many customers want me to calculate the weight. The Trouble trouble trouble. The The

1 OKorder twitch high libel gambling gambling performance 220 * 2440 * 6 calcium silicate board normal weight in 22kg. 6 refers to the thickness of the ceiling now more than 5%, 5% is generally 18kg. Under the premise of fixed specifications, mainly depends on the bulk density. However, due to the manufacturers of different recipe technology, bulk density will be a little different. Please add points.
Q:Silicon calcium board wall how to paste tiles

Silicon calcium board wall tile tiles generally used marble glue plus glass paste, if you must use cement mortar paste, then the silicon calcium board to hang the network, pad block, or because the grass-roots level is too thin Mat cream guard, slightly deformed, the tiles on the empty drums or even fall
Q:Ceiling, then the paper gypsum board, calcium silicate board, silicon calcium board three What is the difference, can recommend the next? The

Gypsum board easy to effect, calcium silicate board and silicon calcium board plate uneven, there are contraction every
Q:What is the difference between silicon calcium board and sound-absorbing board?

Silicon calcium board is made of siliceous material, calcium material, reinforced fiber as the main raw material, through the pulp, into blank, steam curing, surface sanding and other processes made of lightweight sheet. Is a hard board, and gypsum board is about, there is no sound-absorbing function, mainly from the decorative effect. Sound-absorbing board ceiling, also known as mineral wool board, is made of mineral wool, mineral fiber, perlite, starch and other renewable green materials. Has a high sound absorption capacity, not only play a decorative role in the ceiling, but also a sound and heat insulation effect. The price of silicon calcium board is cheaper, the market common mineral wool board brand also Armstrong, the United States Luda brand, in the sound-absorbing board to do this one is better.
Q:What is the difference between calcium silicate board and cement pressure plate?

Cement board has long gone, and now are upgrading into calcium silicate board
Q:Calcium silicate brand Tingduo, but do not know which brand quality is relatively strong. More

As well as the Yangtze River north of the largest manufacturing calcium silicate board, fiber cement board, wall panels and a series of products manufacturers, "Lutai Building Materials Technology"
Q:I checked the relevant information, said the tropicomite molecular formula is 6CaO ? 5Si02 ? 6H20; snow silicite Molecular formula: 5CaO ? 6Si02 ? 5H20, but also said that the two substances are CaSi fear of caution Smoked intestinal wiping O3, are calcium silicate, some confused, and solve. More

Tropicamite and xanthophyllite are a thing, both of which belong to hydrated calcium carbonate.
1. Manufacturer Overview

Location
Foshan, China
Year Established
1996
Annual Output Value
Below US$1 Million
Main Markets
Mid East; Eastern Europe; Australia; Africa; Southeast Asia;China
Company Certifications
ISO 9001:2008; CE EN12467:2012;
2. Manufacturer Certificates

a) Certification Name
Range
Reference
Validity Period
3. Manufacturer Capability

a)Trade Capacity
Nearest Port
Foshan; Guangzhou; Shenzhen
Export Percentage
1% - 10%
No.of Employees in Trade Department
5 people
Language Spoken:
English; Chinese
b)Factory Information
Factory Size:
100,000.00SQM
No. of Production Lines
4 (plan add 2pcs product lines in 2014)
Contract Manufacturing
OEM Service Offered; Own Brand;
Product Price Range
6mm Higt Density: USD2.72/SQM, Average price6mm Mid Density: USD1.85/SQM,Averange price
Hot Searches
Related keywords